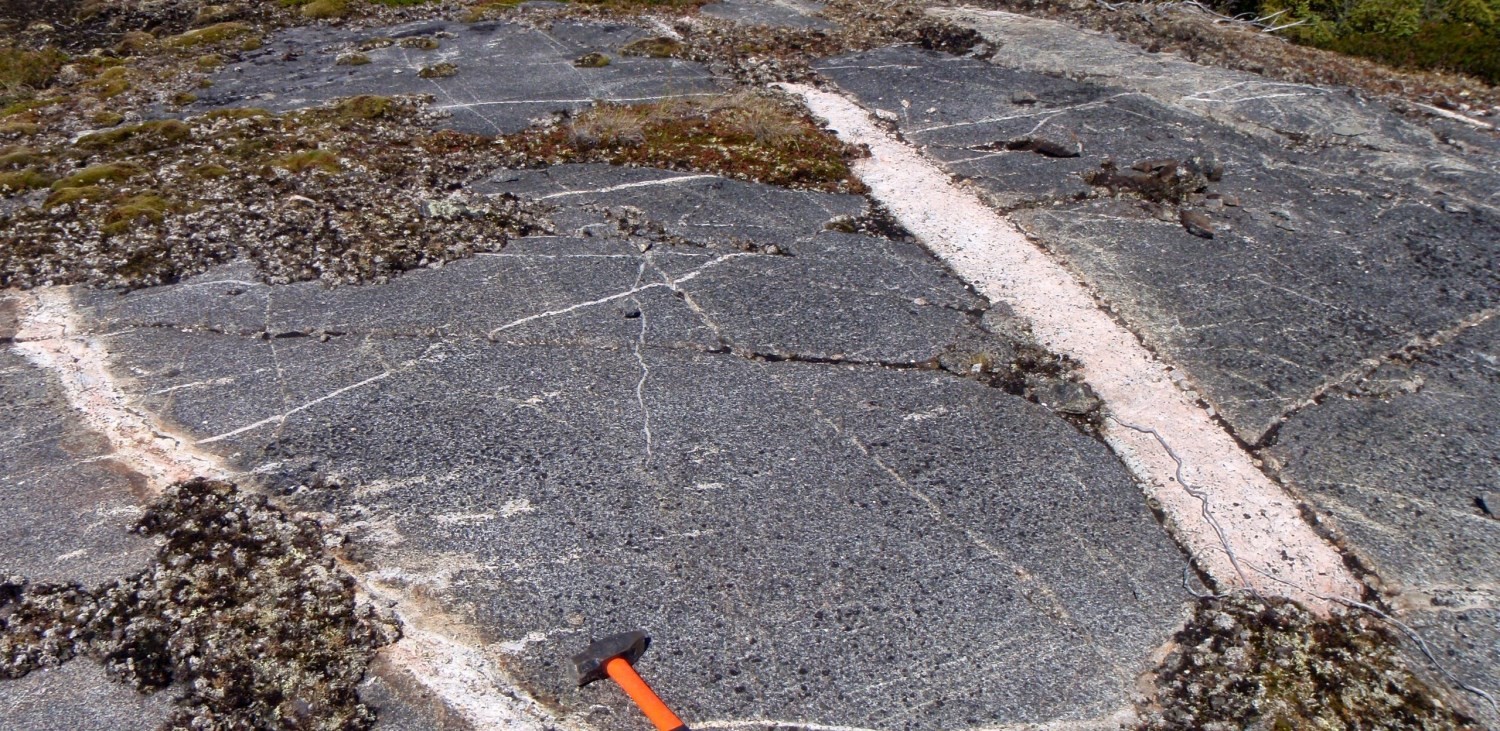 DISCLAIMER: This English version is translated from the original French. In case of any discrepancy, the French version shall prevail.
Informal subdivision(s)
Numbering does not necessarily reflect the stratigraphic position.
| | |
| --- | --- |
| Author(s): | Simard et al., 2013 |
| Age: | Archean; Paleoproterozoic |
| Stratotype: | None |
| Type area: | Kuujjuaq and Ungava Bay area (NTS sheets 24J and 24K) |
| Geological province: | Churchill Province |
| Geological subdivision: | Baleine Lithotectonic Domain |
| Lithology: | Mafic and ultramafic intrusions |
| Category: | Lithodemic |
| Rank: | Suite |
| Status: | Formal |
| Use: | Active |
Background
The Ralleau Suite was identified in the Kuujjuaq and Ungava Bay area (Simard et al., 2013), then extended southward in the Saffray Lake (Lafrance et al., 2014) and Jeannin Lake areas (Charette et al., 2016), and towards the SE in the Henrietta Lake, Brisson Lake and Résolution Lake areas (Lafrance et al., 2015, 2016). As part of a synthesis of the Southeastern Churchill Province (SECP), the amphibolite and metapyroclastics unit previously assigned to the Ralleau Suite in the Jeannin Lake area (ApPral3; Charette et al., 2016) was grouped with the Curot Suite by Lafrance et al. (in preparation). These authors also moved the boundary between the Baleine and Rachel-Laporte lithotectonic domains to the west, resulting in a few outcrops that were previously in the Klein Suite (pPkle3 and pPkle2) and that are now in the Ralleau Suite. Similarly, outcrops belonging to the Manereuille Complex and the De Jeu Gabbro were added to the Ralleau Suite after the abandonment of these two units.
Description
The Ralleau Suite includes a granoblastic gabbro and diorite unit (ApPral1) and an amphibolitized ultramafic rock unit (ApPral2).
Ralleau Suite 1 (ApPral1): Amphibolitized Gabbro and Diorite
Unit ApPral1 consists mainly of amphibolitized gabbro and diorite, locally gabbronorite and quartz gabbro. Rocks are homogeneous, even grained, granoblastic, medium to fine grained, and massive to foliated. They are dark grey to black, locally greenish, in fresh exposure, and black-and-white-speckled in altered surface. They are injected by a whitish intrusive phase that commonly has a leucosome appearance (<15%). Gabbro and diorite contain 35-65% ferromagnesian minerals mostly represented by green to brown hornblende accompanied by clinopyroxene (1-20%) and brown biotite (1-10%). In thin sections, clinopyroxene is usually surrounded by hornblende, and plagioclase shows initial sericitization. Accessory minerals are relatively abundant and include opaque minerals, apatite, sphene and epidote accompanied locally by quartz (<5%), garnet, chlorite, carbonate and zircon.
Ralleau Suite 1a (ApPral1a): Amphibolitized Garnet Gabbro and Diorite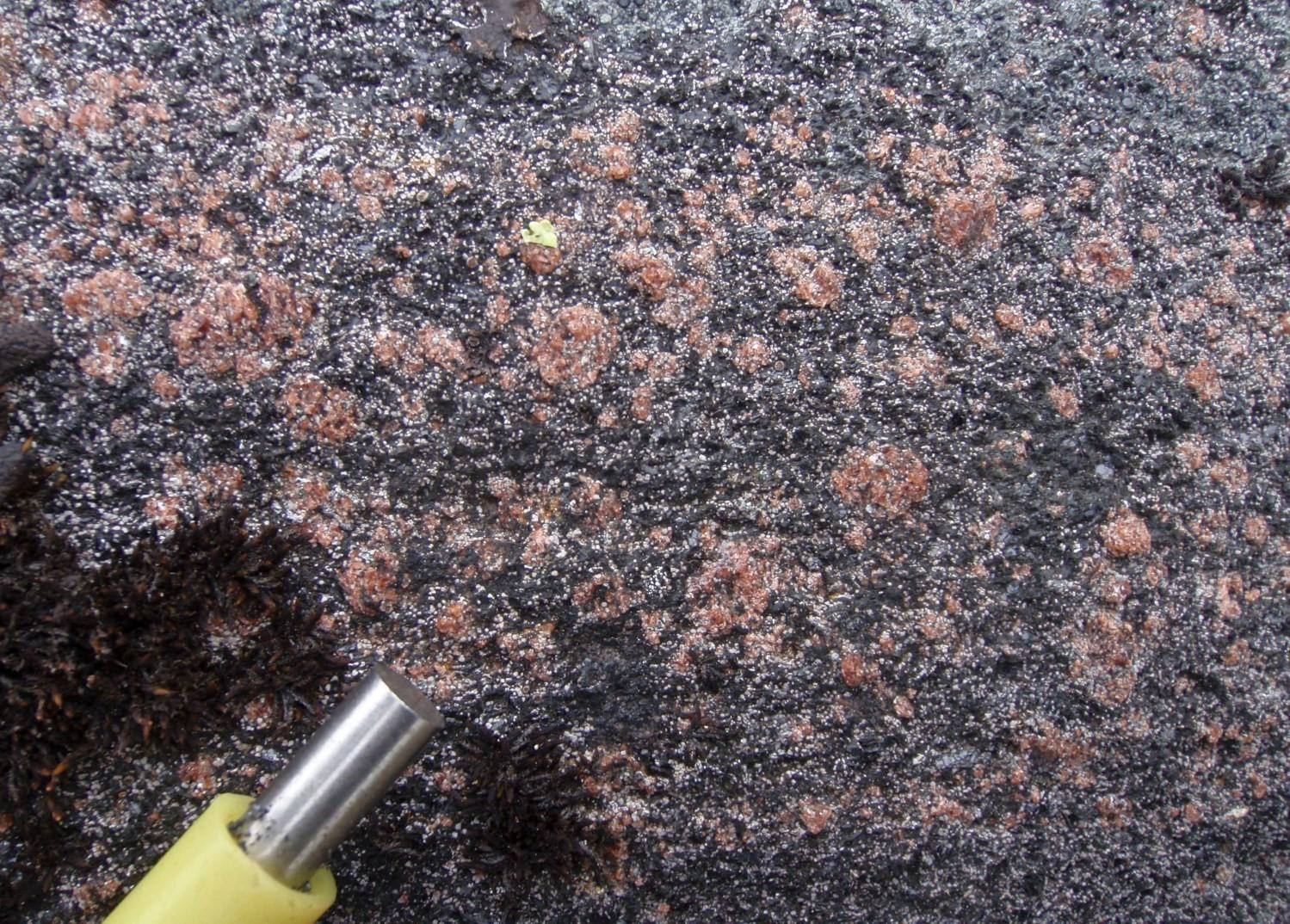 Some decimetric to kilometric layers or enclaves contain millimetric to centimetric garnet poikiloblasts in variable amounts (2-35%). Larger layers were grouped into subunit ApPral1a.
Ralleau Suite 2 (ApPral2): Amphibolitized Pyroxenite and Peridotite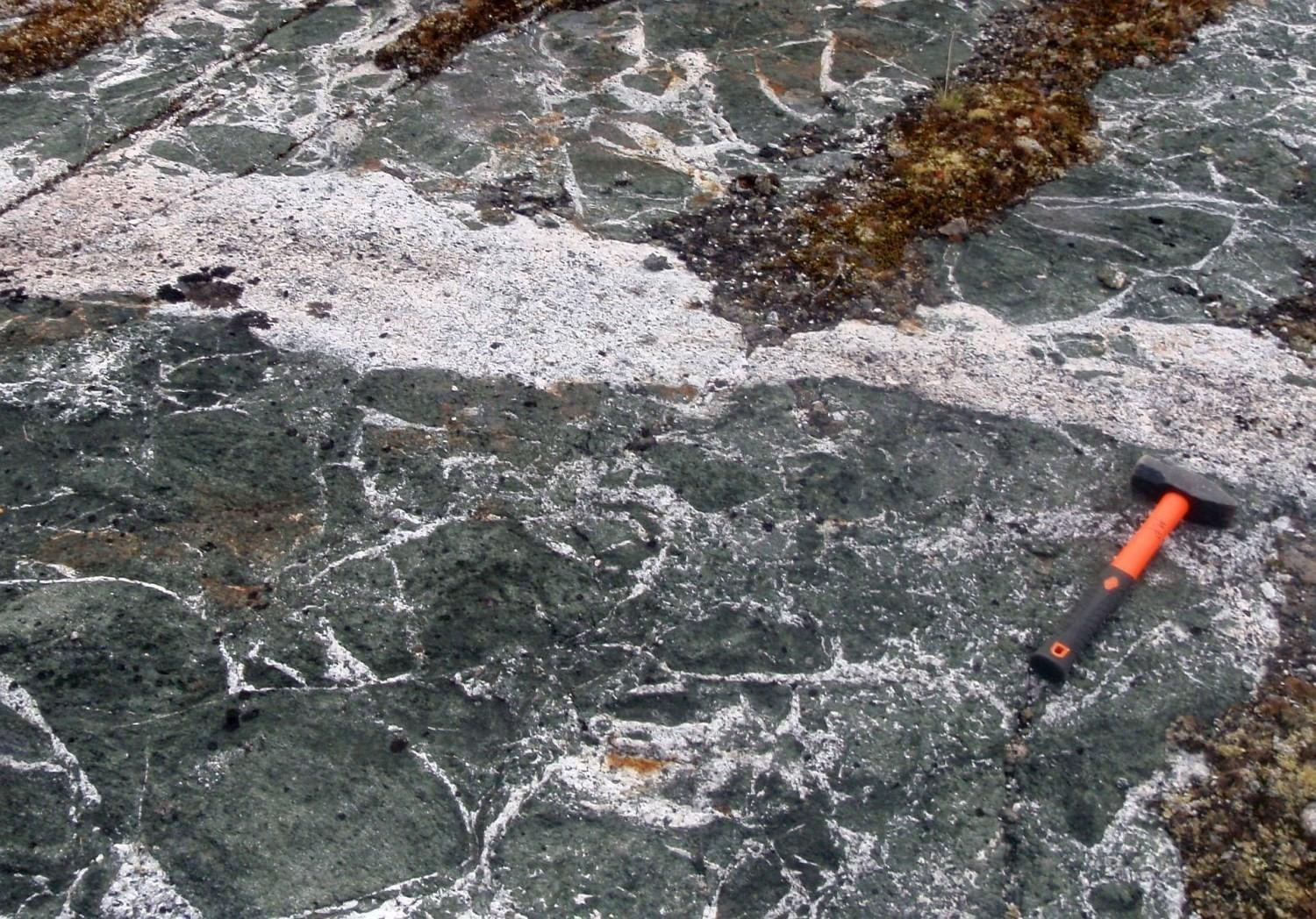 Unit ApPral2 consists mainly of massive fine to medium-grained dark green pyroxenite. Pyroxenite is locally injected by a whitish granite giving a brecciated appearance. In places, melanocratic olivine gabbro and norite (>85% ferromagnesian minerals) were also assigned to this unit. Pyroxenite is mainly composed of clinopyroxene and green hornblende, but the presence of 30% altered orthopyroxene crystals having a cumulate texture was observed on an outcrop in the Henrietta Lake area. In thin sections, there also are actinolite-rich zones, as well as opaque minerals, apatite and epidote in small amounts.
Locally, metre to kilometre-wide lenses of metamorphosed olivine websterite and peridotite are present. These are parallel to foliation within amphibolite layers of the Curot Suite (pPcut1) or metasedimentary rocks of the Grand Rosoy or Akiasirviup suites, which are in sharp contact. Their appearance is massive to slightly foliated and the alteration patina is buff-coloured to greyish green.
Ralleau Suite 2a (ApPral2a): Tremolite-Augite-Fuchsite-Plagioclase Schist
Ultramafic rocks of subunit ApPral2a are highly altered and sheared. They are completely transformed into tremolite-augite-fuchsite-plagioclase schists, and likely represent an alteration zone related to the Gabriel Fault.
Ralleau Suite 2b (ApPral2b): Tremolite Ultramafic Rocks
Subunit ApPral2b is bottle green to snow white and contains relics of oikocristic textures (Girard, 1995). It is composed of acicular, radial fibrous or diablastic tremolite, with variable amounts of carbonate, Mg-chlorite and opaque minerals. Intergrowth of tremolite needles gives the rock a massive appearance and great resistance to fracturing.
Ralleau Suite 2c (ApPral2c): Amphibole-Serpentine-Talc Schist
Subunit ApPral2c is an ultramafic schist composed of acicular amphibole, talc and serpentine (Girard, 1995).
Thickness and distribution
The Ralleau Suite forms hectometric to kilometric klippes that cover an area of 320 km2. It is evenly distributed within the Baleine Lithotectonic Domain. The gabbro and diorite unit (ApPral1) is by far the largest (304 km2), whereas ultramafic rocks (ApPral2) cover a very small area (16 km2).
Dating
The Ralleau Suite has not been dated and could include Archean and Paleoproterozoic rocks.
Stratigraphic Relationship(s)
Rocks of the Ralleau Suite occur as enclaves and boudinaged layers in migmatitic rocks of the Qurlutuq Complex and in gneiss of the Ungava Complex. Geochronological data indicate that this migmatization would be predominantly Archean. However, migmatization of Baleine Lithotectonic Domain paragneiss (False and Winnie suites) would be more Paleoproterozoic. The presence of leucosome in the Ralleau Suite does not make it possible to constrain his age. Field observations suggest that this unit may be partly representative of ancient mafic dykes that are boudinaged or transposed by deformation (Lafrance et al., in preparation). The suite is also cut by porphyritic intrusions of the De Pas Granitic Suite, whitish intrusions of the Aveneau Suite and granitic intrusions of the Dancelou Suite.
Paleontology
Does not apply.
References
Author(s)
Title
Year of Publication
Hyperlink (EXAMINE or Other)
BOURQUE, Y.
Géologie de la région du lac Mina (Territoire-du-Nouveau-Québec). Ministère de l'Énergie et des Ressources, Québec; ET 88-08, 39 pages.
1991
ET 88-08
CHARETTE, B. – LAFRANCE, I. – MATHIEU, G.
Géologie de la région du lac Jeannin (SNRC 24B). Ministère de l'Énergie et des Ressources naturelles, Québec.
2016
GIRARD, R.
Géologie de la région du lac Deborah, Territoire-du-Nouveau-Québec. Ministère des Ressources naturelles, Québec; MB 95-20, 186 pages, 3 plans.
1995
MB 95-20

MB 95-20

LAFRANCE, I. – VANIER, M.-A. – CHARETTE, B.
Domaine lithotectonique de Baleine, sud-est de la Province de Churchill, Nunavik, Québec, Canada : synthèse de la géologie. Ministère de l'Énergie et des Ressources naturelles, Québec.
In preparation
Bulletin géologiQUE
LAFRANCE, I. – BANDYAYERA, D. – CHARETTE, B. – BILODEAU, C. – DAVID., J.

Géologie de la région du lac Brisson (SNRC 24A). Ministère de l'Énergie et des Ressources naturelles, Québec; RG 2015-05, 61 pages.

2016
RG 2015-05
LAFRANCE, I. – BANDYAYERA, D. – BILODEAU, C.
Géologie de la région du lac Henrietta (SNRC 24H). Ministère des Ressources naturelles, Québec; RG 2015-01, 62 pages.
2015
RG 2015-01
LAFRANCE, I. – SIMARD, M. – BANDYAYERA, D.
Géologie de la région du lac Saffray (SNRC 24G-24F). Ministère des Ressources naturelles, Québec; RG 2014-02, 49 pages.
2014
RG 2014-02
SIMARD, M. – LAFRANCE, I. – HAMMOUCHE, H. – LEGOUIX, C.
Géologie de la région de Kuujjuaq et de la Baie d'Ungava (SNRC 24J et 24K). Ministère des Ressources naturelles, Québec; RG 2013-04, 60 pages.
2013
RG 2013-04
7 février 2020
28 mai 2021