DISCLAIMER: This English version is translated from the original French. In case of any discrepancy, the French version shall prevail.
Informal subdivision(s)
Numbering does not necessarily reflect the stratigraphic position.
nApPcut1c Massive or pillow metabasalt and metavolcaniclastics
nApPcut1b
Banded amphibolite and metavolcaniclastics
| | |
| --- | --- |
| Author: | Simard et al., 2013 |
| Age: | Neoarchean and Paleoproterozoic |
| Stratotype: | None |
| Type area: | Kuujjuaq and Ungava Bay area (NTS sheets 24J and 24K) |
| Geological province: | Churchill Province |
| Geological subdivision: | Baleine Lithotectonic Domain |
| Lithology: | Amphibolite |
| Category: | Lithodemic |
| Rank: | Suite |
| Status: | Formal |
| Use: | Active |
Background
The "Rivière Curot Suite" was established in the Kuujjuaq and Ungava Bay area (Simard et al., 2013) to group amphibolitized mafic rocks interstratified in metasedimentary sequences of the Akiasirviup Suite. Charette et al. (2016) assigned a few amphibolite klippes from the Jeannin Lake area to this unit and renamed it « Curot Suite » to comply with the North American Stratigraphic Code. Amphibolites now attached to the Curot Suite were mapped by Gélinas (1958, 1959), Sauvé (1957, 1959), Fahrig (1962) and Clark (1978), and incorporated into the SIGÉOM compilation map by Thomas Clark between 2009 and 2016.
As part of a synthesis of the Southeastern Churchill Province (SECP), the Curot Suite has been redefined to include all amphibolites of the Baleine Lithotectonic Domain (Lafrance et al., in preparation). Furthermore, mafic and ultramafic intrusive rocks of the Baleine Lithotectonic Domain have been grouped in the Ralleau Suite. In the Déborah Lake area, the Curot Suite also includes amphibolites previously assigned by Girard (1995) to the Manereuille Complex (abandoned). In addition, considering that Curot Suite amphibolites are interstratified with metasedimentary rocks of the Akiasirviup Suite, of uncertain age, Lafrance et al. (in preparation) preferred to modify the label of the Curot Suite to consider the possible presence of Archean rocks.
Description
Curot Suite 1 (nApPcut1): Amphibolite
Unit nApPcut1 amphibolite includes informal subunits that have not always been recognized in the field, depending on the area. Thus, it represents an undifferentiated unit that can include the different features described below.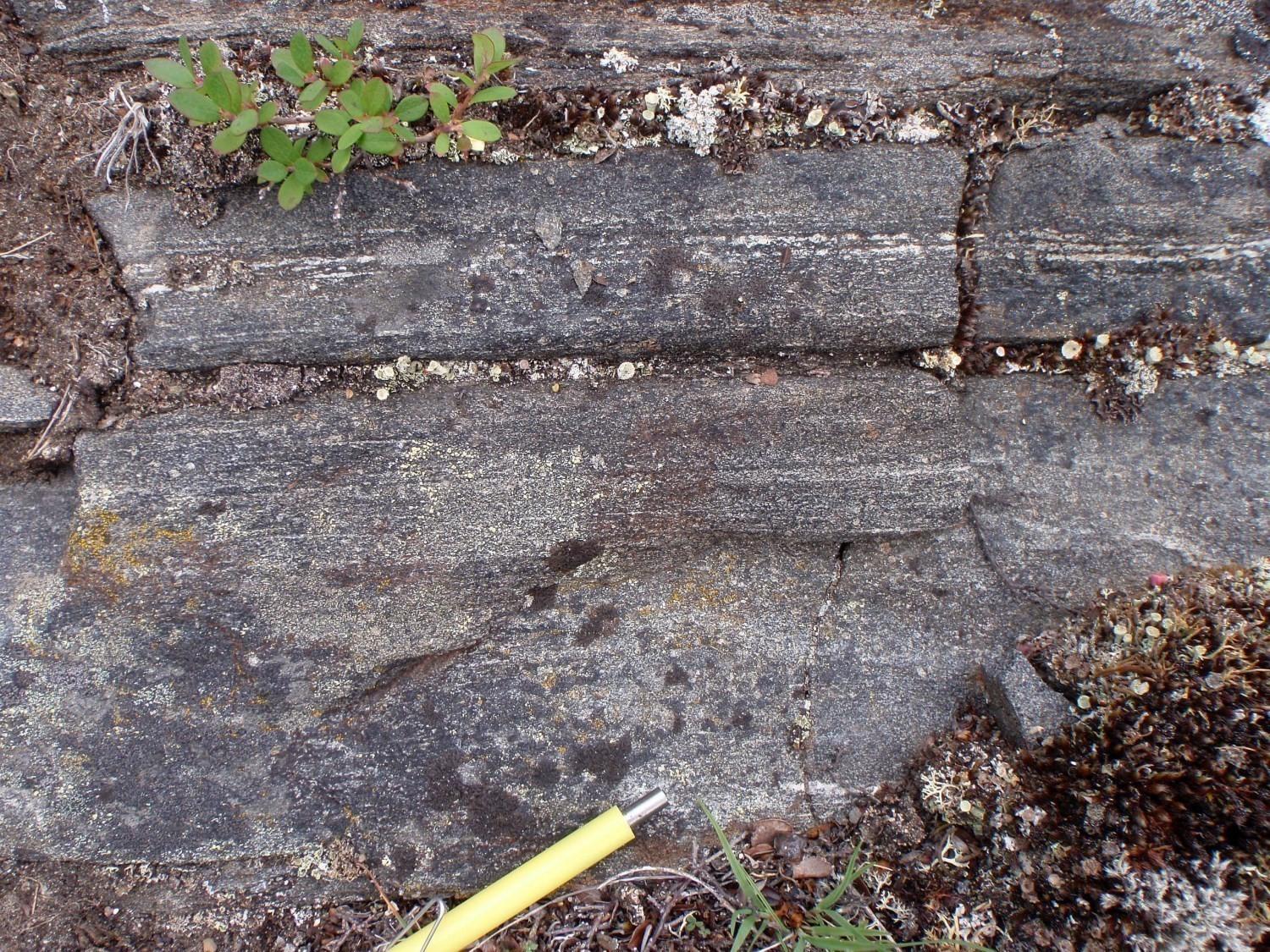 Unit nApPcut1 amphibolite is fine to medium grained, foliated and commonly banded. It typically contains small amounts of whitish injections or leucosome forming discontinuous bands subparallel to foliation. Millimetric to centimetric quartz or carbonate veinlets are also common. These rocks' protolith is considered to be mostly of effusive origin (metabasalt), but an intrusive origin cannot be excluded given the absence of primary textures. Amphibolite contains 50-80% black or dark green amphiboles, mainly hornblende, which define foliation. The granoblastic matrix of plagioclase and quartz fills the gaps between euhedral amphibole crystals. Some decimetre to metre-wide amphibolite layers may contain 5-20% garnet. Sphene is generally present in notable amount (1-2%). Other accessory minerals present in varying amounts are biotite, epidote, ilmenite, allanite, chlorite, apatite, zircon, tourmaline and pyrrhotite.
In the Ikattok Bay area (sheet 24N03), Gold (1962) describes black, glossy bands and enclaves, not more than 100 m thick, of granular amphibolite composed of hornblende and quartz with some plagioclase and garnet. These rocks are locally schistose and of uncertain origin.
Curot Suite 1a (nApPcut1a): Very Fine-Grained Amphibolite
In the Kuujjuaq and Ungava Bay area, klippes of schistose, paler greenish-grey and very fine-grained or aphanitic amphibolite are interpreted to be of effusive origin and have been assigned to subunit nApPcut1a. In these rocks, the main amphibole species appears to have an intermediate composition between hornblende and actinolite. Cummingtonite (5-20%) was also observed locally.
Curot Suite 1b (nApPcut1b): Banded Amphibolite and Metavolcaniclastics
Amphibolite and metavolcaniclastics of subunit nApPcut1b are generally interstratified in centimetric to decimetric layers. Amphibolite is fine to very fine grained and displays alternating millimetric to centimetric greenish clinopyroxene-carbonate bands and black hornblende bands. Millimetric garnet is locally observed in amphibolite as well as accessory sphene and zircon. Layers of foliated and fine-grained metabasalt had already been described by Bourque (1991) in the Champdoré Suite.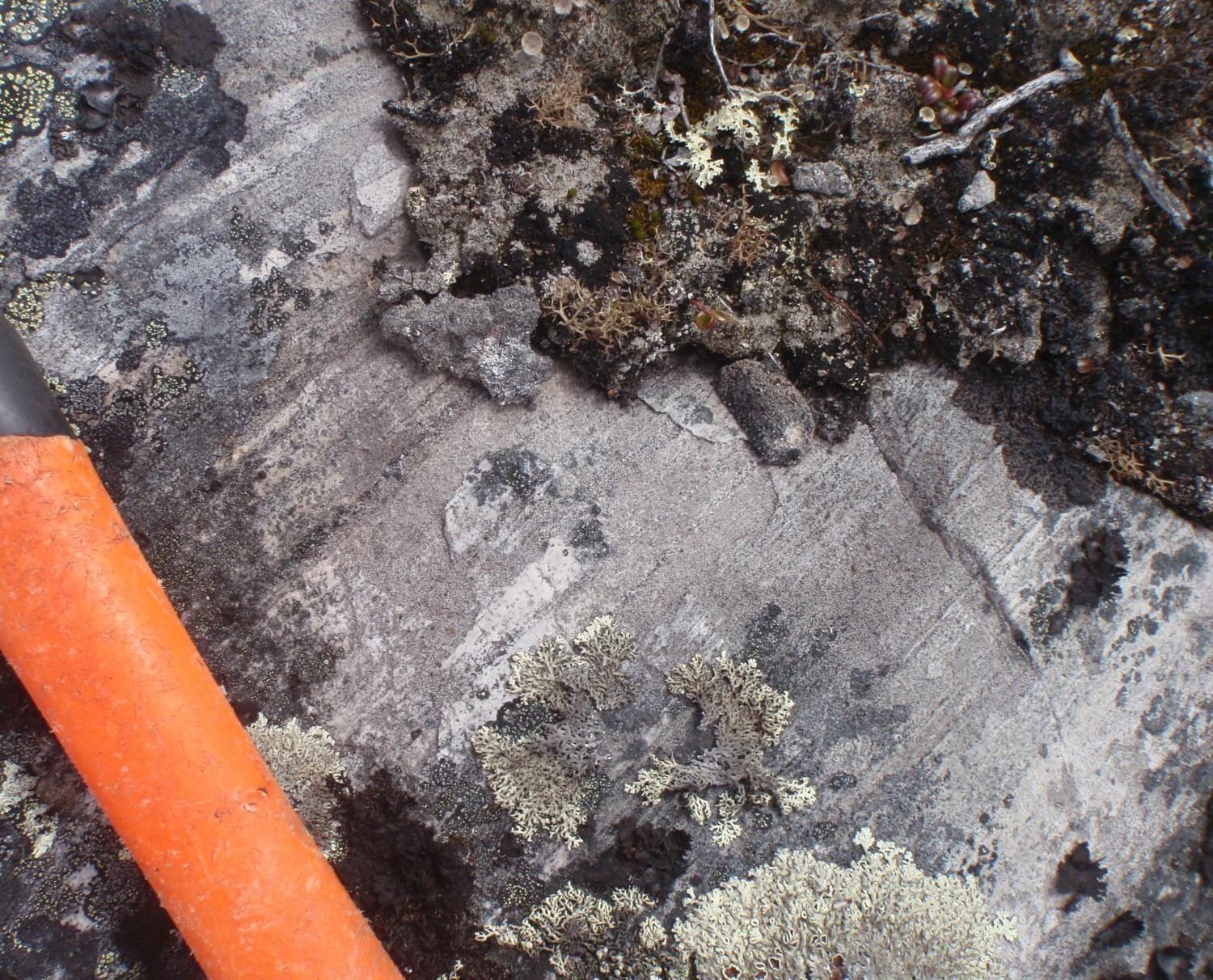 Metavolcaniclastics are felsic to intermediate in composition. The matrix is very finely recrystallized with a few coarser-grained quartz-feldspar lenses. These rocks appear to have undergone significant alteration indicated by plagioclase sericitization and the presence of 5-8% epidote. These felsic layers also contain dark brown biotite marking foliation, as well as accessory minerals, mainly zircon, allanite and apatite. Layers of intermediate composition contain small, stretched green hornblende porphyroclasts.
In the Jeannin Lake area, this subunit includes thin sequences of amphibolite and metavolcaniclastics previously assigned to the Ralleau Suite by Charette et al. (2016).
Curot Suite 1c (nApPcut1c): Massive or Pillow Metabasalt and Metavolcaniclastics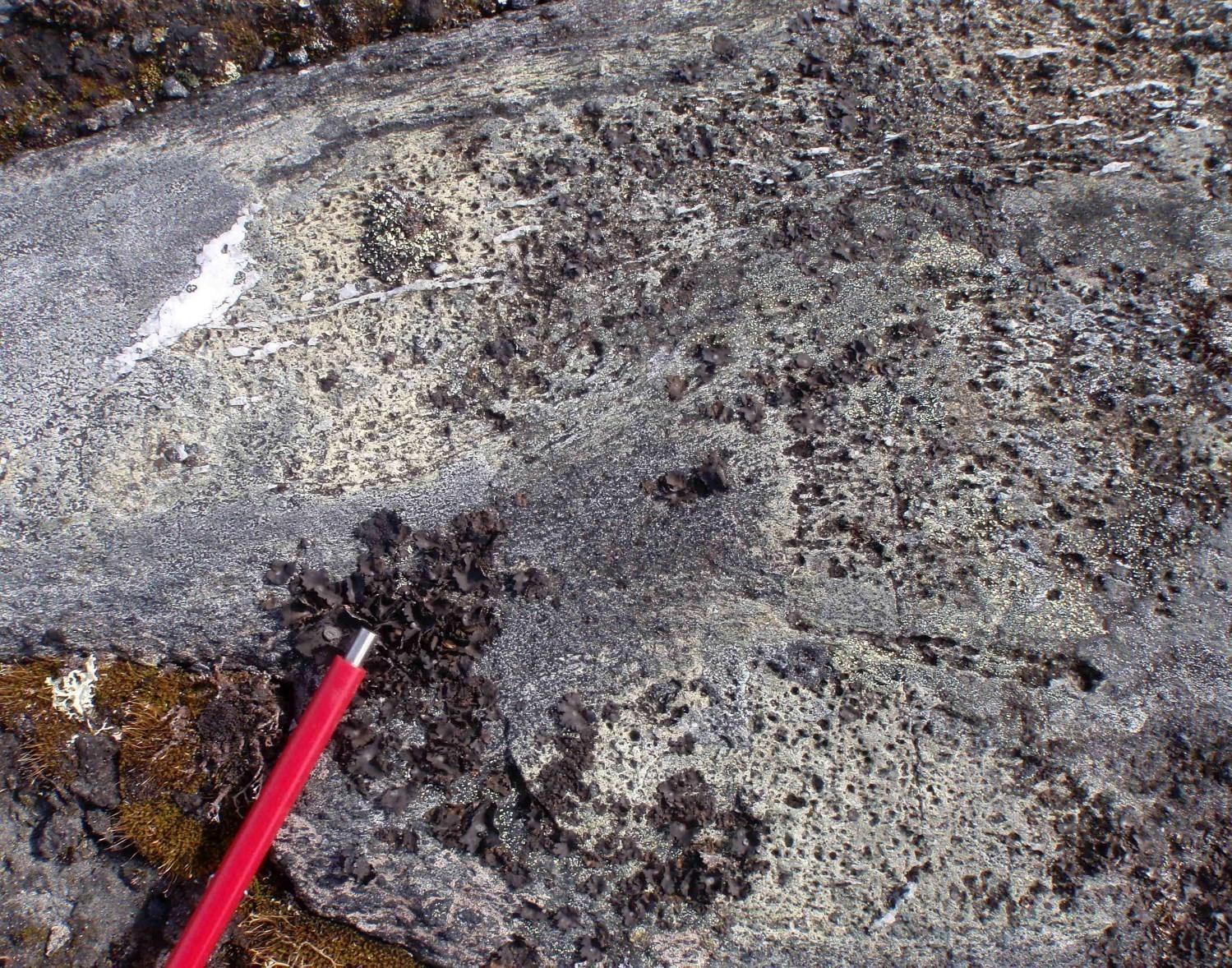 Subunit nApPcut1c is similar to subunit nApPcut1b, but is distinguished by the presence of layers where primary textures, such as pillows and amygdules, have been preserved. Pillows are elongated in foliation and are 5-10 cm wide by 20-40 cm long. Polarity could not be determined due to the intensity of deformation. In the Déborah Lake area, Girard (1995) interprets the centimetric compositional banding of an amphibolite sequence as being of primary origin (mafic metatuff) rather than the result of deformation.
Curot Suite 1d (nApPcut1d): Melanocratic Amphibolite
Subunit nApPcut1d consists of very dark melanocratic amphibolite, massive to foliated, composed of 70-90% millimetric black amphibole (blue-green in thin sections). This unit, called "amphibolite" by Girard (1995), also contains ~10% submillimetric, globular or granular sphene, which forms inclusions in all other minerals, including amphibole, biotite and pyrite. Plagioclase is interstitial and represents up to 10% of the rock. Biotite and colourless Mg-chlorite form flakes (0-10% of the mode). Apatite and opaque minerals are quite abundant, while epidote and calcite are present in traces.
Thickness and distribution
The Curot Suite is mainly located at the northern and southern ends of the Baleine Lithotectonic Domain and along the western edge of this domain, although small klippes are sporadically observed elsewhere.
It covers a total area of ~239 km2 and forms klippes a few hundred metres to three kilometres wide, mostly interstratified in metasedimentary sequences of the Akiasirviup Suite. Unit nApPcut1 (77 km2) and subunits ApPcut1a (105 km2) and nApPcut1b (41 km2) are the most important, while subunits nApPcut1c (15 km2) and nApPcut1d (1 km2) are more restricted and outcrop mainly in the Manereuille Lake area, in the southern part of the Baleine Lithotectonic Domain.
Dating
The Curot Suite has not been dated and could include Neoarchean and Paleoproterozoic rocks.
Stratigraphic Relationship(s)
The Curot Suite is interstratified with metasedimentary rocks of the Akiasirviup and Grand Rosoy suites. It is locally cut by intrusive rocks of the Dancelou and Champdoré suites.
Paleontology
Does not apply.
References
Author(s)
Title
Year of Publication
Hyperlink (EXAMINE or Other)
CHARETTE, B. – LAFRANCE, I. – MATHIEU, G.
Géologie de la région du lac Jeannin (SNRC 24B). Ministère de l'Énergie et des Ressources naturelles, Québec; BG 2015-01.
2016
Electronic geological report
BOURQUE, Y.
Géologie de la région du lac Mina (Territoire du Nouveau-Québec). Ministère de l'Énergie et des Ressources, Québec; ET 88-08, 49 pages, 4 plans.
1991
ET 88-08
CLARK, T.
Région du lac Hérodier. Ministère des Richesses naturelles, Québec; DPV-568, 43 pages, 2 plans.
1978
DPV-568
FAHRIG, W.F.
Lac Hérodier, Québec. Commission géologique du Canada; carte 1146A (carte annotée).
1965
Source
GÉLINAS, L.
Région du lac Gabriel (partie ouest), Nouveau-Québec. Ministère des Mines, Québec; RP 373, 11 pages, 1 plan.
1958
RP 373
GÉLINAS, L.
Région du lac Gabriel (partie est), et la région de Fort Chimo (partie ouest), Nouveau-Québec. Ministère des Mines, Québec; RP 407, 11 pages, 1 plan.
1959
RP 407
GIRARD, R.
Géologie de la région du lac Déborah, Territoire-du-Nouveau-Québec. Ministère des Ressources naturelles, Québec; MB 95-20, 186 pages, 3 plans.
1995
MB 95-20
GOLD, D.P.
Rapport préliminaire sur la région de la Baie Hopes Advance, Nouveau-Québec. Ministère des Ressources naturelles, Québec; RP 442, 13 pages, 1 plan.
1962
RP 442
LAFRANCE, I. – SIMARD, M. – BANDYAYERA, D.
Géologie de la région du lac Saffray (SNRC 24G-24F). Ministère des Ressources naturelles, Québec; RG 2014-02, 49 pages.
2014
RG 2014-02
SAUVÉ, P.
Région du lac de Freneuse (moitié est), Nouveau-Québec.

Ministère des Mines, Québec; RP 358, 8 pages, 1 plan.

1957
RP 358
SAUVÉ, P.
Région de la baie aux Feuilles, Nouveau-Québec. Ministère des Mines, Québec; RP 399, 13 pages, 1 plan.
1959
RP 399
SIMARD, M. – LAFRANCE, I. – HAMMOUCHE, H. – LEGOUIX, C.
Région du lac Thévenet (moitié est), Nouveau-Québec. Ministère des Ressources naturelles, Québec; 9 pages, 1 plan.
2013
RG 2013-04
LAFRANCE, I. – VANIER, M.-A. – CHARETTE, B.
Domaine lithotectonique de Baleine, sud-est de la Province de Churchill, Nunavik, Québec, Canada : synthèse de la géologie. Ministère de l'Énergie et des Ressources naturelles, Québec.
In preparation
Bulletin géologiQUE
5 février 2020
16 septembre 2020