The amount of quartz is generally around 30%. Staining indicates the presence of K-feldspar (<25%) bands in some samples. Brown biotite and muscovite are present in similar amount (5-15%). Biotite is locally chloritized and commonly contains zircon inclusions. At least two generations of muscovite were observed in thin sections: thin flakes generally aligned in foliation, as well as large skeletal felt clusters aligned or not in foliation. Muscovite flakes located in the centre of lenticular clusters parallel to foliation are arranged at an angle with it. Accessory minerals are sparse and consist of apatite, epidote, opaque minerals, carbonate, sphene and allanite.
Akiasirviup Suite 2 (nAaki2): Biotite-Muscovite Paragneiss and Paraschist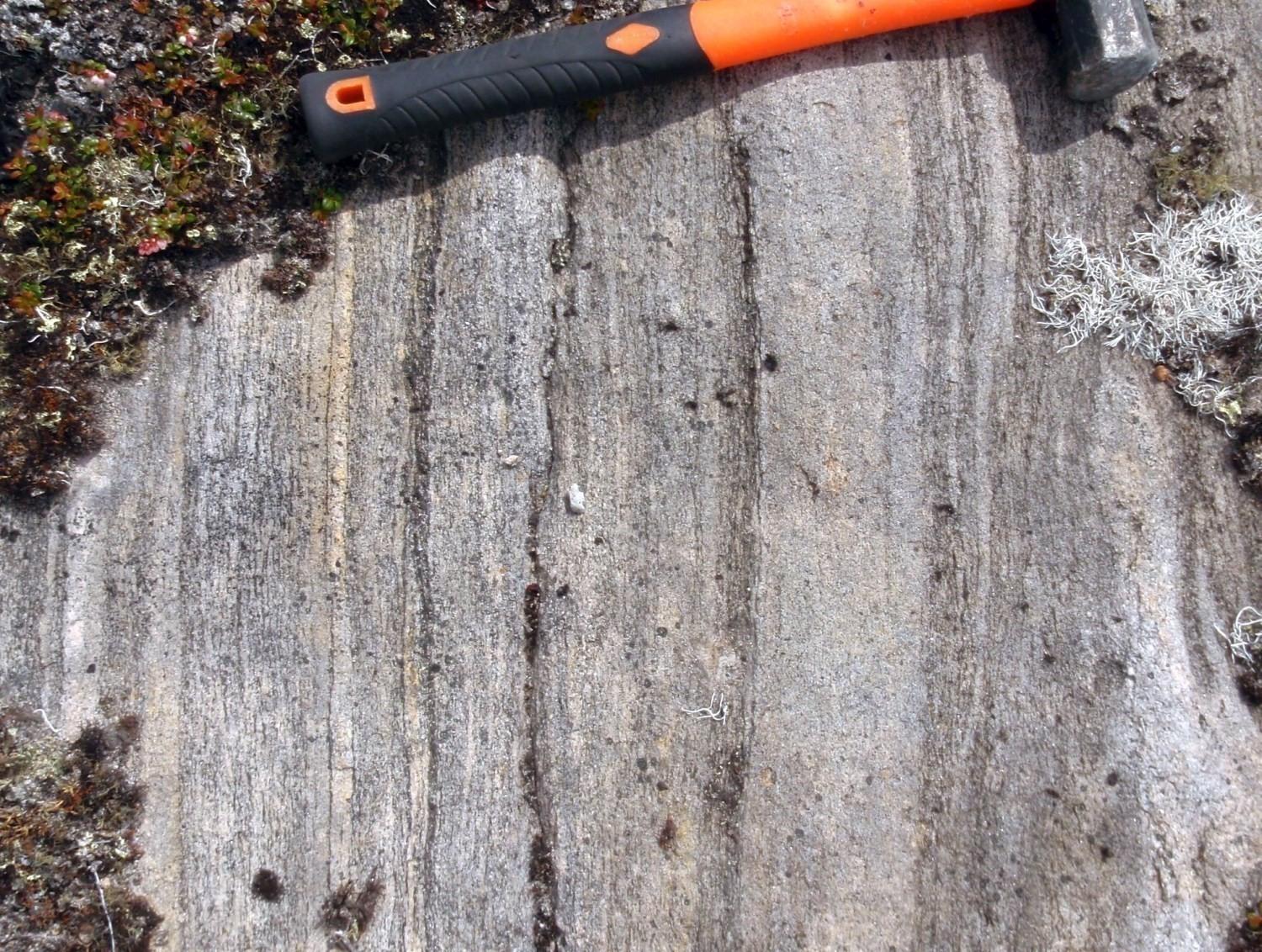 Unit nAaki2 consists of banded, non-migmatized, granoblastic and fine-grained paragneiss and paraschist. These rocks' protoliths appear mainly to be wacke and arkose. Banding is centimetric to decimetric and appears to represent relics of primary bedding. It consists of alternating light bands (grey or beige), containing <10% biotite, and darker biotite-rich schistose bands (15-25%). Muscovite is mostly present (1-10%). Accessory minerals are sparse and include apatite, sphene, opaque minerals, carbonates, chlorite, tourmaline, zircon and allanite.
Akiasirviup Suite 2a (nAaki2a): Biotite-Muscovite-Garnet Paragneiss and Paraschist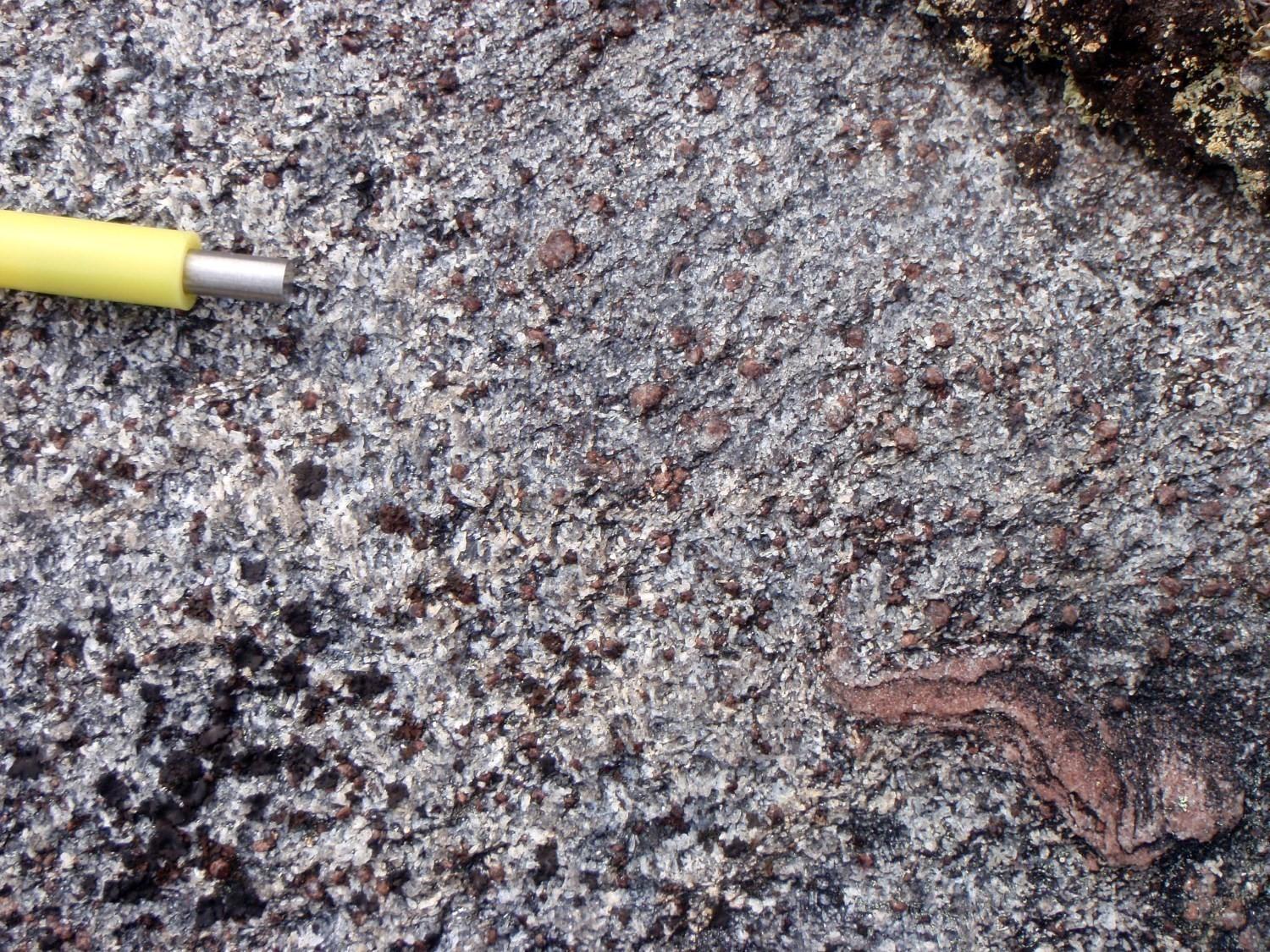 Rocks of this unit contain 5-15% light pink garnet as small isolated grains, centimetric clusters or idioblastic porphyroblasts 2-5 mm.
Akiasirviup Suite 2b (nAaki2b): Biotite-Muscovite-Sillimanite Paragneiss and Paraschist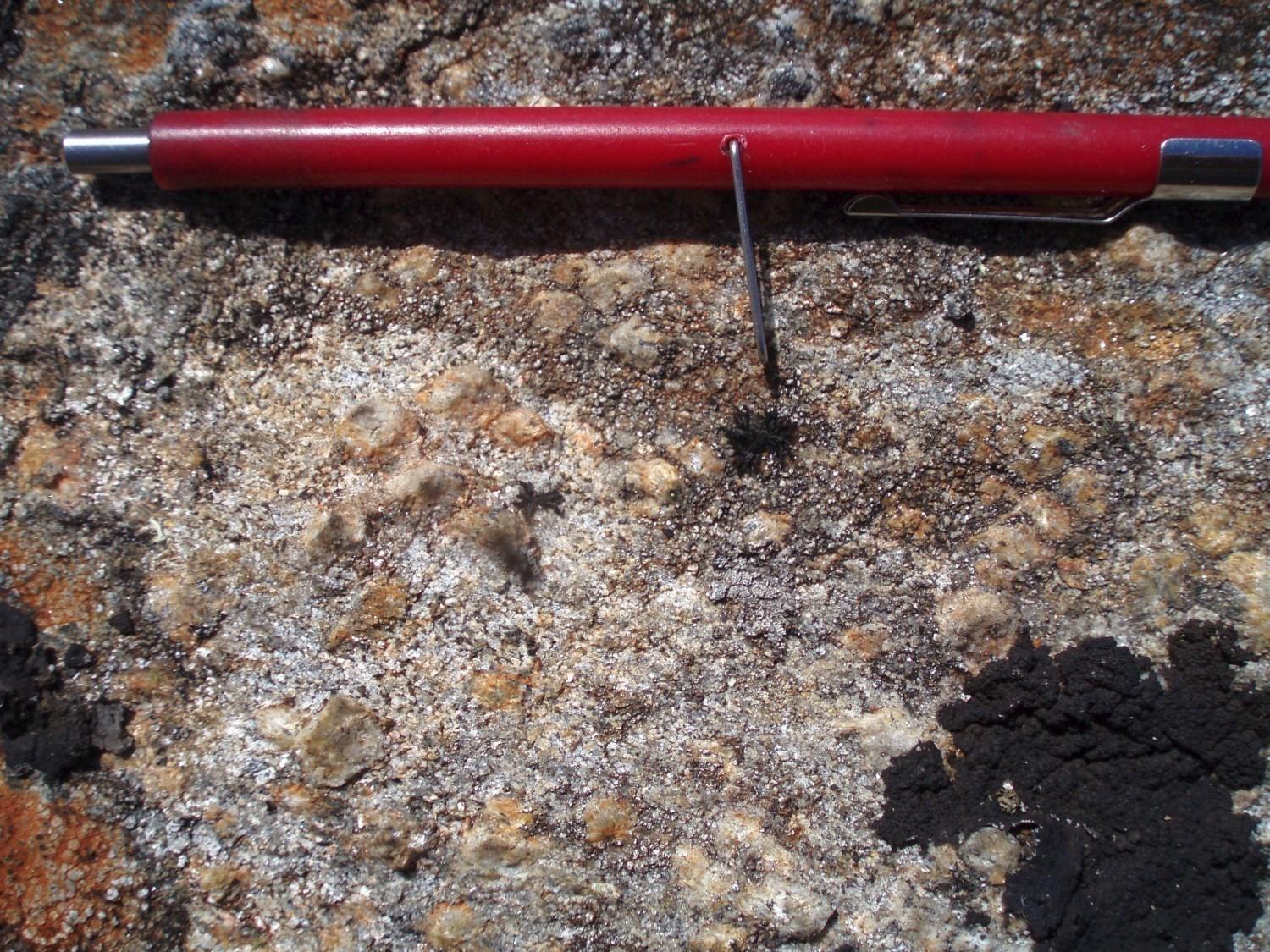 Rocks of this unit are characterized by the presence of ~20% millimetric to centimetric whitish nodules consisting of thin sillimanite needles. This subunit is also richer in muscovite, which can account for up to 25% of the rock mode.
Akiasirviup Suite 2c (nAaki2c): Biotite-Muscovite-Garnet Paraschist
Unit containing metric to decametric layers of quartzofeldspathic schist previously assigned to the Manereuille Complex in the Déborah Lake area (Girard, 1995). These schists are interstratified with other paragneiss and paraschist of unit nAaki2, as well as with calcosilicate rocks of unit nAaki4. The unit also includes some outcrops of the northern part of the Baleine Domain. Schist contains up to 20% centimetric porphyroblastic garnet. This garnet is rich in inclusions mimicking the trace of straight or helical foliation. Biotite forms up to 30% of the schist. Quartz is abundant, granoblastic or in bands. Feldspar, scapolite, opaque minerals, apatite, zircon and rutile are present in traces.
Outcrops assigned to this unit in the northern part of the Baleine Domain also contain good amounts of sillimanite, kyanite and staurolite.
Akiasirviup Suite 3 (nAaki3): Iron Formation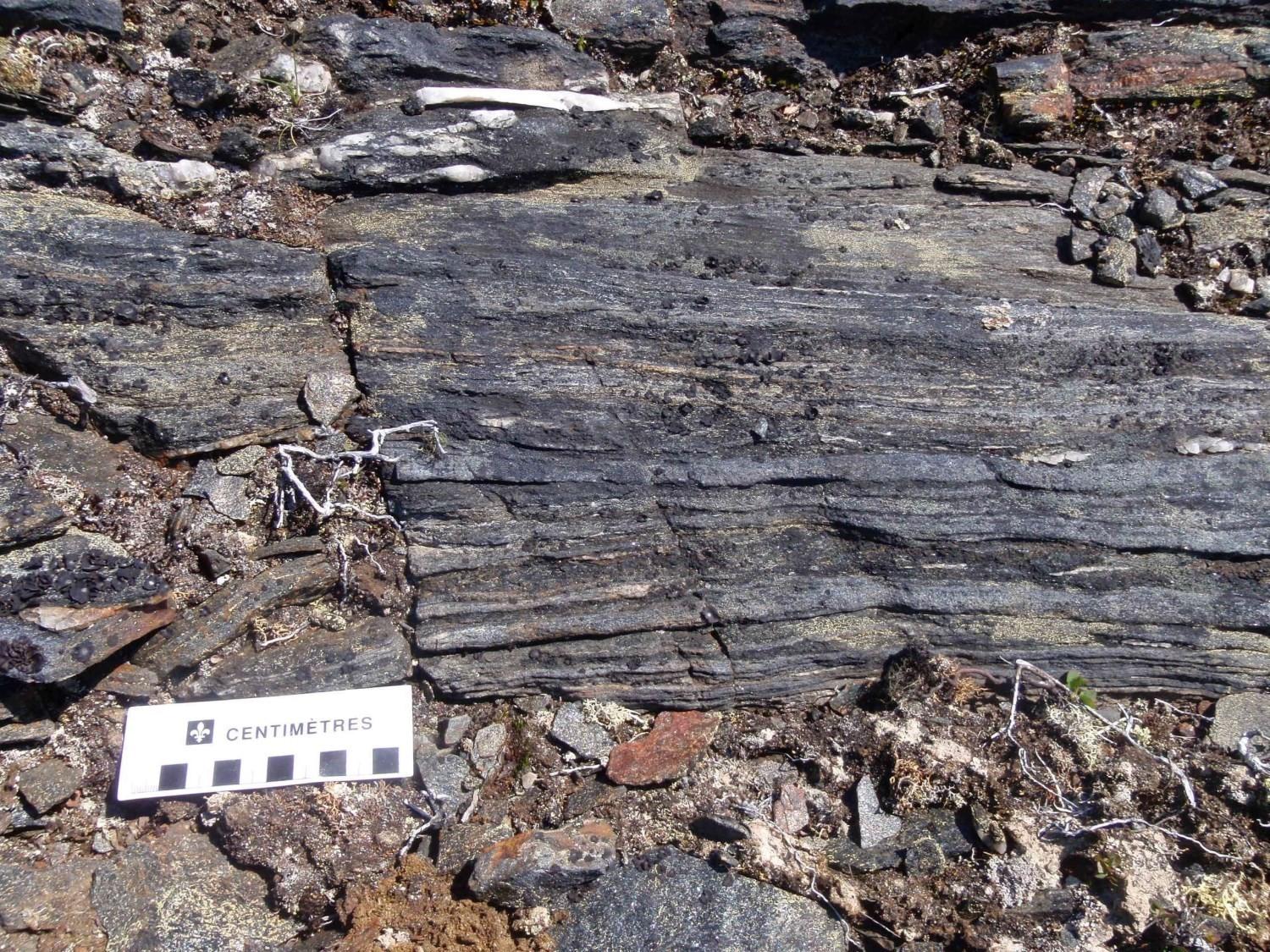 Unit nApPaki3 consists of iron formation mostly at the silicate-oxide facies. The silicate facies has a heterogeneous and variegated appearance with a grey, green, brown or black colour. Rocks are massive, banded at the decimetre scale or laminated at the millimetre scale. They are mesocratic to melanocratic and are composed of 30-90% amphibole, 0-35% quartz, 5-30% garnet and 0-10% opaque minerals. Amphibole (grunerite and hornblende) is subidioblastic, acicular or granoblastic. Quartz is clear, granoblastic and interstitial with amphibole and garnet. Garnet forms idioblastic porphyroblasts, usually rich in quartz, amphibole and biotite inclusions. Incomplete rims or helicitic pressure shadows consisting of garnet, hornblende or scapolite are commonly observed around garnet. Opaque phases consist of xenoblastic magnetite and iron sulphides. Brown biotite, epidote, scapolite, apatite, zircon and rutile are accesory minerals.
Locally, sulphide facies iron formations are interstratified with amphibolites of the Curot Suite. This rock is composed of 50% pyrrhotite and 50% silicate fragments forming a durchbewegung texture. Fragments consist of granoblastic and polycrystalline quartz and plagioclase. Muscovite and chlorite are associated with them.
Akiasirviup Suite 4 (nAaki4): Calcosilicate Rocks and Marble
Akiasirviup Suite 4a (nAaki4a): Calcosilicate Rocks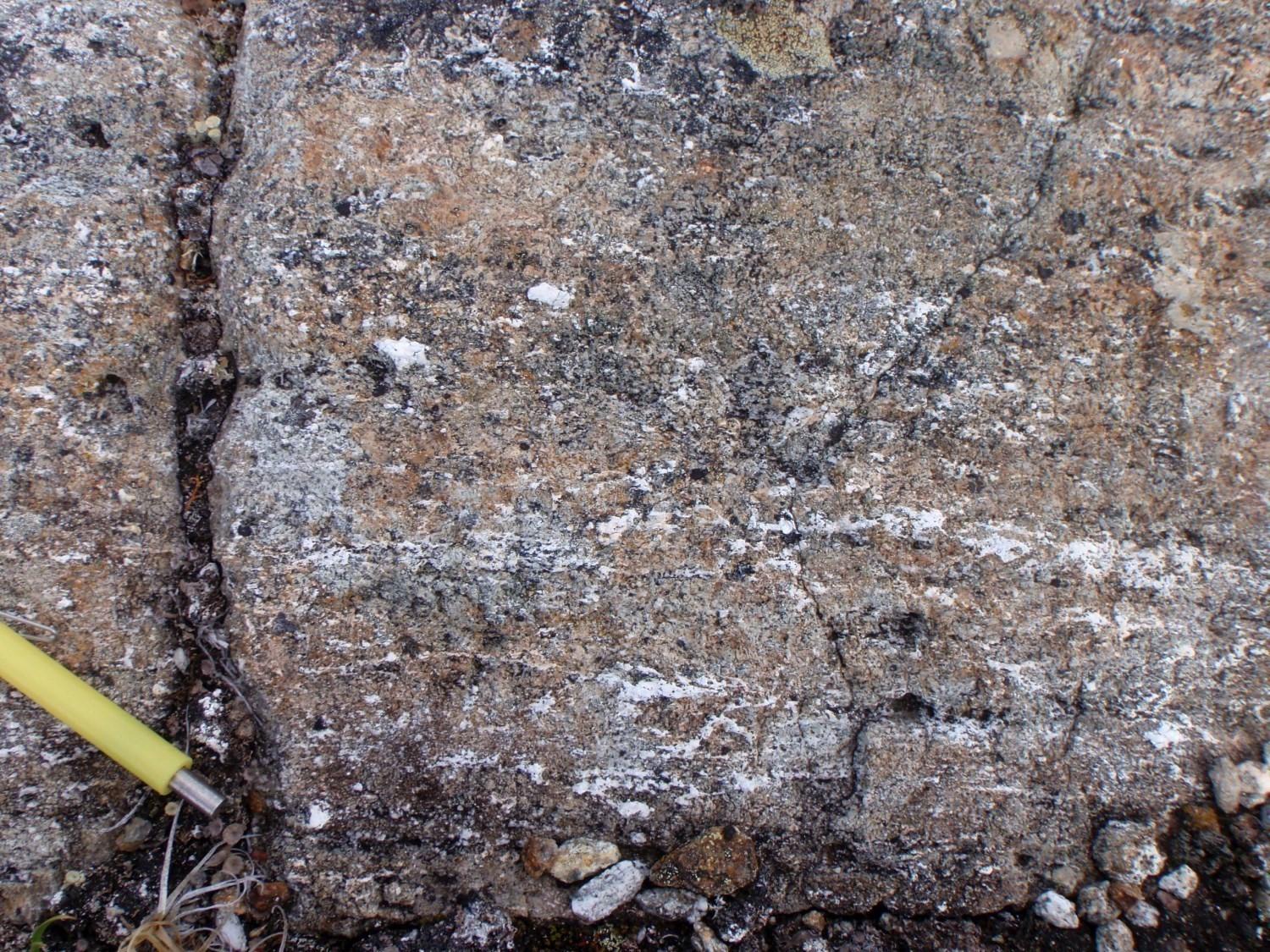 Calcosilicate rocks display banding produced by alternating diopside-rich bands and quartzofeldspathic bands. Decimetric layers of marble, whitish, greenish or orange are observed within calcosilicate rocks.
Akiasirviup Suite 4b (nAaki4b): Marble, Impure Marble and Dolomitic Marble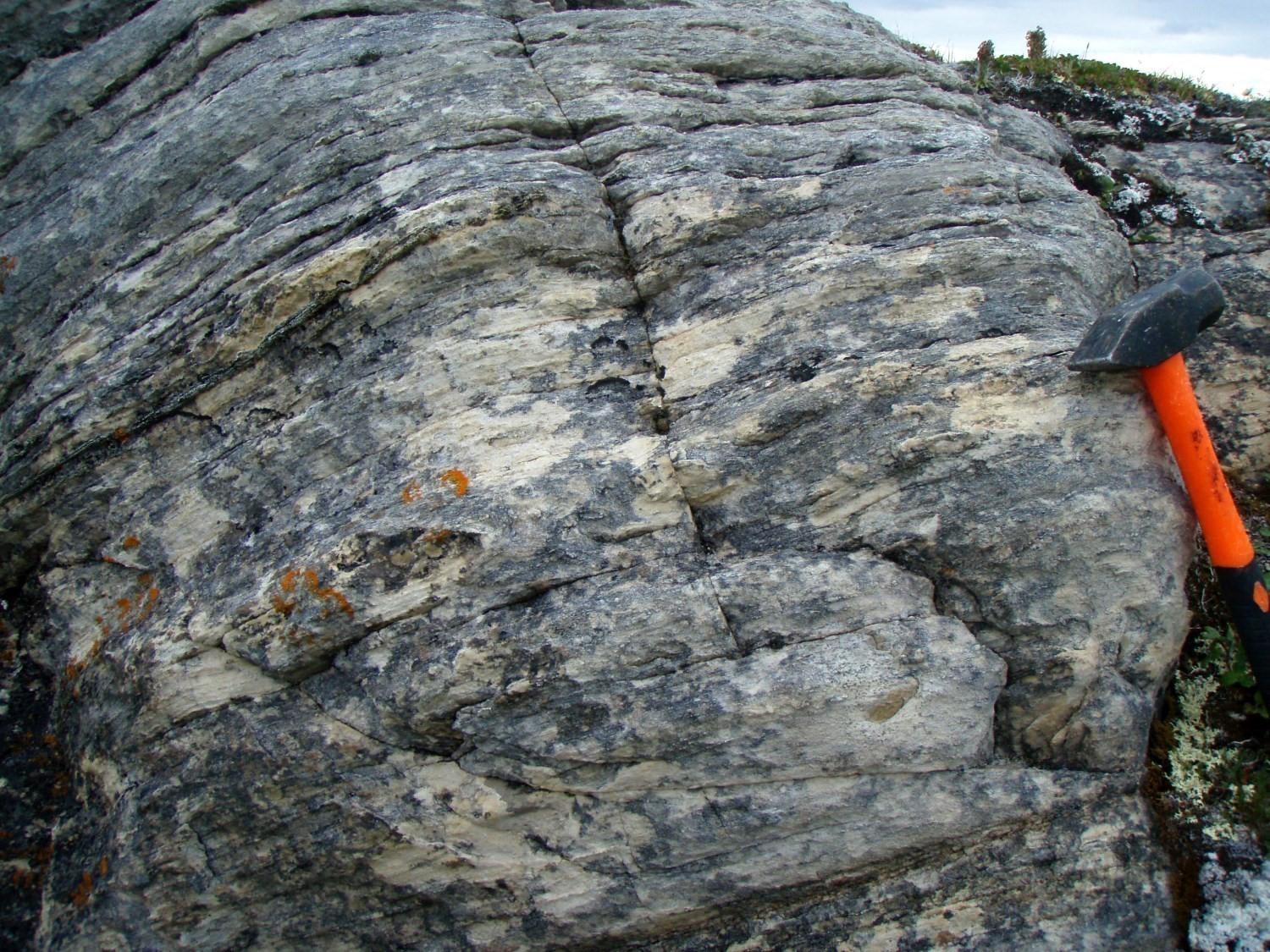 Marble is white to cream-coloured or apple green and rough in altered surface, greyish in fresh exposure. It forms erosion-resistant decametric ridges. Its texture varies from massive to banded at the decimetre scale. Banding commonly displays intense folding at the decimetre to decametre scale, although marble layers have a regular and continuous pattern. This banding is produced by varying proportions of tremolite and carbonate. Carbonate-dominated rocks are generally saccharoidal and medium grained. Tremolite-rich lithologies have porphyroblastic, nematoblastic or fasciculate textures. Tremolite fibre intergrowth explains the strength of these rocks.
Marble is mainly dolomitic, locally calcitic. Carbonates (60-99%) are granoblastic, serrated or form porphyroclasts with neoblastic granules at edges. The second most important mineral is tremolite, white or cream, which occurs as millimetric idioblastic acicular prisms with no preferential orientation. Where very abundant (<50%), it can be porphyroblastic, forming intergrown prisms up to 10 cm. It also occurs as submillimetric needle bundles or stacks. Biotite and phlogopite form flakes floating in carbonate paste. Opaque minerals, titanite, apatite and zircon are locally visible accessory minerals. In places, plagioclase may represent 5% of the rock where associated with scapolite.
Akiasirviup Suite 4c (nAaki4c): Banded Calcosilicate Rocks
Calcosilicate rocks of this unit are confined to the Déborah Lake area (Girard, 1995). They are usually dark green to black, locally pepper and salt. The rock is well banded at the centimetre to decimetre scale. Banding of metamorphic or primary origin is marked by variations in mineral proportions. This banding can be regular or intensely folded as in unit nAaki4b marble. Unit nAaki4c is characterized by fasciculate actinolite. Stacks can reach a length of several centimetres and a diameter of several millimetres. They grow in the foliation plane, defining a remarkable garbenschiefer texture. They are rarely intergrown. Hornblende rims develop locally around actinolite. The matrix (10-60% of the rock) is composed of quartz, feldspar, scapolite and carbonate. Quartz can be dispersed in the matrix or segregated into millimetric bands. Feldspar is mainly granoblastic plagioclase. Scapolite pseudomorphose plagioclase and forms large mosaic poikiloblasts locally. Calcite is granoblastic or interstitial to other leucocratic phases. Brown biotite, locally replaced by chlorite, is an accessory mineral that can make up 10% of the rock. Other accessory minerals observed are sphene, garnet, opaque minerals, apatite and zircon. Garnet forms porphyroblasts rich in inclusions.
Thickness and distribution
The Akiasirviup Suite is mainly located along the western border of the Baleine Lithotectonic Domain. It is not observed throughout this domain and is mostly concentrated on its northern and southern ends. However, similar rocks were also observed in the central portion of the domain in the Jeannin Lake area (Charette et al., 2016). Units nAaki1 (1004 km2) and nAaki2 (598 km2) are the most common, while units nAaki3 (8 km2) and nAaki4 (27 km2) cover much smaller areas.
Dating
None. However, interstratification of metasedimentary rocks of the Akiasirviup Suite with those of the Grand Rosoy Suite (<2618 Ma; Davis and Sutcliffe, 2018) allows them to be assigned a Neoarchean age.
Metasedimentary rocks of the Akiasirviup Suite are interstratified with amphibolites of the Curot Suite and metasedimentary rocks of the Grand Rosoy Suite. They are locally cut by intrusive rocks of the Dancelou Suite.
Does not apply.