Background
Some ultramafic intrusions had already been mapped by Hocq in NTS sheet 33A02 (Hocq, 1985), but the Sorbier Mafic-Ultramafic Suite was not introduced until 2018, following a geological mapping campaign by the Ministère (Beauchamp, 2020).
Description
The Sorbier Mafic-Ultramafic Suite consists of a series of intrusions whose composition varies from peridotite, pyroxenite, hornblendite to gabbro. On geophysical maps, these intrusions are generally associated with strong, generally positive, magnetic anomalies. They form elongated and lenticular bodies that cut migmatized sedimentary rocks of the Laguiche Complex. This string of mafic-ultramafic rocks, included in the Eastmain-Sorbier Shear Zone, Ayr Structural Domain and Mabille Structural Domain, forms small deformed, discontinuous and boudinaged entities.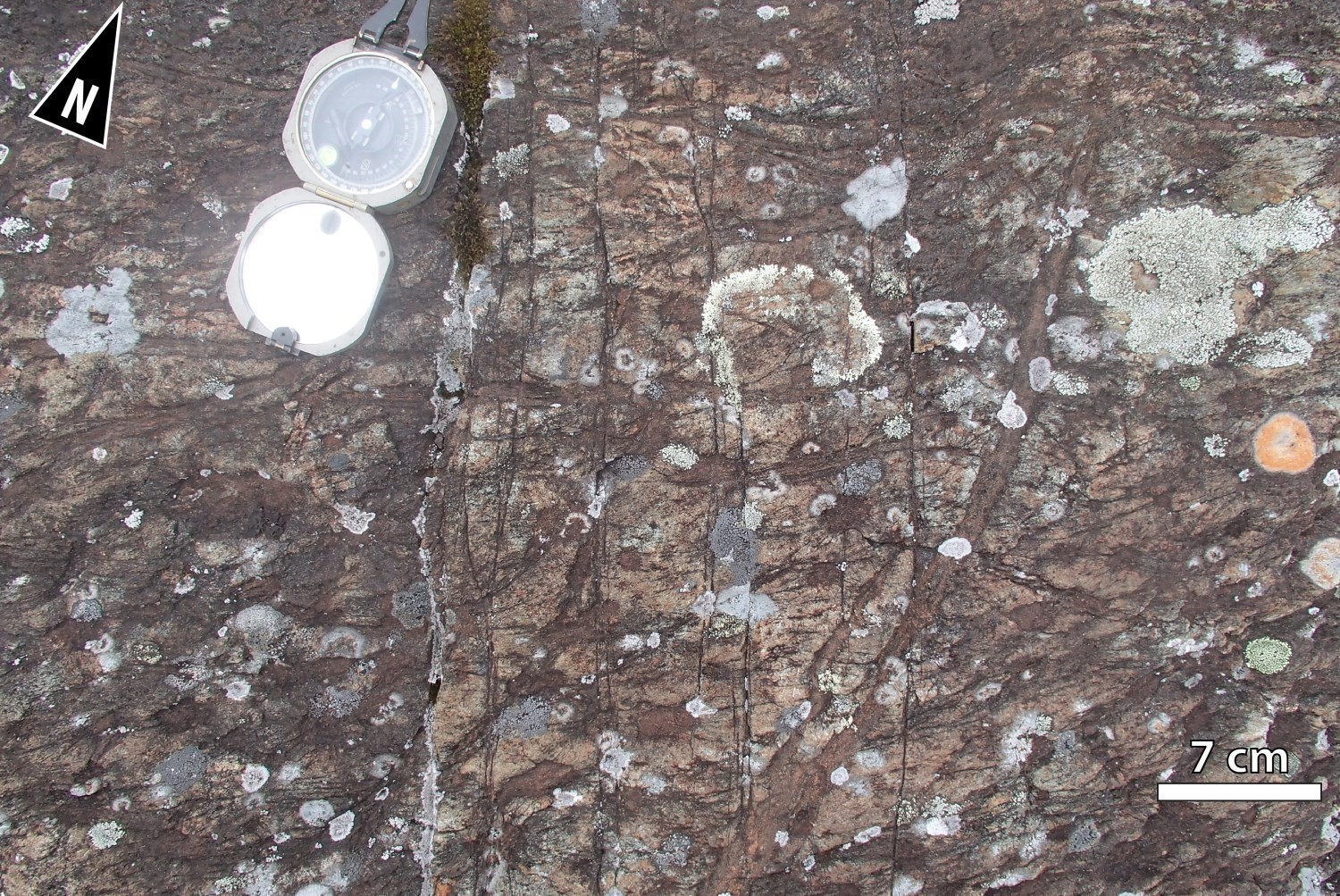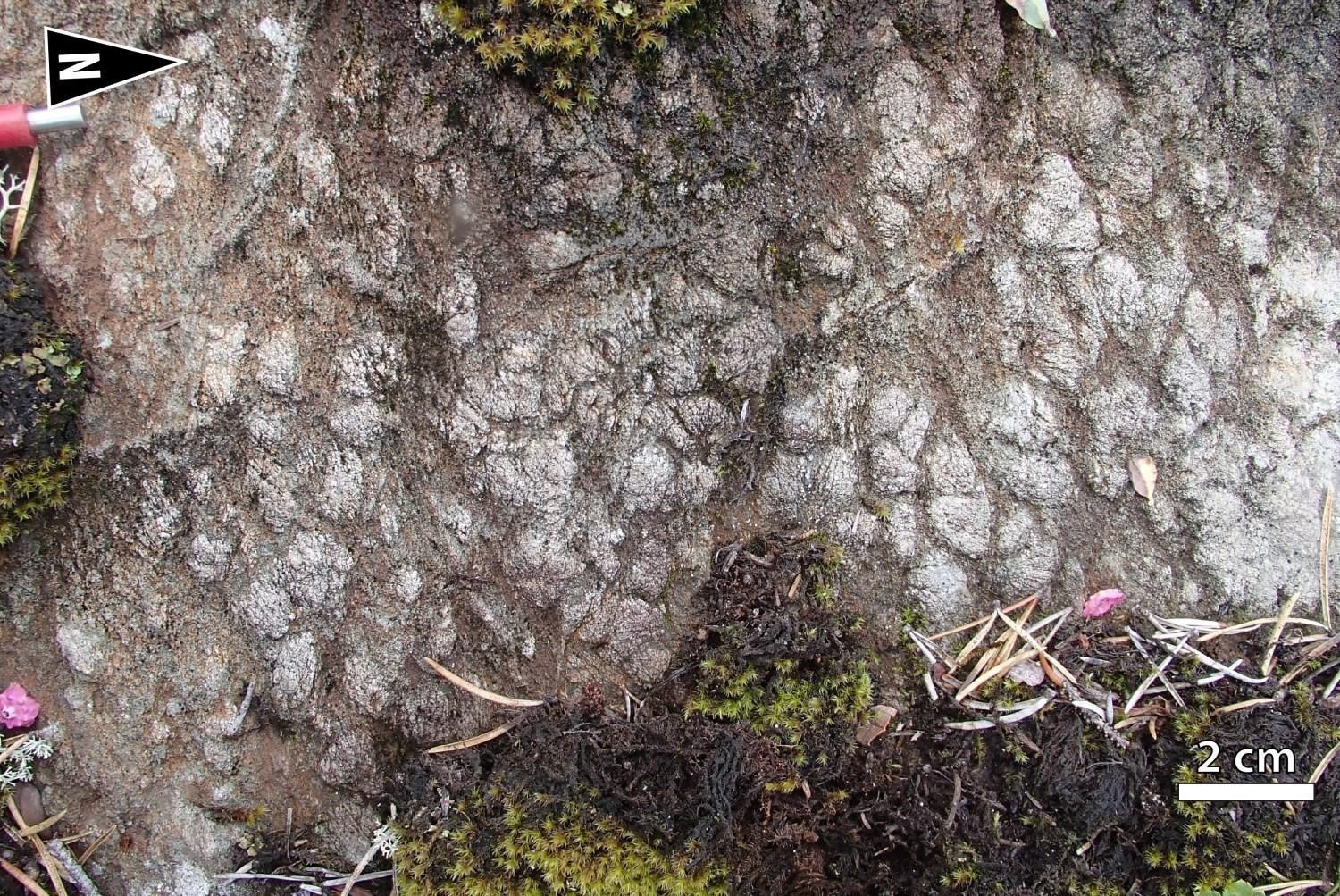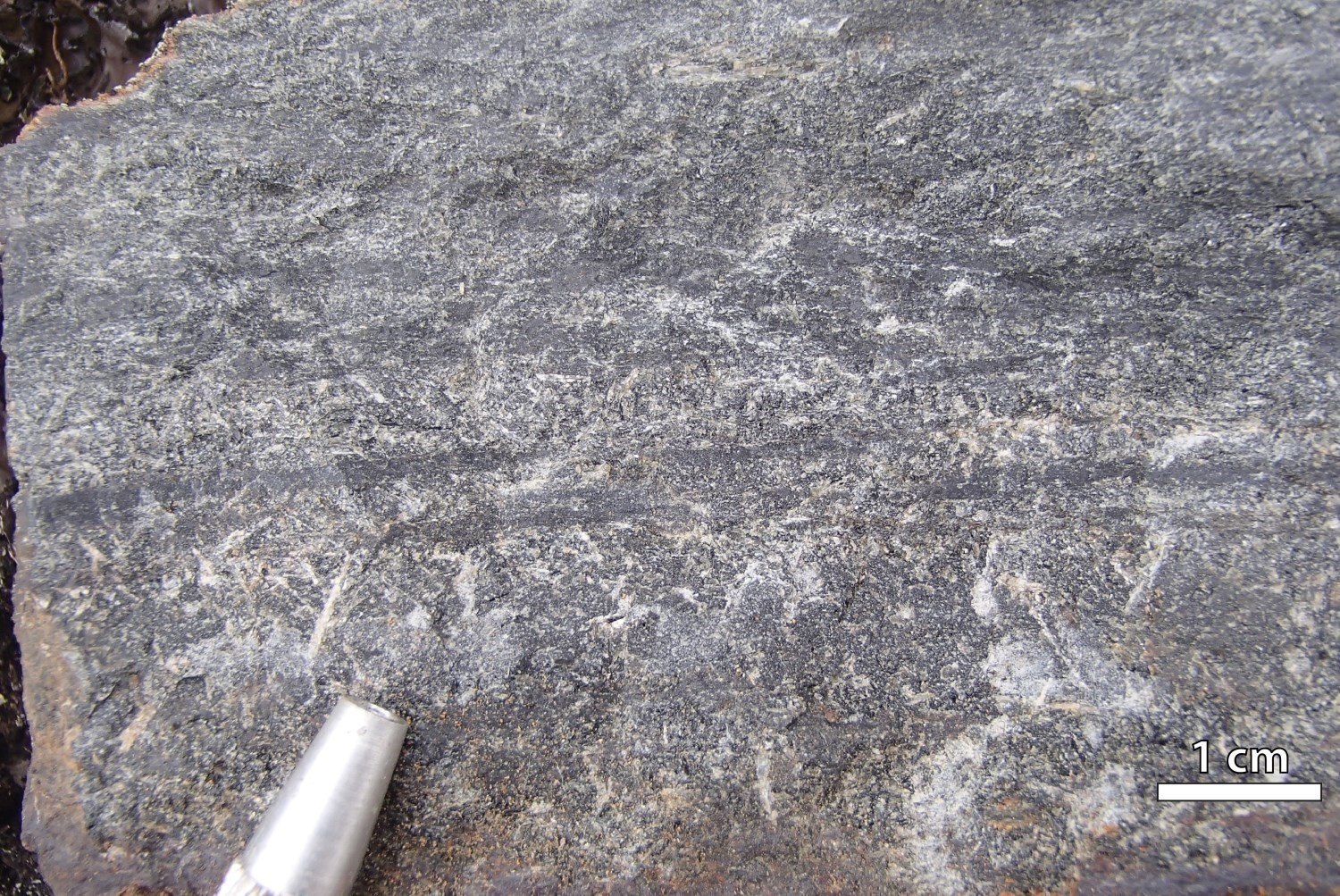 Peridotite outcrops of the Sorbier Mafic-Ultramafic Suite can be easily identified in the field because of their significant positive relief. They form round hummocks a few metres high. Rocks are characterized by a rough and irregular orange-brown altered surface. In fresh exposure, they range from dark green to black. Peridotite is fine to medium grained, homogeneous, foliated, granoblastic and typically magnetic. It is composed of green to colourless amphiboles (actinolite-tremolite and anthophyllite) in thin section, olivine, orthopyroxene, serpentine, talc, chlorite and magnetite. Accessory minerals observed locally are phlogopite, spinel, calcite and epidote. An igneous primary cumulate texture, defined by the presence of olivine crystals (relics) and orthopyroxene porphyroblasts, is common within this unit. Olivine is replaced by serpentine and magnetite. Deformed poikilitic crystals are interpreted as relics of orthophyroxene oikocrystals. Pyroxene was replaced by tremolite during the retrogressive metamorphic event. Tremolite is syntectonic to post-tectonic and is oriented at a certain angle relative to the Sn foliation. The outcrops' brownish surface is covered by fractures arranged in diamond patterns. These negative relief fractures contain serpentine, talc, tremolite and magnetite. Magnetite and serpentine veinlets are commonly observed within the peridotite facies.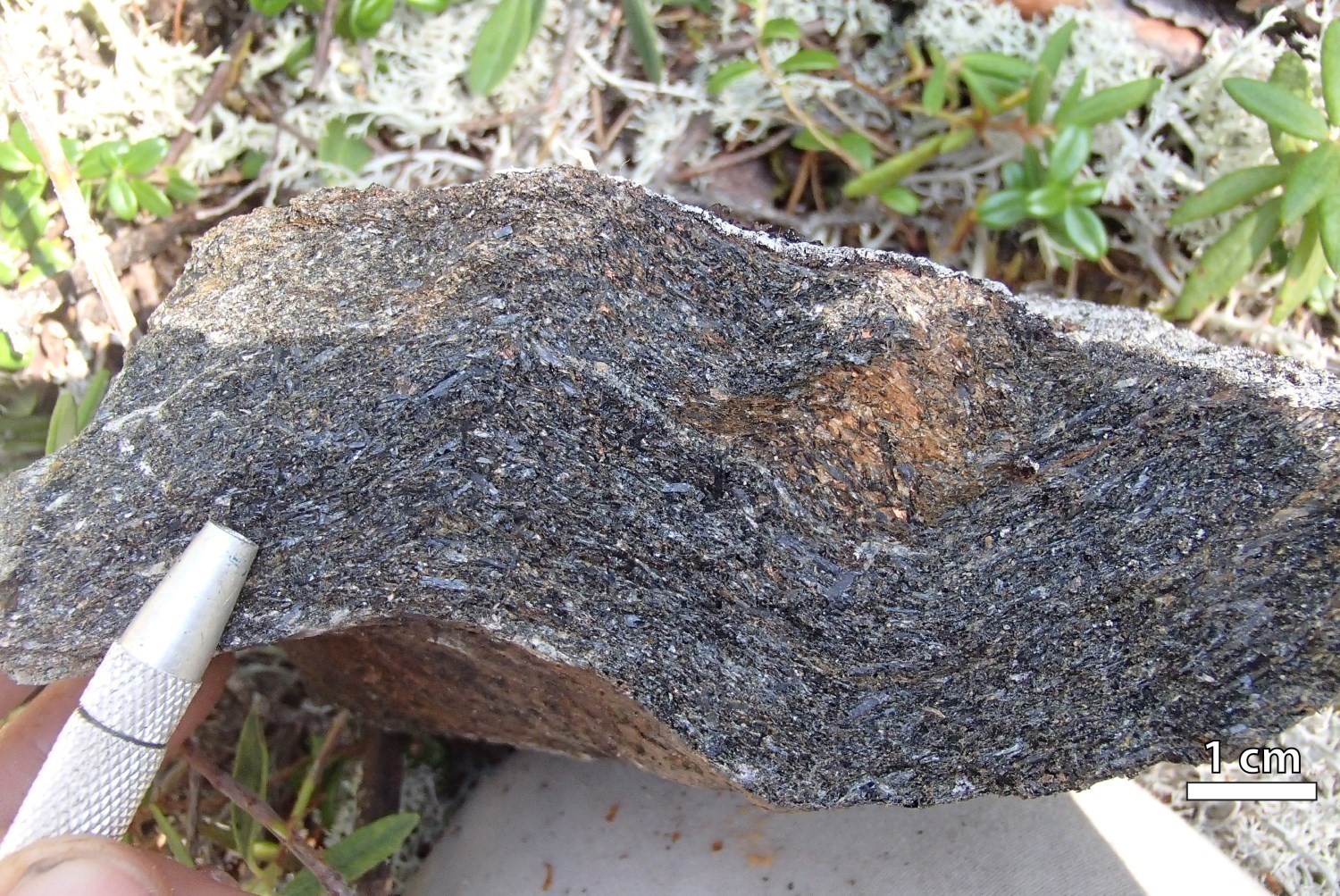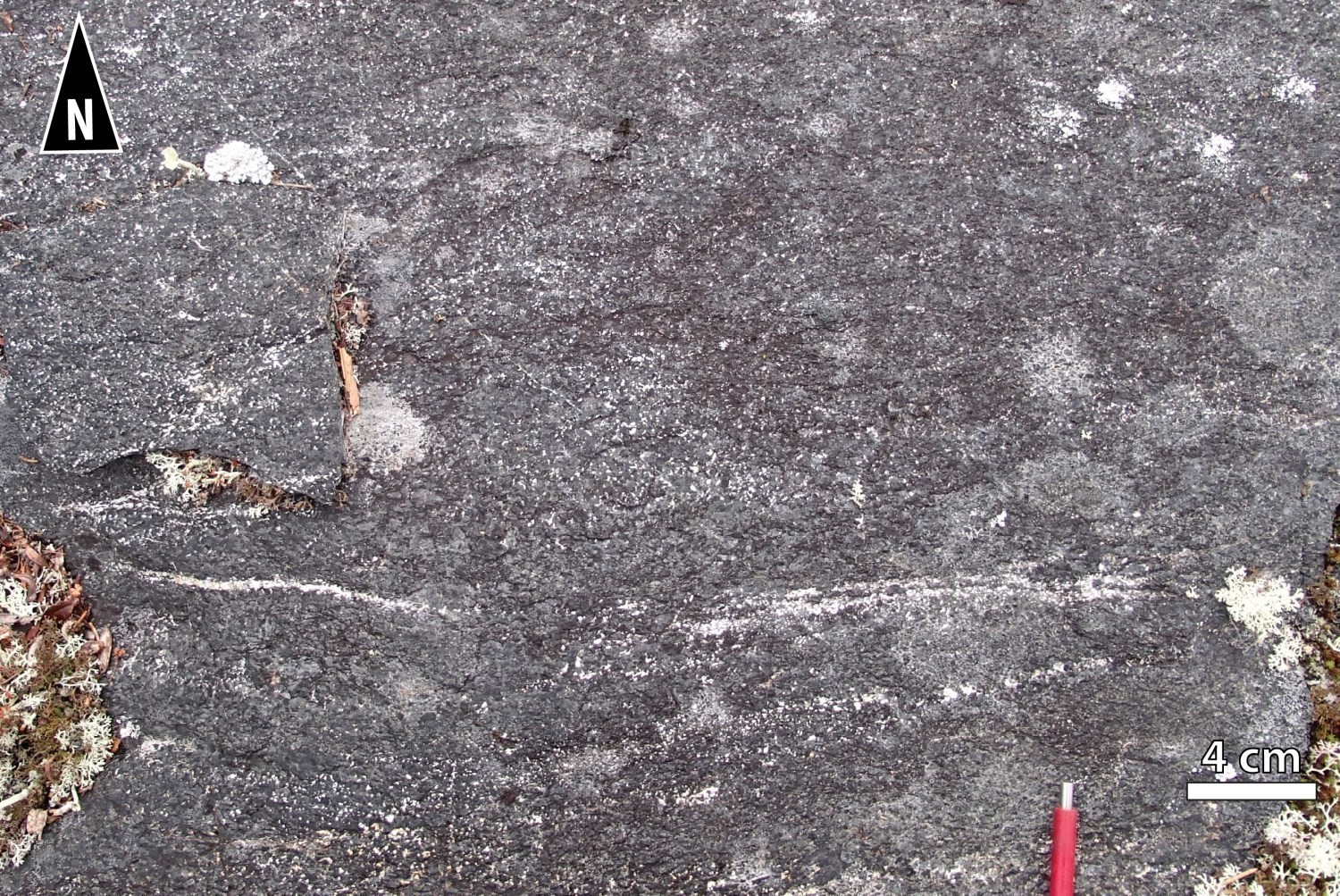 Hornblendite and gabbro are generally linked and in diffuse contact. These rocks are dark green in fresh and altered patina, medium to coarse grained, subophitic, amphibolitized and foliated. The typical hornblendite and gabbro mineralogical assemblage include hornblende, actinolite, biotite and plagioclase. Ferromagnesian minerals range in content from 60 to 90% for melanocratic gabbro and >90% for hornblendite.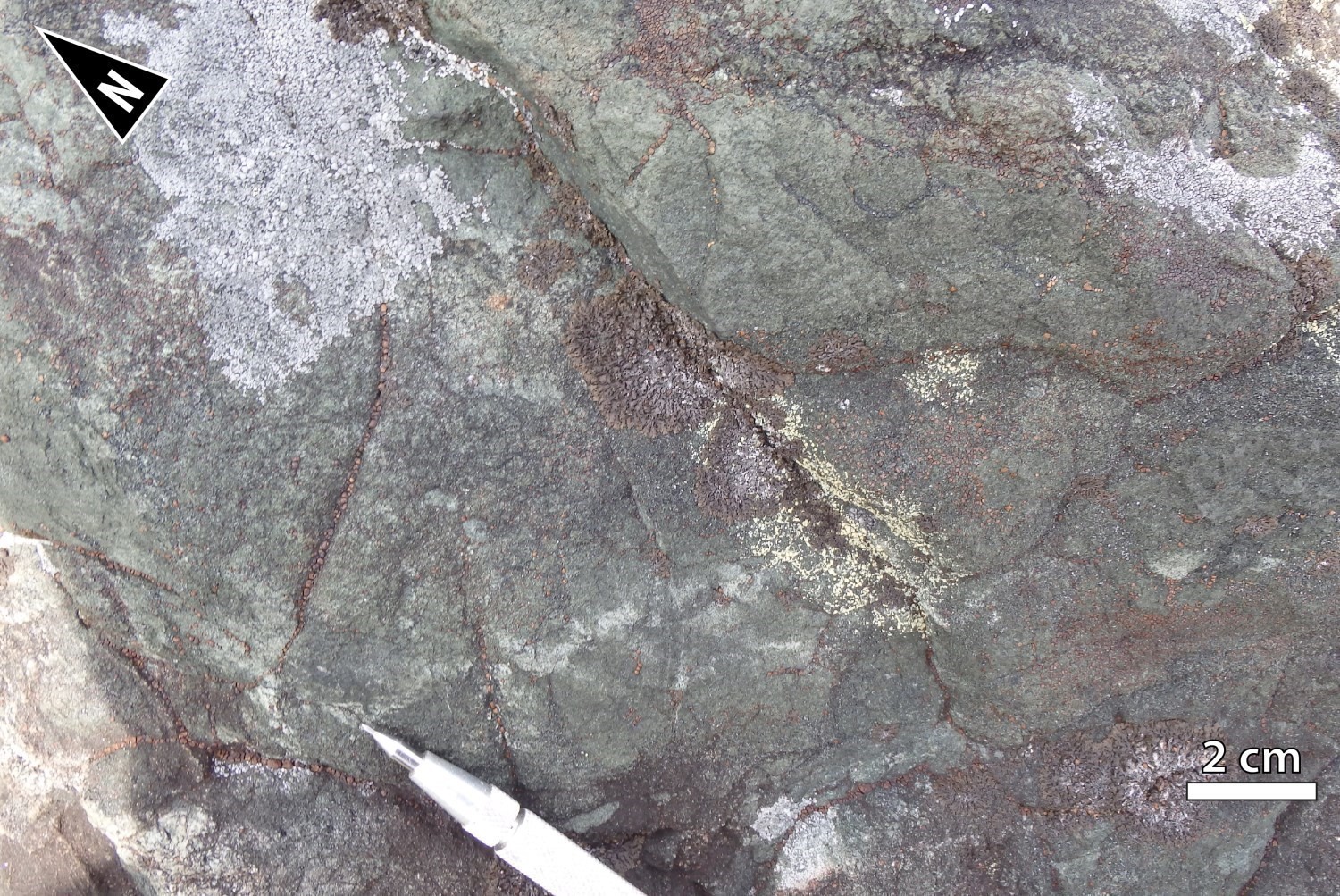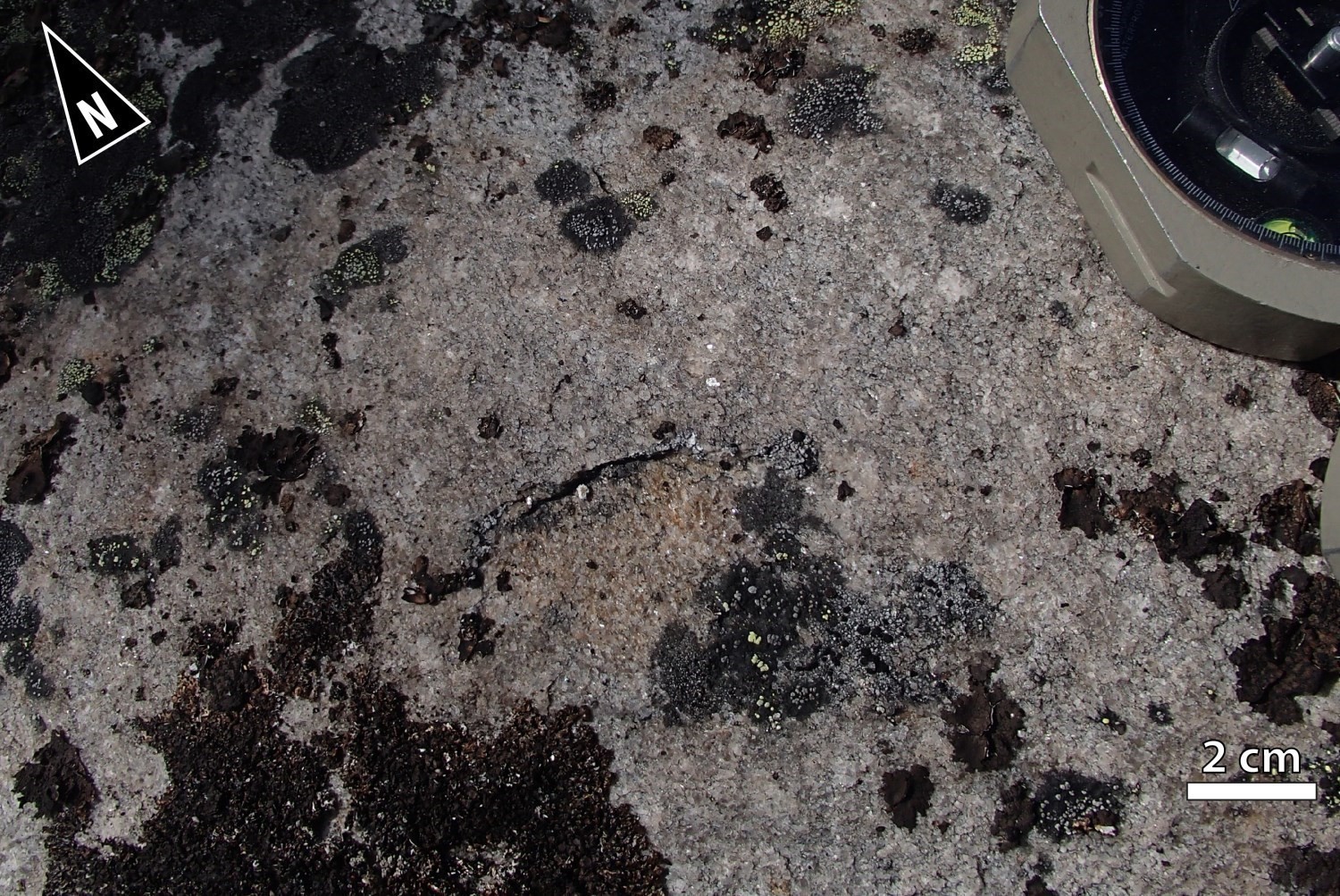 Locally, a pyroxenite facies (18-SG-7059) and leucogabbro (18-OG-8049) were observed.
Based on geochemical data (Beauchamp, 2020), the normative composition (CIPW) of peridotite is lherzolite and that of pyroxenite is olivine websterite (Streckeisen, 1976). All of these rocks are of tholeiitic affinity and show flat rare earth profiles normalized to CI chondrite (Palme and O'Neill, 2004). Negative anomalies in Nb-Ta and P, and positive anomalies in La and Ce are defined in the spider diagram normalized to the primitive mantle (McDonough and Sun, 1995).
Thickness and Distribution
The Sorbier Mafic-Ultramafic Suite consists of a series of intrusions partially aligned along the Sorbier Shear Zone, and of an additional series of intrusions around the Macleod Batholith, in the NE of sheet 33A03. These intrusions are elongated and can be mapped over distances of several kilometres (≤5 km) and 200 m to 300 m in width. The 20 or so bodies belonging to the Sorbier Mafic-Ultramafic Suite are small (<1 km2 area with an average of 0.25 km2). These intrusions are close to the boundary between the Opinaca and Opatica subprovinces.
Dating
None.
Stratigraphic Relationship(s)
Rocks of the Sorbier Mafic-Ultramafic Suite intrude into metasedimentary rocks of the Laguiche Complex. These intrusive bodies have clearly undergone the main tectonic events of the Cadieux Lake area, since the regional Sn fabric is well developed. Locally, a few indeterminate felsic intrusions cut Sorbier Mafic-Ultramafic Suite outcrops (e.g., outcrop 18-MP-5146). They are also cut by the Mistassini Dyke Swarm (<2515 ±3 Ma, >2503 ±2 Ma; Hamilton 2009; Davis et al., 2018) and Lac Esprit Dykes (2069 ±1 Ma, Hamilton et al., 2001).
It is important to note that the Sorbier Mafic-Ultramafic Suite could represent a deformed equivalent of the Dominique Ultramafic Suite.
Paleontology
Does not apply.
References
Publications Available Through Sigéom Examine
AUGLAND, L E., DAVID, J., PILOTE, P., LECLERC, F., GOUTIER, J., HAMMOUCHE, H., LAFRANCE, I., TALLA TAKAM, F., DESCHENES, P L., GUEMACHE, M. 2016. DATATIONS U-PB DANS LES PROVINCES DE CHURCHILL ET DU SUPERIEUR EFFECTUEES AU GEOTOP EN 2012-2013. MERN, GEOTOP. RP 2015-01RP 2015-01, 43 pages.
BEAUCHAMP, A.-M. 2020. Géologie et potentiel minéral de la région du lac Cadieux, sous-provinces d'Opatica et d'Opinaca, Eeyou Istchee Baie-James, Québec, Canada. MERN. BG 2019-02, 2 plans.
DAVIS, D.W., LAFRANCE, I., GOUTIER, J., BANDYAYERA, D., TALLA TAKAM, F., GIGON, J. 2018. DATATIONS U-PB DANS LES PROVINCES DE CHURCHILL ET DU SUPERIEUR EFFECTUEES AU JSGL EN 2013-2014. MERN. RP 2017-01RP 2017-01, 63 pages.
HAMILTON, M.A. 2009. DATATION ISOTOPIQUE (U-PB) D'UN DIABASE DE L'ESSAIM DE DYKES MISTASSINI, QUEBEC – U-PB ISOTOPIC OF A DIABASE DYKE OF THE MISTASSINI SWARM, QUEBEC. UNIVERSITY OF TORONTO, JACK SATTERLY GEOCHRONOLOGY LABORATORY. MB 2009-17MB 2009-17, 13 pages. Disponible à https://gq.mines.gouv.qc.ca/documents/EXAMINE/MB200917.
HOCQ, M. 1985. GEOLOGIE DE LA REGION DES LACS CAMPAN ET CADIEUX, TERRITOIRE-DU-NOUVEAU-QUEBEC. MRN. ET 83-05ET 83-05, 190 pages et 4 plans.
Other Publications
HAMILTON, M.A., GOUTIER, J., MATTHEWS, W. 2001. U-Pb baddeleyite age for the Paleoproterozoic Lac Esprit dyke swarm, James Bay region, Quebec. Geological Survey of Canada; Current Research 2001-F5, 8 pages. https://doi.org/10.4095/212672.
MCDONOUGH, W.F., SUN, S.S. 1995. The composition of the earth. Chemical Geology; volume 120, pages 223-253. doi.org/10.1016/0009-2541(94)00140-4.
PALME, H., O'NEILL, H.S.C. 2004. Cosmochemical estimates of mantle composition. In Treatise on Geochemistry. (Holland, H.D. and Turrekian, K.K. editors), Elsevier, Amsterdam, the Netherlands; volume 2, pages 1-38. doi.org/10.1016/B978-0-08-095975-7.00201-1.
STRECKEISEN, A. 1976. To each plutonic rock its proper name. Earth-Science Reviews; volume 12, pages 1-33. doi.org/10.1016/0012-8252(76)90052-0.
Suggested Citation
Contributors
First publication

Anne-Marie Beauchamp, Eng., M.Sc. anne-marie.beauchamp@mern.gouv.qc.ca (redaction)

Mehdi A. Guemache, P. Geo., Ph.D. (coordination); Patrice Roy, P. Geo., M.Sc. (critical review); Simon Auclair, P. Geo., M.Sc. (editing); Ricardo Escobar Moran (HTML editing); Céline Dupuis, P. Geo., Ph.D. (English version).