DISCLAIMER: This English version is translated from the original French. In case of any discrepancy, the French version shall prevail.
Informal subdivision(s)
Numbering does not necessarily reflect the stratigraphic position.
mApln2
Assemblage of biotite-hornblende tonalite, gneissic tonalite and locally hornblende-biotite diorite
mApln1
Foliated to gneissic tonalite, locally banded
| | |
| --- | --- |
| Author: | Goutier et al., 2002 |
| Age: | Mesoarchean |
| Stratotype: | The reference unit is located south of Poste Le Moyne hydroelectric transformer station (outcrop 1999-JG-1) |
| Type area: | NTS sheets 33G06 to 33G08 |
| Geological province: | Superior Province |
| Geological subdivision: | La Grande Subprovince |
| Lithology: | Tonalite and quartz diorite |
| Category: | Lithodemic |
| Rank: | Lithodeme |
| Status: | Formal |
| Use: | Active |
Background
The Poste Le Moyne Pluton was defined as a unit of tonalite and quartz diorite by Goutier et al. (2002) following the 2000 field work in sheet 33G06. Sampling of this unit for geochronology led to the conclusion that this was a new occurrence of bedrock. Bandyayera et al. (2011), Bandyayera et al. (2013) and Goutier et al. (in preparation) mapped sheets 33G07 and 33G08 and expanded the unit westward, in addition to adding two separate subdivisions.
Description
Poste Le Moyne Pluton, Undivided (mApln): Alternating Foliated Tonalite and Quartz Diorite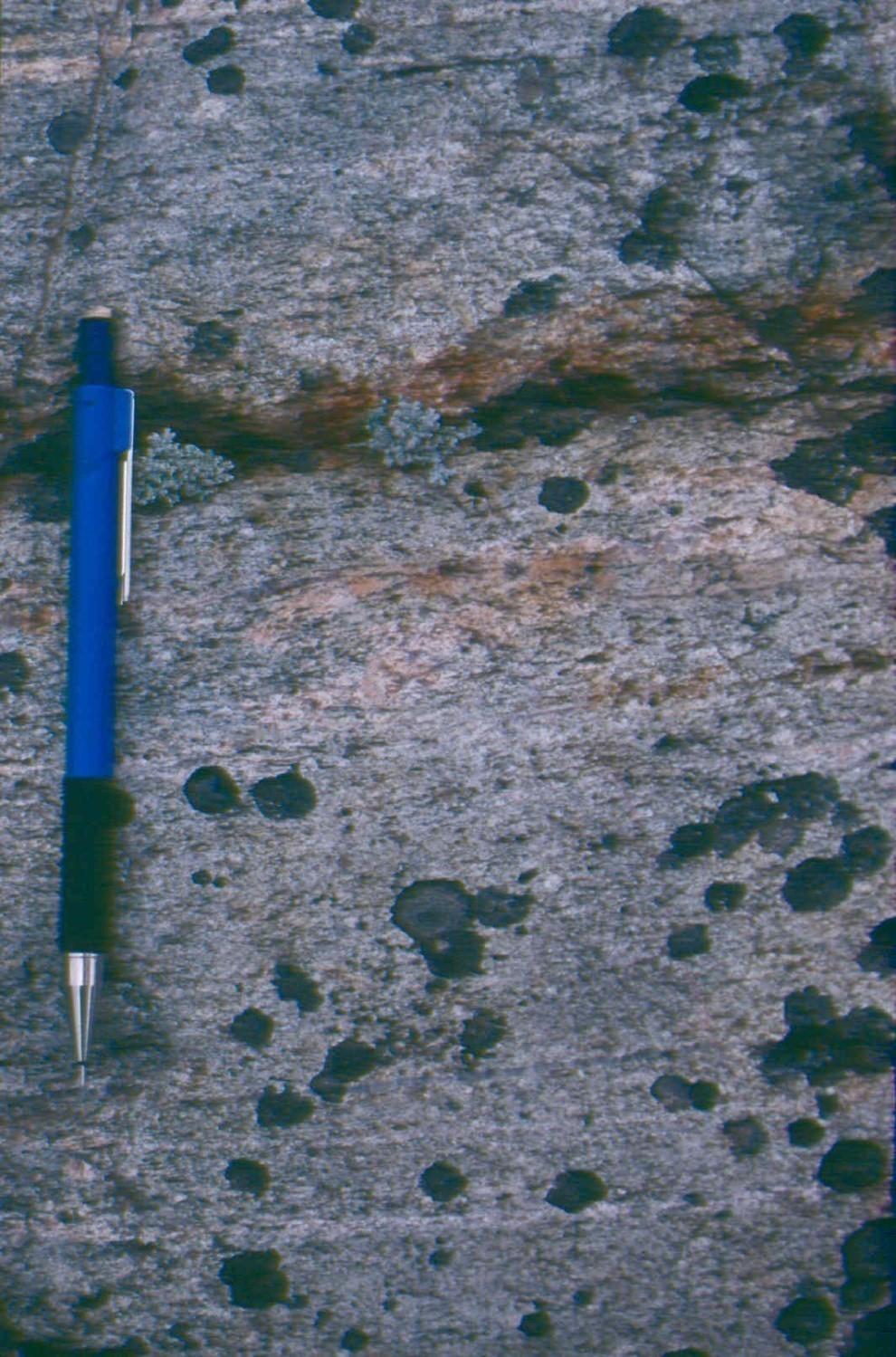 Unit mApln is located south of Hydro-Québec's electrical transformation station of the same name. It represents the typical unit of the Poste Le Moyne Pluton. It is only found in sheet 33G06 (Goutier et al., 2002). It underlies the Guyer Group and is located in the axial part of an antiform. The contact between the two units would be tectonic, as adjacent volcanics to the north and south of the pluton are deformed or even locally mylonitized. The unit consists of tonalite, which occupies the axial part of the antiform, and quartz diorite. The rock contains biotite (4-15%), magnetite and traces of hornblende, chlorite and epidote locally. The patina is light grey to pinkish grey and the fresh surface is ash pink. Foliation is well developed and regular. Some outcrops are banded or sheared. Finally, the rock is heteroblastic.
Poste Le Moyne Pluton 1 (mApln1): Foliated to Gneissic Tonalite, Locally Banded
Foliated tonalite (mApln1) is light-grey in altered and fresh surfaces. The unit consists mainly of tonalitic gneiss, but locally alternates between decimetric to metric horizons of tonalitic and dioritic gneiss. The partial melting rate of gneiss is low (5%) and mobilisate injections are parallel to foliation. The rock is fine to medium grained, granoblastic and composed of biotite (12%), hornblende (10%) and accessory epidote (<3%), magnetite (<2%), sphene (1%), pyrite (1%), allanite (1%), chlorite and muscovite. Gneiss is foliated or banded, as highlighted by biotite-rich millimetric horizons.
Poste Le Moyne Pluton 2 (mApln2): Assemblage of Biotite-Hornblende Tonalite, Gneissic Tonalite and Locally Hornblende-Biotite Diorite
The patina is light grey and the fresh surface is grey. Tonalite is composed of highly sericitized coarse plagioclase, quartz, biotite (5-20%), hornblende (10%) and magnetite (3%). Locally, epidote (<3%), sphene (<4%), leucoxene (<3%), garnet (<2%), pyrite, hematite, allanite and muscovite are observed. Diorite contains hornblende (25%) and partially chloritized biotite (3-40%). Its accessory minerals are magnetite, leucoxene, sphene, pyrite and epidote. Tonalite and diorite are fine-grained (ferromagnesian minerals) to medium-grained (quartz and plagioclase) granoblastic and foliated or banded along an E-W orientation. Diorite and tonalite can coexist in alternating bands, usually a few metres thick. It is common to observe centimetric fuse-shaped subangular enclaves of melanocratic diorite, which are lengthened with foliation.
Thickness and Distribution
The Poste Le Moyne Pluton covers an area of 666 km² and is distributed in sheets 33G06, 33G07 and 33G08, as well as on the southern edge of sheet 33G09.
Dating
Isotopic dating conducted during definition of the Poste Le Moyne Pluton unit showed that it was one of the oldest units observed in the Guyer Lake area. The dating site is located at the western end of the unit, near outcrop 2014-JG-2110. The crystallization age is 2881 ±2 Ma. Analysis of a titanite fraction (5 fragments) gives a concordant age of 2602 ±3 Ma, interpreted as an episode of metamorphism.
| | | | | | | | | | | |
| --- | --- | --- | --- | --- | --- | --- | --- | --- | --- | --- |
| Unit | Sample Number | Isotopic System | Mineral | Crystallization Age (Ma) | (+) | (-) | Metamorphic Age (Ma) | (+) | (-) | Reference(s) |
| mApln | LG-96-37 | U-Pb | Zircon | 2881 | 2 | 2 | 2602 | 3 | 3 | Goutier et al., 2002 |
Stratigraphic Relationship(s)
Massive dykes of pinkish-white pegmatic granite cut foliation of the Poste Le Moyne Pluton two informal units. They contain biotite, magnetite, muscovite, garnet and tourmaline. Amphibolite enclaves or foliated amphibolite horizons that can be several metres thick are observed.
Contact zones between the Poste Le Moyne Pluton and the Guyer Group are mylonitized and sheared. In addition, they are epidotitized and contain diorite dykes and enclaves. The Marbot Formation, which borders the southern part of the pluton, is younger and overlies the latter. In the east, the Poste Le Moyne Pluton is intrusive in the Langelier Complex.
The Poste Le Moyne Pluton is cut by a series of dykes from the Mistassini and Matachewan dyke warms, and the Lac Esprit, Senneterre and Shpogan dykes.
Paleontology
Does not apply.
References
Publications available through SIGÉOM Examine
BANDYAYERA, D., BURNIAUX, P. 2011. GEOLOGIE – LAC BRUNE. MRNF. CG-33G07-2011-01, 1 plan.
BANDYAYERA, D., BURNIAUX, P., CHAPON, B. 2013. GEOLOGIE DE LA REGION DU LAC MAGIN (33G09), DE LA COLLINE CAPTEL (33G15) ET DU LAC FONTAY (33G16), BAIE-JAMES, QUEBEC. MRN, UQAM. RP 2013-01, 32 pages and 3 plans.
GOUTIER, J., DION, C., OUELLET, M.C., DAVIS, D W., DAVID, J., PARENT, M. 2002. GEOLOGIE DE LA REGION DU LAC GUYER (33G/05, 33G/06 ET 33G/11). MRN. RG 2001-15, 55 pages and 3 plans.
GOUTIER, J., GIGON, J., BURNIAUX, P., DION, C., TALLA TAKAM, F., CHARTIER-MONTREUIL, W., BANDYAYERA, D. In preparation. GÉOLOGIE DE LA RÉGION DU LAC DE LA CORVETTE, MUNICIPALITÉ D'EEYOU ISTCHEE BAIE-JAMES (33G01, 33G02, 33G08, 33H04, 33H05, 33H12 ET 33H13). MERN.
Suggested Citation
Contributors
First publication

Myriam Côté-Roberge, GIT, M.Sc. myriam.cote-roberge@mern.gouv.qc.ca (redaction)

Mehdi A. Guemache, P. Geo., Ph.D. (coordination); James Moorhead, P. Geo., M.Sc. (critical review); Simon Auclair, P. Geo., M.Sc. (editing); André Tremblay (HTML editing); Céline Dupuis, P. Geo., Ph.D. (English version).
11 novembre 2019
25 janvier 2021