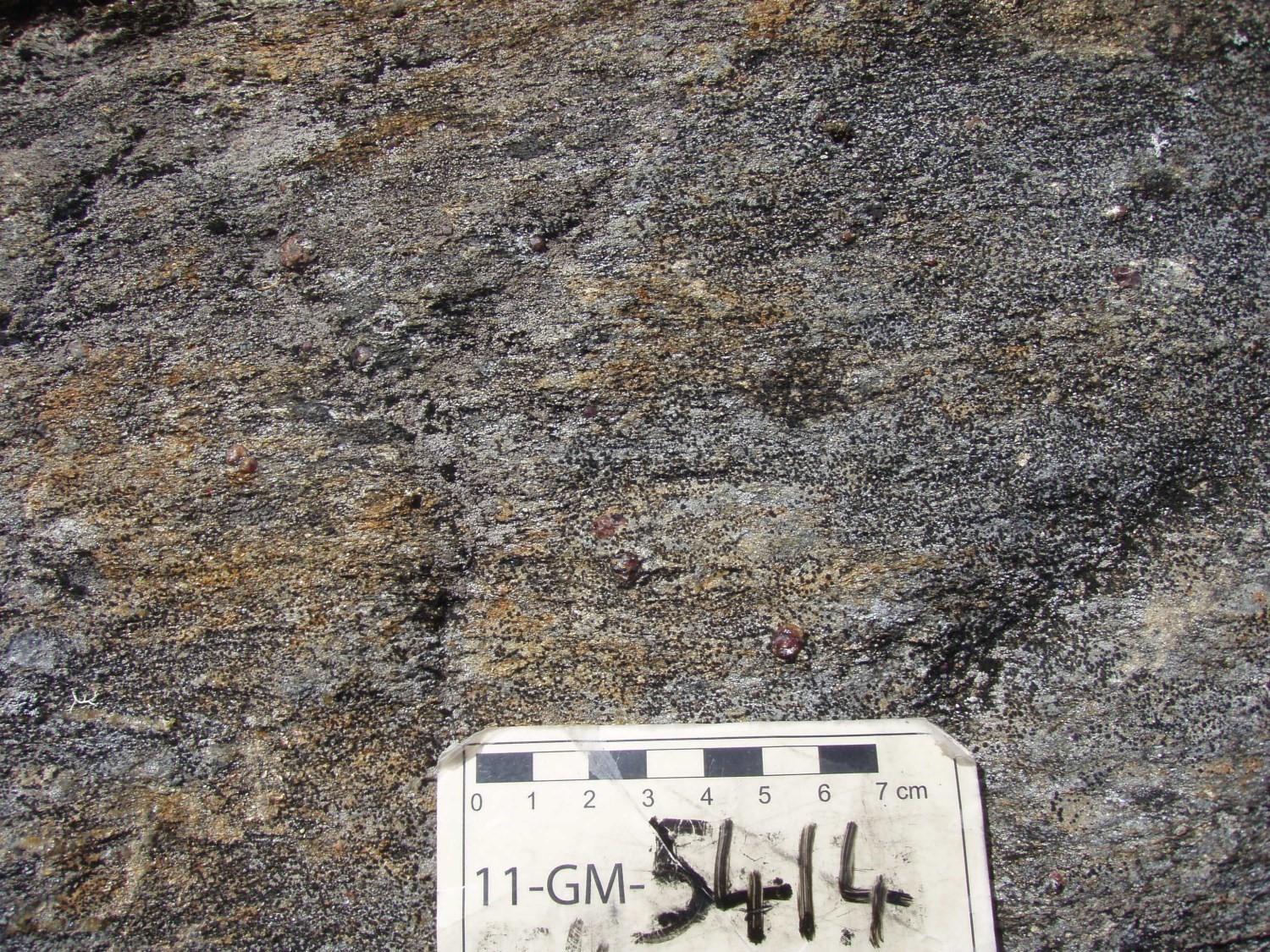 Informal subdivision(s)
Numbering does not necessarily reflect the stratigraphic position.
| | |
| --- | --- |
| Author: | Bandyayera et al., 2011 |
| Age: | Neoarchean |
| Reference section: | None |
| Type area: | Central area of NTS sheet 33G07, Eeyou Istchee James Bay Territory. Marbot Lake is within 1 km of the unit's northern limit. |
| Geological province: | Superior Province |
| Geological subdivision: | La Grande Subprovince |
| Lithology: | Paragneiss derived from wacke, polymictic conglomerate and iron formation |
| Type: | Lithostratigraphic |
| Rank: | Formation |
| Status: | Formal |
| Use: | Active |
Background
This unit was defined during the 2009 NTS sheet 33G07 geological mapping campaign conducted by Bandyayera et al. (2011), and during the 2011 and 2012 campaigns of sheets 33G08, 33H04 and 33H05 (Goutier et al., in preparation). Subsequent work has refined the unit descriptions (Gigon and Goutier, 2017), and Goutier et al. (in preparation) have defined the lithological subdivisions presented below in detail.
Description
Marbot Formation 1 (nAmab1): Paragneiss Derived from Arkosic Wacke, Intruded by Granite
Unit nAmab1 is the dominant unit of the Marbot Formation. It consists of arkosic wacke and its metamorphic equivalent, paragneiss. The degree of metamorphism varies within the unit: arkosic wacke is less deformed and less metamorphosed at the centre of the unit. The rock is fine grained, brown in patina, medium-grey in fresh exposure and commonly granoblastic. It is mainly composed of plagioclase, quartz and biotite. Biotite represents 15 to 35% of the rock. Hornblende (<5%) and garnet (<2%) are observed locally. When present, the mobilisate forms centimetre-thick horizons of quartz and plagioclase. The rock is frequently foliated and rarely banded.
Marbot Formation 1a (nAmab1a): Paragneiss Derived from Biotite±Sillimanite±Muscovite±Hornblende±Magnetite Wacke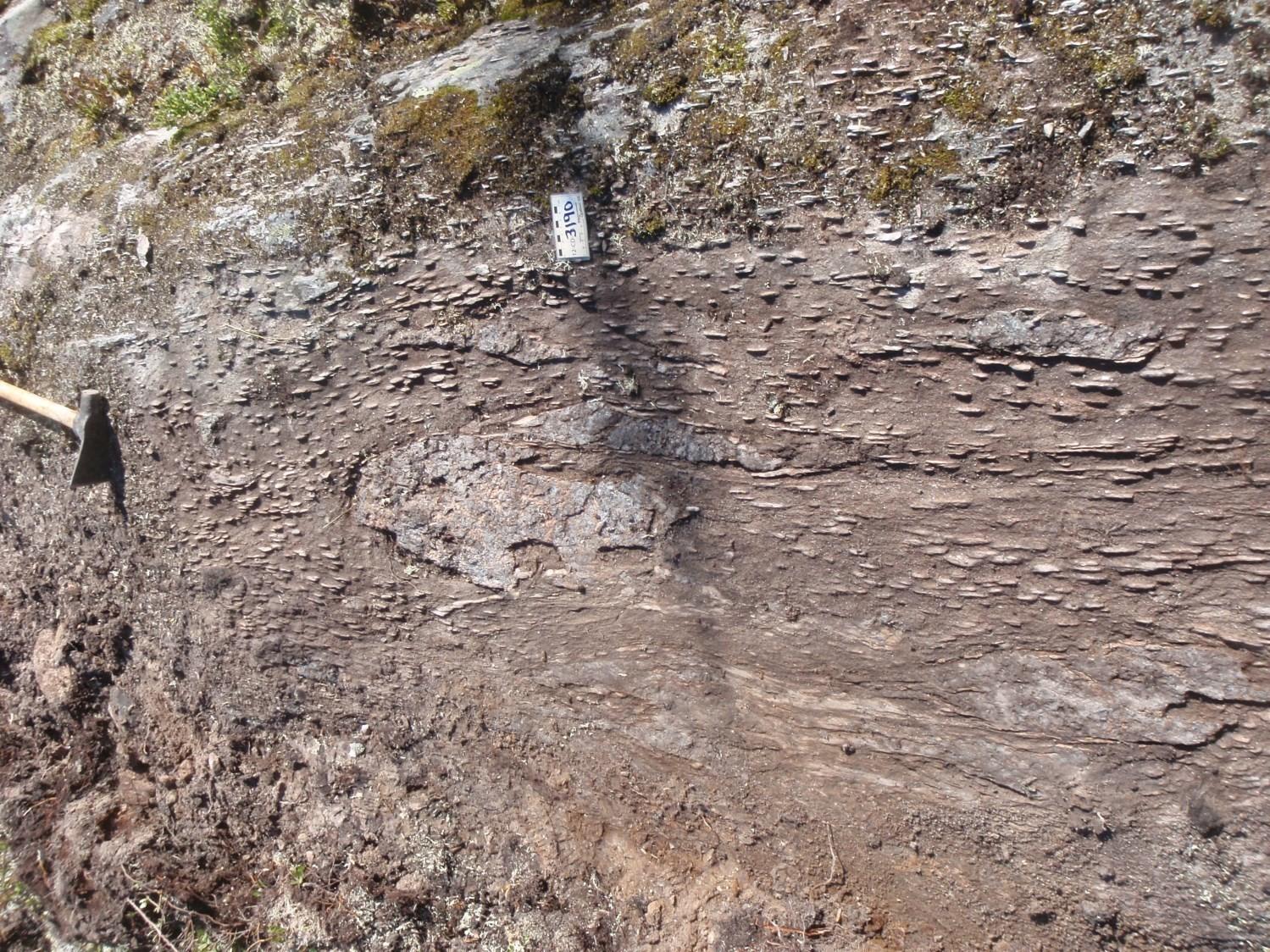 Subunit nAmab1a is observed in the eastern part of the formation. It differs from the main unit by a higher degree of metamorphism that results in increased contents of mobilisate, muscovite and sillimanite. The muscovite-sillimanite±quartz assemblage forms centimetric oval-shaped porphyroblasts in positive relief. Hornblende, magnetite, pyrite, allanite, zircon, apatite and epidote are observed locally, in addition to the main plagioclase-quartz-biotite assemblage.
Marbot Formation 2 (nAmab2): Polymictic Conglomerate and Wacke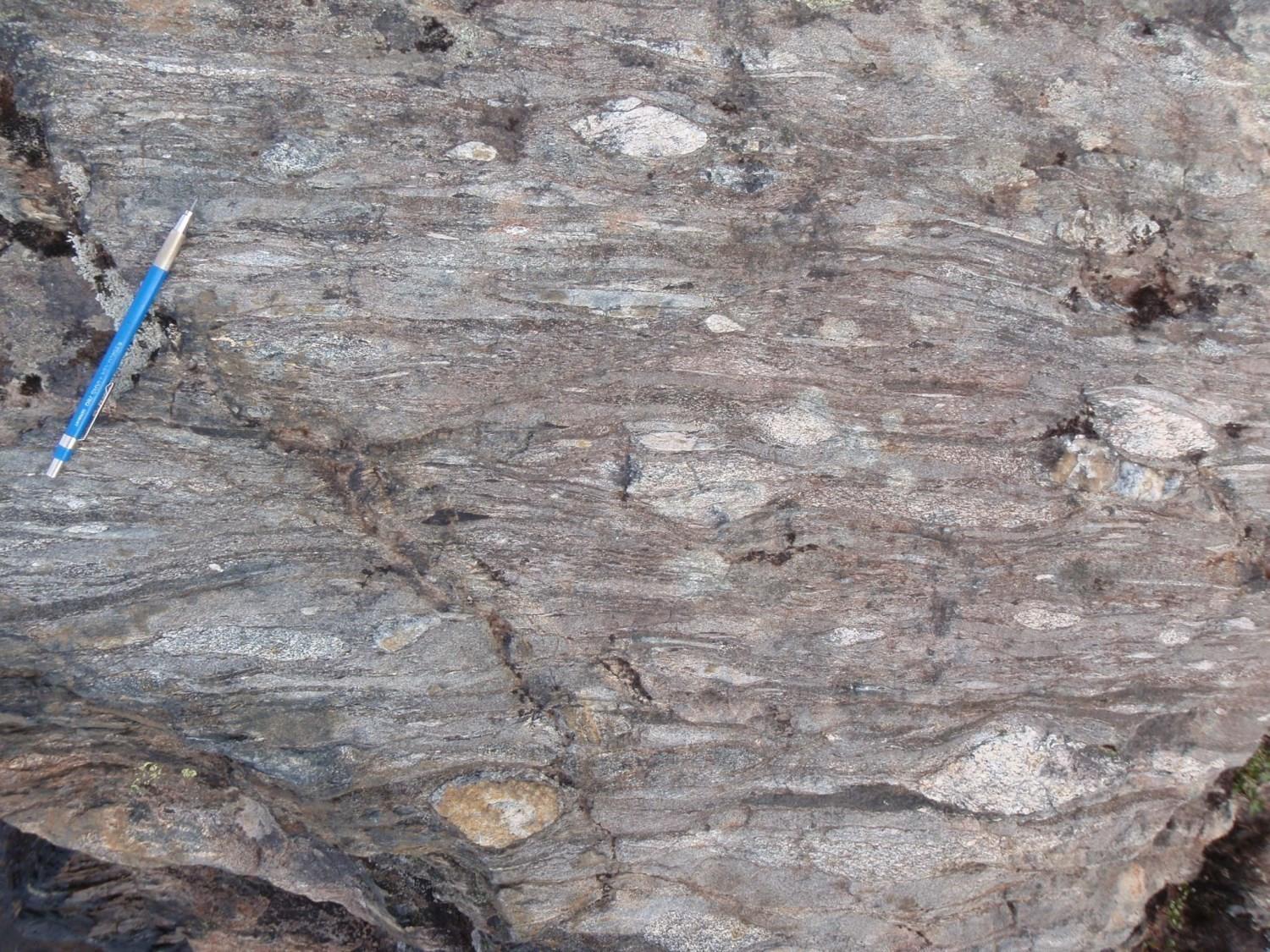 Unit nAmab2 consists of polymictic conglomerate and wacke, which is frequently metamorphosed into biotite paragneiss. The rock occurs as kilometre-long strips in sheets 33G07 and 33H05. Conglomerate mostly has poorly sorted and subrounded to rounded joint clasts. It is noted that 60 to 85% of clasts come from fine to medium-grained granitoids and felsic volcanics, while 10 to 35% are of mafic origin and only 1% are composed of chert. Clasts are mainly pebbles and cobbles, but rarely blocks (>256 cm). The matrix composition corresponds to that of a wacke, although generally richer in hornblende.
Because of metamorphism, it is difficult to distinguish small clasts from the recrystallized matrix, as well as to observe whether the clasts are joint. In general, polymictic conglomerate of this unit is highly deformed as it is located near the contact zone between the La Grande and Opinaca subprovinces. Strong foliation has developed, in addition to strong elongation of clasts and metamorphic minerals. Wacke and paragneiss are granoblastic, foliated, fine grained, with biotite and, locally, garnet. The thickness ranges from a few centimetres to three metres thick. They are interstratified through the conglomerate unit.
Marbot Formation 3 (nAmab3): Iron Formation
The nAmab3 iron formation unit consists of bands several kilometres long by ~100 to 185 m wide. These are interstratified in arkosic wacke and paragneiss of unit nAmab1. It is an oxide facies banded iron formation, locally with silicates and sulphides (pyrite, pyrrhotite and arsenopyrite). It is characterized by alternating massive magnetite bands or laminae and wacke bands or chert laminae, ranging in thickness from millimetres to centimetres. Magnetite abundance results in high magnetic susceptibility that is clearly visible on aeromagnetic maps.
Decimetre-thick horizons of garnet (5-10%)-biotite bedded wacke are interstratified with iron formation bands. Wacke horizons are foliated and fine grained; they contain biotite (25-30%) and generally garnet, in addition to pyrite and pyrrhotite locally. In some places, they have well-preserved parallel laminations, but evidence of sorting is obliterated by metamorphic recrystallization. In contact with iron formation, wacke is ferruginous, quartz rich and slightly magnetic. A horizon of fine-grained banded garnet amphibolite was also observed in this unit (outcrop 2009-PB-4246).
Thickness and distribution
The Marbot Formation is visible in six sheets (33G06, 33G07, 33G08, 33H03, 33H04 and 33H05) and covers more than 290 km². The actual thickness is difficult to determine due to deformation and lack of stratigraphic polarity. The maximum apparent thickness is 6.7 km.
Dating
The maximum sedimentation age of the Marbot Formation was determined by a single isotopic dating (outcrop 2009-PB-4024).
| | | | | | | | |
| --- | --- | --- | --- | --- | --- | --- | --- |
| Unit | Isotopic System | Mineral | Crystallization Age (Ma) | (+) | (-) | Sample Number | Reference(s) |
| nAmab3 | U-Pb | Zircon | <2702 | 2 | 2 | 2009-PB-4024-B | David et al., 2011 |
Stratigraphic Relationship(s)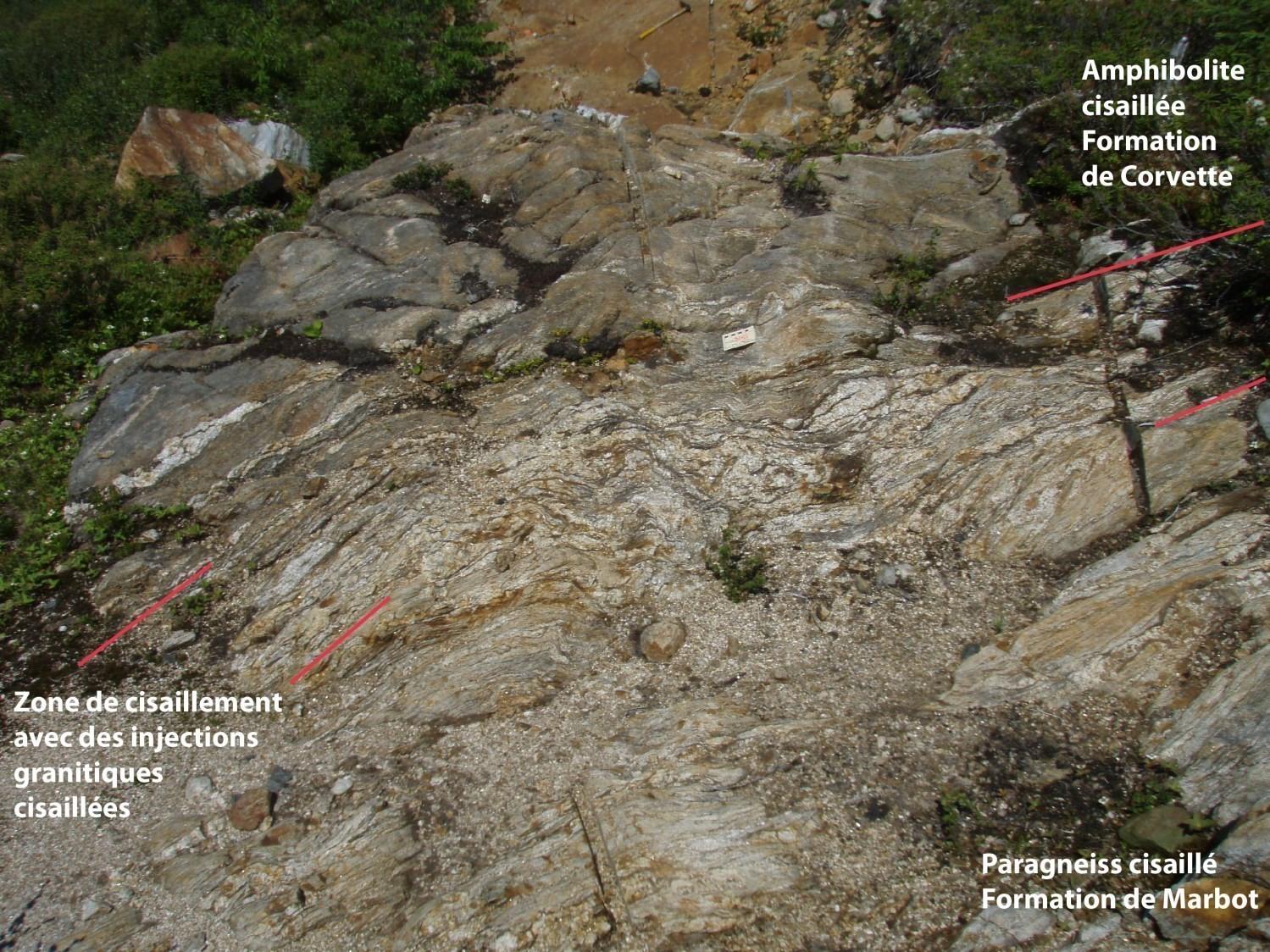 The Marbot Formation is separated from other units by shear zones.
Paleontology
Does not apply.
References
Publications available through Sigéom Examine
| Author(s) | Title | Year of Publication | Hyperlink (EXAMINE or Other) |
| --- | --- | --- | --- |
| BANDYAYERA, D. – BURNIAUX, P. – MORFIN, S. | Géologie de la région du lac Brune (33G07) et de la baie Gavaudan (33G10). Ministère des Ressources naturelles et de la Faune, Québec; RP 2011-01, 30 pages, 2 plans. | 2011 | RP 2011-01 |
| DAVID, J. – McNICOLL, V. – SIMARD, M. – BANDYAYERA, D. – HAMMOUCHE, H. – GOUTIER, J. – PILOTE, P. – RHÉAUME, P. – LECLERC, F. – DION, C. | Datations U-Pb effectuées dans les provinces du Supérieur et de Churchill en 2009-2010. Ministère des Ressources naturelles et de la Faune, Québec; RP 2011-02, 37 pages. | 2011 | RP 2011-02 |
| GIGON, J. – GOUTIER, J. | Géologie de la région du lac Richardie, Eeyou Istchee Baie-James. Ministère de l'Énergie et des Ressources naturelles, Québec; RG 2016-04, 45 pages, 2 plans. | 2017 | RG 2016-04 |
| GOUTIER, J. – GIGON, J. – BURNIAUX, P. – DION, C. – TALLA TAKAM, F. – CHARTIER-MONTREUIL, W. – BANDYAYERA, D. | Géologie de la région du lac de la Corvette, Eeyou Istchee Baie-James. | In preparation | – |
11 novembre 2019
30 août 2019