DISCLAIMER: This English version is translated from the original French. In case of any discrepancy, the French version shall prevail.
Informal subdivision(s)
Numbering does not necessarily reflect the stratigraphic position.
None
| | |
| --- | --- |
| Author: | Lafrance et al., 2013 |
| Age: | Mesoproterozoic |
| Stratotype: | None |
| Type area: | Saffray lake area (NTS sheet 24G) |
| Geological province: | Churchill Province |
| Geological subdivision: | Baleine Lithotectonic Domain |
| Lithology: | Mafic intrusive rocks |
| Category: | Lithodemic |
| Rank: | Suite |
| Status: | Formal |
| Use: | Active |
Background
The Soisson Suite was introduced by Lafrance et al. (2014) in the Saffray Lake area to group undeformed and non-metamorphosed kilometric mafic intrusions recognized in the Baleine Lithotectonic Domain, west of the De Pas Supersuite. These intrusions are also present in the Henrietta Lake (Lafrance et al., 2015) and Jeannin Lake (Charette et al., 2016) areas.
Description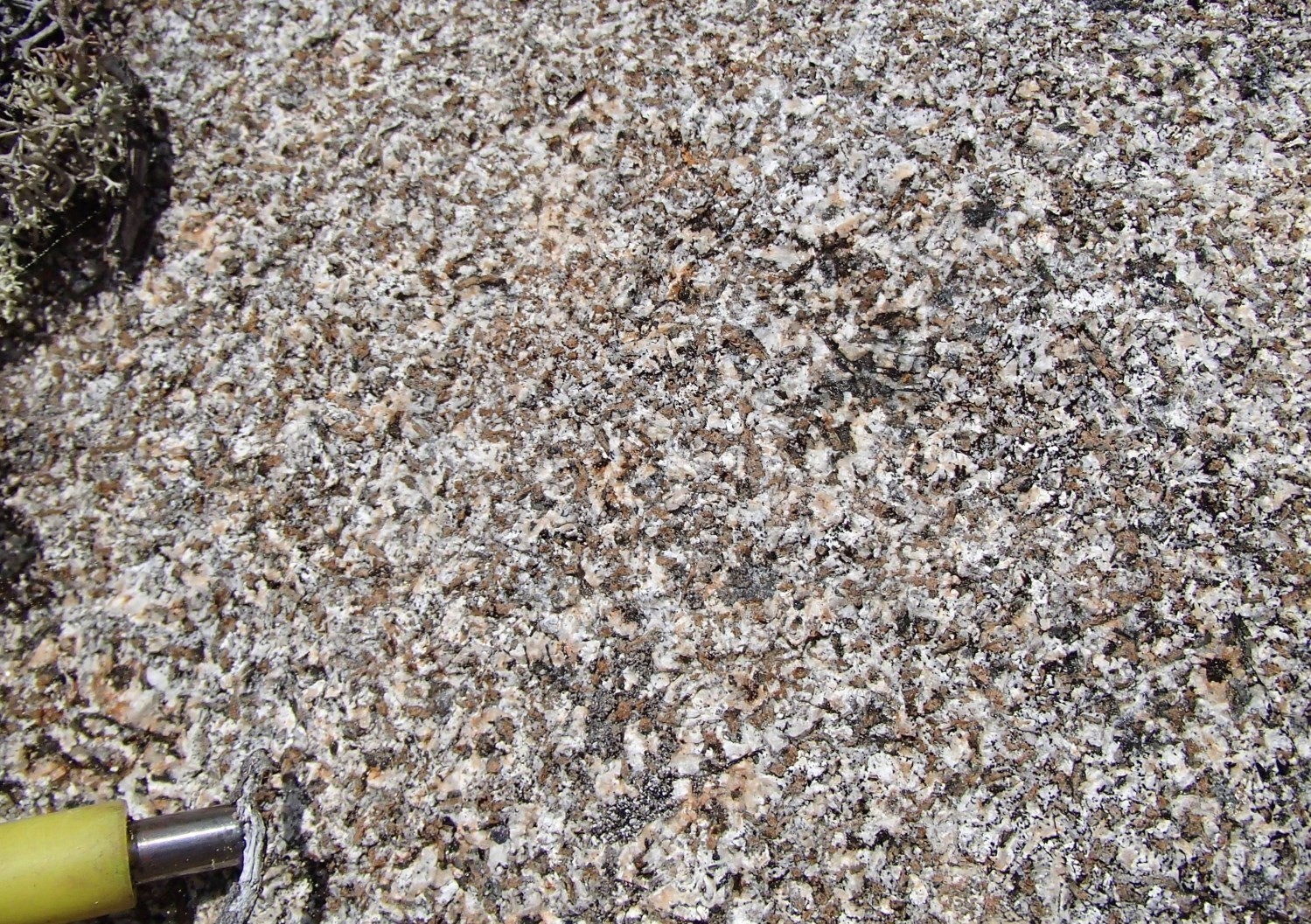 The Soisson Suite consists of troctolite, olivine gabbro, gabbro and gabbronorite having a brownish alteration patina and a dark greenish grey fresh surface. Rocks are very homogeneous, mesocratic to leucocratic, massive, medium to coarse grained and have variable magnetic susceptibility. They show a well-preserved subophitic texture with large intergrown plagioclase laths whose interstices (25-35% of the rock) are filled with olivine associated with some pyroxene. Locally, orthopyroxene or clinopyroxene may represent the dominant ferromagnesian phase. It consists mainly of cumulates of plagioclase-olivine ± clinopyroxene ± orthopyroxene cumulus surrounded by clinopyroxene ± olivine oikocrytals (Sappin et al., 2020). Olivine is locally serpentinized or altered to a chlorite-carbonate assemblage. Other minerals present in smaller amounts include opaque minerals, red biotite, actinolite, chlorite, apatite and carbonate.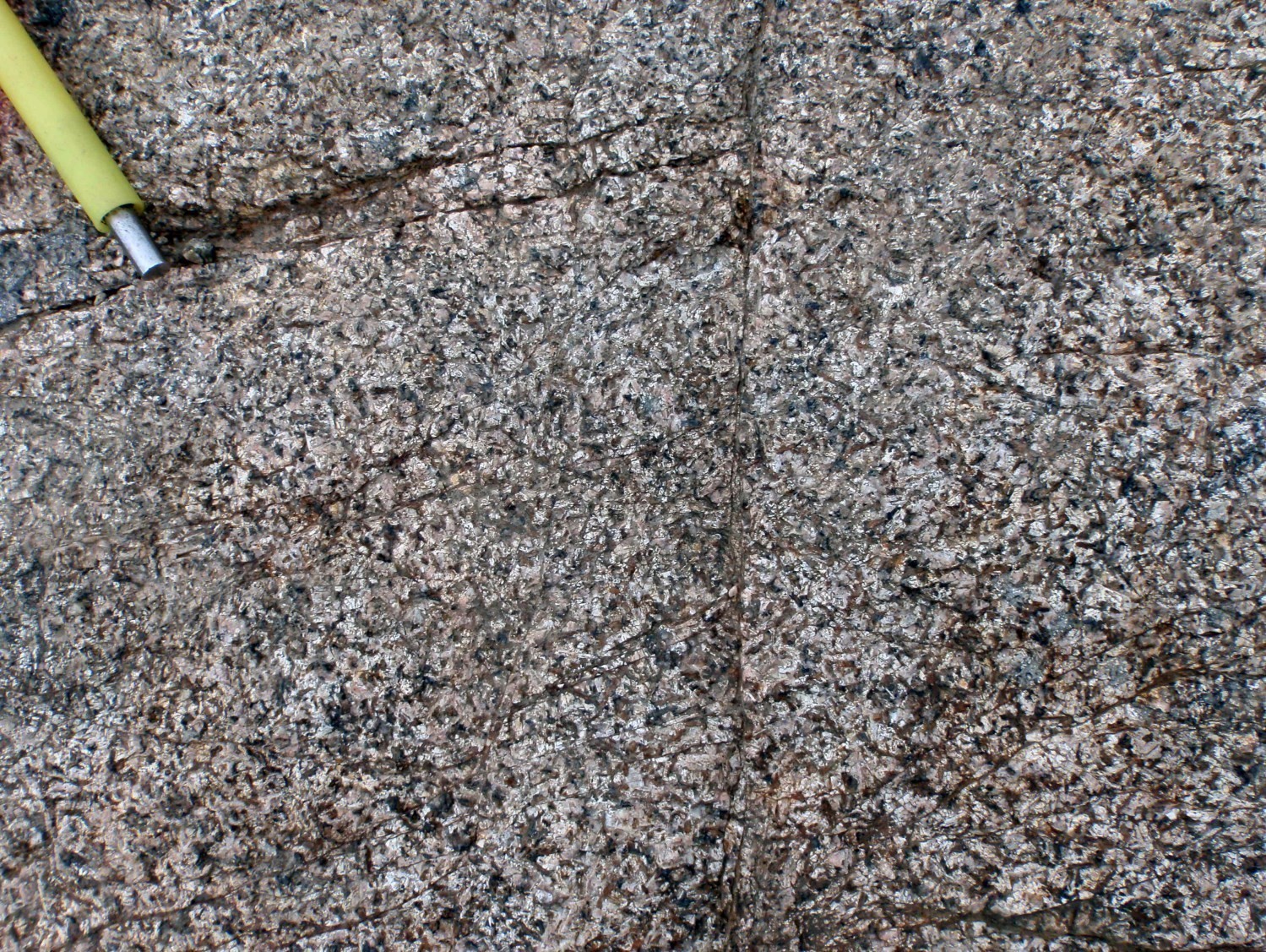 In the Jeannin Lake area, an intrusion 15 km by 3 km belonging to the Soisson Suite consists of a central part of monzodiorite surrounded by norite and quartz leucogabbronorite. Monzodiorite also has a subophitic texture and contains 15-25% ferromagnesian minerals altering biotite and amphiboles, mainly chlorite. Plagioclase is highly sericitized and accessory minerals observed are apatite, carbonate and opaque minerals. This area was studied in detail as part of a bachelor's thesis on Ni-Cu mineralization at the Université du Québec à Montréal (Fleury, 2016). The author notes that rocks at the edge of the intrusion are characterized many granophyric textures.
Thickness and distribution
The Soisson Suite covers a small area of ~56 km2 in the Baleine Lithotectonic Domain. It consists of five small intrusions <1 km wide by 2-3 km long in the Saffray Lake area (Lafrance et al., 2014). It also includes two larger intrusions 2-3 km wide by 7-15 km long, one of which is on the edge of the Saffray and Henrietta lakes areas (Lafrance et al., 2015) in the southern portion, and the other in the NE portion of the Jeannin Lake area (Charette et al., 2016).
Dating
An age of ~1311 Ma, considered to be crystallization, was obtained for an olivine gabbro sample taken in the SE corner of the Saffray Lake area (sheet 24G) by the Geological Survey of Canada in the summer of 2014. An age of 1295 Ma is interpreted as related to metamorphism or fluid flow.
| | | | | | | | | |
| --- | --- | --- | --- | --- | --- | --- | --- | --- |
| Isotopic System | Mineral | Crystallization Age (Ma) | (+) | (-) | Metamorphic Age (Ma) | (+) | (-) | Reference(s) |
| U-Pb | Baddeleyite | 1311.1 | 1.1 | 1.1 | | | | Corrigan et al., 2019 |
| U-Pb | Zircon | | | | 1295 | 11 | 11 | Corrigan et al., 2019 |
Stratigraphic Relationship(s)
Rocks of the Soisson Suite are among the youngest in the Baleine Domain and throughout the Southeastern Churchill Province. They have not been affected by regional deformation and metamorphism. These intrusions were emplaced in various units, both Archean and Paleoproterozoic. Hence, they cut the Ungava Complex and the Saffray, False, Winnie, Aveneau and Dancelou suites.
Petrological, geochemical and geochronological similarities with rocks of the Voisey's Bay intrusion suggest a possible genetic link between these two units (Corrigan et al., 2019; Sappin et al, 2020).
Paleontology
Does not apply.
References
| Author(s) | Title | Year of Publication | Hyperlink (EXAMINE or Other) |
| --- | --- | --- | --- |
| CHARETTE, B. – LAFRANCE, I. – MATHIEU, G. | Géologie de la région du lac Jeannin (SNRC 24B). Ministère de l'Énergie et des Ressources naturelles, Québec. | 2016 | |
| CORRIGAN, D. – WODICKA, N., – LAFRANCE, I. – BANDYAYERA, D.. | Lac Soisson intrusive suite: a potential extension of the Nain Plutonic complex in the western core zone. Geological Survey of Canada, Scientific Presentation 99, 1 poster. | 2019 | Source |
| FLEURY, J.P. | Caractérisation de la minéralisation en Ni-Cu des indices de la Suite de Soisson, Province de Churchill Sud-Est. Université du Québec à Montréal; projet de fin d'études, 49 pages. | 2016 | – |
| LAFRANCE, I. – SIMARD, M. – BANDYAYERA, D. | Géologie de la région du lac Saffray (SNRC 24G-24F). Ministère des Ressources naturelles, Québec; RG 2014-02, 49 pages. | 2014 | RG 2014-02 |
| LAFRANCE, I. – BANDYAYERA, D. – BILODEAU, C. | Géologie de la région du lac Henrietta (SNRC 24H). Ministère des Ressources naturelles, Québec; RG 2015-01, 62 pages. | 2015 | RG 2015-01 |
| SAPPIN, A.-A. – HOULE, M.G. – CORRIGAN, D. – BEDARD, M.-P. – WODICKA, N. – BRIND'AMOUR-COTE, C. – RAYNER, N. | Pétrographie, chimie minérale et composition géochimique d'intrusions mafiques de la suite de Soisson, sud-est de la province de Churchill (Québec, Canada). Geological Survey of Canada, Scientific Presentation 115, 1 sheet. | 2020 | |
10 février 2020
7 juillet 2020