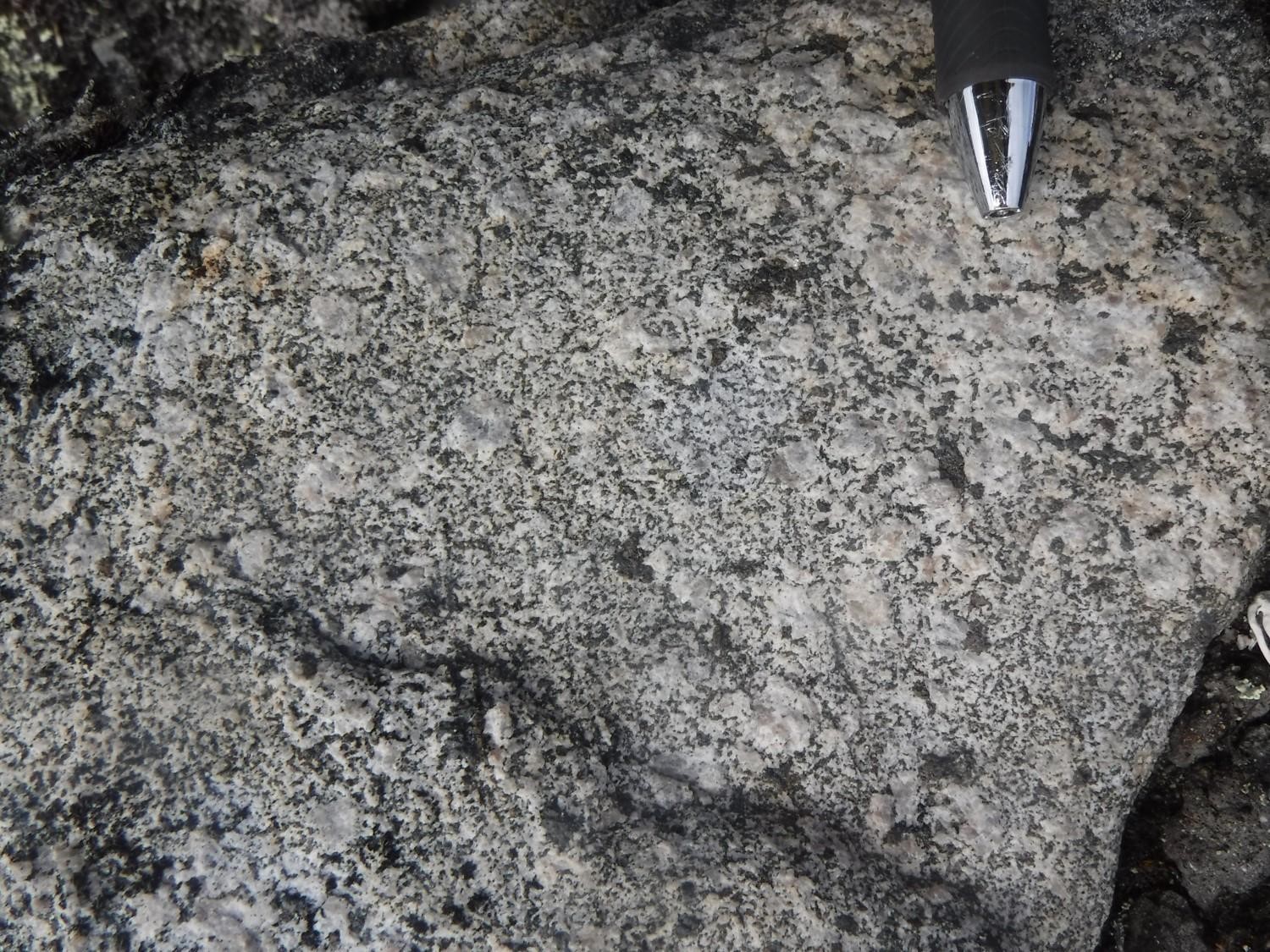 DISCLAIMER: This English version is translated from the original French. In case of any discrepancy, the French version shall prevail.
Informal subdivision(s)
Numbering does not necessarily reflect the stratigraphic position.
None
| | |
| --- | --- |
| Author: | Beaudette et al., 2020 |
| Age: | Paleoproterozoic |
| Stratotype: | Reference outcrop 19-GM-5095 located 12 km SE of Vanasse Lake, in the Parent Lake area (NTS sheet 35G11) |
| Type area: | SE part of the Vanasse Lake area (sheet 35G13) and NW part of the Parent Lake area (sheet 35G11) |
| Geological province: | Churchill Province |
| Geological subdivision: | Ungava Orogen / Northern Domain |
| Lithology: | Gabbro, gabbronorite |
| Category: | Lithodemic |
| Rank: | Suite |
| Status: | Formal |
| Use: | Active |
Background
Machado et al. (1991) informally cite the gabbro of northern Perrault Lake as a reference for locating a geochronology sample (CP-5). The pluton, cutting units then assigned to the Watts Group, was assigned to the Cape Smith Suite by Lamothe (2007) during its lithostratigraphic synthesis of the Ungava Orogen. Beaudette et al. (2020) introduced the Vanasse Suite nomenclature based on the Vanasse lake to individualize the vast area composed of gabbro and gabbronorite of tholeiitic to transitional geochemical affinity in the NW part of the Parent Lake area (sheet 35G11).
Description
The Vanasse Suite consists of leucocratic to mesocratic gabbro and gabbronorite. Rocks are generally homogeneous, medium grained and massive to foliated depending on the location. Coarser-grained zones are observed in sharp or diffuse contacts. Their composition is similar to the main medium-grained phases. The two main minerals give the rock a two-tone alteration patina: beige coming from plagioclase and dark greenish brown associated with ferromagnesian minerals. Their colour in fresh exposure varies from greenish beige to pinkish brown.
Plagioclase and hornblende are the main minerals, regardless of the phase. For the richest lithologies, 10-45% losse hornblende crystals are observed in a plagioclase matrix. Hornblende also occurs in cluster networks of small, homogeneously distributed crystals, giving the rock a speckled texture. The second most important phase consists of 5-20% plagioclase phenocrystals (1-2 cm), floating or in clusters. Secondary minerals are clinopyroxene, orthopyroxene, biotite, opaque minerals and, locally, quartz. Clinopyroxene is recognized in the core of some hornblende crystals, indicating partial to complete replacement of clinopyroxene. Hornblende rims are in places accompanied by biotite and opaque minerals. Orthopyroxene does not exceed 5% of the rock and also has a coronitic texture marked by hornblende and opaque minerals. Quartz represents <5% of the lithology and occurs in the interstices of phenocrystals in some leucocratic samples.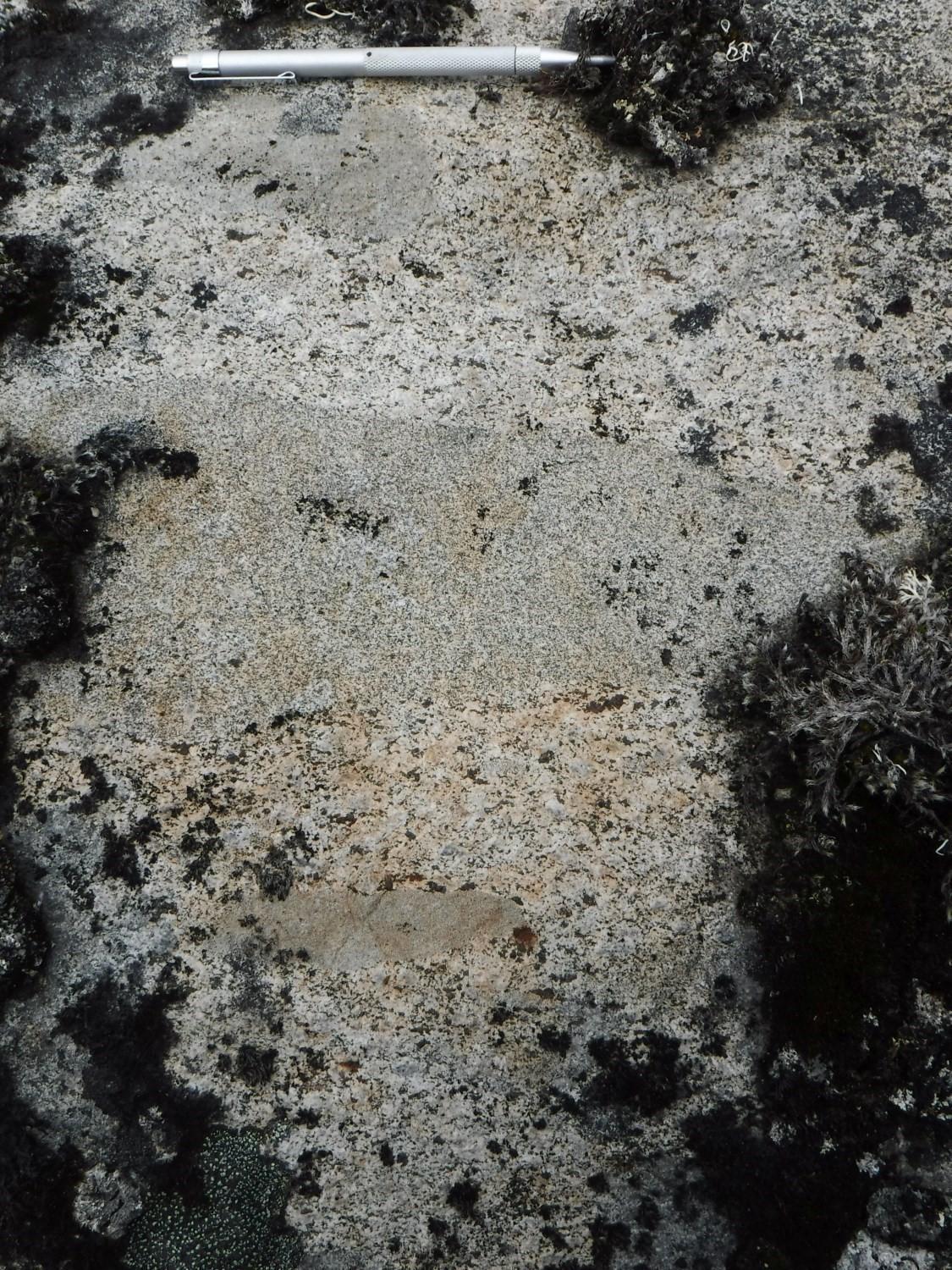 Fine to medium-grained mesogabbro enclaves are only observed very locally and are not recrystallized. Their composition seems similar to that of the host gabbro. The Vanasse Suite is generally little deformed, a slight foliation being marked by the alignment of ferromagnesian mineral clusters.
Thickness and Distribution
The Vanasse Suite is composed of two intrusions, marked on the aeromagnetic map by strong positive anomalies. The main pluton, to the north, has a cartographic dimension of 17 km by 10 km, NW of the Parent Lake area (sheet 35G11). The long axis is parallel to the general orientation of the foliation. Mapping of adjacent sheets, especially to the north and west, will help to better constrain the extent of this pluton. The rooting thickness of the intrusion is unknown.
Dating
A concordant U-Pb age of 1858 ±2 Ma interpreted as the crystallization age was obtained on a population of 33 zircon prisms from a gabbro sample taken in sheet 35G12. Two discordant Pb-Pb ages at 1860 Ma and 1856 Ma were reported in the same sample for the same population (Machado et al., 1991). The sampling site was revisited in the summer of 2019 for validation (2019-GM-5052). The outcrop has all the petrographic characteristics of the Vanasse Suite described in the Parent Lake area (sheet 35G11).
Unit
Sample Number
Isotopic System
Mineral
Crystallization Age (Ma)
(+)
(-)
Reference(s)
pPvas1
CP5
U-Pb
Zircon
1858
2
2
Machado et al., 1991
Pb-Pb
1860
1856
Stratigraphic Relationship(s)
Gabbros of the Vanasse Suite share common characteristics with adjacent quartz diorites of the Niviugak Suite, such as the speckled texture and a comparable geochemical spider diagram. However, the Vanasse Suite is of tholeiitic to transitional affinity whereas the Niviugak Suite is calc-alkaline. Stratigraphic relationships between these two units have not been observed on outcrops but geochronological data indicate that the Vanasse Suite is younger than the Niviugak Suite (1873 ±5 Ma; Davis, personal communication, 2020). Field data shows that the Vanasse Suite cuts gabbros of the Qikirtalialuk and Foucault suites (1899 ±3 Ma and 1854 ±3 Ma, respectively; Davis, personal communication, 2020).
Paleontology
Does not apply.
References
Publications Available Through SIGÉOM Examine
BEAUDETTE, M., BILODEAU, C., MATHIEU, G. 2020. Geology of the Parent Lake area, Ungava Orogen, Nunavik, Quebec, Canada. MERN. BG 2020-04, 1 plan.
LAMOTHE, D. 2007. Lexique stratigraphique de l'Orogène de l'Ungava. MRNF. DV 2007-03, 66 pages and 1 plan.
MACHADO, N., DAVID, J., CARIGNAN, J., ZHANG, Q., GARIEPY, C. 1991. GÉOCHRONOLOGIE U-PB DU TERRITOIRE QUÉBÉCOIS : FOSSES DE L'UNGAVA ET DU LABRADOR, PROVINCE DE GRENVILLE ET SOUS-PROVINCES DE PONTIAC ET DE L'ABITIBI. RAPPORT STATUTAIRE SOUMIS AU GOUVERNEMENT DU QUÉBEC. GM 59899, 47 pages.
Suggested Citation
Contributors
First publication

Carl Bilodeau, P. Geo., M.Sc. carl.bilodeau@mern.gouv.qc.ca; Mélanie Beaudette, GIT, B.Sc. melanie.beaudette@mern.gouv.qc.ca; Guillaume Mathieu, Eng., M.Sc. guillaume.mathieu@mern.gouv.qc.ca (redaction)

Mehdi A. Guemache, P. Geo., Ph.D. (coordination); James Moorhead, P. Geo., M.Sc. (critical review); Simon Auclair, P. Geo., M.Sc. (editing); Céline Dupuis, P. Geo., Ph.D. (English version); Ricardo Escobar Moran (HTML editing).
23 novembre 2020
23 novembre 2020