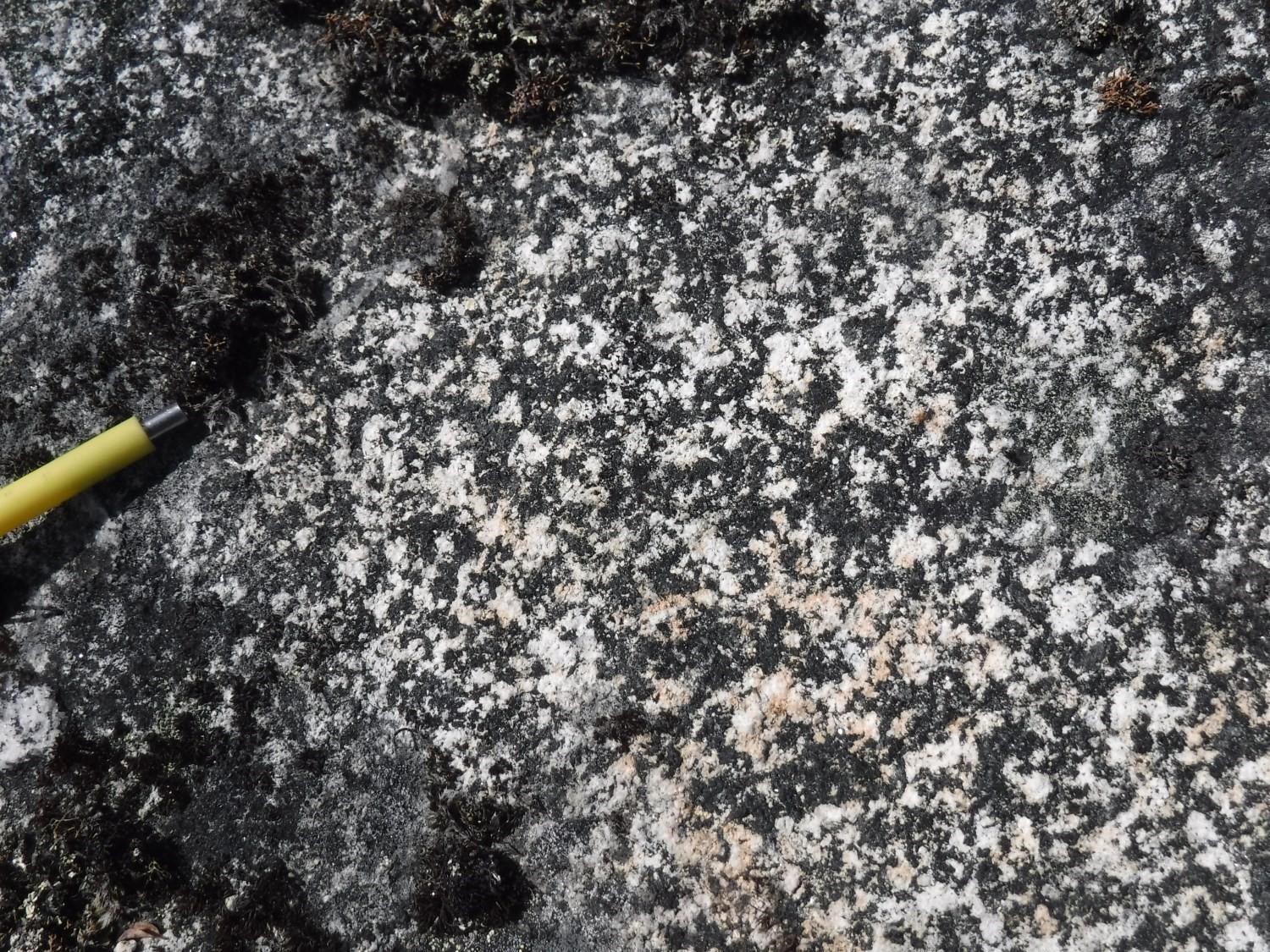 DISCLAIMER: This English version is translated from the original French. In case of any discrepancy, the French version shall prevail.
Informal subdivision(s)
Numbering does not necessarily reflect the stratigraphic position.
None
| | |
| --- | --- |
| Author: | Beaudette et al., 2020 |
| Age: | Paleoproterozoic |
| Stratotype: | None |
| Type area: | NW of the Parent Lake area (NTS sheet 35G11) |
| Geological province: | Churchill Province |
| Geological subdivision: | Ungava Orogen |
| Lithology: | Quartz diorite |
| Category: | Lithodemic |
| Rank: | Suite |
| Status: | Formal |
| Use: | Active |
Background
The Niviugak Suite was introduced by Beaudette et al. (2020) to distinguish rocks of intermediate composition from adjacent mafic units. These rocks were previously assigned to the Watts Group (Lamothe, 2007).
Description
The Niviugak Suite consists of dioritic to tonalitic rocks. The predominant lithology is quartz diorite. The unit is characterized by a speckled texture and strong magnetic susceptibility. Rocks are commonly massive to foliated, homogeneous, leucocratic to mesocratic, locally heteroganular or containing hornblende or plagioclase phenocrystals (5 mm). These two minerals form the main components of the rocks of the unit, along with quartz and biotite in lesser amounts. The speckled texture is expressed in clusters (up to 5 mm) which are composed of hornblende alone or an assemblage of hornblende and biotite. These clusters represent up to 40% of the rock. The matrix consists of plagioclase and quartz, which are partially recrystallized depending on the sample. Plagioclase is partially replaced by epidote and sericite, or locally, by sericite alone. Secondary matrix minerals are hornblende, biotite as isolated fine crystals, euhedral epidote (up to 2%), late chlorite (up to 1%) and opaque minerals. The foliation is defined by the flattening of ferromagnesian mineral clusters.
Thickness and Distribution
The Niviugak Suite is located between the Vanasse Suite to the west and the Foucault Suite to the east, in the NW part of sheet 35G11. The intrusion is 20 km by 5 km along a long axis oriented NE-SW similar to the orientation of the regional structural grain. Its apparent thickness varies between 1 km and 3 km. The rooting thickness of the intrusion is unknown.
Dating
U-Pb zircon dating of a speckled and recrystallized quartz diorite sample (outcrop 19-TG-7510-A) gave a preliminary age of 1873 ±5 Ma (Davis, personal communication, 2020).
Stratigraphic Relationship(s)
The Niviugak Suite is located on the SE boundary of the Vanasse Suite. No crosscutting relationship has been observed between the two units, but geochronological data indicate that the Niviugak Suite is older than the Vanasse Suite, dated 1859 ±2 Ma (Machado et al., 1991). The two units also have common features such as the speckled texture and a similar spider diagram. In contrast, the Niviugak Suite has a geochemical signature of calc-alkaline affinity, whereas the Vanasse Suite is tholeiitic to transitional. On outcrops, speckled rocks of the Niviugak Suite cut heterogeneous and heterogranular gabbros similar to those of the Qikirtalialuk Suite and homogeneous granoblastic microgabbros of unknown affiliation.
Paleontology
Does not apply.
References
Publications Available Through SIGÉOM Examine
BEAUDETTE, M., BILODEAU, C., MATHIEU, G. 2020. Geology of the Parent Lake area, Ungava Orogen, Nunavik, Quebec, Canada. MERN. BG 2020-04, 1 plan.
LAMOTHE, D. 2007. Lexique stratigraphique de l'Orogène de l'Ungava. MRNF. DV 2007-03, 66 pages and 1 plan.
MACHADO, N., DAVID, J., CARIGNAN, J., ZHANG, Q., GARIEPY, C. 1991. GEOCHRONOLOGIE U-PB DU TERRITOIRE QUEBECOIS: FOSSES DU L'UNGAVA ET DU LABRADOR, PROVINCE DE GRENVILLE ET SOUS-PROVINCES DE PONTIAC ET DE L'ABITIBI. Rapport statutaire soumis au gouvernement du Québec. GM 59899, 47 pages.
Suggested Citation
Contributors
First publication

Carl Bilodeau, P. Geo., M.Sc. carl.bilodeau@mern.gouv.qc.ca; Mélanie Beaudette, GIT, B.Sc. melanie.beaudette@mern.gouv.qc.ca (redaction)

Mehdi A. Guemache, P. Geo., Ph.D. (coordination); James Moorhead, P. Geo., M.Sc. (critical review); Simon Auclair, P. Geo., M.Sc. (editing); Céline Dupuis, P. Geo., Ph.D. (English version); André Tremblay (HTML editing).
23 novembre 2020
23 novembre 2020