Falcoz Swarm
Stratigraphic label: [mpro]fal
Map symbol: mPfal

First published: 20 March 2018
Last modified: 13 August 2018
Translation of original French
Informal subdivision(s)
Numbering does not necessarily reflect the stratigraphic position.
None
| | |
| --- | --- |
| Author: | Girard, 1990 |
| Age: | Mesoproterozoic |
| Reference section: | |
| Type area: | Courdon Lake area (NTS sheet 14E12) |
| Geological province: | Churchill and Nain provinces |
| Geological subdivision: | |
| Lithology: | Subophitic gabbro |
| Type: | Lithodemic |
| Rank: | Suite |
| Status: | Formal |
| Use: | Active |
Background
The term "Falcoz Diabase" was introduced by Girard (1990) in the Courdon Lake area to refer to a dyke swarm oriented NNW-SSE along the Falcoz River axis. This unit was renamed "Falcoz Swarm" by Simard et al. (2013) in the Kuujjuaq and Ungava Bay area. Verpaelst et al. (2000), Simard et al. (2013), Lafrance et al. (2015, 2016), Mathieu et al. (2018), Charette and Beaudette (2018) and Lafrance et al. (2018) also assigned all NNW-SSE oriented dykes from the Churchill Province (Southeastern Churchill Province) and the Nain Province to this swarm.
Girard (1990) identified three diabase families of different orientations: 1) syntectonic diabase, 2) late-tectonic diabase and 3) Falcoz diabase. The syntectonic diabase family consists of boudins 2 to 5 m long aligned for a few kilometres. Girard (1990) mentions that the rock is pyroxenite similar to ultramafic rocks of the Courdon Intrusive Suite (pPcou1). The two dykes identified by Girard (1990) were reassigned to unit pPcou1 by Lafrance et al. (2015). The late-tectonic diabase family includes dykes oriented east-west but of little width (5-10 cm) and not mappable, even at the scale of Girard (1990).
Description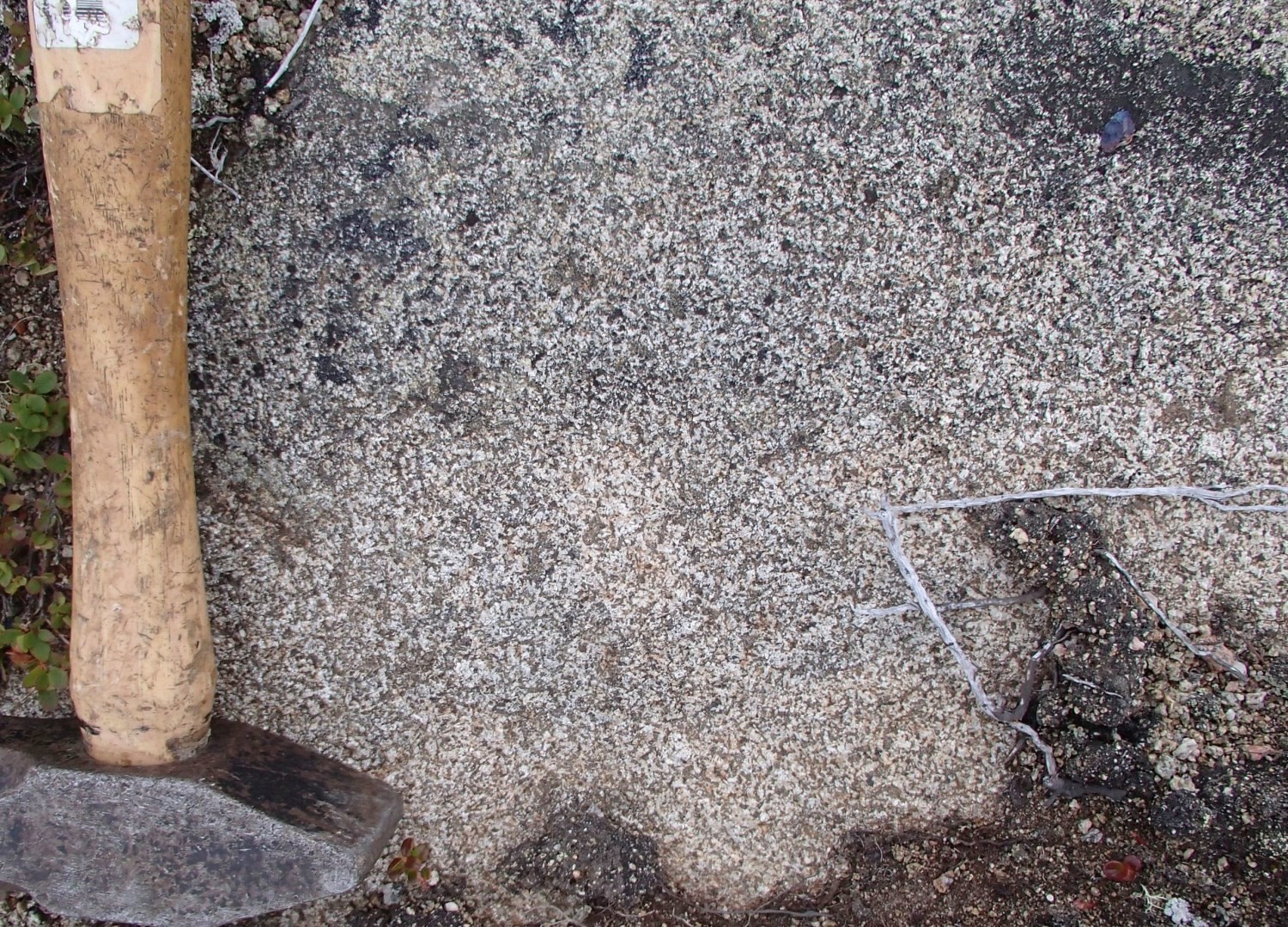 The Falcoz Swarm consists of subophitic olivine gabbro, not deformed and not metamorphosed. It also includes some gabbro, gabbronorite, olivine norite and troctolite outcrops. Olivine gabbro is fine grained and is composed of weakly to moderately sericitized plagioclase laths, 30 to 40% mafic minerals, including a majority of olivine and clinopyroxene as well as magnetite (2-5%). Biotite and apatite are accessory minerals. Locally, the matrix is aphanitic (plagioclase and clinopyroxene) and includes plagioclase and olivine microphenocrystals. Alteration is very weak on the rim of clinopyroxene.
In the western Narsajuaq Arc (NTS sheet 35K) and in Grenfeld Sound (sheet 25A) and Pointe Le Droit (sheet 24P) areas, the composition is distinguished from the rest of the Churchill Province by the presence of orthopyroxene. Olivine gabbronorite is also massive, with a subophitic texture.
Thickness and Distribution
The tracks of the 65 Falcoz Swarm dykes were interpreted primarily from aeromagnetic survey. However, dykes of metric to decametric width were observed at a few locations along these lineaments. Magnetic lineaments are generally a few hundred metres wide and can be tracked over long distances, up to more than 60 km. Falcoz Swarm dykes are predominantly concentrated in the Falcoz Lithotectonic Domain (39 dykes), but have also been observed in the Mistinibi-Raude (11 dykes; Lafrance et al., 2018), Burwell (7 dykes), Baleine (6 dykes), Rachel-Laporte (1 Dyke) and George (1 Dyke; Charette et al., 2018) domains.
Dating
The Falcoz Swarm has not been dated.
In Pointe Le Droit (sheet 24P), veins of pseudotachylite cut dykes. Pseudotachylite may be associated with either the opening of the Iapetus Ocean (600 Ma) or the opening of the Atlantic Ocean (200 Ma). In the same area, Falcoz Swarm dykes intrude into the Abloviak Shear Zone, dated 1843 Ma (Bertrand et al., 1993). The Mesoproterozoic age is based on dating a sample of Slippery Dykes to 1269 Ma (Corrigan et al., 2015). This suite also consists of massive olivine gabbro similar to that of the Falcoz Swarm.
Stratigraphic Relationship(s)
The Falcoz Swarm represents a package of late dykes, highly magnetic, not deformed and not metamorphosed, that cut all units of the Churchill and Nain provinces. Geophysics shows that these dykes do not cut the Blumath Deformation Shear Zone, which separates the western and eastern parts of the Falcoz Lithotectonic Domain, although they are on both sides. In the western portion of the Narsajuaq Arc, the dykes also cut all the units present.
Girard (1990) noted that these dykes have similarities to the "Ministuku Diabases" identified by van der Leeden (1994) further south on the shores of Ntshuku Ministuku Lake. Small in size (<1 m), these dykes were not plotted on the geological map by van der Leeden. They include approximately 50 NW-SE oriented gabbro dykes, black and fine to medium-grained.
Paleontology
Does not apply.
References
Author(s)
Title
Year of Publication
Hyperlink (EXAMINE or Other)
BERTRAND, J.M. – RODDICK, J.C. – KRANENDONK, M.J. – ERMANOVICS, I.
U-Pb geochronology of deformation and metamorphism across a central transect of the Early Proterozoic Torngat Orogen, North River map area, Labrador. Revue canadienne des sciences de la Terre; volume 30 (7), pages 1470-1489.
1993
Source
CHARETTE, B. – BEAUDETTE, M.
Géologie de la région du cap Wolstenholme, Orogène de l'Ungava, Province de Churchill, sud-est d'Ivujivik, Québec, Canada. Ministère de l'Énergie et des Ressources naturelles, Québec.
2018
Bulletin géologiQUE
CHARETTE, B. – LAFRANCE, I. – VANIER, M.-A.
Domaine de George, sud-est de la Province de Churchill, Nunavik, Québec, Canada : synthèse de la géologie. Ministère de l'Énergie et des Ressources naturelles, Québec.
2018
Bulletin géologiQUE
CORRIGAN, D. – WODICKA, N. – LAFRANCE, I. – BILODEAU, C. – BANDYAYERA, D. –
La Suite intrusive de Soisson : un prolongement potentiel de la Suite plutonique de Nain dans la partie ouest
de la Zone noyau. Affiche géoscientifique, congrès Québec Mines.
2015
–
GIRARD, R.
Géologie de la région du lac Courdon, Territoire du Nouveau-Québec. Ministère des Ressources naturelles, Québec; MB 90-24, 60 pages.
1990
MB 90-24
LAFRANCE, I. – CHARETTE, B. – VANIER, M.-A.
Sud-est de la Province de Churchill, Nunavik, Québec, Canada : synthèse de la géologie. Ministère de l'Énergie et des Ressources naturelles, Québec.
2018
Bulletin géologiQUE
LAFRANCE, I. – CHARETTE, B. – VANIER, M.-A. – GODET, A.
Domaine de Mistinibi-Raude, sud-est de la Province de Churchill, Nunavik, Québec, Canada : synthèse de la géologie. Ministère de l'Énergie et des Ressources naturelles, Québec.
2018
Bulletin géologiQUE
LAFRANCE, I. – BANDYAYERA, D. – BILODEAU, C.
Géologie de la région du lac Henrietta (SNRC 24H). Ministère de l'Énergie et des Ressources naturelles, Québec; RG 2015-01, 60 pages.
2015
RG 2015-01
LAFRANCE, I. – BANDYAYERA, D. – CHARETTE, B. – BILODEAU, C. – DAVID, J.
Géologie de la région du lac Brisson (SNRC 24A). Ministère de l'Énergie et des Ressources naturelles, Québec; RG 2016-05, 61 pages.
2016
RG 2015-05
MATHIEU, G. – LAFRANCE, I. – VANIER, M.-A.
Géologie de la région de pointe le Droit, sud-est de la Province de Churchill, Nunavik, Québec, Canada. Ministère de l'Énergie et des Ressources naturelles, Québec.
2018
Bulletin géologiQUE
SIMARD, M. – LAFRANCE, I. – HAMMOUCHE, H. – LEGOUIX, C.
Géologie de la région de Kuujjuaq et de la baie d'Ungava (SNRC 24J et 24K). Ministère des Ressources naturelles, Québec; RG 2013-04, 60 pages.
2013
RG 2013-04
VAN DER LEEDEN, J.
Géologie de la région du lac de la Hutte Sauvage, Territoire-du-Nouveau-Québec. Ministère des Ressources naturelles, Québec; MB 94-32, 108 pages, 2 plans.
1994
MB 94-32
VERPAELST, P. – BRISEBOIS, D. – PERREAULT, S. – SHARMA, K.N.M. – DAVID, J.
Géologie de la région de la rivière Koroc et d'une partie de la région de Hébron (24I et 14L). Ministère des Ressources naturelles, Québec; RG 99-08, 62 pages, 10 plans.
1999
RG 99-08
9 novembre 2018
9 novembre 2018