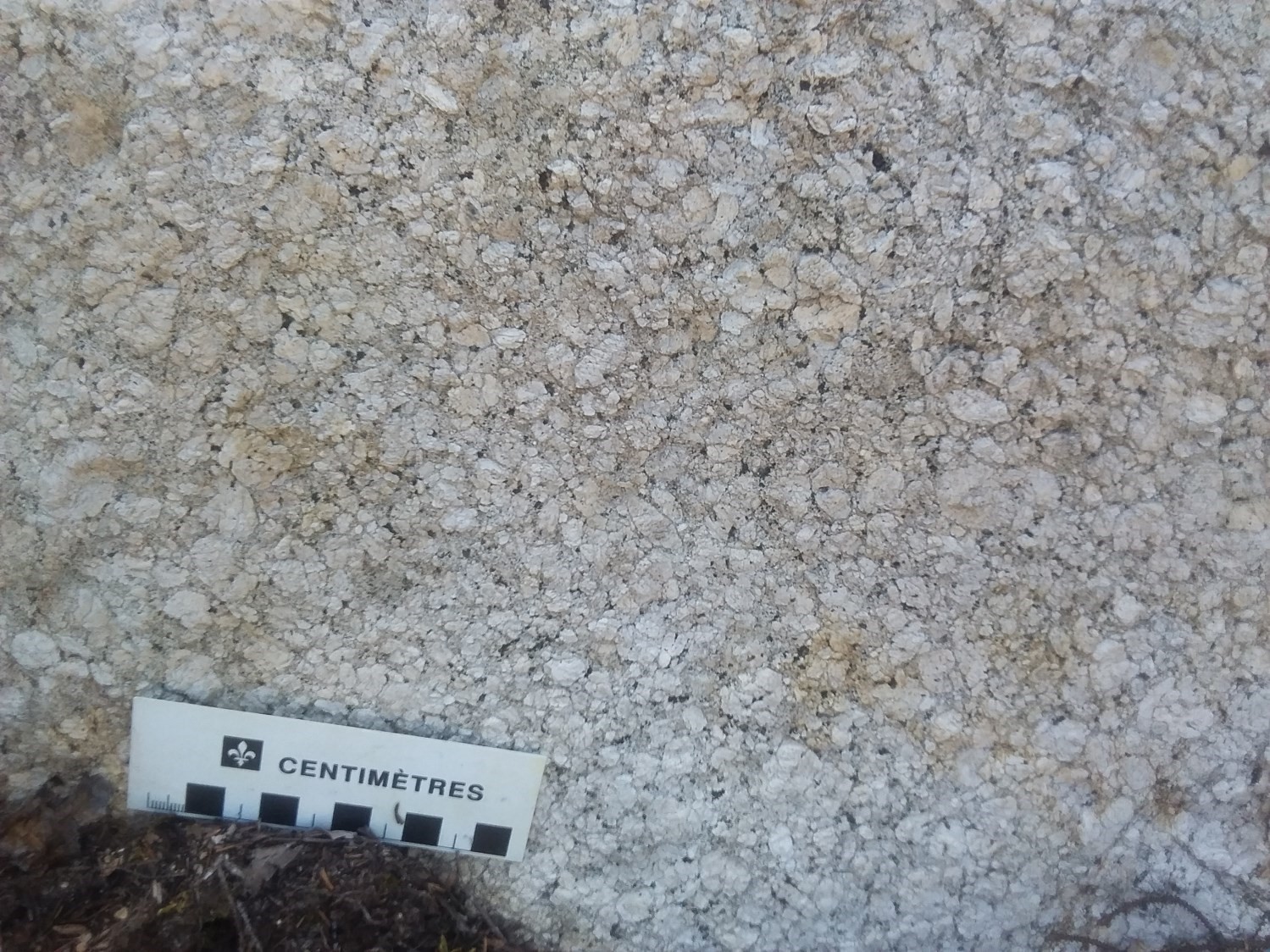 Mimosa Plutonic Suite
Stratigraphic label: [mpro]mim
Map symbol: mPmim

First published: 14 June 2019
Last modified: 30 March 2021
DISCLAIMER: This English version is translated from the original French. In case of any discrepancy, the French version shall prevail.
Informal subdivision(s)
Numbering does not necessarily reflect the stratigraphic position.
None
| | |
| --- | --- |
| Author(s): | Moukhsil and Daoudene, 2019 |
| Age: | Mesoproterozoic |
| Stratotype: | Reference outcrop 2018-AM-120 located ~1.32 km east of Castor Lake |
| Type area: | NE corner of NTS sheet 32A07 |
| Geological province: | Grenville Province |
| Geological subdivision: | Allochton |
| Lithology: | Felsic, intermediate and mafic intrusive rocks |
| Category: | Lithodemic |
| Rank: | Suite |
| Status: | Formal |
| Use: | Active |
Background
The Mimosa Plutonic Suite was defined by Moukhsil and Daoudene (2019) during mapping of the SW area of Lake Saint-Jean (sheets 32A07 and 32A08). Analysis of regional aeromagnetic maps (Intissar and Benahmed, 2015) suggests that the plutonic suite extends northward in sheet 32A10. It was also mapped in the Normandin area (sheet 32A15) by Moukhsil and El Bourki (2020).
Description
The Mimosa Plutonic Suite is a polyphase batholith whose composition is highly variable from one outcrop to another. It consists of quartz syenite, hypersthene syenite, mangerite, granite, orthopyroxene granite, alkaline feldspar granite, granodiorite, quartz monzodiorite and minor amounts of jotunite and gabbronorite. Rocks of this suite are highly magnetic and thier extent is easily located on aeromagnetic maps (Intissar and Benahmed, 2015).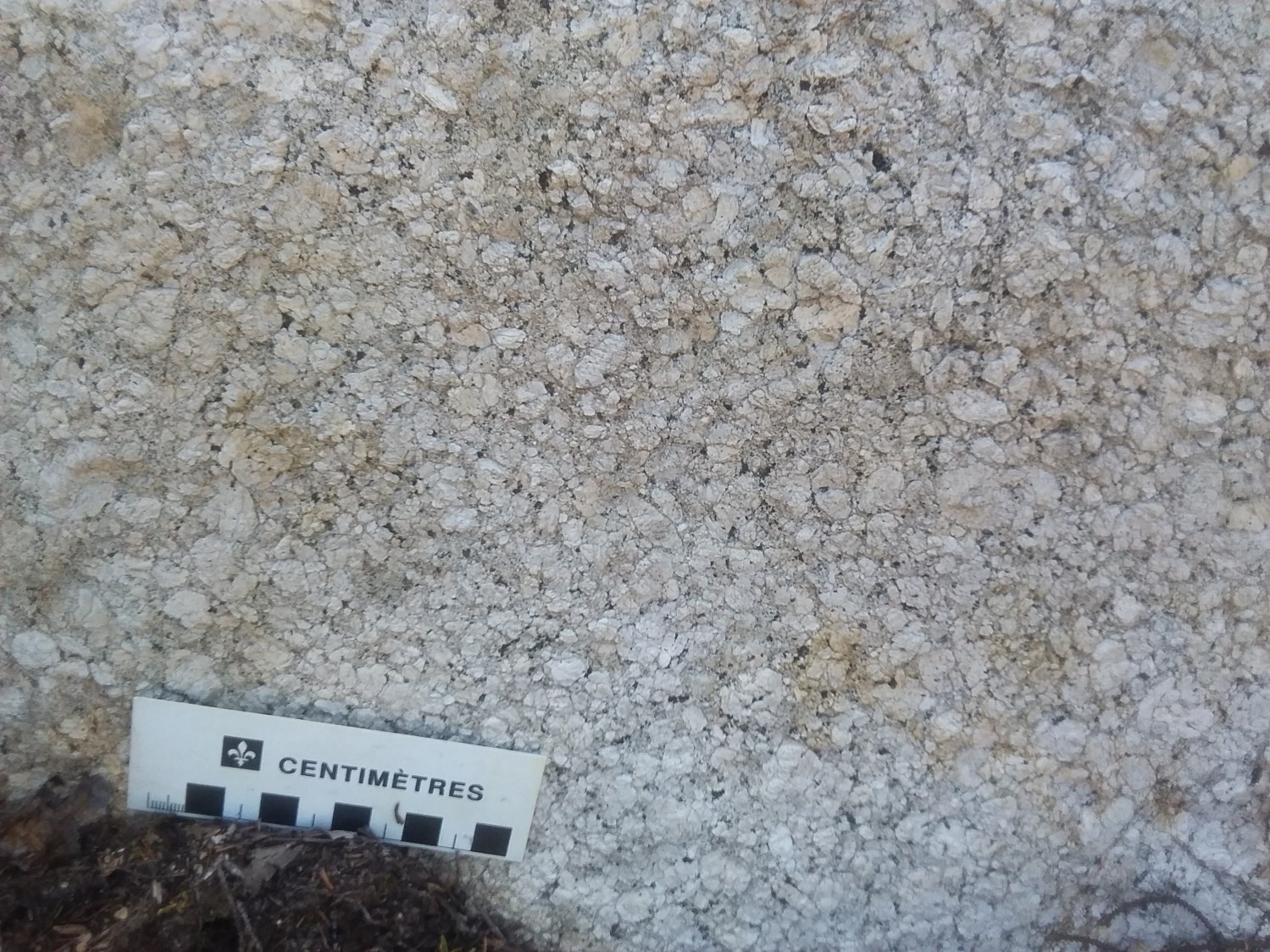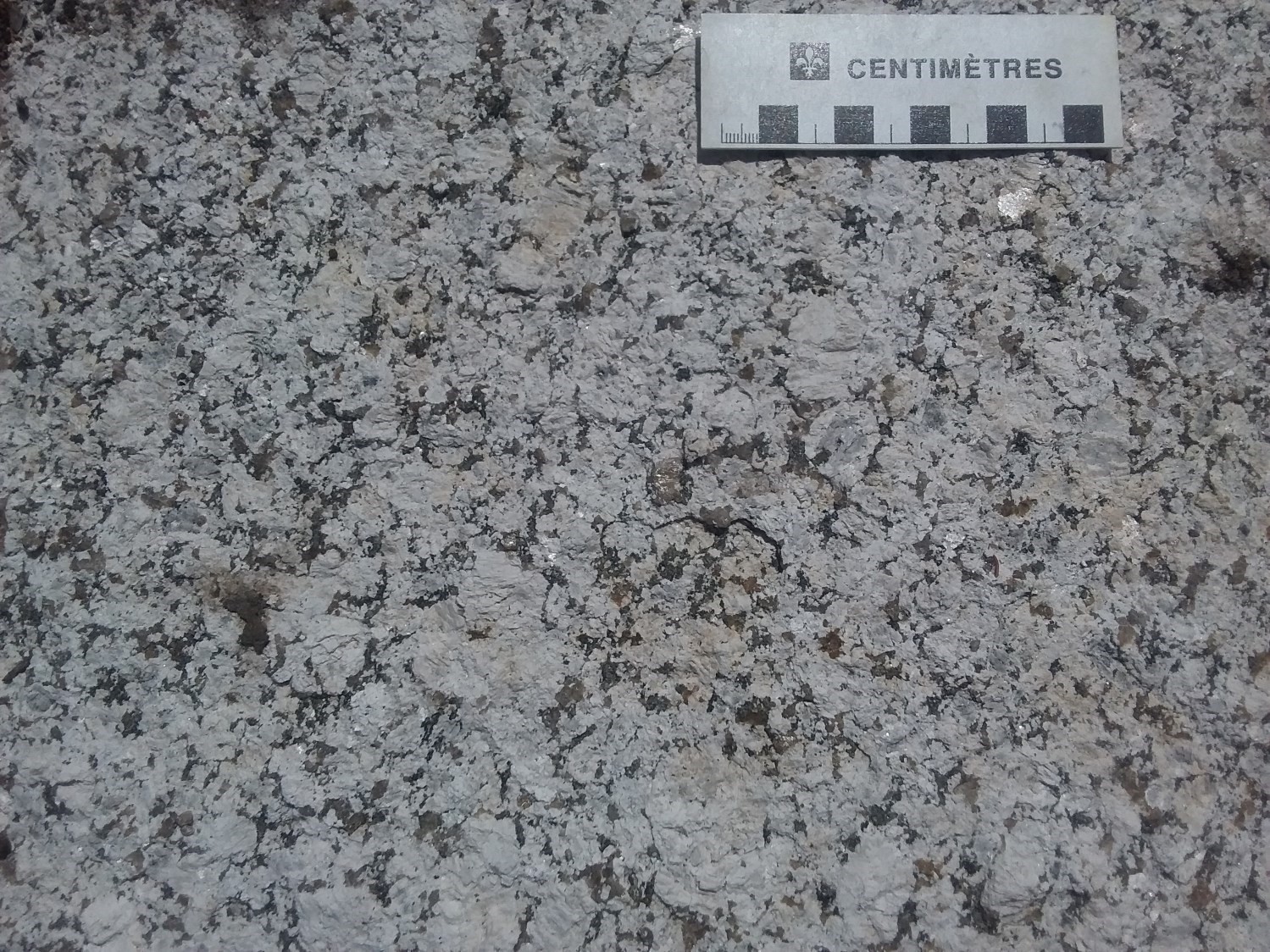 Quartz syenite and hypersthene syenite are both whitish to brownish in altered patina and greenish in fresh exposure. With the exception of the hypersthene content that differs from one lithology to the other, they show similar petrological characteristics. They are both K-feldspar-plagioclase porphyritic to locally megacristic. Feldspars make up a total of 40% of the rock. Phenocrystals are 1 cm to 5 cm long and can reach 7 cm locally. In addition to hypersthene, biotite and hornblende are the other ferromagnesian mineral phases occurring in clusters. Hypersthene is altered and frequently shows a hornblende rim. K-feldspar is perthitic and quartz forms large zones with undulatory extinction. Quartz is in places in contact with myrmekite. For both types of syenite, the most common accessory mineral phases are apatite, zircon and epidote.
Quartz mangerite is magnetic, porphyritic, greenish in fresh exposure with a similar appearance to syenites. The difference with syenites lies in its greater plagioclase content, approximately 25%. In mangerite, foliation is visible where there are clusters of ferromagnesian minerals such as orthopyroxene, hornblende and biotite.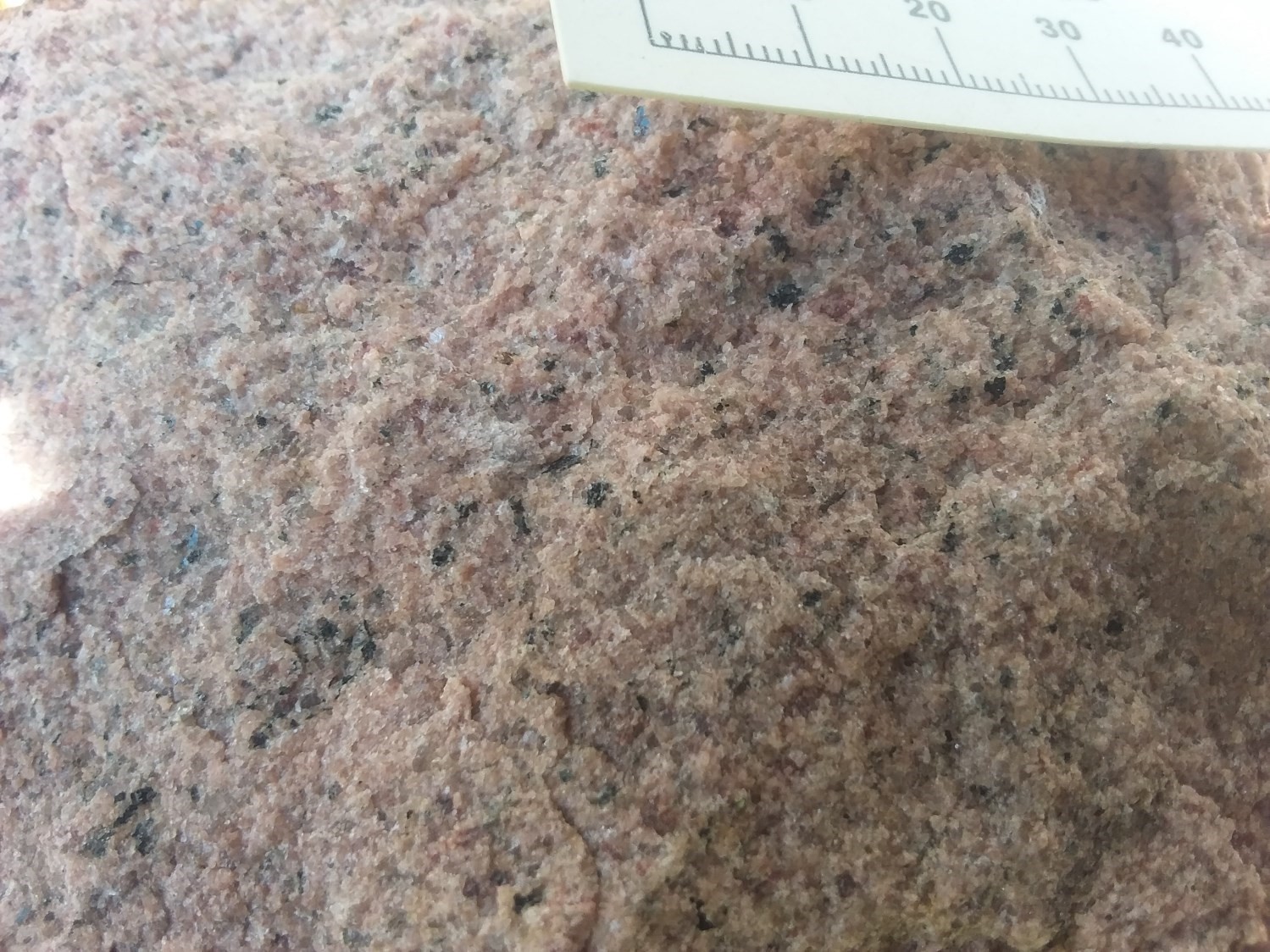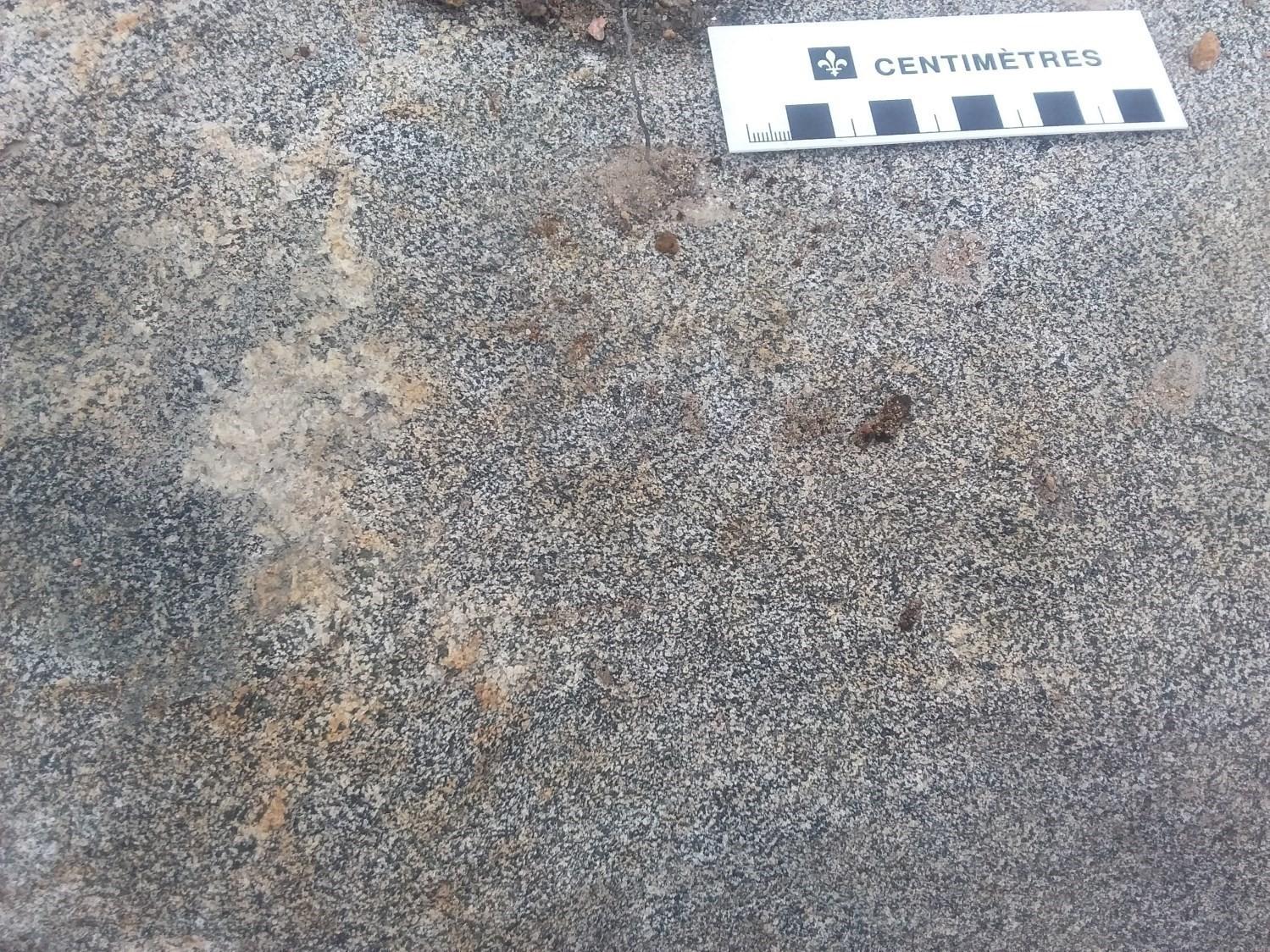 Granite is fine to medium grained, locally containing orthopyroxene (charnockite). It is grey-pink in altered patina and pinkish grey in fresh exposure. Granite is composed of K-feldspar, plagioclase, quartz, biotite, zircon, apatite and opaque minerals.
Alkaline feldspar granite is salmon pink in fresh and altered surfaces, fine grained and foliated. It contains microcline, quartz forming large zones with undulatory extinction and ~1% biotite. Accessory mineral phases are apatite and zircon.
Quartz monzodiorite is magnetic, grey-white in altered patina and grey-black in fresh exposure. It is medium grained and migmatitic with the presence of leucosome veins, which vary in composition from tonalitic to granitic. These veins are both conformable and unconformable to foliation. Quartz monzodiorite is composed of slightly sericitized plagioclase grains, locally perthitic K-feldspar, hornblende, biotite, apatite and zircon.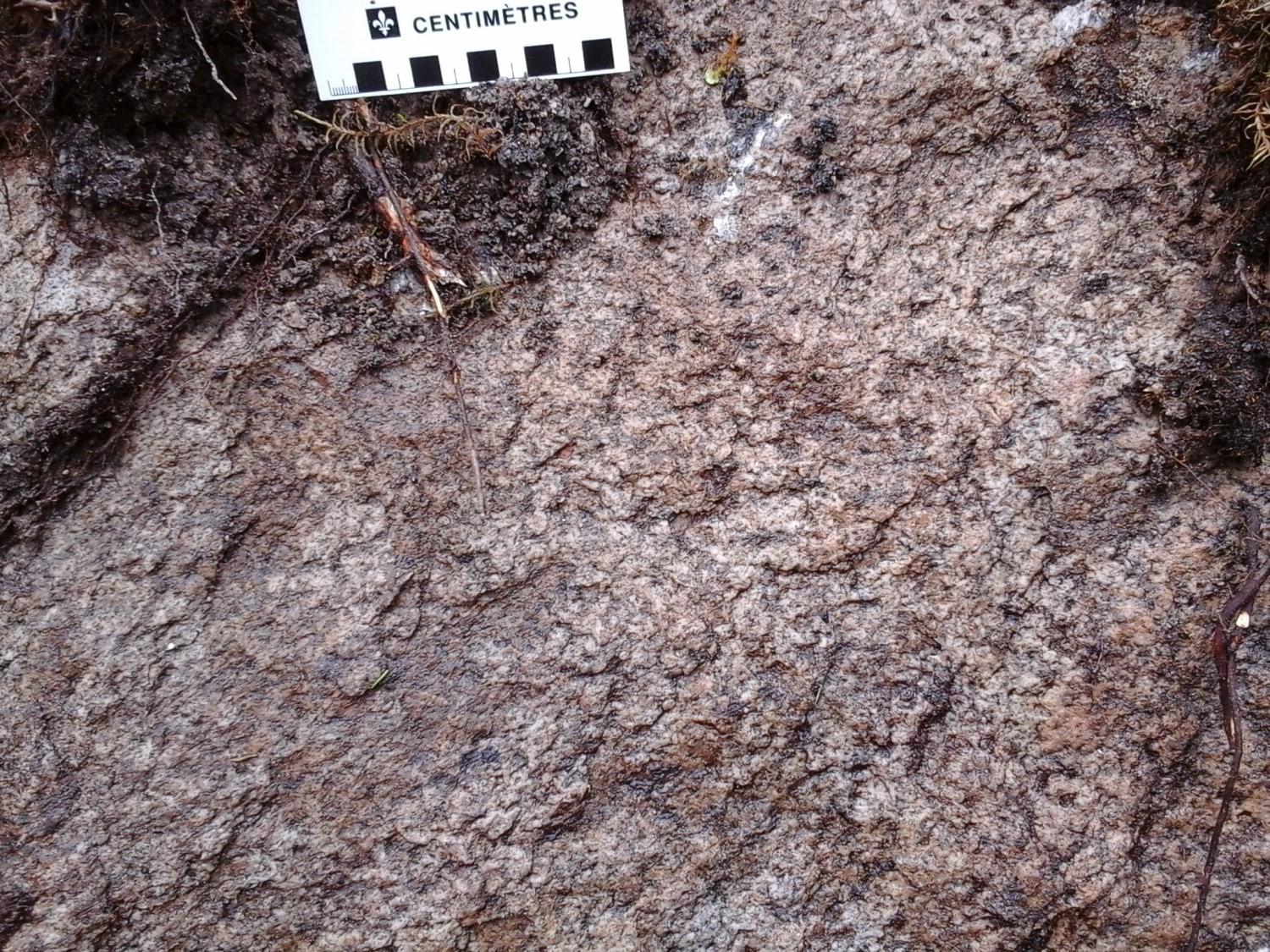 Granodiorite is fine to coarse grained, locally containing orthopyroxene (opdalite). It is homogeneous, beige to grey in fresh exposure and beige-brown to pink in altered patina. It is foliated and contains quartz in large zones, K-feldspar and fractured plagioclase filled with white mica. Granodiorite also contains biotite, hornblende, magnetite and accessory zircon and apatite.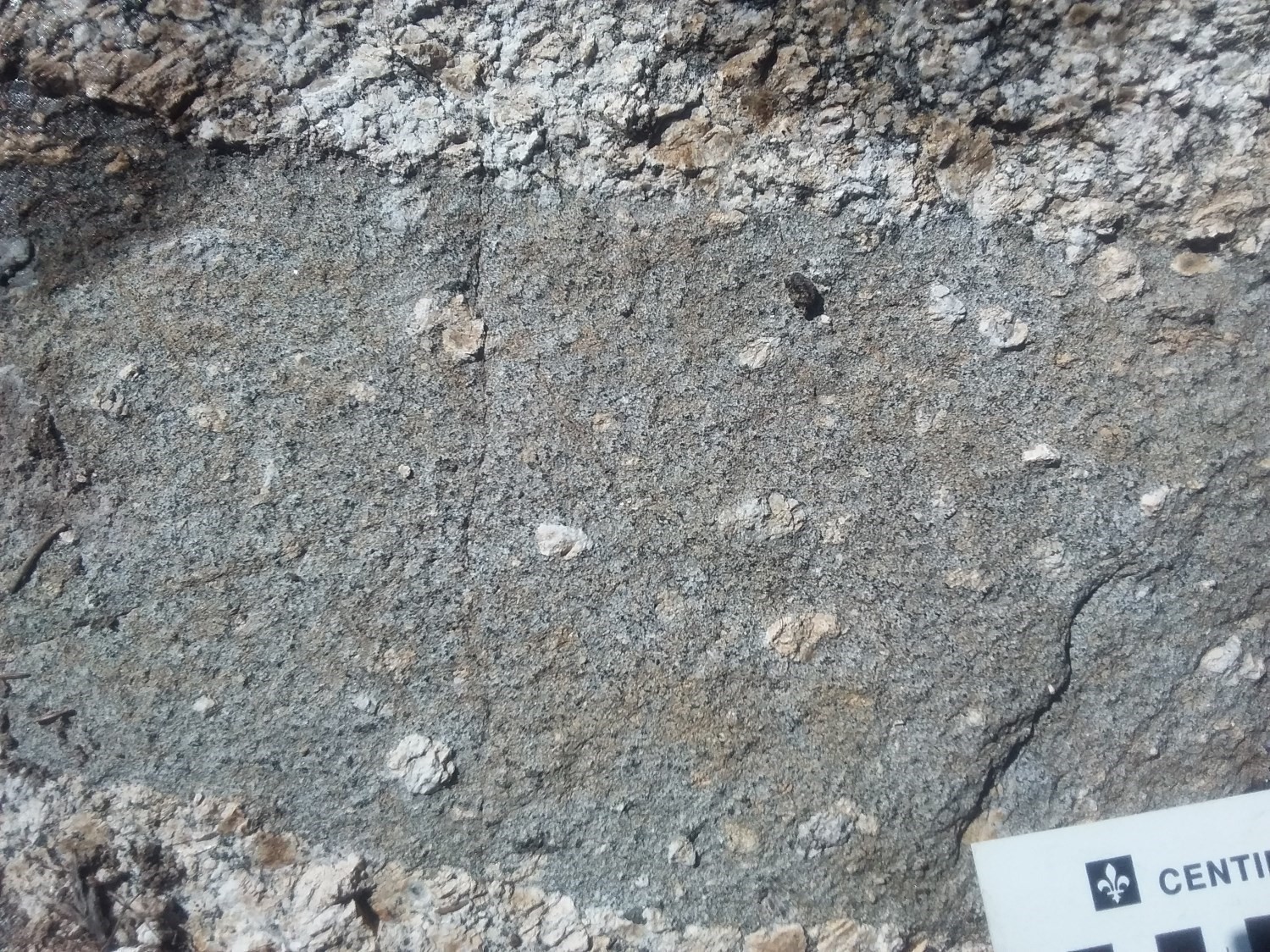 Jotunite and gabbronorite represent minor phases of this suite. Jotunite (hypersthene monzodiorite) is brownish in fresh exposure and grey-brown in altered surface. It is medium grained and foliated. Jotunite is composed of plagioclase, K-feldspar, quartz, orthopyroxene, clinopyroxene, biotite and accessory phases such as apatite and opaque minerals. Ferromagnesian minerals are either in clusters or disseminated throughout the rock.
Gabbronorite is coarse grained and magnetic. It contains pyroxene, hornblende and biotite in lesser amounts. Gabbronorite is locally migmatitic, which allows it to be differentiated from the Claire Gabbronorite.
Fine-grained grey diorite dykes with K-feldspar xenocrystals intrude into quartz syenite of the Mimosa Plutonic Suite.
Thickness and Distribution
On the map, the Mimosa Plutonic Suite is mainly represented by a large batholith with an area of approximately 270 km2. This batholith was originally mapped in the NE corner of sheet 32A07 (Moukhsil and Daoudene, 2019), but aeromagnetic imaging (Intissar and Benahmed, 2015) suggests that it extends northward (sheets 32A10 and 32A15). The batholith has a coarsely arched shape in sheets 32A07 and 32A10 as a whole, with a long axis orineted N-S in the northern part, but which curves along a NNW-SSE orientation in the southern part. Two other plutons of the Mimosa Plutonic Suite outcrop south of the main batholith (sheet 32A07); they cover areas of 10 km2 and 22 km2. It is also mapped in sheet 32A15 as an elongated bell-shaped batholith oriented N-S and covering an area of ~168 km2.
Dating
Two smaples were dated for this suite (outcrops 2018-AM-0116 [sheet 32A07] and 2019-AB-5002 [sheet 32A14]). These dates provide estimated crystallization ages of 1003 ±18 Ma and 1015 ±13 Ma. Both ages coincide with the Late Grenville magmatic event as defined by Gower and Krogh (2002; 1018-980 Ma) and correspond to the period of gravity collapse experienced by the Grenville orogenic chain (see e.g. Rivers et al., 2012; Moukhsil et al., 2018).
| | | | | | | | |
| --- | --- | --- | --- | --- | --- | --- | --- |
| Unit | Sample Number | Isotopic System | Mineral | Crystallization Age (Ma) | (+) | (-) | Reference(s) |
| mPmim1 | 2018-AM-0116A | U-Pb | Zircon | 1003 | 18 | 18 | Papapavlou, 2019 |
| mPmim1 | 2019-AB-5002A | U-Pb | Zircon | 1015 | 13 | 13 | Papapavlou, 2020 |
Stratigraphic Relationship(s)
The Mimosa Plutonic Suite intrudes into the Barrois Complex and Bardeau Plutonic Suite. It is cut by centimetric to metric dykes of granitic, syenitic and dioritic composition. The unit contains centimetric to metric paragneiss enclaves (Barrois Complex unit mPboi4).
Paleontology
Does not apply.
References
Publications Available Through SIGÉOM Examine
INTISSAR, R., BENAHMED, S. 2015. LEVE MAGNETIQUE AEROPORTE DANS LE SECTEUR OUEST DU LAC-ST-JEAN, PROVINCE DE GRENVILLE. MERN, GOLDAK AIRBORNE SURVEYS. DP 2015-06, 7 pages and 2 plans.
MOUKHSIL, A., DAOUDENE, Y., 2019. Géologie de la région du lac des Commissaires, Province de Grenville, région du Saguenay-Lac-Saint-Jean, Québec, Canada. MERN; BG 2019-01, 1 plan.
MOUKHSIL, A., EL BOURKI, M., 2019. Géologie de la région de Normandin, Province de Grenville, région du Saguenay-Lac-Saint-Jean, Québec, Canada. MERN; BG 2020-01, 2 plans.
MOUKHSIL, A., SOLGADI, F., JANNIN, S., GERVAIS, F., CROWLEY, J L., AUGLAND, L E., INDARES, A., LETOURNEAU, M., DUNNING, G., CLARK, T., GOBEIL, A., OHNENSTETTER, D., LAMOTHE, D., INTISSAR, R., BENAHMED, S., GROULIER, P A., 2017. GEOLOGIE, POTENTIEL MINERAL ET CADRE GEODYNAMIQUE DES ROCHES DE LA REGION DU RESERVOIR DANIEL-JOHNSON (MANICOUAGAN), PARTIE CENTRALE DE LA PROVINCE DE GRENVILLE. MRN; MM 2017-01, 307 pages, 1 plan.
PAPAPAVLOU, K. 2019. U-Pb geochronology report, Grenville 2018-2019. UQAM. MB 2019-11, 21 pages.
PAPAPAVLOU, K. 2020. U-Pb geochronology report, Grenville 2019-2020. UQAM; MB 2020-09, 25 pages.
Other Publications
GOWER, C.F., KROGH, T.E. 2002. A U-Pb geochronological review of the Proterozoic history of the eastern Grenville Province. Canadian Journal of Earth Sciences, volume 39, pages 795-829. doi.org/10.1139/e01-090
RIVERS, T., CULSHAW, N., HYNES, A, INDARES, A., JAMIESON, R., MARTIGNOLE, J., 2012. The Grenville orogen – A post-lithoprobe perspective. Chapter 3. In Tectonic Styles in Canada: The LITHOPROBE Perspective. Edited by J.A. Percival, F.A. Cook and R.M. Clowes. Geological Association of Canada; Special Paper 49, pages 97-236. https://gac.ca/product/tectonic-styles-in-canada
Suggested Citation
Contributors
First publication

Abdelali Moukhsil, P. Geo., Ph.D. abdelali.moukhsil@mern.gouv.qc.ca (redaction)

Mehdi A. Guemache, P. Geo., Ph.D. (coordination); Fabien Solgadi, P. Geo., Ph.D. (critical review); Simon Auclair, P. Geo., M.Sc. (editing); Céline Dupuis, P. geo., Ph.D. (English version); Yan Carette (HTML editing).
11 novembre 2019
31 mars 2021