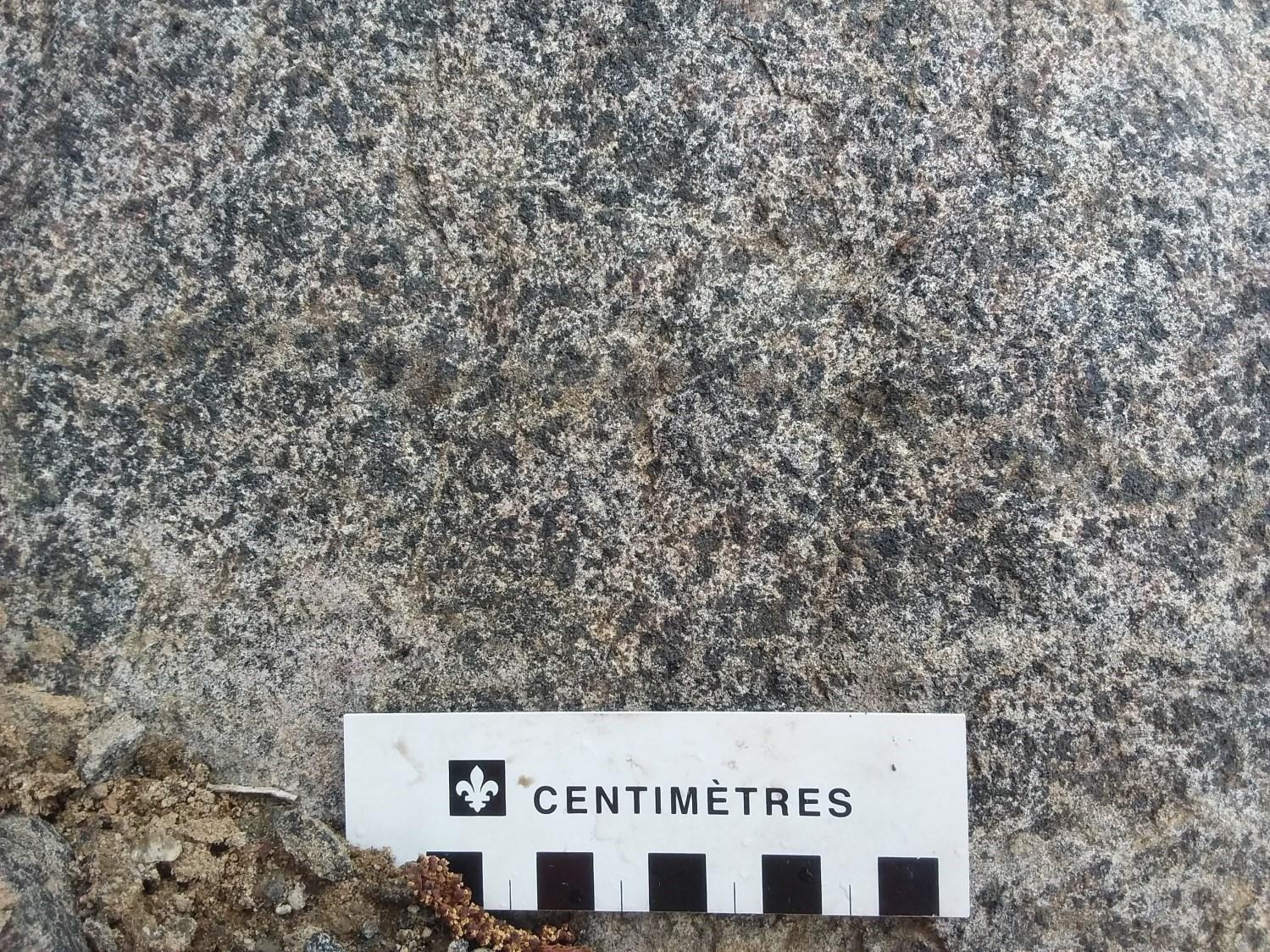 Claire Gabbronorite
Stratigraphic label: [mpro]clr
Map symbol: mPclr

First published: 14 June 2019
Last modified:
Translation of original French
Informal subdivision(s)
Numbering does not necessarily reflect the stratigraphic position.
None
Author:
Morfin et al., 2015
Age:
Mesoproterozoic
Reference section:
Reference outcrop

18-MV-1080

located 350 m NW of Silo Lake
Type area:
West and SW of Touladi Lake (NTS sheet 32A07)
Geological province:
Grenville Province
Geological subdivision:
Allochton
Lithology:
Gabbronorite, gabbro, quartz monzodiorite
Type:
Lithodemic
Rank:
Lithodeme
Status:
Formal
Use:
Active
Background
The Claire Gabbronorite was first named by Morfin et al. (2015), which included three scattered mafic intrusions, identified in a map survey of sheets 32A08, 32A09 and 32A11. Following mapping of sheets 32A01, 32A02, 32A07 and 32A08, Moukhsil and Daoudene (2019) added several dykes and lenticular klippes scattered throughout the Commissaires Lake area. In terms of proportion, the Claire Gabbronorite appears preferential in sheet 32A07, where it shows zones enriched in Fe-Ti oxides (Lac Touladi mineralized zone).
Description
The Claire Gabbronorite consists of gabbronorite with or without Fe-Ti oxides, leuconorite and minor amounts of quartz monzodiorite.
Gabbronorite is coarse grained, ophitic to subophitic and locally foliated. It is composed of plagioclase, orthopyroxene, locally uralitized, clinopyroxene, garnet and magnetite. When present, garnet locally contains small plagioclase crystals. Accessory minerals are apatite and, very locally, epidote. In thin section, orthopyroxene and clinopyroxene are surrounded by large green amphibole crystals. Gabbronorite injections showing no sulphide or Fe-Ti oxides are observed in host rocks. The proportion of plagioclase ranges from 5 to 30% in these intrusions and the rock's composition changes from mafic to green-hornblende-rich ultramafic. A leucocratic facies of gabbronorite is also observed in this unit and is poor in Fe-Ti oxides and sulphides. In thin section, leucogabbronorite is coarse grained and has a coronitic texture as orthopyroxene grains generally show a thin rim of green amphibole. Some clinopyroxenes have the same texture. Plagioclase is highly altered with micaceous cores.
In the Touladi Lake area (sheet 32A07), gabbronorite is distinguished by its high magnetic susceptibility, clearly visible on aeromagnetic maps (Intissar and Benahmed, 2015). This anomaly is associated with minor amounts of equigranular metagabbro occurring as lenticular bodies. This facies is locally rich in plagioclase (anorthositic). Gabbronorite is enriched in Fe-Ti-P±V oxides and can be considered of OAGN type (acronym for Oxyde-Apatite Gabbronorite [Dymek and Owens, 1992]).
Gabbronorite hosts a Fe-Ti-P±V oxide mineralization (Touladi Lake mineralized zone), which has been the subject of several mining exploration projects. Mineralization occurs in several centimetre-thick strips or lenses, enriched in magnetite, ilmenite, granular hemo-ilmenite and apatite, all as disseminated grains or massive material. These strips are concentrated in several hectometric and decametric zones. Mineralized gabbronorite (e.g., outcrop 18-MV-1080) contains up to 60% oxide minerals, 10-25% plagioclase, clinopyroxene and orthopyroxene altered in iddingsite, 1-8% apatite in small crystals and vanadium up to 1048 ppm. Vanadium is likely concentrated in vanadium-bearing magnetite (outcrop 18-YD-2009).
Leuconorite is grey-brown in altered patina and grey-green in fresh exposure. It is coarse grained, locally plagioclase porphyritic, homogeneous and mainly massive. It contains magnetite, orthopyroxene, traces of clinopyroxene and biotite. Plagioclase phenocrystals have a strong white mica alteration and incorporate pyroxene crystals. The latter show a coronitic texture with the presence of a millimetric rim of greenish hornblende.
Quartz monzodiorite accounts for less than 2% of the Claire Gabbronorite. It is greyish in fresh and altered surfaces, fine to medium grained, magnetic and foliated. In thin section, it consists of plagioclase highly altered to white mica, locally perthitic K-feldspar, green hornblende and epidote-associated biotite. Quartz occurs as small zones with undulatory extinction. Apatite, titanite and zircon are accessory mineral phases. The rock is deformed and foliation is defined by the preferential orientation of ferromagnesian minerals.
Thickness and Distribution
On the map, the Claire Gabbronorite occurs as kilometric lenticular bodies and curvilinear strips, oriented N-S to NW-SE.
Dating
None.
Stratigraphic Relationship(s)
The Claire Gabbronorite forms dykes that concentrate mainly along the southwestern edge of the Mimosa Plutonic Suite. It also intrudes into the Marianne, Thaddé, Belley and Bardeau plutonic suite and the Barrois Complex.
Paleontology
Does not apply.
References
Publications available through Sigéom Examine
INTISSAR, R., BENAHMED, S. 2015. LEVE MAGNETIQUE AEROPORTE DANS LE SECTEUR OUEST DU LAC-ST-JEAN, PROVINCE DE GRENVILLE. MERN, GOLDAK AIRBORNE SURVEYS. DP 2015-06DP 2015-06, 7 pages and 2 plans.
MORFIN, S., TREMBLAY, C., SOLGADI, F., MOUKHSIL, A., DAIGNEAULT, R. 2015. GEOLOGIE DE LA REGION DE CHAMBORD, ROBERVAL ET NOTRE-DAME-DE-LA-DORE (FEUILLETS SNRC 32A08, A09 ET A10) ET RECONNAISSANCE DES FEUILLETS 32A06, A07 ET A11. MERN, CERM. MB 2015-07MB 2015-07, 69 pages and 5 plans. Disponible à https://gq.mines.gouv.qc.ca/documents/EXAMINE/MB201507. Disponible à https://gq.mines.gouv.qc.ca/documents/EXAMINE/DP201506.
MOUKHSIL, A., DAOUDENE, Y. 2019. Géologie de la région du lac des Commissaires, Province de Grenville, région du Saguenay–Lac-Saint-Jean, Québec, Canada. MERN. BG 2019-01.
Other publications
DYMEK, R. F., OWENS, B. E., 1992. Fe-Ti-P-rich rocks and massif anorthosite: problems of interpretation illustrated from the Labrieville and St-Urbain plutons, Québec.Canadian Mineralogist, volume 30, pages 163-190.
11 novembre 2019
26 août 2019