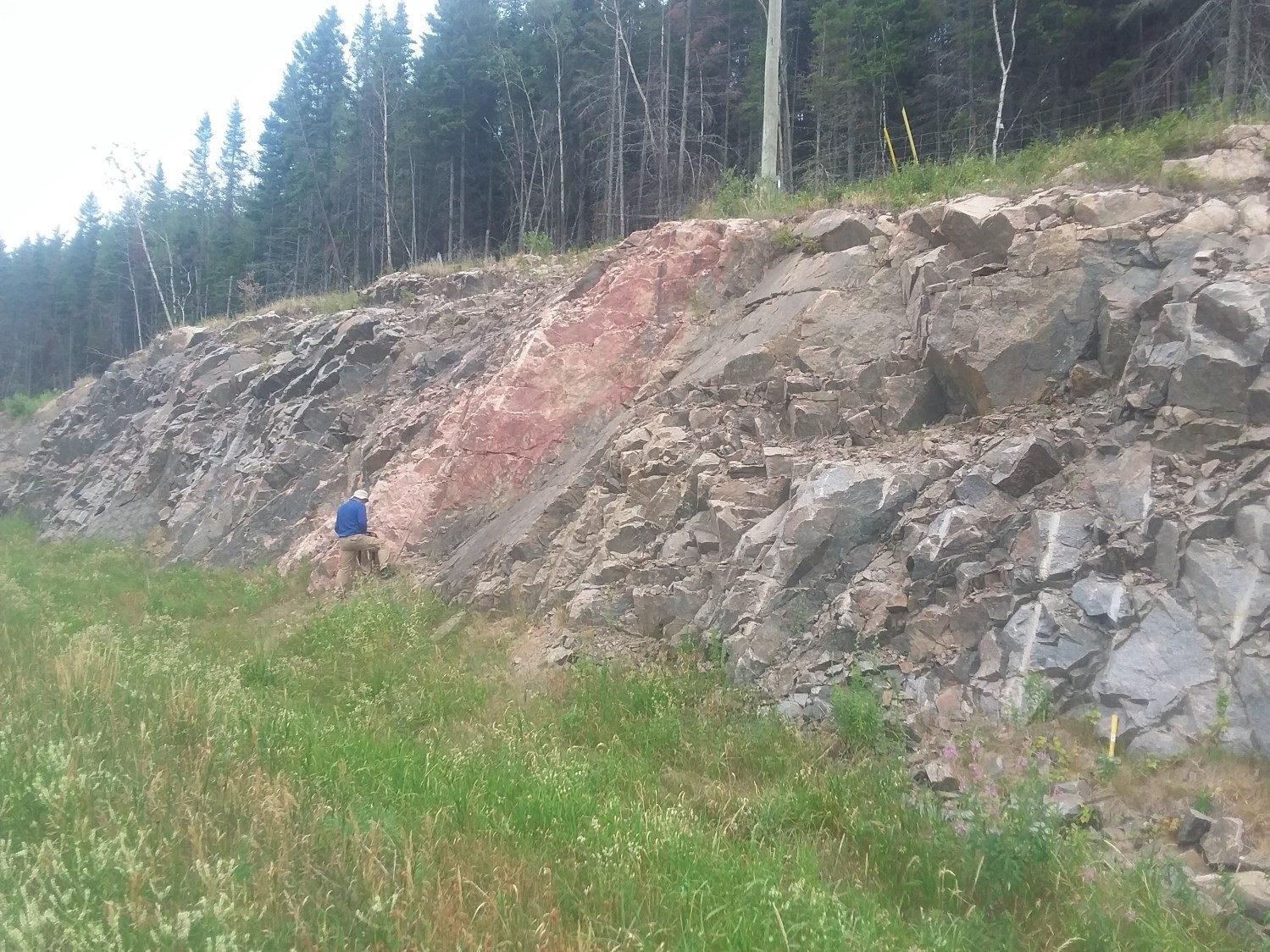 Informal subdivision(s)
Numbering does not necessarily reflect the stratigraphic position.
| | |
| --- | --- |
| Author: | Morfin et al., 2015 |
| Age: | Mesoproterozoic |
| Reference section: | None |
| Type area: | Lake Saint-Jean region (NTS sheets 32A08 and 32A09) |
| Geological province: | Grenville Province |
| Geological subdivision: | Allochton |
| Lithology: | Felsic and intermediate intrusive rocks |
| Type: | Lithodemic |
| Rank: | Suite |
| Status: | Formal |
| Use: | Active |
Background
The Belley Plutonic Suite was introduced by Morfin et al. (2015) during a geological survey of the Chambord, Roberval and Notre-Dame-de-la-Doré area (NTS sheets 32A08, 32A09 and 32A10). It consists of four informal units which are characterized by distinct K-feldspar contents.
Description
Belley Plutonic Suite 1 (mPbly1): Monzogranite, Quartz Monzonite
Unit mPbly1 is quite heterogeneous in composition and mainly outcrops in the eastern part of sheet 32A09. It consists for the most part of monzogranite and quartz monzonite, but also contains minor amounts of quartz syenite and syenogranite, which have a similar composition to rocks of the same type in other units of this suite. Lithologies are systematically porphyritic and typically foliated. Quartz content varies, but many field descriptions indicate contents <20%. The ubiquitous presence of K-feldspar gives a characteristic pinkish colour to this unit. The ferromagnesian minerals observed are biotite, amphibole and locally orthopyroxene. In deformed zones, rocks of this unit are augen gneiss. The planar fabric is there expressed by quartz grain flattening and, in general, preferential alignment of all minerals in the rock.
Belley Plutonic Suite 2 (mPbly2): Syenogranite, Quartz Syenite
Unit mPbly2 consists of syenogranite and quartz syenite. It has a relatively high magnetic susceptibility compared to unit mPbly1, but both units show very similar textural characteristics. Syenogranite is pinkish in fresh and altered surfaces. It contains biotite, hornblende and smoky quartz displaying undulatory extinction. Syenogranite is fine to coarse grained, foliated and contains local phenocrystals of K-feldspar (microcline) and plagioclase highly altered in white mica. Large magmatic epidote crystals are observed in thin section. Syenogranite contains opaque minerals (magnetite) and its secondary mineral phase consists of epidote and zircon. Locally, syenogranite of this unit is hematitized and epidotized, especially along fracture planes. Quartz syenite is grey to pink and fine grained to locally porphyritic. It contains biotite, hornblende and magnetite. The preferential alignment of ferromagnesian minerals highlights rock foliation. Quartz syenite contains a few centimetric enclaves (2-15 cm) of granitic gneiss.
Belley Plutonic Suite 3 (mPbly3): Monzogranite, Quartz Monzodiorite, Minor Amount of Quartz Monzonite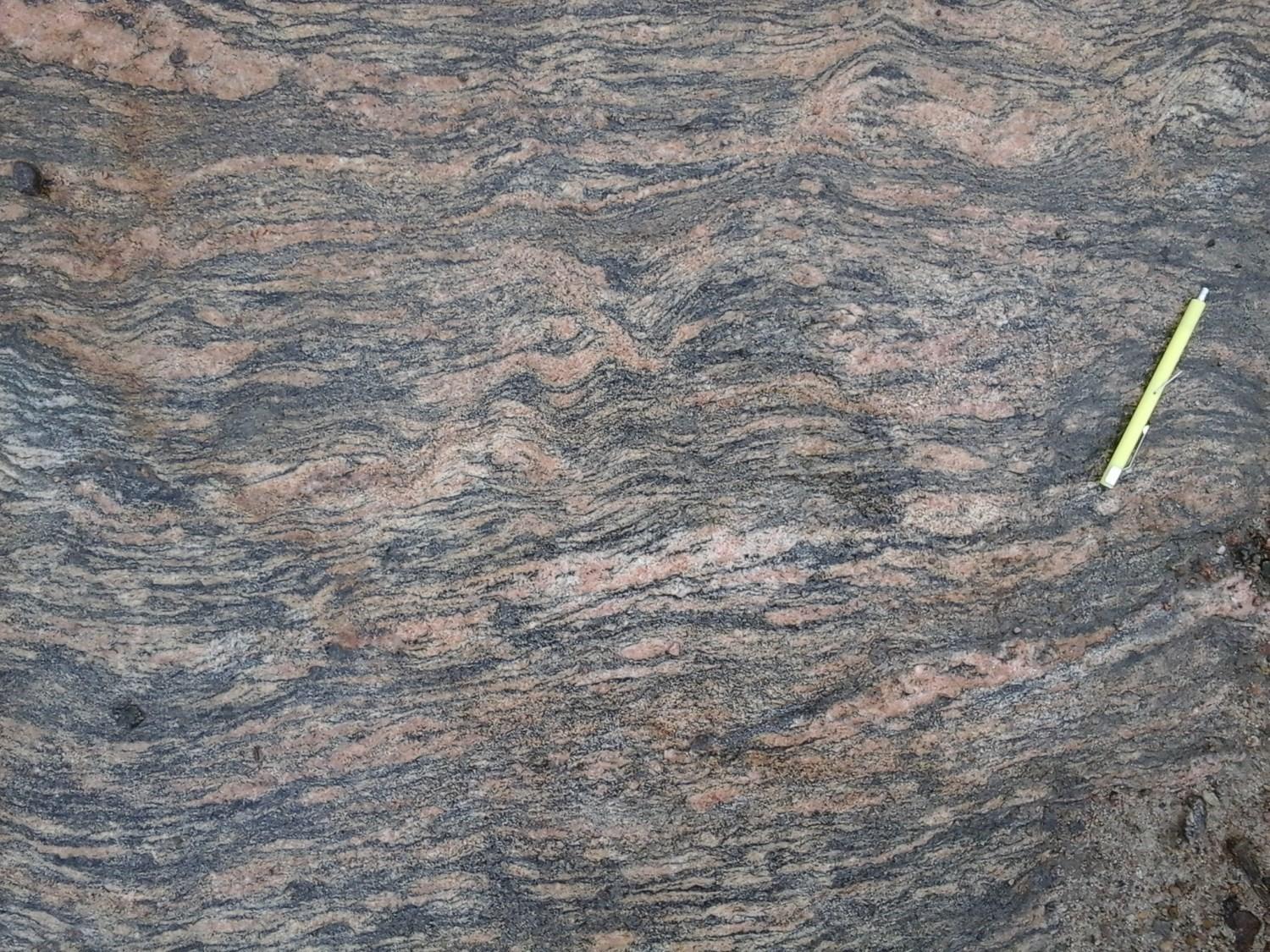 Unit mPbly3 mainly consists of pinkish monzogranite, fine to medium grained and has a low biotite content (<2%). Monzogranite is foliated and contains local K-feldspar phenocrystals. In the field, quartz and feldspar contents vary in different outcrops. Consequently, lithologies of this unit can change from a granite to a quartz monzonite. Quartz monzodiorite is grey-pink in fresh exposure and brown-white in altered surface. It is foliated and medium grained, locally porphyroclastic. Quartz monzodiorite contains some K-feldspar, plagioclase altered in white mica, magnetite, biotite and hornblende. Quartz forms large zones displaying undulatory extinction and orthopyroxene is minor (<2%), altered and locally rimed by green hornblende (uralitization).
Belley Plutonic Suite 4 (mPbly4): Quartz Syenite, Monzonite, Quartz, Granite, Alkaline Feldspar Granite
Unit mPbly4 is dominated by quartz syenite, monzonite and quartz monzonite. Some outcrops consist of granite and alkaline feldspar granite. Monzonite and quartz monzonite are similar to those of unit mPbly1 with the exception of grain size, which is systematically coarser, and their more or less massive texture. At the western edge of unit mPbly4, in contact with the Travers Suite (mPtra2), quartz syenite is pinkish to greyish and fine to medium grained, locally K-feldspar porphyritic. It contains biotite, hornblende, magnetite and some diorite enclaves (2-15 cm long).
In the field, quartz and feldspar contents vary from one outcrop to another, the rock composition thus varies from granite, alkaline feldspar granite to syenite. Granite is coarse grained to porphyritic, magnetic and massive. It contains perthitic K-feldspar, plagioclase phenocrystals slightly altered in white mica, clusters of biotite and hornblende, and myrmekite. Its most abundant accessory mineral phases are opaque minerals, apatite, epidote and zircon. Alkaline feldspar granite is light pink in fresh exposure and beige-brown in altered patina. It is generally homogeneous, medium grained and contains large crystals of locally perthitic K-feldspar, including some plagioclase and quartz in large zones displaying undulatory extinction. Ferromagnesian minerals are usually found in biotite and green hornblende clusters. Apatite, zircon, epidote, titanite and opaque minerals (magnetite) are accessory mineral phases. Locally, granite is hematitized and contains orthopyroxene-clinopyroxene-biotite-magnetite gabbronorite enclaves. Enclaves are fine to medium grained and foliated.
Thickness and Distribution
The Belley Plutonic Suite consists of four scattered units several kilometres long. It outcrops particularly well in sheets 32A01, 32A08 and 32A09.
Dating
None.
Stratigraphic Relationship(s)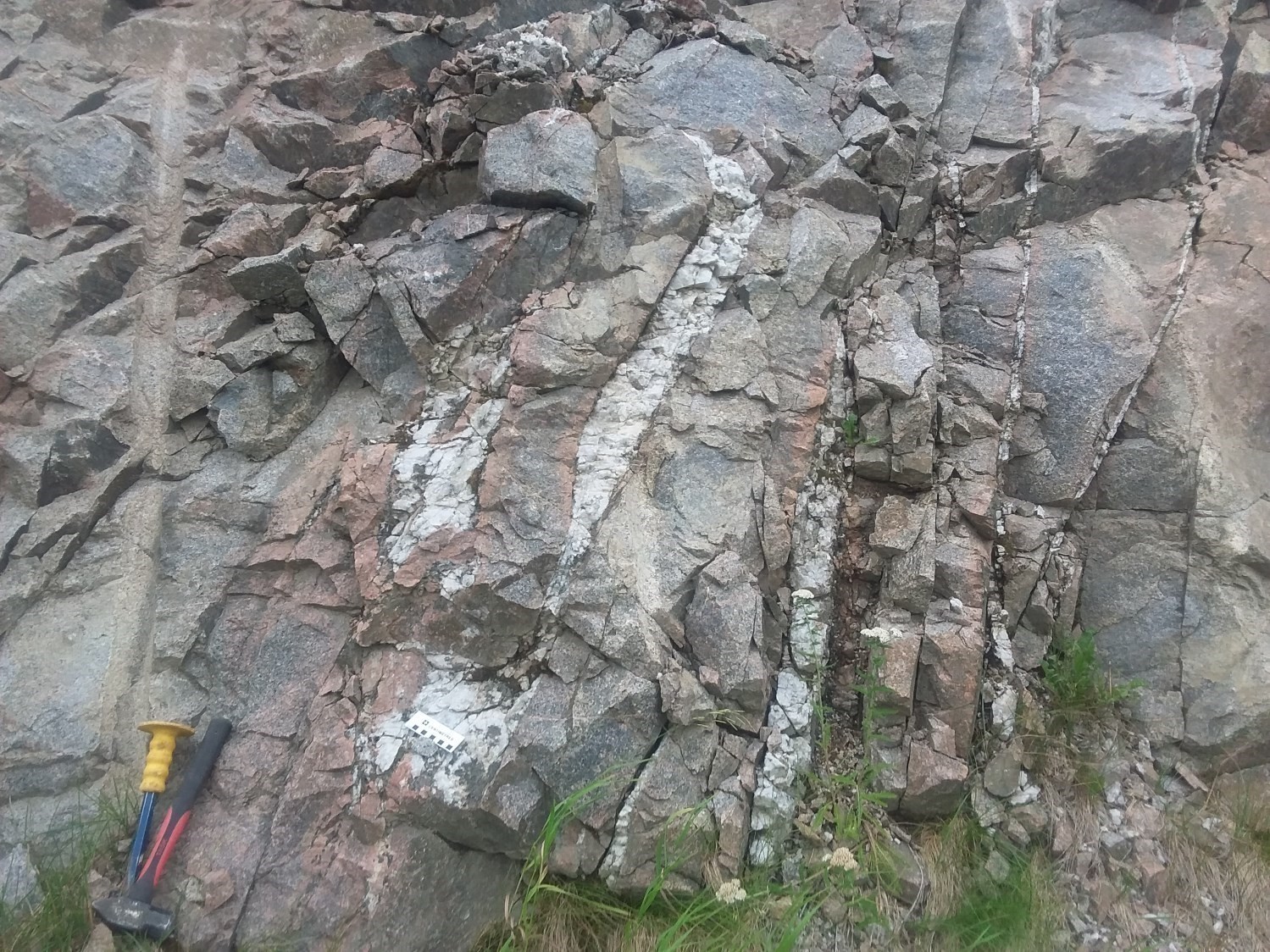 The Belley Plutonic Suite is intruded by the Lachance Mangerite and Travers Suite in sheet 32A08 (Moukhsil and Daoudene, 2019). It is also cut by pegmatitic pink syenite dykes and quartz veins.
Paleontology
Does not apply.
References
Publications available through Sigéom Examine
MORFIN, S., TREMBLAY, C., SOLGADI, F., MOUKHSIL, A., DAIGNEAULT, R. 2015. GEOLOGIE DE LA REGION DE CHAMBORD, ROBERVAL ET NOTRE-DAME-DE-LA-DORE (FEUILLETS SNRC 32A08, A09 ET A10) ET RECONNAISSANCE DES FEUILLETS 32A06, A07 ET A11. MERN, CERM. MB 2015-07MB 2015-07, 69 pages and 5 plans. Disponible à https://gq.mines.gouv.qc.ca/documents/EXAMINE/MB201507.
MOUKHSIL, A., DAOUDENE, Y. 2019. Géologie de la région du lac des Commissaires, Province de Grenville, région du Saguenay–Lac-Saint-Jean, Québec, Canada. MERN.
BG 2019-01
.
11 novembre 2019
29 août 2019