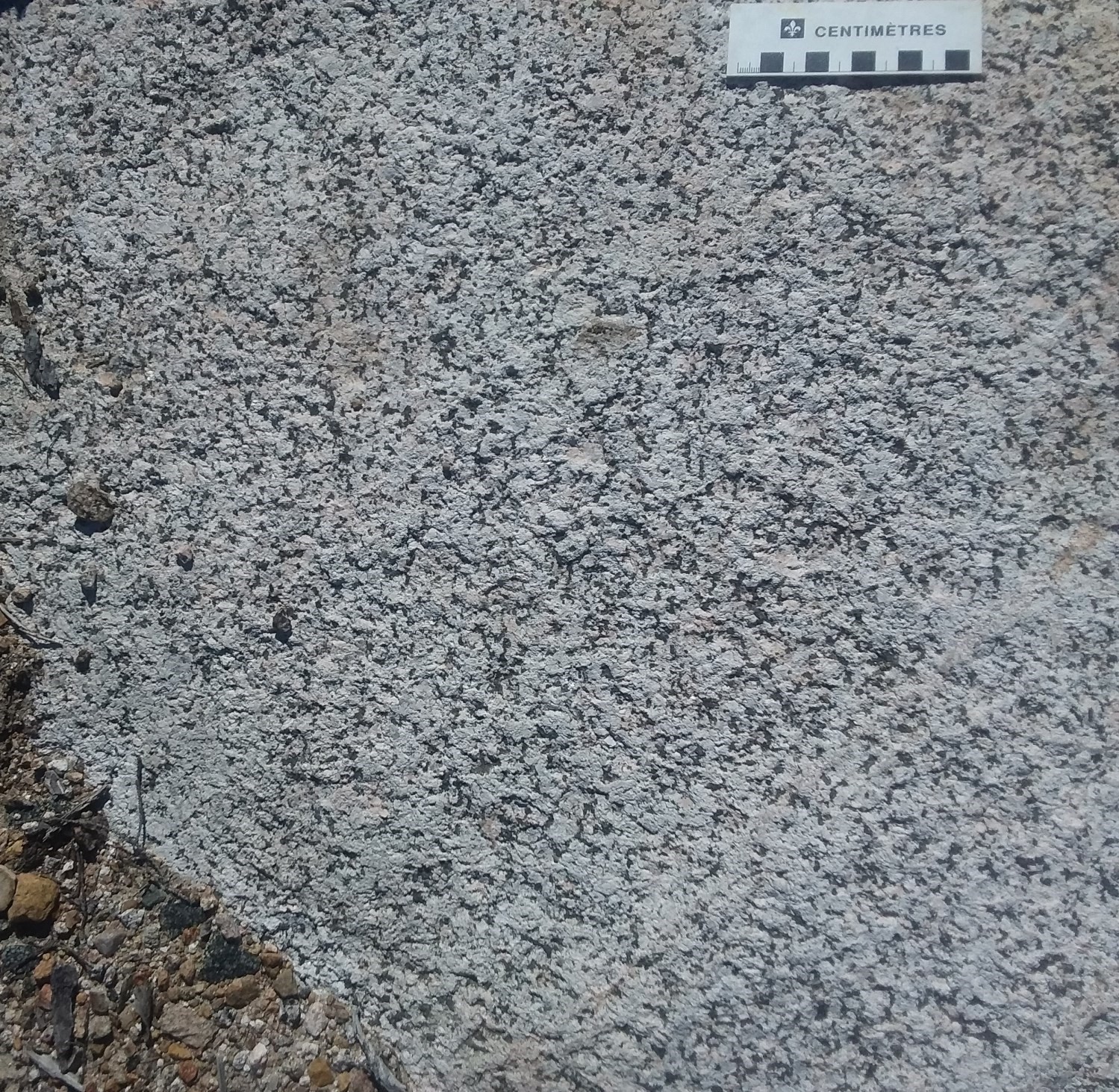 Lachance Mangerite
Stratigraphic label: [mpro]lhc
Map symbol: mPlhc

First published: 14 June 2019
Last modified: 30 March 2021
DISCLAIMER: This English version is translated from the original French. In case of any discrepancy, the French version shall prevail.
Informal subdivision(s)
Numbering does not necessarily reflect the stratigraphic position.
None
| | |
| --- | --- |
| Author(s): | Morfin et al., 2015 |
| Age: | Mesoproterozoic |
| Stratotype: | Reference outcrops are located SW of the village of Saint-André-du-Lac-Saint-Jean (e.g. 2018-AM-124 and 2018-AM-125). |
| Type area: | Area south of Saint-Jean Lake (NTS sheet 32A08) |
| Geological province: | Grenville Province |
| Geological subdivision: | Allochton |
| Lithology: | Intermediate intrusive rocks |
| Category: | Lithodemic |
| Rank: | Lithodeme |
| Status: | Formal |
| Use: | Active |
Background
The Lachance Mangerite was introduced by Morfin et al. (2015) during geological survey of the Chambord, Roberval and Notre-Dame-de-la-Doré region (sheets 32A08, 32A09 and 32A10). These authors have grouped several scattered intrusions from the area into this unit. In sheet 32A08, Moukhsil and Daoudene (2019) later restricted this unit to a single intrusion that was well circumscribed by the aeromagnetic survey (Intissar and Benahmed, 2015). The latter shows that the intrusion is characterized by an intense magnetic susceptibility along its edges, whereas it appears low to moderate elsewhere. An isolated intrusion of this mangerite was mapped east of Dolbeau-Mistassini by Moukhsil and El Bourki (2020).
Description
The Lachance Mangerite is a polyphase batholith dominated by mangerite, but syenite and alkaline feldspar granite are also present. The amount of quartz within these rocks varies widely from one outcrop to another (5-30%).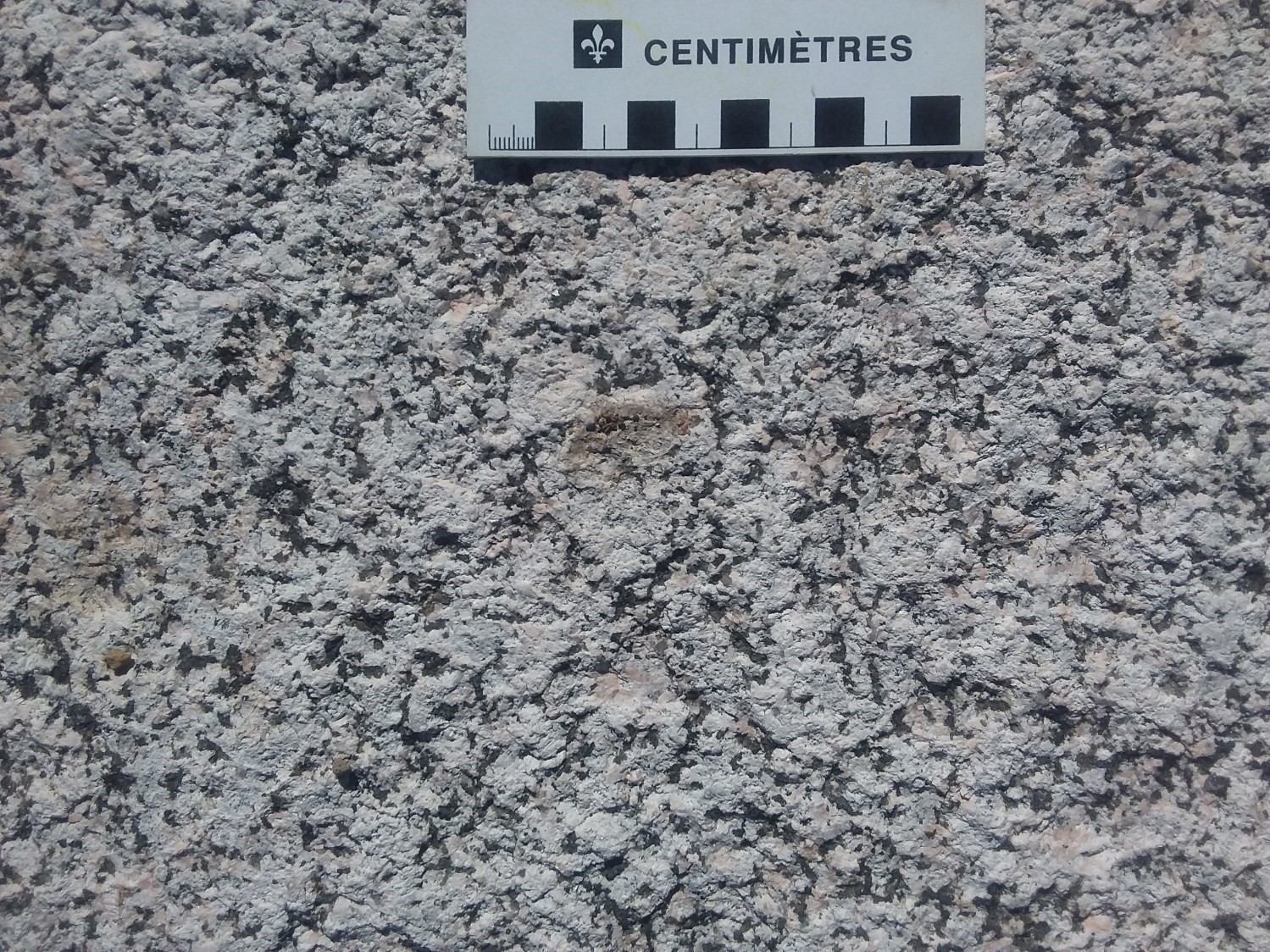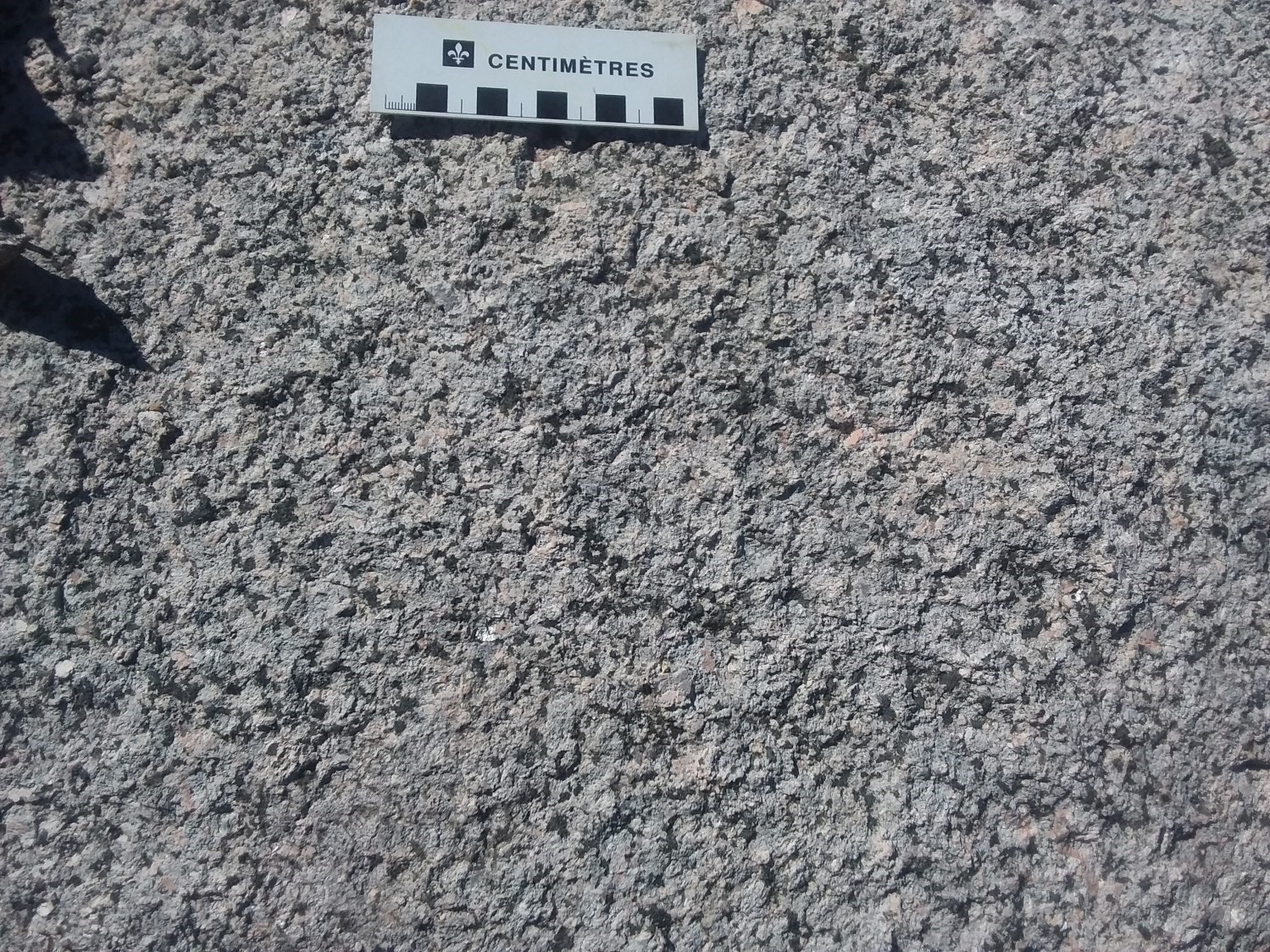 Mangerite is generally whitish in altered surface and green in fresh exposure. It is characterized by a porphyraceous texture with K-feldspar and plagioclase phenocrystals in a medium to coarse-grained matrix consisting of quartz, amphibole, biotite, orthopyroxene and magnetite. The proportion of feldspar phenocrystals ranges from 20% to 30% of the rock and their length is generally between 1 and 4 cm. Phenocrystals consist mostly of perthitic K-feldspar. Orthopyroxene is observed in ferromagnesian mineral clusters and is partially replaced by biotite and amphibole. Quartz content is variable, but generally relatively low. Quartz forms large zones having undulatory extinction. Magnetite is almost systematically present in mangerite, but its content is highly variable. Mangerite also contains euhedral crystals of magmatic epidote associated with accessory minerals such as apatite and zircon.
The mangerite texture is marked by mild to moderate foliation. At the border of the intrusion, this foliation is generally better developed and the rock is finer grained and phenocrystals display stronger alignement. The apparent increase in strain intensity towards the edge of the intrusion coincides with an increase in magnetic susceptibility.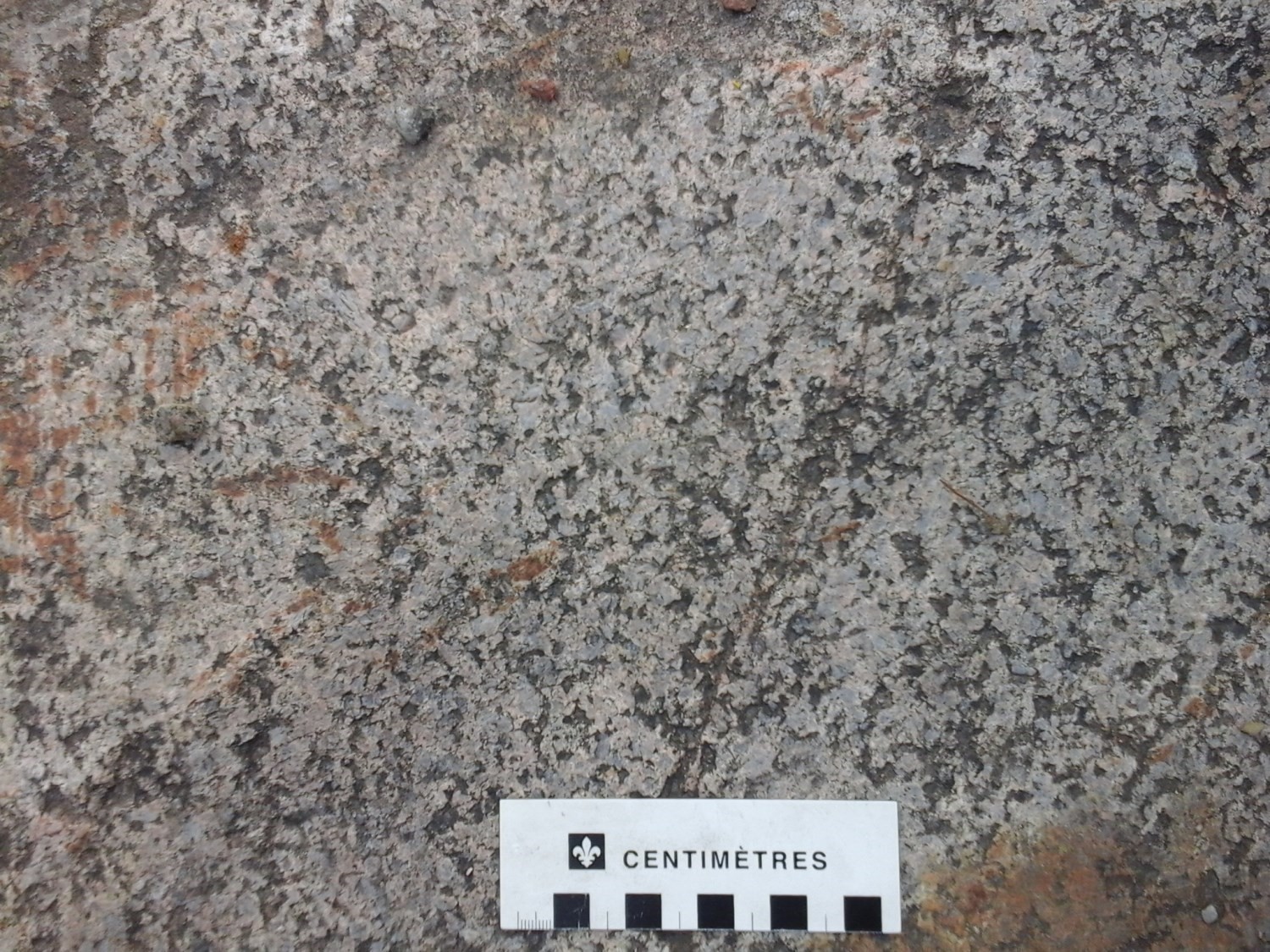 Syenite is whitish in altered surface and pinkish in fresh exposure. It is mainly k-feldspar porphyraceous and massive. It shows the same mineralogy as mangerite, but with different proportions of the various mineral phases. Plagioclase is altered to white mica and K-feldspar is generally perthitic. When present, orthopyroxene appears uralitized. It shows a rim consisting of green hornblende, locally chloritized. These ferromagnesian minerals and biotite form millimetric grain clusters. Syenite locally contains quartz which forms large zones of undulatory extinction associated with myrmekite grains. Accessory mineral phases are magmatic epidote, opaque minerals (including magnetite), apatite and zircon.
Alkali feldspar granite is medium grained, pink in fresh exposure, pink-brown in altered patina and marked by magmatic foliation. Locally, the rock is deformed and finer grained. This granite contains varying amounts of biotite, orthopyroxene and magnetite. K-feldspar (microcline) is usually perthitic. Biotite and green hornblende are mainly observed as grain clusters. Epidote, apatite and zircon are present as accessory minerals, along with opaque minerals (magnetite, pyrite).
Thickness and Distribution
In sheet 32A08, the Lachance Mangerite forms a dome is more or less elliptical on the map and which long axis is approximately orineted ~N-S. It extends into the NE corner of sheet 32A01 and covers an area of 150 km2. Other kilometric intrusive bodies associated with the Lachance Mangerite have been mapped in sheets 32A06, 32A09 and 32A10.
Dating
Two samples were recently dated for the Lachance Mangerite (outcrops 2018-AM-0125 [sheet 32A08] and 2019-AM-0067 [sheet 32A16]). These dates indicate two crystallization ages of 1044.2 ±6.9 Ma and 1031 ±17 Ma. Both ages coincide with the Middle Grenville magmatic event as defined by Gower and Krogh (2002; 1050-1018 Ma) and correspond to the recognized collision period in the Grenville Province (see e.g. Rivers et al., 2012; Moukhsil et al., 2018).
| | | | | | | | |
| --- | --- | --- | --- | --- | --- | --- | --- |
| Unit | Sample Number | Isotopic System | Mineral | Crystallization Age (Ma) | (+) | (-) | Reference(s) |
| mPlhc | 2018-AM-0125A | U-Pb | Zircon | 1044.2 | 6.9 | 6.9 | Papapavlou, 2019 |
| mPlhc | 2019-AM-0067A | U-Pb | Zircon | 1031 | 17 | 17 | Papapavlou, 2020 |
Stratigraphic Relationship(s)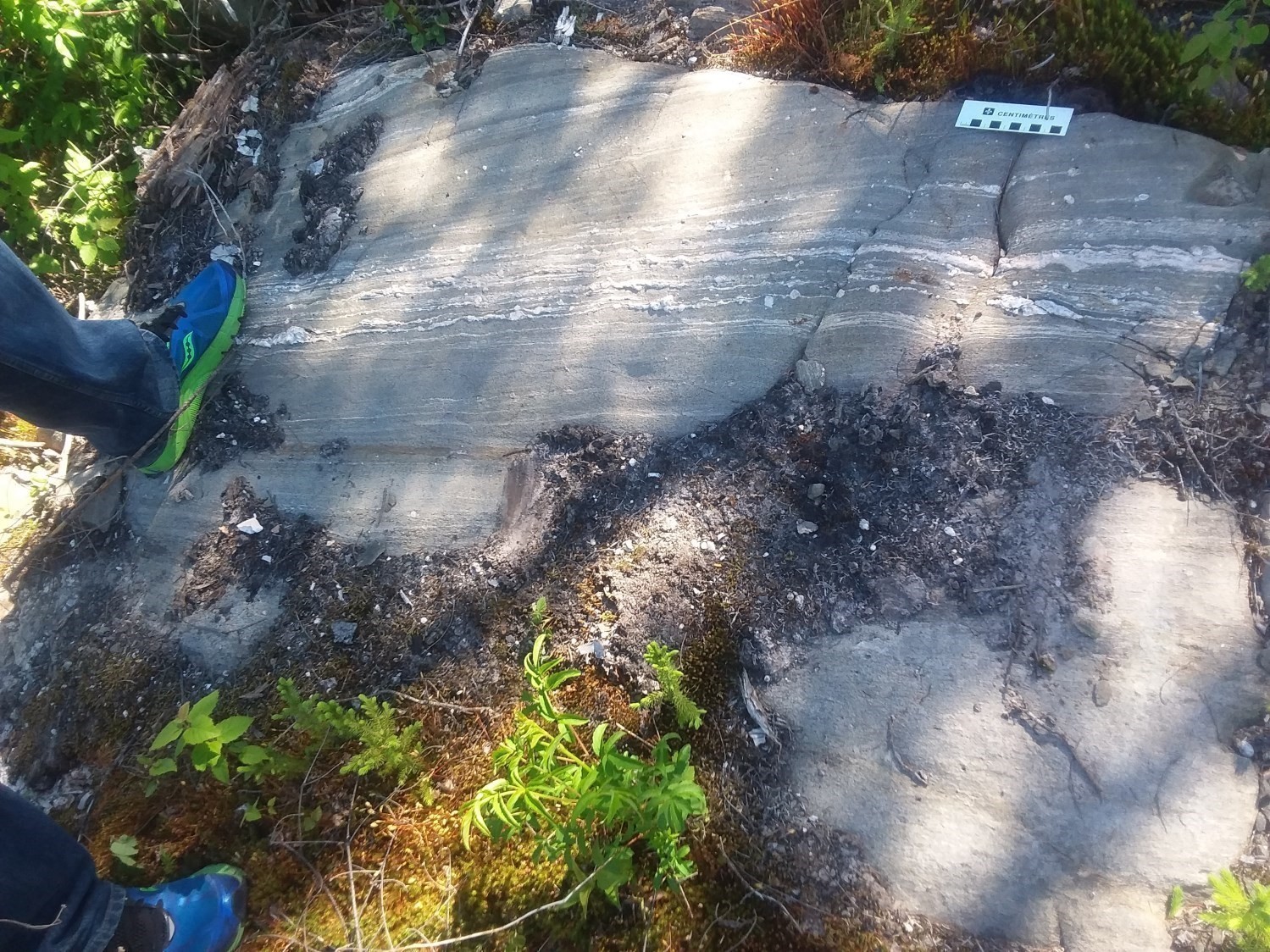 The Lachance Mangerite is in fault contact with the Travers Suite and Patrick Ouest charnockite (intermediate to felsic phase of the Lac Saint-Jean Anorthositic Suite), and intrudes into the Belley Plutonic Suite. Highly deformed metavolcanic rock enclaves are observed in the Lachance Mangerite. These amphibolitized enclaves are centimetric to metric in size, greenish in fresh and altered surfaces and fine grained. They could correspond to known volcanic rocks of the Montauban Group.
Paleontology
Does not apply.
References
Publications Available Through SIGÉOM Examine
INTISSAR, R., BENAHMED, S. 2015. LEVE MAGNETIQUE AEROPORTE DANS LE SECTEUR OUEST DU LAC-ST-JEAN, PROVINCE DE GRENVILLE. MERN, GOLDAK AIRBORNE SURVEYS. DP 2015-06DP 2015-06, 7 pages and 2 plans.
MORFIN, S., TREMBLAY, C., SOLGADI, F., MOUKHSIL, A., DAIGNEAULT, R. 2015. GEOLOGIE DE LA REGION DE CHAMBORD, ROBERVAL ET NOTRE-DAME-DE-LA-DORE (FEUILLETS SNRC 32A08, A09 ET A10) ET RECONNAISSANCE DES FEUILLETS 32A06, A07 ET A11. MERN, CERM. MB 2015-07MB 2015-07, 69 pages and 5 plans. Disponible à https://gq.mines.gouv.qc.ca/documents/EXAMINE/MB201507. Disponible à https://gq.mines.gouv.qc.ca/documents/EXAMINE/DP201506.
MOUKHSIL, A., DAOUDENE, Y. 2019. Géologie de la région du lac des Commissaires, Province de Grenville, région du Saguenay–Lac-Saint-Jean, Québec, Canada. MERN; BG 2019-01, 1 plan.
MOUKHSIL, A., EL BOURKI, M., 2020. Géologie de la région de Normandin, Province de Grenville, région du Saguenay-Lac-Saint-Jean, Québec, Canada. MERN; BG 2020-01, 2 plans.
MOUKHSIL, A., SOLGADI, F., JANNIN, S., GERVAIS, F., CROWLEY, J L., AUGLAND, L E., INDARES, A., LETOURNEAU, M., DUNNING, G., CLARK, T., GOBEIL, A., OHNENSTETTER, D., LAMOTHE, D., INTISSAR, R., BENAHMED, S., GROULIER, P A., 2017. GEOLOGIE, POTENTIEL MINERAL ET CADRE GEODYNAMIQUE DES ROCHES DE LA REGION DU RESERVOIR DANIEL-JOHNSON (MANICOUAGAN), PARTIE CENTRALE DE LA PROVINCE DE GRENVILLE. MRN; MM 2017-01, 307 pages, 1 plan.
PAPAPAVLOU, K. 2019. U-Pb geochronology report, Grenville 2018-2019. UQAM. MB 2019-11, 21 pages.
PAPAPAVLOU, K. 2020. U-Pb geochronology report, Grenville 2018-2019. UQAM. MB 2020-09, 25 pages.
Suggested Citation
Collaborateurs
First publication

Abdelali Moukhsil, géo., Ph.D. abdelali.moukhsil@mern.gouv.qc.ca (redaction)

Mehdi A. Guemache, géo., Ph.D. (coordination); Fabien Solgadi, géo., Ph.D. (critical review); Simon Auclair, géo., M.Sc. (editing); Céline Dupuis, géo., Ph.D. (English version); Ricardo Escobar Moran (HTML editing).
11 novembre 2019
31 mars 2021