Background
The Bardeau Plutonic Suite was defined by Moukhsil and Daoudene (2019) during mapping of the Commissaires Lake area, SW of Lake Saint-Jean. Moukhsil and El Bourki (2020) mapped a window of this suite within the Sainte-Hedwidge Intrusive Suite (mPshe2).
Description
The Bardeau Plutonic Suite is polyphase. It consists of syenogranite, alkaline feldspar granite, monzodiorite, quartz monzodiorite, jotunite, quartz syenite and minor amounts of granodiorite and mangerite. It contains enclaves of migmatitic paragneiss and quartzite. The different facies of this suite are scattered in the intrusion and cannot be grouped into separate mapping-scale units for the Commissaires Lake project (1:50 000 scale).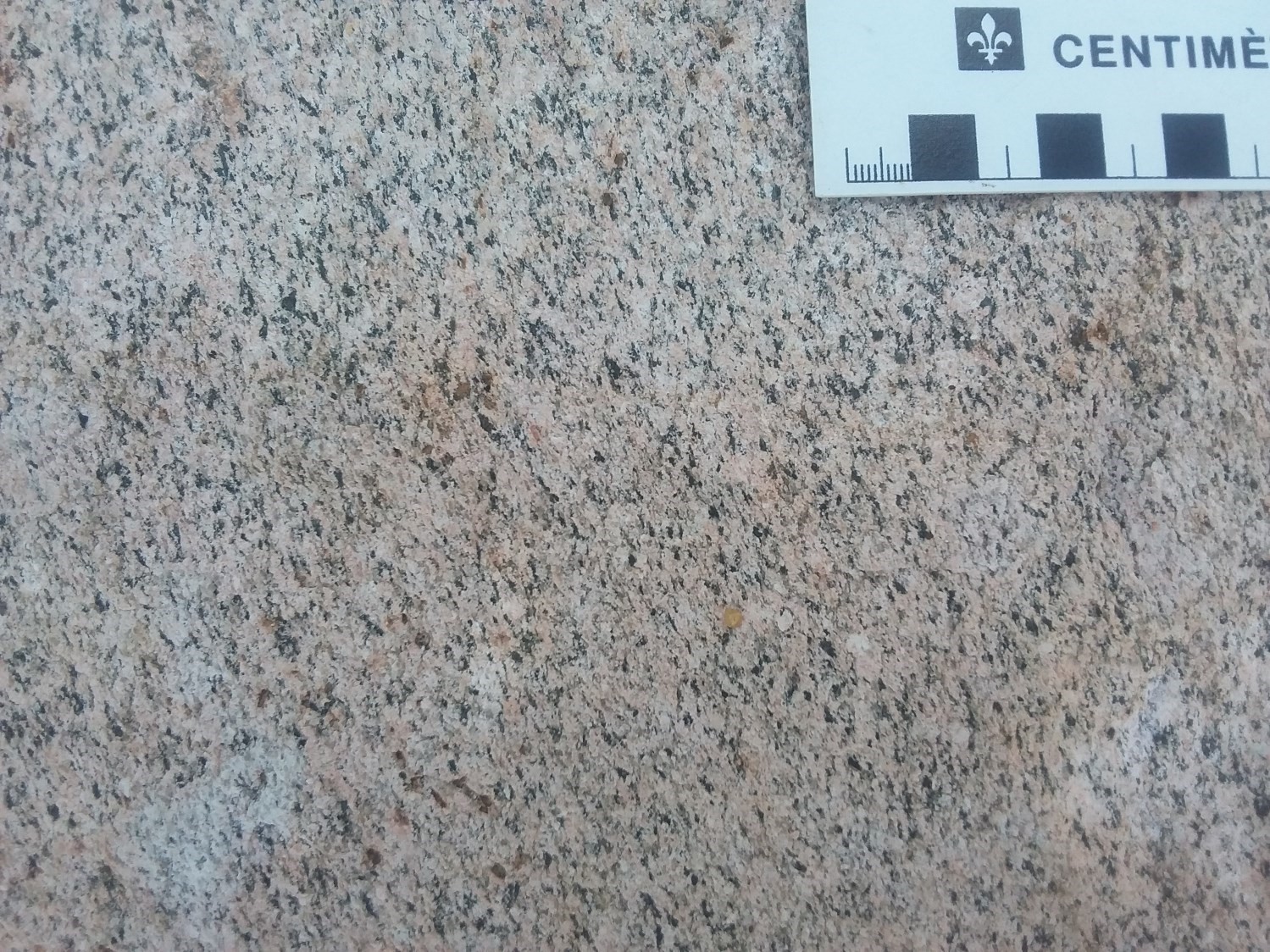 Syenogranite is pink in fresh and altered surfaces, fine to medium grained, magnetic and foliated. It contains locally perthitic K-feldspar, plagioclase, large quartz zones displaying undulatory extinction and myrmekite. Ferromagnesian minerals are green hornblende, slightly altered into an unidentified reddish mineral, biotite and trace orthopyroxene. Zircon, apatite (as small inclusions in biotite) and epidote are accessory minerals.
Alkaline feldspar granite is pink, fine to medium grained and foliated. It is composed of microcline, plagioclase slightly altered in a white mica, opaque minerals (magnetite, pyrite), myrmekite and quartz. The latter mineral occurs in large globular grains displaying weak undulatory extinction. This granite shows <4% ferromagnesian minerals in clusters of green hornblende and biotite. The main accessory minerals are titanite, apatite and zircon. At contact between the Bardeau and Léo plutonic suites, alkaline feldspar granite is highly deformed and shows alternating virtually monomineralic millimetre-sized quartz and feldspar bands, giving it a straight gneiss texture. On contact, alkaline feldspar granite also contains 1-2% garnet porphyroblasts ranging in size from 2-10 mm, and 1-2% millimetric grains of sulphides (pyrite and trace chalcopyrite; outcrop 2018-FT-4280).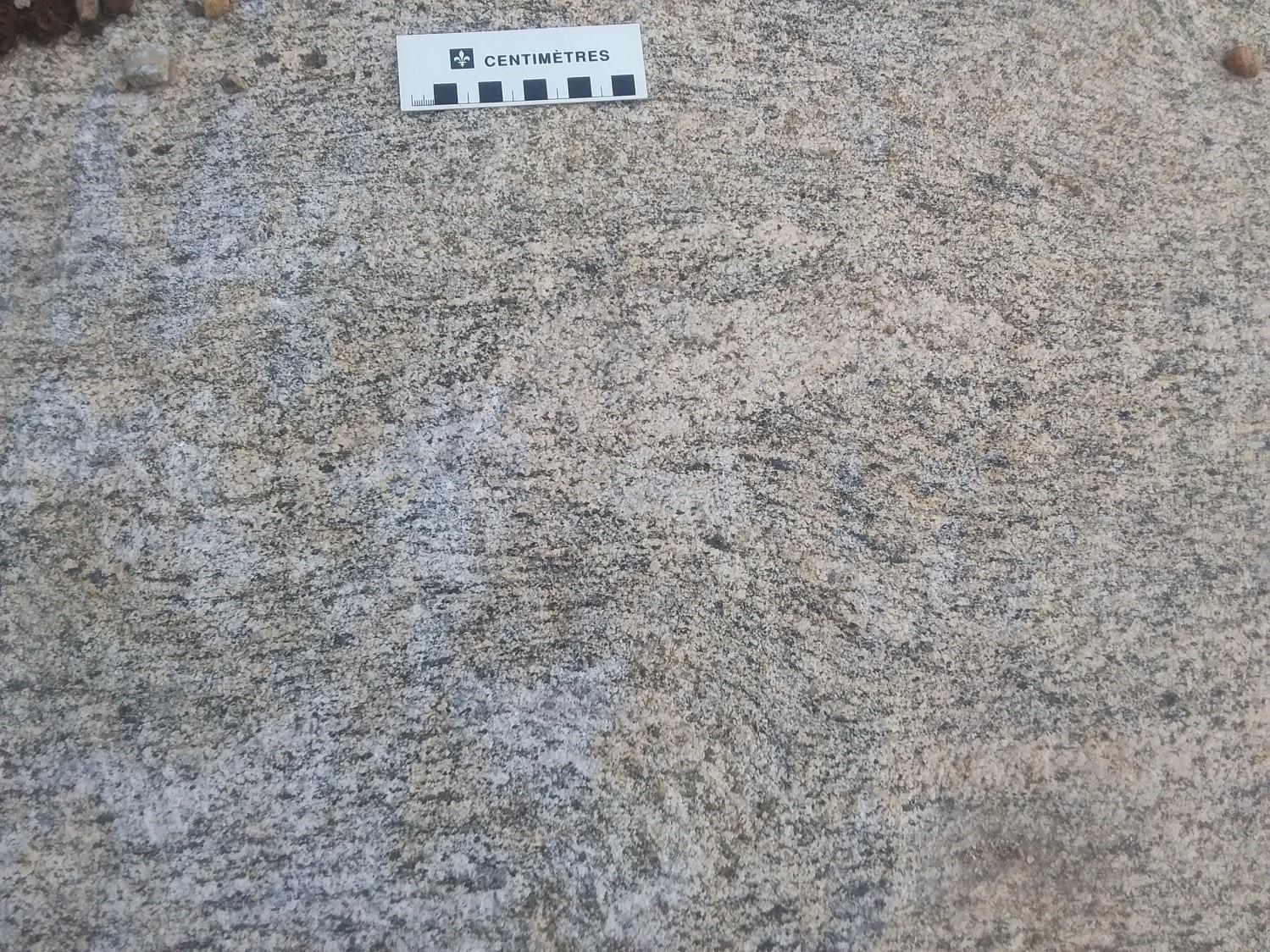 Quartz monzodiorite, monzodiorite and jotunite (hypersthene monzodiorite) are medium to coarse grained and generally foliated. In all of these lithologies, quartz ranges from 5 to 20% and the amount of orthopyroxene varies as much from one outcrop to another than on the same outcrop. These rocks are magnetic, locally plagioclase porphyritic. Among the most represented ferromagnesian minerals are hornblende and biotite. As with orthopyroxene, clinopyroxene is scarcer. Zircon, apatite (as small inclusions in biotite) and hornblende form secondary mineral phases.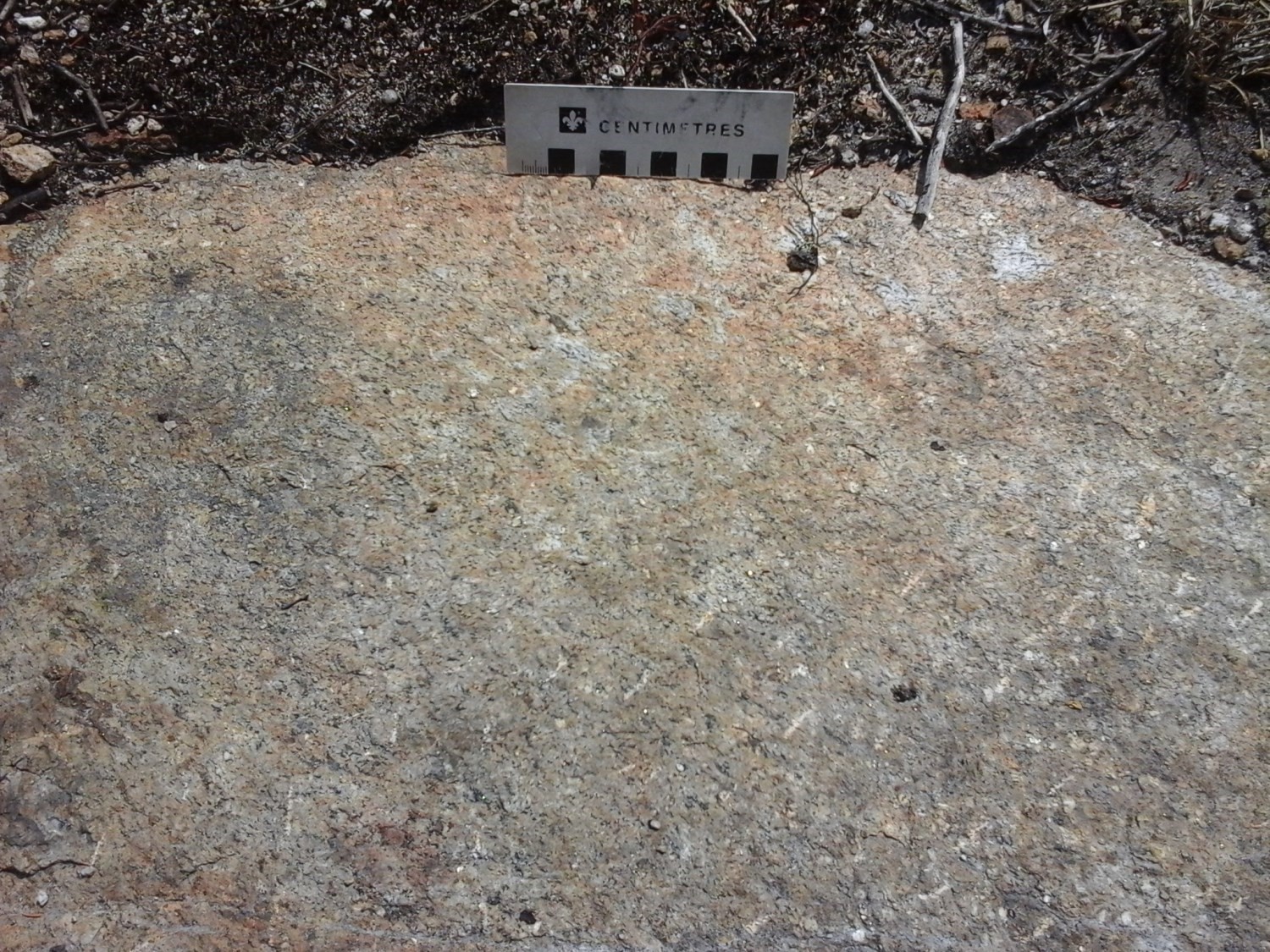 Quartz syenite is medium grained, salmon pink in fresh exposure and magnetic. It contains orthopyroxene in varying amounts depending on the outcrop. Orthopyroxene grains are locally altered to iddingsite and have a hornblende rim. Syenite contains 10 to 20% quartz grains of varying size and shape. Between K-feldspar and plagioclase porphyroclasts, quartz shows dynamic recrystallization in small elongated grains, which are marked by many subgrain joints. Quartz syenite contains accessory minerals such as zircon and apatite, mainly as inclusion in orthopyroxene and biotite.
Granodiorite and mangerite represent minor proportions of the Bardeau Plutonic Suite. Granodiorite is pink-grey, fine to medium grained, magnetic and foliated. It contains quartz displaying undulatory extinction, K-feldspar, plagioclase, myrmekite and chloritized biotite. Apatite and zircon form secondary mineral phases. Mangerite is medium grained, brownish in altered patina and grey-green in fresh exposure. It is magnetic, contains plagioclase and K-feldspar and, more locally, myrmekite. Ferromagnesian minerals are orthopyroxene, hornblende and biotite.
Thickness and Distribution
The Bardeau Plutonic Suite covers a maximum area of ~400 km2 in NTS sheet 32A07 along a general N-S orientation. Interpretation of regional aeromagnetic maps (Intissar and Benahmed, 2015) of adjacent sheets shows that the Bardeau Plutonic Suite extends westward in sheets 32A03 and 32A06, and north in sheet 32A01.
Dating
The age of crystallization obtained on a granitic sample (outcrop 2019-AM-167) indicates that emplacement was contemporaneous with the Early Elsonian magmatic event (1450-1350 Ma; Gower and Krogh, 2002), which is well represented in central Grenville (e.g. Moukhsil et al., 2018).
Unit
Sample Number

Isotopic

System

Mineral
Crystallization Age (Ma)
(+)
(-)
Metamorphic Age
(+)
(-)
Reference(s)
mPbad
2019-AM-167-A
U-Pb
Zircon
1364
9
9
1090
41
41
Papapavlou, 2020
Stratigraphic Relationship(s)
The Bardeau Plutonic Suite is intruded by the Bonhomme, Marianne and Léo plutonic suites, with which it is in fault contact. It is also intruded by dykes of the Claire Gabbronorite and by granitic pegmatite and syenite dykes. The Bardeau Plutonic Suite contains metric to decametric (tectonic) enclaves of Barrois Complex paragneiss.
Paleontology
Does not apply.
References
Publications Available Through Sigéom Examine
INTISSAR, R., BENAHMED, S. 2015. LEVE MAGNETIQUE AEROPORTE DANS LE SECTEUR OUEST DU LAC-ST-JEAN, PROVINCE DE GRENVILLE. MERN, GOLDAK AIRBORNE SURVEYS. DP 2015-06DP 2015-06, 7 pages and 2 plans. Disponible à https://gq.mines.gouv.qc.ca/documents/EXAMINE/DP201506.
MOUKHSIL, A., DAOUDENE, Y. 2019. Géologie de la région du lac des Commissaires, Province de Grenville, région du Saguenay–Lac-Saint-Jean, Québec, Canada. MERN. BG 2019-01.
MOUKHSIL, A., EL BOURKI, M., 2020. Géologie de la région de Normandin, Province de Grenville, région du Saguenay-Lac-Saint-Jean, Québec, Canada. MERN; BG 2020-01, 2 plans.
MOUKHSIL, A., SOLGADI, F., JANNIN, S., GERVAIS, F., CROWLEY, J L., AUGLAND, L E., INDARES, A., LETOURNEAU, M., DUNNING, G., CLARK, T., GOBEIL, A., OHNENSTETTER, D., LAMOTHE, D., INTISSAR, R., BENAHMED, S., GROULIER, P A., 2017. GEOLOGIE, POTENTIEL MINERAL ET CADRE GEODYNAMIQUE DES ROCHES DE LA REGION DU RESERVOIR DANIEL-JOHNSON (MANICOUAGAN), PARTIE CENTRALE DE LA PROVINCE DE GRENVILLE. MRN; MM 2017-01, 307 pages, 1 plan.
PAPAPAVLOU, K., 2020. U-Pb geochronology report; Grenville 2019-2020. UQAM. MB 2020-09, 25 pages.
Other Publications
GOWER, C.F., KROGH, T.E. 2002. A U-Pb geochronological review of the Proterozoic history of the eastern Grenville Province. Canadian Journal of Earth Sciences, volume 39, pages 795-829. https://doi.org/10.1139/e01-090
ROSS, P.-S., BÉDARD, J.H. 2009. Magmatic affinity of modern and ancient subalkaline volcanic rocks determined from trace-element discriminant diagrams. Canadian Journal of Earth Sciences; volume 46, pages 823-839. http://dx.doi.org/10.1139/E09-054
Suggested Citation
Contributors
First publication

Abdelali Moukhsil, P. Geo., Ph.D. abdelali.moukhsil@mern.gouv.qc.ca (redaction)

Mehdi A. Guemache, P. Geo., Ph.D. (coordination); Fabien Solgadi, P. Geo., Ph.D. (critical review); Simon Auclair, P. Geo., M.Sc. (editing); Céline Dupuis, P. Geo., Ph.D. (English version); Ricardo Escobar Moran (HTML editing).