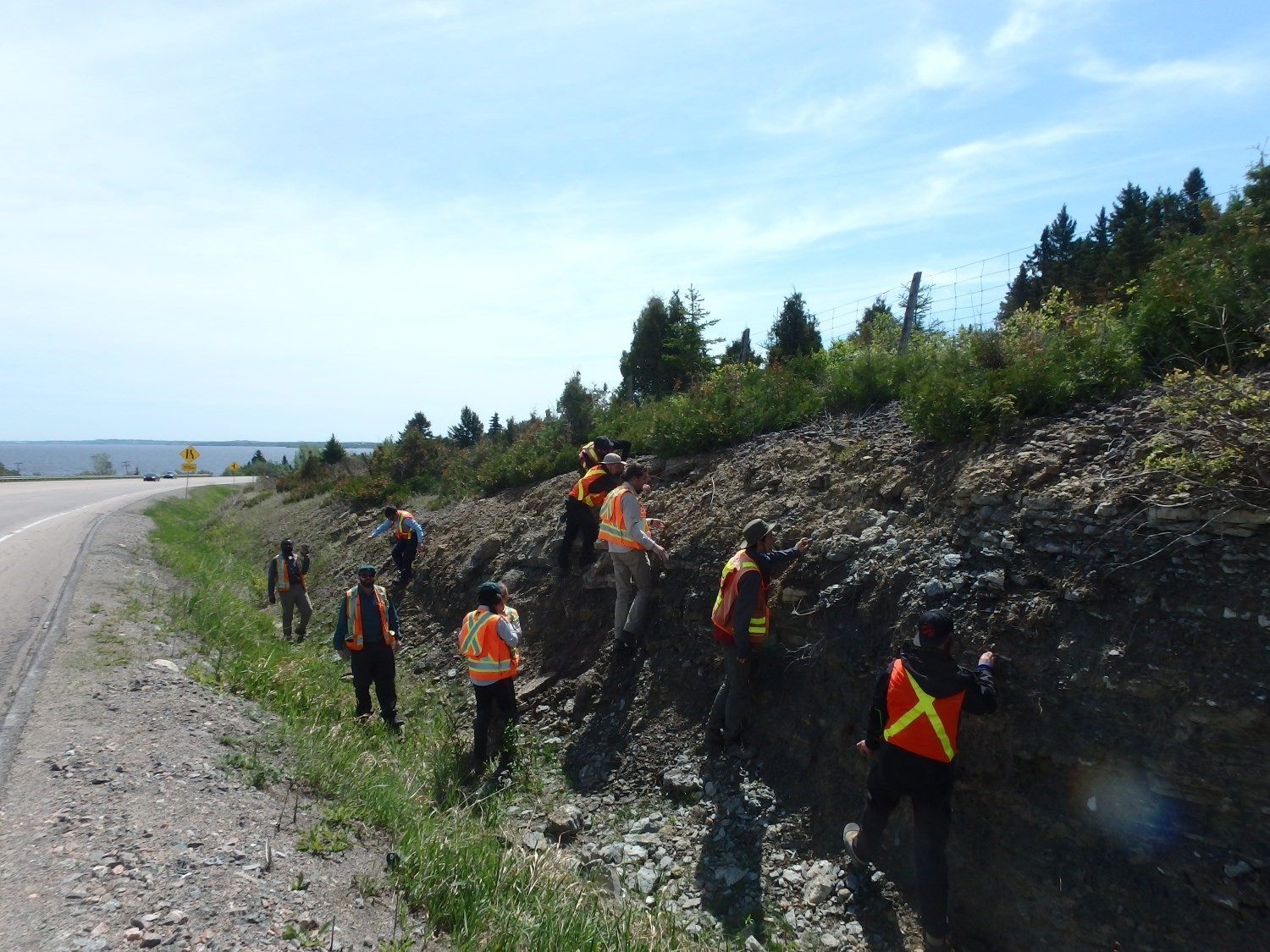 Galets Formation
Stratigraphic label: [ords]gts
Map symbol: Osgts

First published: 14 June 2019
Last modified:
Translation of original French
Informal subdivision(s)
Numbering does not necessarily reflect the stratigraphic position.
None
| | |
| --- | --- |
| Author: | Sinclair, 1953 |
| Age: | Upper Ordovician |
| Reference section: | Shipshaw River, at Chute-aux-Galets (type locality) |
| Type area: | Saguenay area (NE corner of NTS sheet 22D06) |
| Geological province: | St. Lawrence Platform |
| Geological subdivision: | St. Lawrence Lowlands Platform |
| Lithology: | Echinoderm calcarenite |
| Type: | Lithostratigraphic |
| Rank: | Formation |
| Status: | Formal |
| Use: | Active |
Background
Description
Thickness and Distribution
The maximum thickness of the Galets Formation is 10 m, measured at Chute-aux-Galets (Lavoie and Asselin, 1998).
Dating
None.
Stratigraphic Relationship(s)
The Galets Formation overlays the Shipshaw Formation and is in contact with shales of the Pointe-Bleue Formation that broadly cover it. This contact is observed at several locations, for example along the shore of Lake Saint-Jean near the village of Mashteuiatsh (Pointe-Bleue).
The stratigraphic column shows the pile of the other three formations in relation to the Galets Formation in the section studied by Lavoie and Asselin (1998) in the Chambord area (NE corner of NTS sheet 32A08).
Paleontology
Fossils found in the Galets Formation are mostly fragmented crinoids, bryozoans, brachiopods, molluscs and trilobites (Cyclospira bisulcata, Isotelus gigas, Isotelus sp., Illaenus americanus, Ceraurus matranseris, Flexicalymene senaria; Table 1, Desbiens and Lespérence, 1989). The fauna contained in the Galets Formation indicates an Edenian (Upper Ordovician) age.
References
11 novembre 2019
29 août 2019