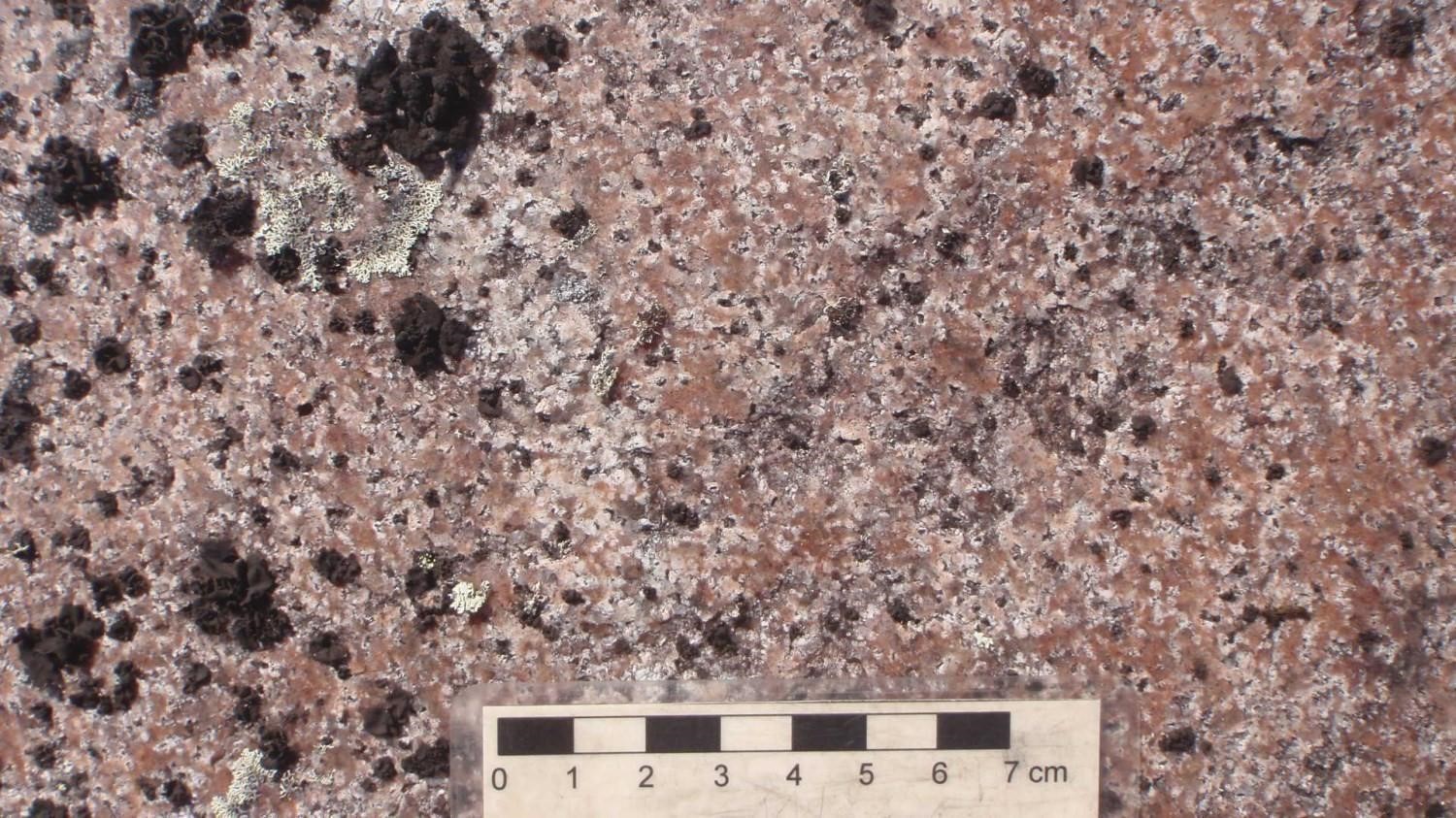 Valiquette Pluton
Stratigraphic label: [narc]vaq
Map symbol: nAvaq

First published: 31 May 2018
Last modified: 14 June 2019
Translation of original French
Informal subdivision(s)
Numbering does not necessarily reflect the stratigraphic position.
None
| | |
| --- | --- |
| Author: | Bandyayera and Daoudene, 2018a |
| Age: | Neoarchean |
| Reference section: | None |
| Type area: | Champion Lake area (NTS sheet 32N09) |
| Geological province: | Superior Province |
| Geological subdivision: | La Grande Subprovince |
| Lithology: | Granitic intrusive rocks |
| Type: | Lithodemic |
| Rank: | Lithodeme |
| Status: | Formal |
| Use: | Active |
Background
The Valiquette Pluton is a stratigraphic unit introduced by Bandyayera and Daoudene (2018a) following geological mapping work of summer 2017. It consists of a large intrusive mass located north of Valiquette Lake which occupies the northern half of the Champion Lake area (sheet 32N09), where large, representative outcrops are located. Before the work of 2017, the pluton was assigned to unit Achp6 of the Champion Complex, as mapped in sheets 32N06, 32n07 and 32N11 during the summer of 2016 (Bandyayera and Daoudene, 2018b). This unit has been completely reassigned to the Valiquette Pluton as its age, geochemistry and magnetic signature distinguish it from other granitic rocks in the area. An extension of the pluton in sheet 32O12 was mapped during the summer of 2018 by Bandyayera and Caron-Côté (2019).
Description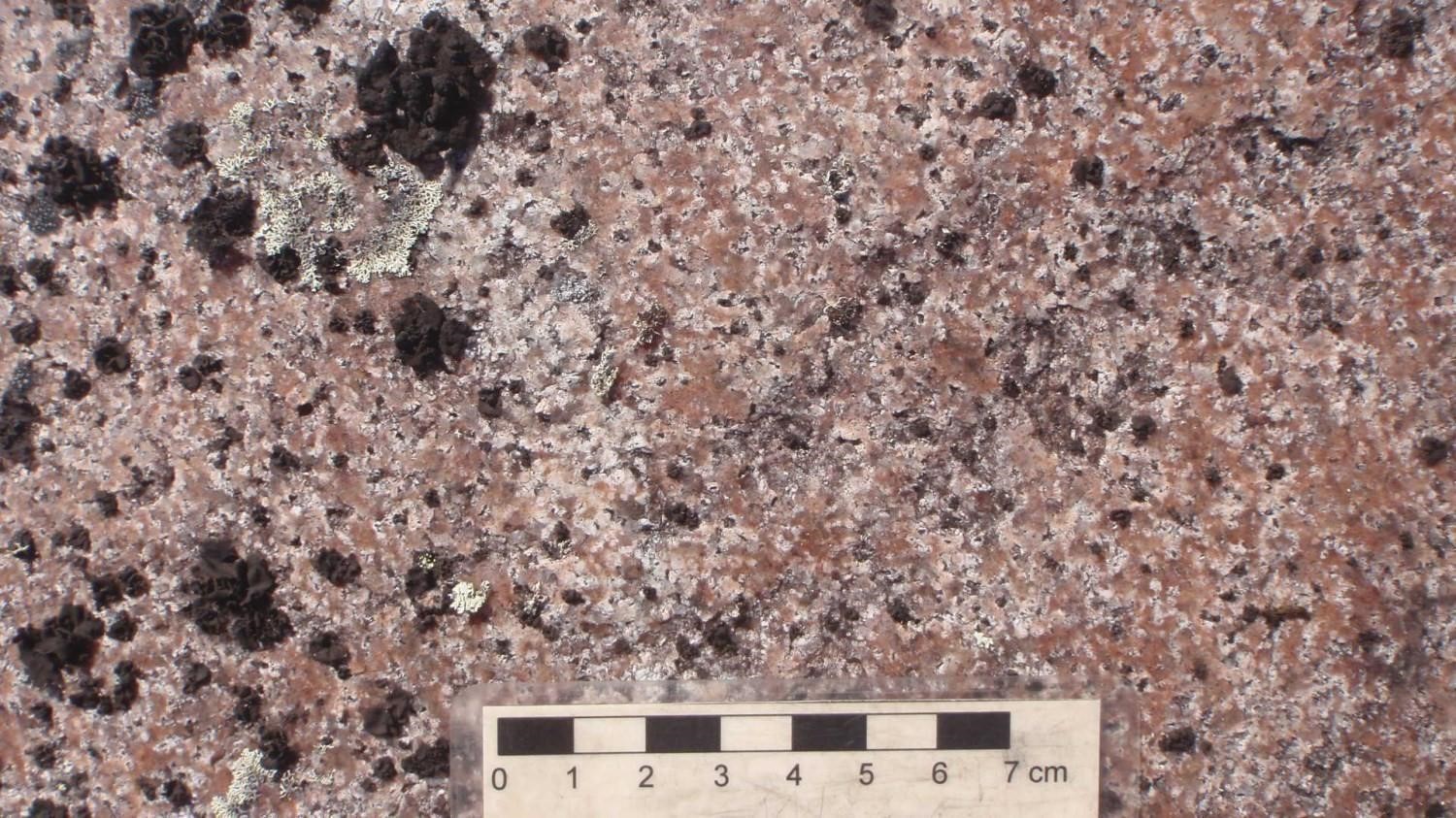 The unit consists of locally pegmatitic, medium to coarse-grained biotite granite. It is homogeneous, massive to very weakly foliated. The rock is locally hematitized and is typically pink to pale pink in fresh exposure and altered surface. It generally contains 1-5% biotite, 2% hornblende and 2% magnetite. Biotite is partially to completely chloritized and locally epidotitized. In places, biotite is concentrated in schlierens (in more magnetic horizons) which are likely the result of the assimilation of supracrustal rocks. The Valiquette Pluton contains metric enclaves of gneissic tonalite, amphibolite, diorite and porphyritic granodiorite.
From a geochemical perspective, this biotite granite is type I, peraluminous, calc-alkaline to shoshonitic, potassium-rich (K2O >4 wt.%) and characterized by negative europium (Eu) anomalies. This granite differs from other granitic rocks in the area by its high Rb concentrations. A dozen lithogeochemical analyses show that the granite is syncollisional (Pearce et al., 1984).
Thickness and Distribution
The Valiquette Pluton extends from east to west over a length of more than 100 km and a width of 15 to 45 km. Originally, the Valiquette Pluton was mapped only in the northern half of the Champion Lake area in sheet 32N09 (Bandyayera and Daoudene, 2018a). Subsequently, the biotite granite unit mapped in sheets 32N06, 32N07 and 32N011 was assigned to this pluton (Bandyayera and Daoudene, 2018a). On aeromagnetic maps (D'Amours, 2011), the pluton is characterized by homogeneous magnetic susceptibility. This geophysical signature allowed for extending the plutonic mass limits in sheets 32N10 and 32O12 (Bandyayera and Caron-Côté, 2019).
Dating
None.
Stratigraphic Relationship(s)
The Valiquette Pluton cuts the tonalitic gneiss, tonalite and granodiorite units of the Champion Complex. At its southern limit, the Valiquette Pluton cuts mafic volcanic rocks of the Lac des Montagnes Group of the Nemiscau Subprovince. This contact is also evidenced by the presence of shear zones of the Nemiscau and Rupert rivers. The Valiquette Pluton also contains amphibolitized, weakly migmatitized volcano-sedimentary rock enclaves, which were assigned to the Anatacau-Pivert Formation further north and described by Moukhsil (2000).
Paleontology
Does not apply.
References
| Author(s) | Title | Year of Publication | Hyperlink (EXAMINE or Other) |
| --- | --- | --- | --- |
| BANDYAYERA, D. – CARON-CÔTÉ, E. | Géologie et potentiel minéral de la région du lac des Montagnes, sous-provinces de La Grande, de Nemiscau et d'Opatica, Eeyou Istchee Baie-James, Québec, Canada. Ministère de l'Énergie et des Ressources naturelles, Québec; BG 2019-03. | 2019 | BG 2019-03 |
| BANDYAYERA, D. – DAOUDENE, Y. | Géologie de la région du lac Champion, sous-provinces de La Grande et de Nemiscau, à l'est de Waskaganish, Municipalité d'Eeyou Istchee Baie-James, Québec, Canada. Ministère de l'Énergie et des Ressources naturelles, Québec; BG 2018-06. | 2018a | BG 2018-06 |
| BANDYAYERA, D. – DAOUDENE, Y. | Géologie de la région du lac Nemiscau, secteur ouest de la rivière Rupert (SNRC 32N06, 32N07 et 32N11). Ministère de l'Énergie et des Ressources naturelles, Québec; RG 2018-03. | 2018b | RG 2018-03 |
| CARD, K. D. – CIESIELSKI, A. | DNAG N°1 Subdivisions of the Superior Province of the Canadian Shield. Geosciences Canada; volume 13, pages 5-13. | 1986 | Source |
| D'AMOURS, I. | Synthèse des levés magnétiques de la Baie-James. Ministère des Ressources naturelles et de la Faune, Québec; DP 2011-08, 5 pages, 2 plans. | 2011 | DP 2011-08 |
| MOUKHSIL, A. | Géologie de la région des lacs Pivert, Anatacau, Kauputauchechun et Wapamisk (SNRC 33C/01, 33C/02, 33C/07 et 33C/08). Ministère de l'Énergie et des Ressources naturelles, Québec; RG 2000-04, 49 pages, 4 plans. | 2000 | RG 2000-04 |
| PEARCE, T. H. – HARRIS, B.W. – TINDLE, A. G. | Trace element discrimination diagrams for the tectonic interpretation of granitic rocks. Journal of Geology; volume 25, pages 956–983. | 1984 | Source |
8 novembre 2018
14 juin 2019