Informal subdivision(s)
Numbering does not necessarily reflect the stratigraphic position.
| | |
| --- | --- |
| Author: | Miller et al., 1997 |
| Age: | Mesoproterozoic |
| Stratotype: | None |
| Type area: | Brisson Lake area (NTS sheets 24A01 and 24A08) |
| Geological province: | Churchill Province and Nain Province (Labrador) |
| Geological subdivision: | Mistinibi-Raude Lithotectonic Domain |
| Lithology: | Quartz monzonite and granite |
| Category: | Lithodemic |
| Rank: | Suite |
| Status: | Formal |
| Use: | Active |
Background
This unit was previously named "Napeu Kainut Quartz Monzonite" by Miller et al. (1997). Following field checks conducted in the summer of 2016, Charette et al. (2019) renamed it the Napeu Kainut Suite to represent the lithological diversity and to comply with the North American Stratigraphic Code (NACSN, 2005). This suite groups massive quartz monzonite and granite units described by Bélanger (1984) in the Brisson Lake area, corresponding to the author's subunits 10a and 10b respectively.
Description
The Napeu Kainut Suite consists of two informal units: quartz mangerite and quartz monzonite (mPnak1), and granite (mPnak2). At the edge of the intrusion, the rock is locally altered and deformed, which could imply intrusion in a solidified host.
Napeu Kainut Suite 1 (mPnak1): Quartz Mangerite and Quartz Monzonite
Unit mPnak1 consists of quartz monzonite, locally containing hypersthene, pinkish to reddish grey with a pinkish to brownish alteration patina. The rock is massive, homogeneous and medium to coarse grained with K-feldspar phenocrystals (1-3 cm). Weathering is often so severe that the rock breaks down over a thickness of several metres. Ferromagnesian minerals (3-15%) are disseminated or in small clusters and include mostly brown biotite, and locally hornblende, hypersthene and clinopyroxene. K-feldspar phenocrystals have a perthitic texture and contain some rounded quartz inclusions. Quartz also forms even-grained zones between phenocrystals. Allanite, opaque minerals, epidote and chlorite are accessory minerals. Alteration is marked in places by plagioclase sericitization, biotite chloritization and the occurrence of hematite, carbonate, chlorite and epidote in the matrix.
Napeu Kainut Suite 2 (mPnak2): Granite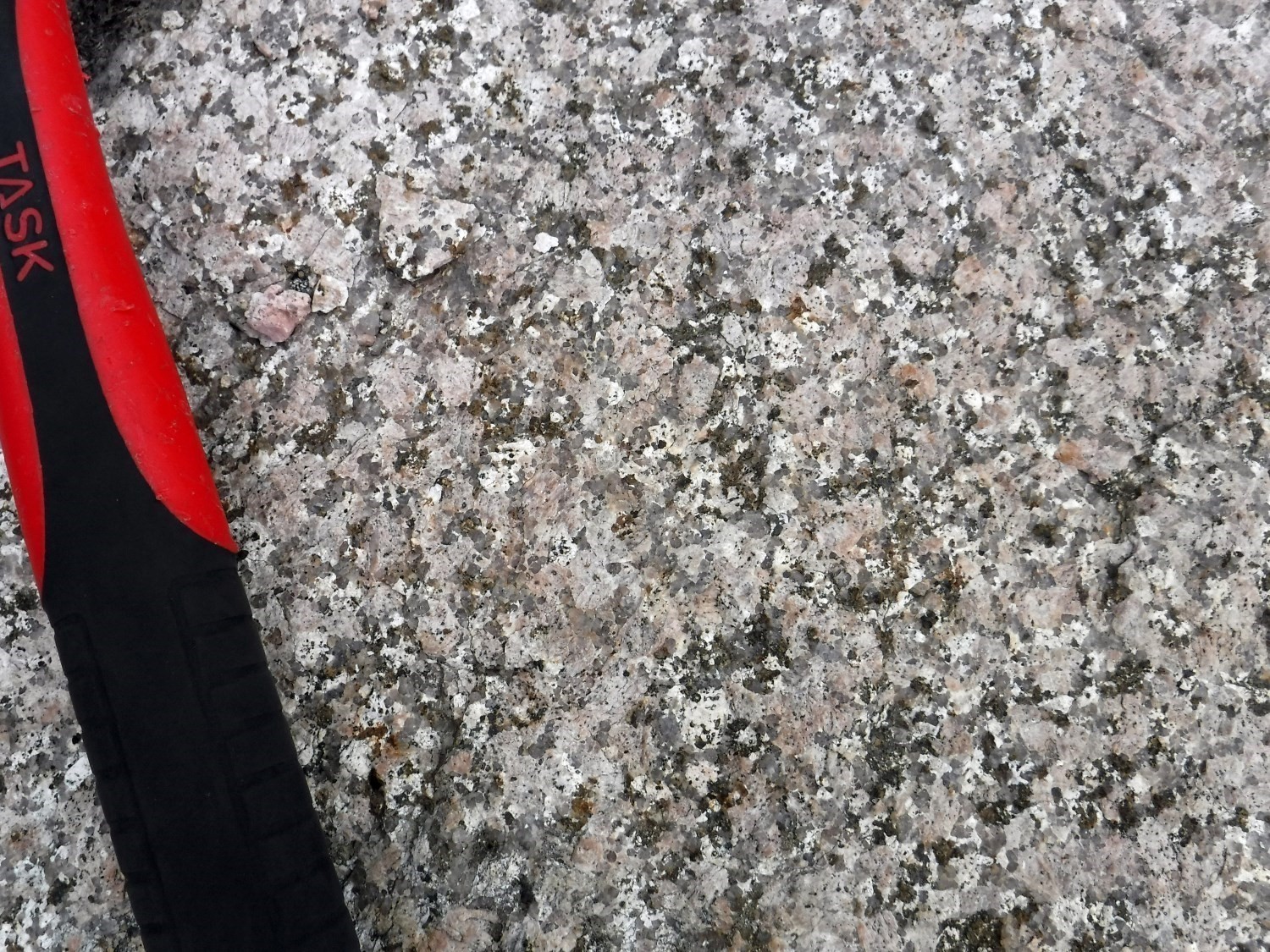 Unit mPnak2 consists of medium to coarse-grained, locally fine-grained, whitish pink granite. This massive rock contains centimetric crystals of perthitic K-feldspar (1-2 cm) and globular quartz crystals (>1 cm). Ferromagnesian minerals (brown biotite and green hornblende) form small clusters. Accessory minerals consist of epidote, opaque minerals, apatite and chlorite replacing biotite.
Thickness and Distribution
The Napeu Kainut Suite forms a circular intrusion, ~25 km in diameter, north of the Mistastin Batholith in the eastern-central part of the Mistinibi-Raude Lithotectonic Domain. More specifically, it is located on the boundary between sheets 24A01 and 24A08 at the Quebec-Labrador border. Unit mPnak1 covers a larger area (399 km2) than unit mPnak2 (72 km2).
Dating
The Napeu Kainut Suite was not dated. However, the crosscutting relationship with the Lac Brisson Pluton, which crystallization of the oldest intrusive phase is dated to 1240 Ma (Miller et al., 1997), indicates that the Napeu Kainut Suite is older than this age.
Stratigraphic Relationship(s)
Napeu Kainut Suite rocks cut intrusions of the Pelland Suite and paragneiss and migmatites of the Mistinibi Complex. These units are locally found in enclaves in quartz mangerite and quartz monzonite of the Napeu Kainut Suite (mPnak1). Unit mPnak2 forms kilometric clusters in gradual contact in unit mPnak1, or cuts the latter as intrusions. The Lac Brisson Pluton intrudes into the Napeu Kainut Suite.
Paleontology
Does not apply.
References
| Author(s) | Title | Year of Publication | Hyperlink (EXAMINE or Other) |
| --- | --- | --- | --- |
| BÉLANGER, M. | Région du lac Brisson, Territoire du Nouveau-Québec. Ministère de l'Énergie et des Ressources, Québec; DP-84-20, 2 cartes annotées. | 1984 | DP 84-20 |
| KERR, A. – HAMILTON, M.A. | Rare-earth element (REE) mineralization in the Mistastin Lake and Smallwood reservoir areas, Labrador: field relationships and preliminary U-Pb zircon ages from host granitoid rocks. Current Research (2014) Newfoundland and Labrador Department of Natural Resources Geological Survey; Report 14-1, pages 45-62. | 2014 | Source |
| CHARETTE, B. – LAFRANCE, I. – VANIER, M.-A. – GODET, A. | Mistinibi-Raude Domain, Southeastern Churchill Province, Nunavik, Quebec, Canada: Geological Synthesis. Ministère de l'Énergie et des Ressources naturelles, Québec. BG 2019-07. | 2019 | BG 2019-07 |
| MILLER, R.R. – HEAMAN, L.M. – BIRKETT, T.C. | U-Pb zircon age of the Strange Lake peralkaline complex: implications for Mesoproterozoic perlakaline magmatism in north-central Labrador. Precambrian Research; volume 81, number 1-2, pages 67-82. | 1997 | Source |
| NORTH AMERICAN COMMISSION ON STRATIGRAPHIC NOMENCLATURE (NACSN) | North American Stratigraphic Code. American Association of Petroleum Geologists Bulletin; volume 89, pages 1547-1591. | 2005 | Source |
17 août 2020
17 août 2020