DISCLAIMER: This English version is translated from the original French. In case of any discrepancy, the French version shall prevail.
Informal subdivision(s)
Numbering does not necessarily reflect the stratigraphic position.
None
| | |
| --- | --- |
| Author: | Hammouche et al., 2011 |
| Age: | Paleoproterozoic |
| Stratotype: | Reference outcrops 2009-JG-1009 to 1025 represent the typical locality located ~10 km SW of Potel Lake |
| Type area: | Potel Lake area (NTS sheet 24I14) |
| Geological province: | Churchill Province |
| Geological subdivision: | Baleine Lithotectonic Domain |
| Lithology: | Gabbro |
| Category: | Lithodemic |
| Rank: | Lithodeme |
| Status: | Formal |
| Use: | Active |
Background
The Potel Gabbro was defined by Hammouche et al. (2011) in the Bonaventure Lake area.
Description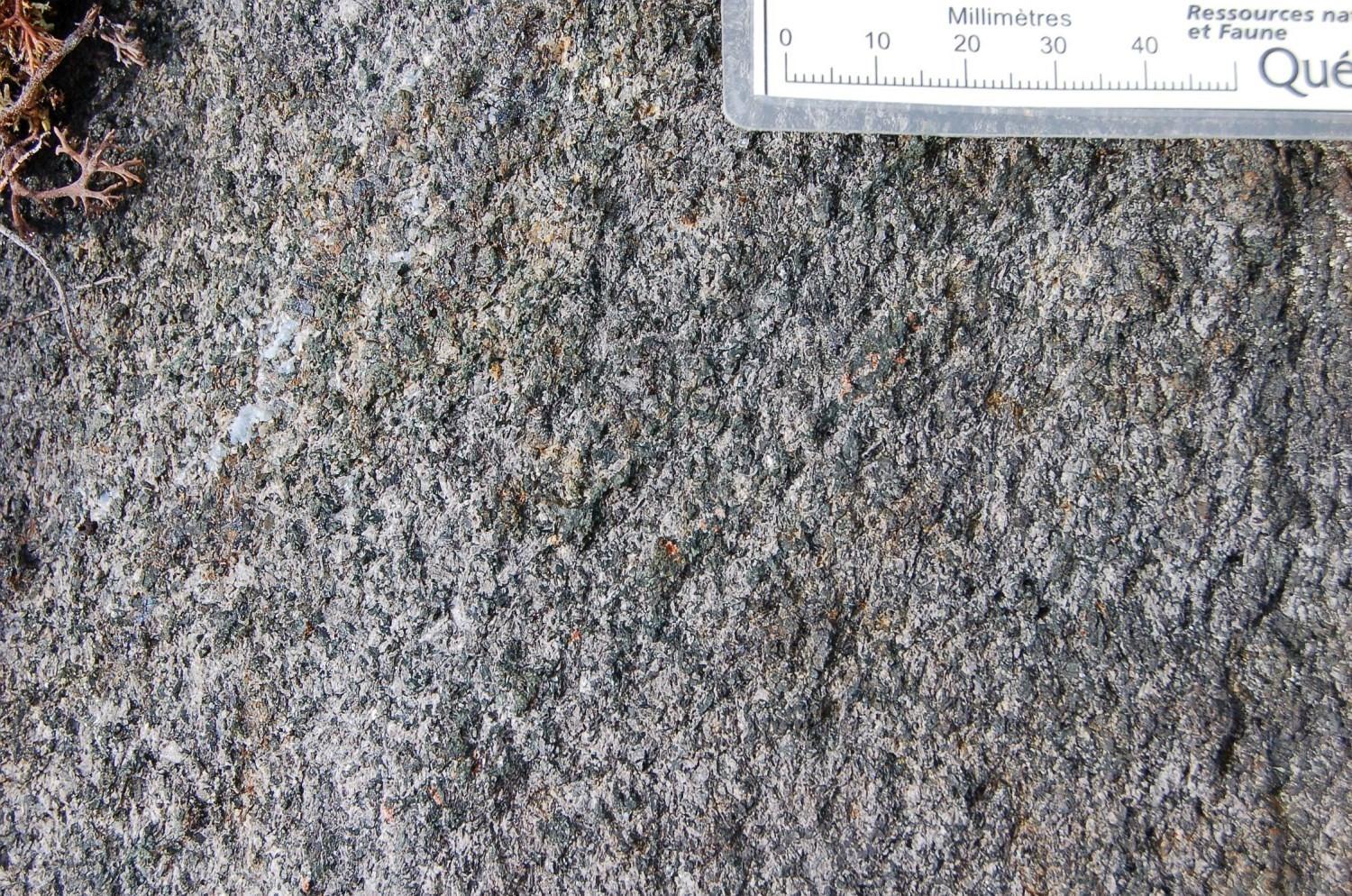 The Potel Gabbro consists of gabbro and metric to decametric highly magnetic gabbronorite layers. Gabbro and gabbronorite are massive, even grained and medium grained. Centimetric to metric pegmatitic clusters are observed locally.
Gabbro is dark greenish in fresh exposure and contains up to 15% hornblende. Hypersthene is locally present (2-3%) and quartz is rarely observed. Plagioclase forms overgrown laths. Pyroxenes are primarily euhedral, but generally lose their original form when corroded by amphibole. Uralitization is generally weak, albeit strong in places. Locally, scapolite (marialite or dypire) alters plagioclase. Magnetite is observed in varying proportions in gabbro.
Gabbronorite is very dark green to almost black in fresh exposure, and becomes lighter in altered surface. It contains hornblende and 3-4% magnetite. In thin sections, minerals are subhedral. Pyroxene is highly corroded by amphibole. Locally, augite forms a rim around hypersthene.
Thickness and distribution
The Potel Gabbro corresponds to a large hill located at the southern end of the Baleine Lithotectonic Domain. It is 400 m to 2 km wide and at least 6 km long, extending southward beyond the Labrador border.
Dating
None.
Stratigraphic Relationship(s)
The Potel Gabbro intrudes into paragneiss and paraschists of the Akiasirviup Suite.
Paleontology
Does not apply.
References
Publications available through SIGÉOM Examine
HAMMOUCHE, H., LEGOUIX, C., GOUTIER, J., DION, C., PETRELLA, L. 2011. GEOLOGIE DE LA REGION DU LAC BONAVENTURE. MRNF. RG 2011-03, 37 pages et 1 plan.
5 février 2020
16 septembre 2020