Informal subdivision(s)
Numbering does not necessarily reflect the stratigraphic position.
| | |
| --- | --- |
| Author: | Hammouche et al., 2011 |
| Age: | Archean |
| Reference section: | None |
| Type area: | Bonaventure Lake area (NTS sheets 23I15 and 23P02) |
| Geological province: | Churchill Province |
| Geological subdivision: | Mistinibi-Raude Lithotectonic Domain |
| Lithology: | Gneiss |
| Type: | Lithodemic |
| Rank: | Complex |
| Status: | Formal |
| Use: | Active |
Background
The Elson Complex was first named Bourdon Gneiss by Hammouche et al. (2011) in the Bonaventure Lake area. It was extended east in the Zeni Lake area by Hammouche et al. (2012). It was then renamed Elson Complex as part of the Southeastern Churchill Province synthesis (SECP; Lafrance et al., 2018) as the Bourdon Complex name was already in use in the Grenville Province. The unit defined by Hammouche et al. (2011) also included paragneiss, which was largely reassigned to the Zeni Complex (ApPzen3), and ultramafic rocks now assigned to the Pallatin Intrusive Suite (pPped1).
It takes its name from Elson Lake located in the SW portion of sheet 23I16.
Description
The Elson Complex consists mainly of tonalitic gneiss (Aelo1) and granitic gneiss (Aelo2). Gneiss are highly deformed and folded; ptygmatitic folds and porphyroclasts are abundant. The complex locally contains highly deformed felsic and intermediate intrusions, and undeformed felsic intrusions, including pegmatitic granite.
Medium-grained quartzofeldspathic material, occurring as diffuse and irregular centimetric bands, cuts gneissic banding. This material appears to have resulted from rock migmatization (leucosome).
Elson Complex 1 (Aelo1): Tonalitic Gneiss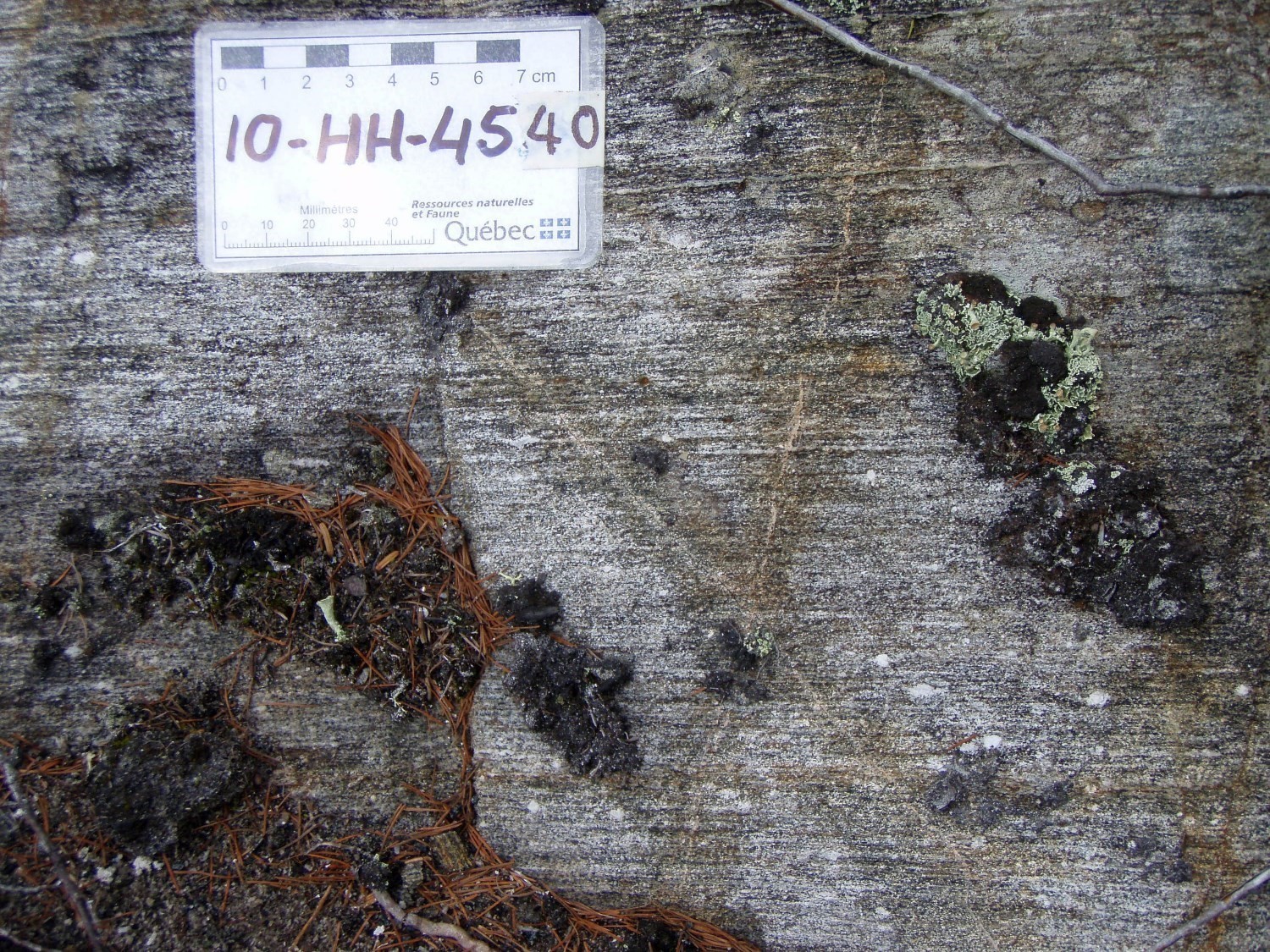 Gneiss displays sharp and regular banding, locally straight, which consists of alternating millimetric to centimetric grey and beige to pinkish bands. Centimetric to decimetric layers of dark grey or black diorite and amphibolite are also inserted in the sequence. Light bands are medium to fine grained and contain some biotite (<12%). They are mostly tonalitic in unit Aelo1. Dark bands are fine grained and contain a higher proportion of biotite (20-30%). Muscovite and hornblende are also present in minor amounts (<5%). Accessory minerals are clinopyroxene, sphene, opaque minerals and rutile. Slight sericite-epidote alteration is observed in thin sections.
Elson Complex 2 (Aelo2): Granitic Gneiss
Unit Aelo2 gneiss is similar to that of unit Aelo1 except for the fact that light bands are mostly granitic. Some coarser-grained granitic bands may represent leucosome. Silicate minerals are anhedral, locally displaying K-feldspar porphyroblasts.
Thickness and Distribution
The Elson Complex forms an 8-15 km-wide strip in the SW part of the Mistinibi-Raude Lithotectonic Domain (Charette et al., 2019). It is limited to the west by the Rivière George Shear Zone and to the east by the Zeni Shear Zone. The granitic gneiss unit (Aelo2) covers by far the largest area of the complex (506 km2), while tonalitic gneiss (Aelo1) forms only two restricted klippes (17 km2).
Dating
None.
Stratigraphic Relationship(s)
The Elson Complex is in fault contact with the Saint-Sauveur Complex (ApPgss; George Lithotectonic Domain) to the west and the Zeni Complex (ApPzen) to the east. The Zeni Complex paragneiss unit (ApPzen3) is found in decametric-width lenses or layers within Elson Complex gneiss. These paragneiss are more abundant in the northern part of the Elson Complex, while their proportion is decreasing southward.
Paleontology
Does not apply.
References
13 août 2020
13 août 2020