DISCLAIMER: This English version is translated from the original French. In case of any discrepancy, the French version shall prevail.
Informal subdivision(s)
Numbering does not necessarily reflect the stratigraphic position.
| | |
| --- | --- |
| Author: | Charette et al., 2016 |
| Age: | Paleoproterozoic |
| Stratotype: | None |
| Type area: | Jeannin Lake area (NTS sheet 24B) |
| Geological province: | Churchill Province |
| Geological subdivision: | Rachel-Laporte Lithotectonic Domain |
| Lithology: | Diatexite and migmatized paragneiss |
| Category: | Lithodemic |
| Rank: | Complex |
| Status: | Formal |
| Use: | Active |
Background
The Giton Complex was introduced in the Jeannin Lake area (Charette et al., 2016) to group heterogranular diatexites (ApPgit2) interpreted as circumscribed to a tectonic slice within the Rachel-Laporte Lithotectonic Domain. Hence it is a structural complex.
Description
Migmatites of sedimentary origin of the Giton Complex include two informal units: migmatized paragneiss (ApPgit1) and heterogranular diatexite (ApPgit2).
Giton Complex 1 (pPgit1): Migmatized Paragneiss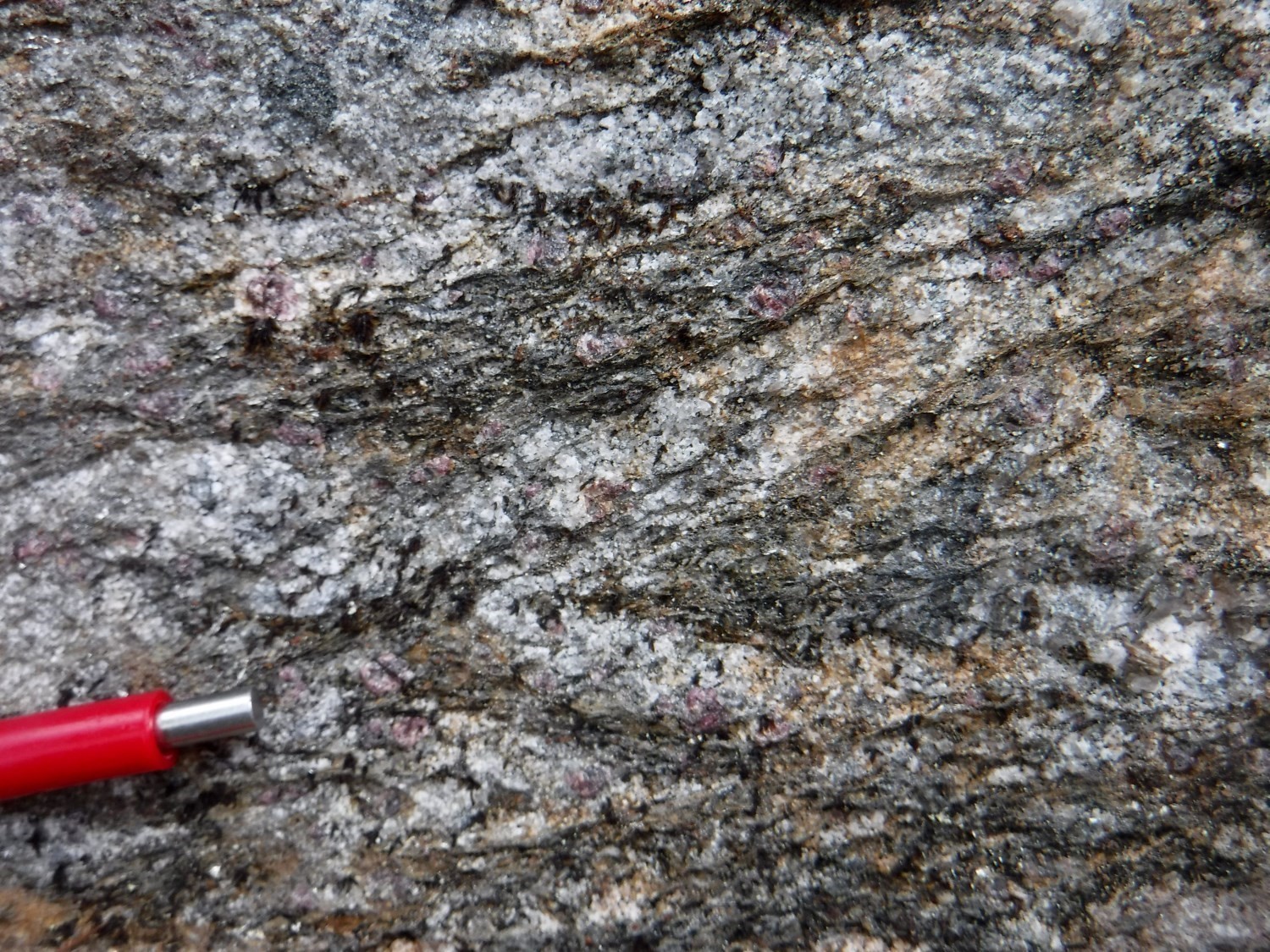 Migmatized paragneiss of unit pPgit1 varies in composition from metapelite to meta-arenite to metawacke. Changes in the main minerals' content locally induce banding. The amount of millimetric to centimetric leucosome bands fluctuates with the protolith (≤20%), increasing the banded appearance of the rock. Paragneiss is generally homogeneous and fine-grained. It is grey with a lighter alteration patina, locally beige to brownish. In thin sections, the matrix is well recrystallized. Micas (biotite and muscovite) make up 10-25% of the rock and form millimetric laminae marking foliation. Garnet commonly occurs as brown to pinkish crystals or porphyroblasts (1-5 mm). Staurolite locally occurs as small subhedral crystals within biotite and muscovite laminae. Accessory minerals (chlorite, opaque minerals, sphene, apatite, zircon and allanite) are also observed in small amounts. In places, actinolite forms felt clusters that preserve clinopyroxene cores. In some areas of unit ApPgit1, muscovite-biotite-garnet paraschist and garnet amphibolite form metric to hectometric layers.
Giton Complex 2 (pPgit2): Heterogranular Diatexite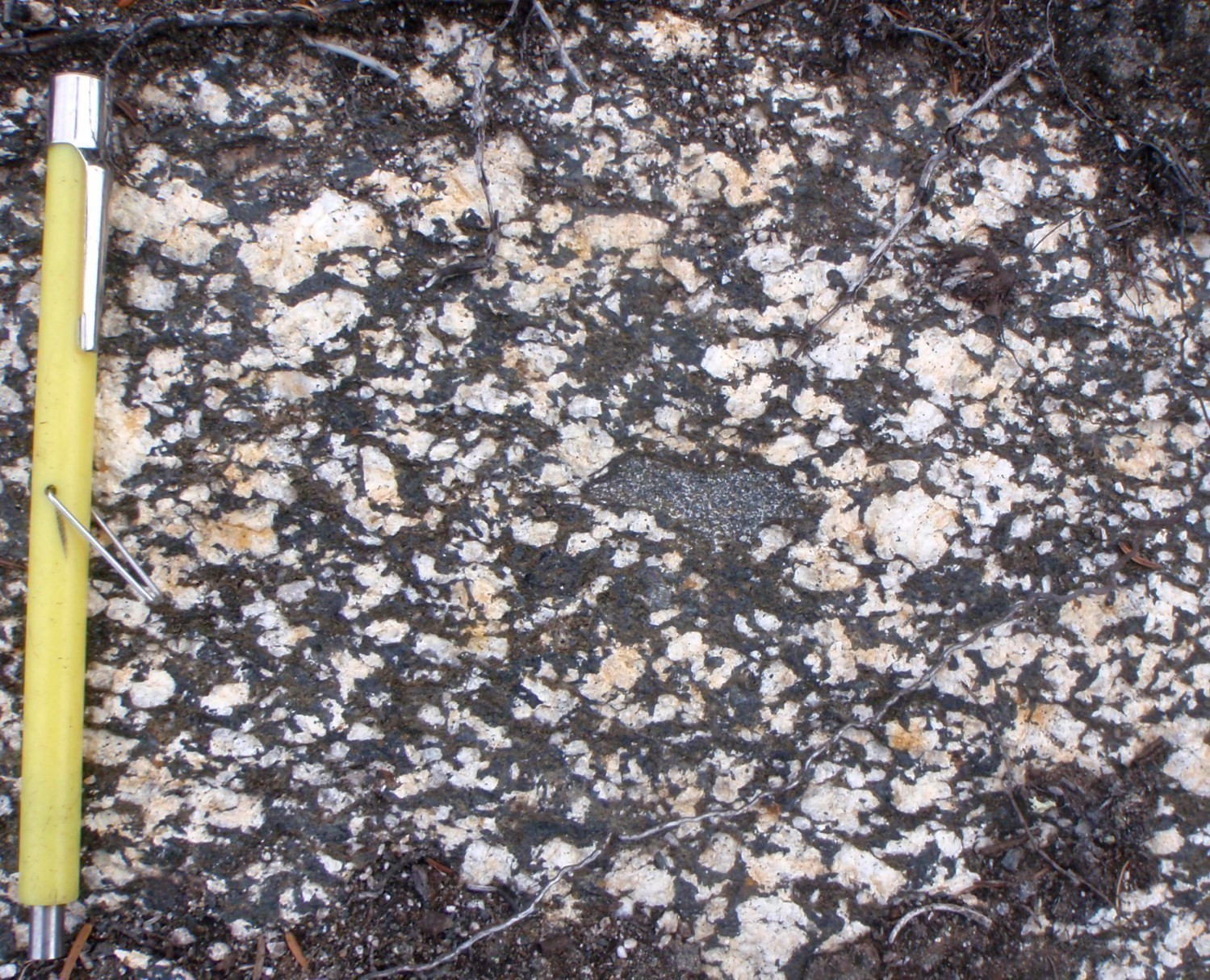 Unit pPgit2 consists of homogeneous diatexite whose composition varies from granodiorite to quartz monzodiorite. The rock is heterogranular, yellowish to brownish grey, and shows a well-developed foliation associated locally with a protomylonitic texture. Diatexite regularly contains 15-30% centimetric phenocrystals of plagioclase and K-feldspar. It also includes 15-25% quartz and 5-20% microcline, interstitial or as phenocrystals. Silicate minerals float in a fine-grained matrix rich in brown biotite (20-40%) containing sphene and zircon inclusions. The rock also contains some hornblende (<5%), as well as zoisite and allanite. Plagioclase is slightly sericitized. Quartz displays undulatory extinction and partial recrystallization at the edge of larger crystals. Diatexite contains up to 10% centimetric to decimetric enclaves and layers ("schollen" or rafts) of variably migmatized biotite ± garnet paragneiss similar to that of unit ApPgit1. Certain metre-wide diatexite layers show greater deformation indicated by anastomosed foliation and the transformation of phenocrystals into sigmoid porphyroclasts associated with recrystallization tails.
Thickness and distribution
The Giton Complex is located in the southern portion of the Jeannin Lake area (Charette et al., 2016) where it forms a tectonic slice ~28 km long by 7 km wide and oriented NW-SE within the Rachel-Laporte Lithotectonic Domain. It covers an area of ~145 km2.
Dating
The Paleoproterozoic age around 1829 Ma is similar to that obtained within diatexites of the Winnie Suite (~1838 Ma; Davis et al., 2015) of the Baleine Lithotectonic Domain. The presence of an inherited component around 2.12 Ga suggests that the Giton Complex is derived from the melting of Palaeoproterozoic metasedimentary rocks (Rayner et al., 2019).
Unit
Sample Number
Isotopic System
Mineral
Crystallization Age (Ma)
(+)
(-)
Inherited Age (Ma)
References (s)
pPgit2
2015-LP-2149A
U-Pb
Zircon
1829
2
2
2847-2730
Rayner et al., 2019
2.12 Ga
Stratigraphic Relationship(s)
The Giton Complex is interpreted as a tectonic slice and is therefore in fault contact with volcano-sedimentary rocks of the Laporte Supersuite (Charette et al.., 2016). This unit could also represent part of the metasedimentary rocks of the Freneuse Suite that were buried deeper during the New Quebec Orogen. However, this scenario appears unlikely (Lafrance and Vanier, 2021) due to the age of the Giton Complex (1829 Ma), which is older than burial of the Rachel-Laporte Domain under the Baleine Domain (1800 Ma; Godet et al., 2020).
Paleontology
Does not apply.
References
Publications Available Through SIGÉOM Examine
CHARETTE, B., LAFRANCE, I., MATHIEU, G. 2016. Géologie de la région du lac Jeannin, Québec, Canada. MERN. BG 2015-01, 1 plan.
DAVIS, D W., MOUKHSIL, A., LAFRANCE, I., HAMMOUCHE, H., GOUTIER, J., PILOTE, P., TALLA TAKAM, F. 2015. DATATIONS U-PB DANS LES PROVINCES DU SUPERIEUR, DE CHURCHILL ET DE GRENVILLE EFFECTUEES AU JSGL EN 2012-2013. MERN. RP 2014-07RP 2014-07, 56 pages. Disponible à https://gq.mines.gouv.qc.ca/documents/EXAMINE/RP201407
LAFRANCE, I., VANIER, M.-A. 2021. Domaine lithotectonique de Rachel-Laporte, sud-est de la Province de Churchill, Québec, Canada : synthèse de la géologie. Ministère de l'Énergie et des Ressources naturelles. BG 2021-01
Other Publications
GODET, A., GUILMETTE, C., LABROUSSE, L., DAVIS, D.W., VANIER, M.A., LAFRANCE, I., CHARETTE, B. 2020. Contrasting P-T-t paths reveal a metamorphic discontinuity in the New Quebec Orogen: insights into Paleoproterozoic orogenic processes. Precambrian Research; vol. 342, article 105675. https://doi.org/10.1016/j.precamres.2020.105675
RAYNER, N.M., LAFRANCE, I., CORRIGAN, D., CHARETTE, B. 2019. SHRIMP U-Pb zircon results from the Jeannin Lake area, Quebec. Geological Survey of Canada, Open File 8626, 6 pages. https://doi.org/10.4095/315450
Suggested Citation
Contributors
First publication

Benoit Charette, P. Geo., M.Sc. benoit.charette@mern.gouv.qc.ca (redaction)

Marie-Andrée Vézina, P. Geo. (coordination); Thomas Clark, P. Geo., Ph.D. (critical review); Pierre Lacoste, P. Geo. (editing); Céline Dupuis, P. Geo., Ph.D. (English version); André Tremblay (HTML editing).
11 février 2020
16 mars 2021