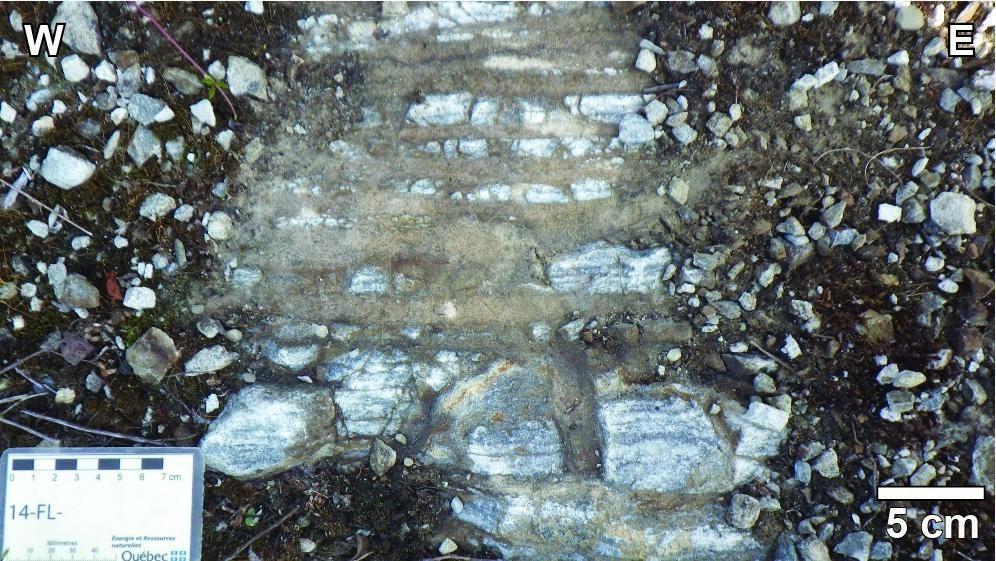 Albanel Formation
Stratigraphic label: [ppro]al
Map symbol: pPal

First published: 22 May 2018
Last modified: 19 October 2022
Informal subdivision(s)
Numbering does not necessarily reflect the stratigraphic position.
pPal(s)
Sandy dolomite, dolomitic sandstone, dolomite
pPal(i)
Dolomite, fossiliferous dolomite, intraformational breccia and graphitic shale
pPal(i)2
Dolorudite, dolarenite, dolosiltite, dololutite
| | |
| --- | --- |
| Author(s): | Wahl, 1953 |
| Age: | Paleoproterozoic |
| Stratotype: | None |
| Type area: | The most detailed studies of the Albanel Formation come from the Témiscamie River area, in the northern part of Mistassini Lake (Wahl, 1953; Deland and Sater, 1967; Mirota, 1989). |
| Geological province: | Superior Province |
| Geological subdivision: | Opatica Subprovince |
| Lithology: | Sedimentary rocks |
| Category: | Lithostratigraphic |
| Rank: | Formation |
| Status: | Formal |
| Use: | Active |
Related unit(s)
Mistassini Group

Témiscamie Formation
Albanel Formation
Cheno Formation
Papaskwasati Formation
Background
Rocks of the Albanel Formation were first attributed to the "Mistassini Series" by Faribault et al. (1912) and Norman (1940), which was renamed the "Mistassini Group" by Neilson (1950). In the Témiscamie River area, Wahl (1953) distinguishes the Lower Albanel Group (pPal(i)) with four dolomitic formations and the Upper Albanian Group (pPal(s)), which consists of two dolomite horizons. The lower and upper divisions of the Albanel group are recognized in southern Mistassini Lake by Moyer (1960). Deland and Sater (1967) refer to the Albanel as a "formation" in their report and identify four informal units in the lower part.
Description
The Albanel Formation comprises a lower and a upper part (Wahl, 1953). The lower part (pPal(i)) consists of four informal units (Deland and Sater, 1967) which are, in order: 1) intraformational breccia; 2) stromatolitic dolomite; 3) dolarenite and dolosiltite; and 4) stratified dolomite and dolomitic clay schist. The upper part (pPal(s)) is composed of massive pink and buff-coloured dolomite that is easily distinguished from underlying stratified grey dolomites.
In the Poste Bay area, which is the southern boundary of Mistassini Lake, Morin (1999) distinguishes two informal units in the lower Albanel Formation from descriptions of Guilloux (1969) and Gros (1975).
Lower Albanel Formation (pPal(i)): Dolomite, Fossiliferous Dolomite, Intraformational Breccia and Graphitic Shale
According to Gros (1975) and Morin (1999), unit pPal(i) consists of a regolith characterizing contact with the underlying unit (see Stratigraphic Relationships section), intraformational breccia, dolosiltite, stromatolitic dolosiltite and dolarenite. This unit thus corresponds to Units 1 and 2 of Deland and Slater (1967). Intraformational breccia is "composed of angular dolomite fragments and highly graphitic clay nodules. Dolomite fragments, identical in composition to dolomite of the matrix, vary in diameter from 0.5 to 4 inches (1.3-10.2 cm)". Dolosiltites overlying the breccia contain irregular-shaped silica nodules ranging in diameter from 1 to 10 cm. Fossiliferous dolosiltites consist of stromatolite colonies accumulated over 7.5 m thick that are disturbed by stromatolite-free clayey-matrix tempestite beds. The height of a stromatolite colony ranges from 30 to 90 cm (Guilloux, 1969). They consist of a succession of black saucer-shaped layers, convex to the top and limited by cryptocrystalline calcite. Dolarenites contain quartz grains less than 5 mm in size and euhedral pyrite. They occur as beds up to 3 m thick that are interbedded in dolosiltites.
Lower Albanel Formation 2 (pPal(i)2): Dolorudite, Dolarenite, Dolosiltite, Dololutite
South of Poste Bay (sheet 32I04-200-0201), the Lower Albanel Formation includes a subunit consisting of dolorudite, dolarenite, dolosiltite and dololutite (pPal(i)2). This unit corresponds to Deland and Slater Units 3 and 4 (1967) as well as "sandy dolomite", "schistose dolomite" and "schistose mudrock" of Gros (1975). Morin (1999) adapts the unit description to the terminology of Folk (1962) used by Sigéom for carbonate rock nomenclature (Sharma et al., 1996). Dolorudite, dolarenite and dolosiltite have a very fine-grained black dolomitic cement. Quartz and calcite are the only mineral phases visible to the naked eye. These units are locally schistose and have bedding characterized by alternating dark dolomitic beds and light quartz-rich beds. Sedimentary structures such as cross-bedding, current wrinkles and desication cracks are well preserved. Dololutite is the graphitic mudrock with fine pyrite described by Gros (1975). It consists of five beds, ranging in thickness from 1 to 6 m, except for the upper bed, which can be as thick as 30 m (Morin, 1999).
Upper Albanel Formation (pPal(s)): Sandy Dolomite, Dolomitic Sandstone, Dolomite
According to Neilson (1966, pages 42-43): "Rocks of the Upper Albanel Formation outcrop abundantly around the northeast arm of Lake Albanel. They include rocks ranging from sandy dolomite to dolomitic sandstone and grey to dark grey crystalline dolomites in generally ascending order. The Upper and Lower Albanel formations may be unconformable, as it appears from a slight apparent divergence of directions and dips. Sandy dolomite is grey, grey or buff-coloured in altered surface and occurs in thick beds. It is composed of alternating layers of ordinary dolomite and dolomite characterized by disseminated quartz grains, and appears to be gradually changing to a massive dolomitic sandstone due to an increase in the number of quartz grains. Dolomitic sandstone ranges from grey to buff-coloured. Under the microscope, quartz grains are subrounded or rounded, ground and 0.1 to 1 mm in diameter. They make up 30% or more of the rock. Rounded carbonate balls with very small, angular quartz grain inclusions make up up 10% of the rock. There are also some rounded grains of recrystallized chert. Sandstone was probably deposited near the shore, as indicated by cross-bedding and the nature of the clastic material contained therein. It gradually moves to the overlying member of grey dolomite by rock type interstratification. Grey dolomite outcrops on the northeastern arm of Lake Albanel and north of the lake. It is grey, light grey in altered surface, crystalline and as massive beds; it contains light grey sandy interstratifications. (…) The member contains algae reef structures (…). Dark grey dolomite outcrops along the Témiscamie River. It is a dark grey, crystalline, bedded dolomite, that contains many thin sandy beds. It becomes light grey in altered surface. Outcrops near the portage between Lake Albanel and Témiscamie River are brecciated and sheared in places."
Thickness and Distribution
The total thickness of the Albanel Formation in the Poste Bay area ranges from 120 m to 170 m (Morin, 1999). However, in the northern part of Mistassini Lake, drillings allowed Lehmann (1974) to assess the thickness of the lower part of the Albanel Formation between 766.5 m and 934.3 m. The Albanel Formation extends NE-SW over a lenght of 160 km parallel with Mistassini Lake. The sedimentary basin is approximately 35 km wide along an NW-SE axis.
Dating
None.
Stratigraphic Relationship(s)
Rocks of the Mistassini Group, including the Témiscami iron formation with a minimum age of 1790 Ma (Fryer, 1972), overlie those of the Chibougamau Formation. However, the two units do not appear in direct contact. In the Mistassini Lake region, rocks of the Albanel Formation unconformably lie on the Neoarchean basement (i.e., dioritic to tonalitic gneiss of the Opatica subprovince). As cited on pages 5 and 6 of the report published by Gros (1975) on the geology of southern Poste Bay: "(…) there is a basal regolith that is more than 40 feet (12 m) thick locally. The matrix is a black, fine-grained slightly quartziferous dolomite. It is the same dolomite as the overlying beds. Fragments are made of granitic material identical to the underlying massif. They are angular and vary in diameter from 0.5 inches to 3 feet (1.3-91.4 cm). However, blocks 15 to 20 feet (4.6-6.1 m) in diameter were observed in the southwestern portion of the terrain. Several granite blocks were only broken apart by a series of subhorizontal fractures and spaces were filled with dolomite and beds of radial cryptocrystalline silica."
Paleontology
Does not apply.
References
Publications available through SIGÉOM Examine
DELAND, A. N., SATER, G. S., 1967. REGION DE DUQUET – MCOUAT, TERRITOIRE DE MISTASSINI ET COMTE DE ROBERVAL. MRN; RG 126, 44 pages, 1 plan.
FARIBAULT, E. R., GWILLIM, J. C., BARLOW, A. E., 1912. RAPPORT SUR LA GEOLOGIE ET LES RESSOURCES MINIERES DE LA REGION DE CHIBOUGAMAU. MRN; AP 1912-01, 366 pages, 2 plans.
GROS, J. J., 1975. PARTIE SUD DE LA BAIE DU POSTE, CANTONS D'O'SULLIVAN ET DE GAUVIN. MRN; RP 610, 38 pages, 1 plan.
GUILLOUX, L., 1969. S.E. DU CANTON D'O'SULLIVAN, TERRITOIRE DE MISTASSINI – RAPPORT GEOLOGIQUE. MRN; DP 166, 49 pages, 1 plan.
LEHMANN, E. K., JINDRICH, V., 1974. REPORT ON EXPLORATION FOR STRATABOUND COPPER-ZINC-LEAD DEPOSITS IN THE LAKE MISTASSINI AREA. S D B J, GENERAL CRUDE OIL CO, rapport statutaire soumis au gouvernement du Québec; GM 34029, 53 pages, 74 plans.
MORIN, R., 1999. GEOLOGIE DE LA REGION DU LAC DES CANOTS (32I04). MRN; RG 99-01, 35 pages, 4 plans.
MOYER, P. T., 1960. RAPPORT PRELIMINAIRE SUR LA REGION DE GUYON, TERRITOIRE DE MISTASSINI. MRN; RP 427, 12 pages, 1 plan.
NEILSON, J. M., 1966. REGION DE LA RIVIERE TAKWA, TERRITOIRE DE MISTASSINI. MRN; RG 124, 72 pages, 1 plan.
SHARMA, K. N. M., 1996. LEGENDE GENERALE DE LA CARTE GEOLOGIQUE (EDITION REVUE ET AUGMENTEE). MRN; MB 96-28, 94 pages.
WAHL, W. G., 1953. REGION DE LA RIVIERE TEMISCAMIE, TERRITOIRE DE MISTASSINI. MRN; RG 054, 46 pages, 1 plan.
Other publications
FOLK, R.L. 1975. Petrology of sedimentary rocks. Hemphill's, Austin, Texas, 182 pages. www.library.utexas.edu/geo/folkready/entirefolkpdf.pdf
FRYER, B.J. 1972. Age Determinations in the Circum-Ungava Geosyncline and the Evolution of Precambrian Banded Iron-Formations. Canadian Journal of Earth Sciences; volume 9, pages 652-663. https://doi.org/10.1139/e72-055
MIROTA, M.D. 1989. Geochemistry of Aphebian carbonates: Albanel Formations, North Central Quebec. University of Ottawa; M.Sc. thesis, 324 pages. http://dx.doi.org/10.20381/ruor-10830
NEILSON, J.M. 1950. Geology of the Lake Mistassini Region, Northern Quebec. University of Minnesota; Ph.D. thesis, 163 pages.
NORMAN, G.W.R. 1940. Thrust faulting of Grenville gneisses northwestward against the Mistassini Series of Mistassini Lake. Quebec Journal of Geology; volume 48, pages 512-525. https://doi.org/10.1086/624906
Suggested citation
Contributors
First publication

François Leclerc, P. Geo., Ph. D. françois.leclerc@mern.gouv.qc.ca (redaction)

Mehdi A. Guemache, P. Geo., Ph. D. (coordination); anonymous (critical review); Simon Auclair, P. Geo., M. Sc. (editing); Céline Dupuis, P. Geo., Ph. D. (English version); Nathalie Bouchard (HTML editing).
9 mai 2019
19 octobre 2022