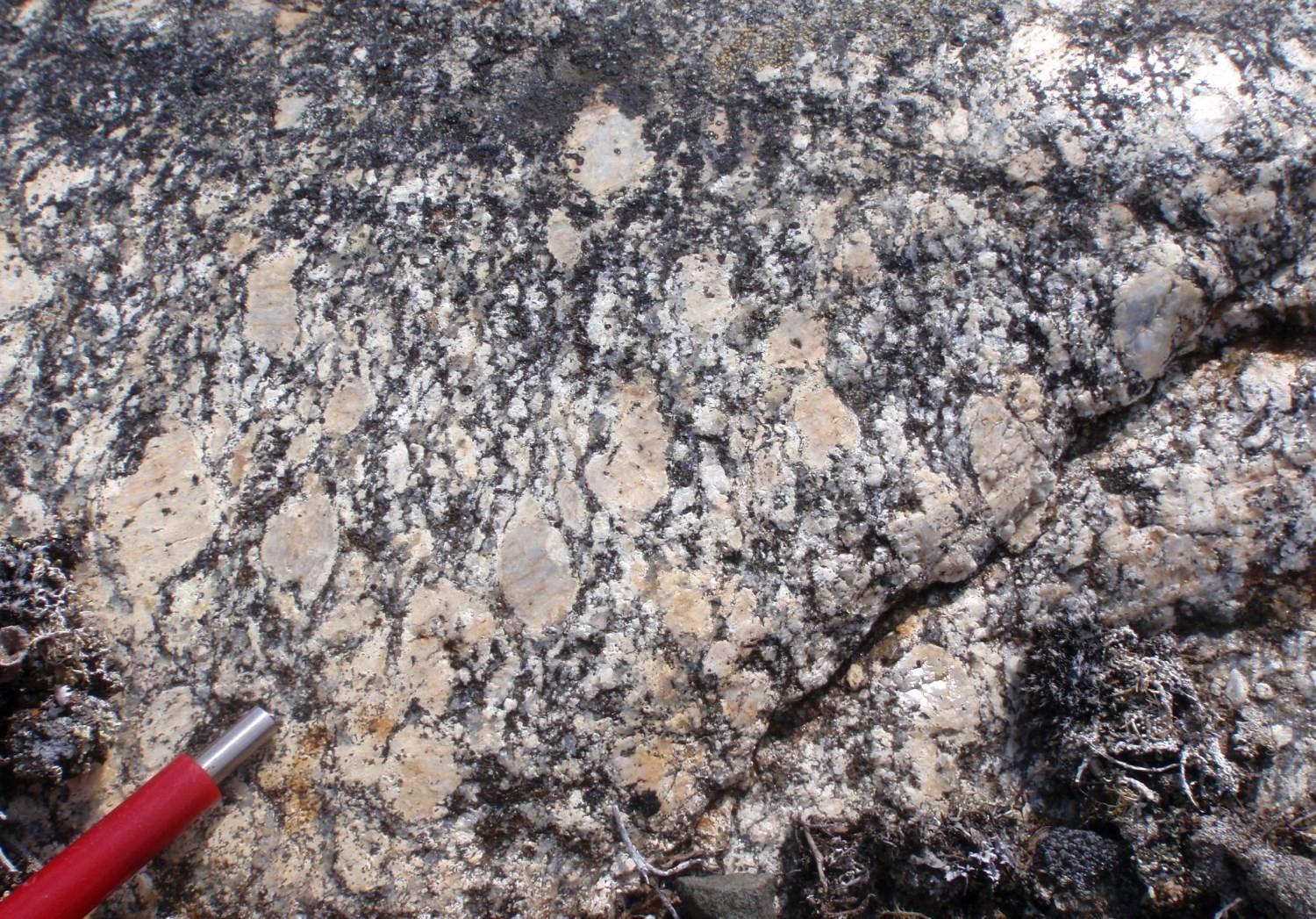 DISCLAIMER: This English version is translated from the original French. In case of any discrepancy, the French version shall prevail.
Informal subdivision(s)
Numbering does not necessarily reflect the stratigraphic position.
None
| | |
| --- | --- |
| Author: | Simard et al., 2013 |
| Age: | Paleoproterozoic |
| Stratotype: | None |
| Type area: | Kuujjuaq area (NTS sheet 24J) |
| Geological province: | Churchill Province |
| Geological subdivision: | Baleine Lithotectonic Domain |
| Lithology: | Felsic intrusive rocks |
| Category: | Lithodemic |
| Rank: | Suite |
| Status: | Formal |
| Use: | Active |
Background
The Tasialuk Suite was introduced by Simard et al. (2013) in the Kuujjuaq area (sheet 24J) to describe porphyraceous felsic intrusions located along the Gabriel Fault.
Description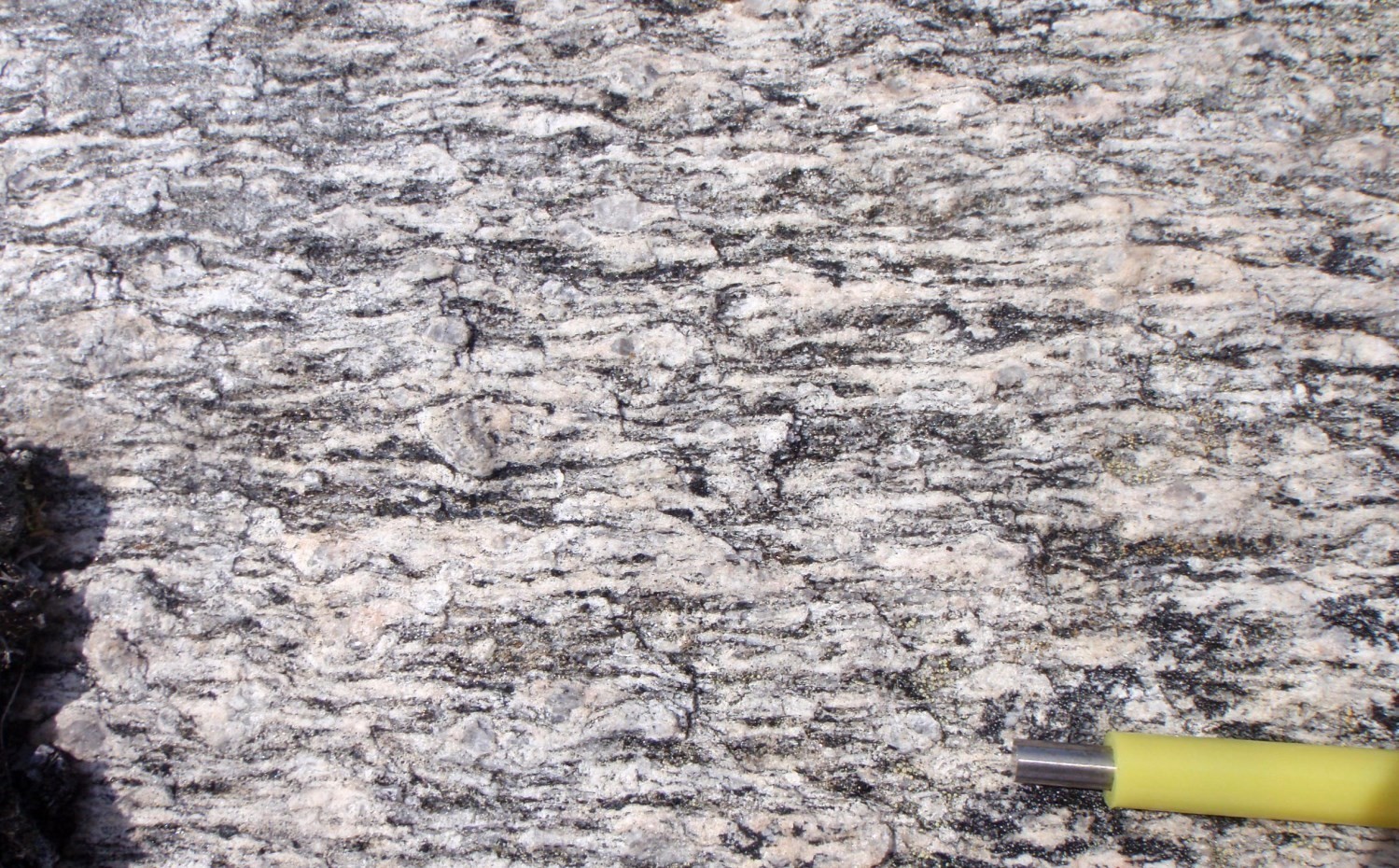 The composition of Tasialuk Suite rocks varies from tonalitic to granodioritic depending on the amount of centimetric K-feldspar phenocrystals (5-25%) that define the porphyraceous texture. The rock is generally homogeneous, medium grained and grey to pinkish grey. It contains 10-25% ferromagnesian minerals (biotite and, in lesser amount, hornblende) that form clusters with epidote, sphene and magnetite. Rocks are affected by strong to mylonitic foliation probably associated with deformation of the Gabriel Fault.
Thickness and distribution
The Tasialuk Suite consists of three intrusions located in the NW portion of the Baleine Lithotectonic Domain (Lafrance et al., in preparation). These intrusions, which cover a total area of ~38 km2, are 5-20 km long by 0.5-2.5 km wide.
Dating
No dating exists, but crosscutting relationships indicate an age younger than 1835 Ma (Kaslac Complex).
Stratigraphic Relationship(s)
Intrusions of the Tasialuk Suite cut Kaslac Complex units and contain enclaves of its various lithologies, as well as paragneiss of the False Suite.
Paleontology
Does not apply.
References
| Author(s) | Title | Year of Publication | Hyperlink (EXAMINE or Other) |
| --- | --- | --- | --- |
| LAFRANCE, I. – VANIER, M.-A. – CHARETTE, B. | Domaine lithotectonique de Baleine, sud-est de la Province de Churchill, Nunavik, Québec, Canada : synthèse de la géologie. Ministère de l'Énergie et des Ressources naturelles, Québec. | In preparation | Bulletin géologiQUE |
| SIMARD, M. – LAFRANCE, I. – HAMMOUCHE, H. – LEGOUIX, C. | Géologie de la région de Kuujjuaq et de la Baie d'Ungava (SNRC 24J et 24K). Ministère des Ressources naturelles, Québec; RG 2013-04, 60 pages. | 2013 | RG 2013-04 |
10 février 2020
16 septembre 2020