Background
The term Baudan Complex was first used by Verpaelst et al. (2000) to define a unit of granitic gneiss and granitic intrusions. This unit name was not subsequently used by Simard et al. (2013), Lafrance et al. (2014, 2015, 2016) and Charette et al. (2016), who preferred to distinguish regional gneiss zones from late intrusions. The grey gneiss of tonalitic to granitic composition were then assigned to the Ungava Complex. However, in the synthesis of the southeastern Churchill Subprovince (SECP), different lithotectonic blocks were identified and it appears that the gneiss observed east of the Moonbase Shear Zone (MSZ) are distinct from those identified in the Kuujjuaq and Ungava Bay area west of the Rivière George Shear Zone (RGSZ). The Kangiqsualujjuaq Complex has been redefined to consolidate all of the grey, tonalitic to granitic gneiss located between the MSZ in the west and the Blumath Deformation Corridor (BDC) in the east. The Kangiqsualujjuaq Complex thus includes some of the outcrops previously assigned to the Baudan Complex, those of grey granitic gneiss, but excludes the later intrusive rocks, which were assigned to the Qarliik Suite (Mathieu et al., 2018) and the porphyroclastic monzogranite outcrops, which now represent the Baudan Suite as defined by Mathieu et al. (2018).
Description
The Baudan Suite comprises only one unit of porphyroclastic monzogranite (nAban1) associated with positive aeromagnetic anomalies.
Baudan Suite 1 (nAban1): Porphyroclastic Monzogranite
Unit nAban1 is predominantly composed of monzogranite but also has a small proportion of quartz monzonite and syenogranite. Monzogranite is strongly foliated (and/or lineated) and locally takes on the appearance of an augen gneiss. The rock is coarse grained, medium pink, black and white speckled, but the minerals form fine-grained recrystallized monomineralic clusters, particularly on the grain edges. It is magnetic and characterized by the presence of 25 to 55% pink microcline porphyroclasts 0.5 to 3 cm long, most often recrystallized and lenticular in shape. Quartz tends to align in thin discontinuous bands or lenses. It shows a strong undulatory extinction and its edges are commonly indented. Mafic minerals (15%) form lenticular clusters and laminaes that mould felsic mineral clusters. Hornblende and biotite occur in similar proportions. Microcline is often perthitic and rimmed with myrmekites. Accessory minerals are numerous and commonly coarse grained. The main ones are allanite, epidote, magnetite, sphene, apatite, muscovite, zircon and chlorite.
Baudan Suite 1a (nAban1a): Porphyroclastic Farsundite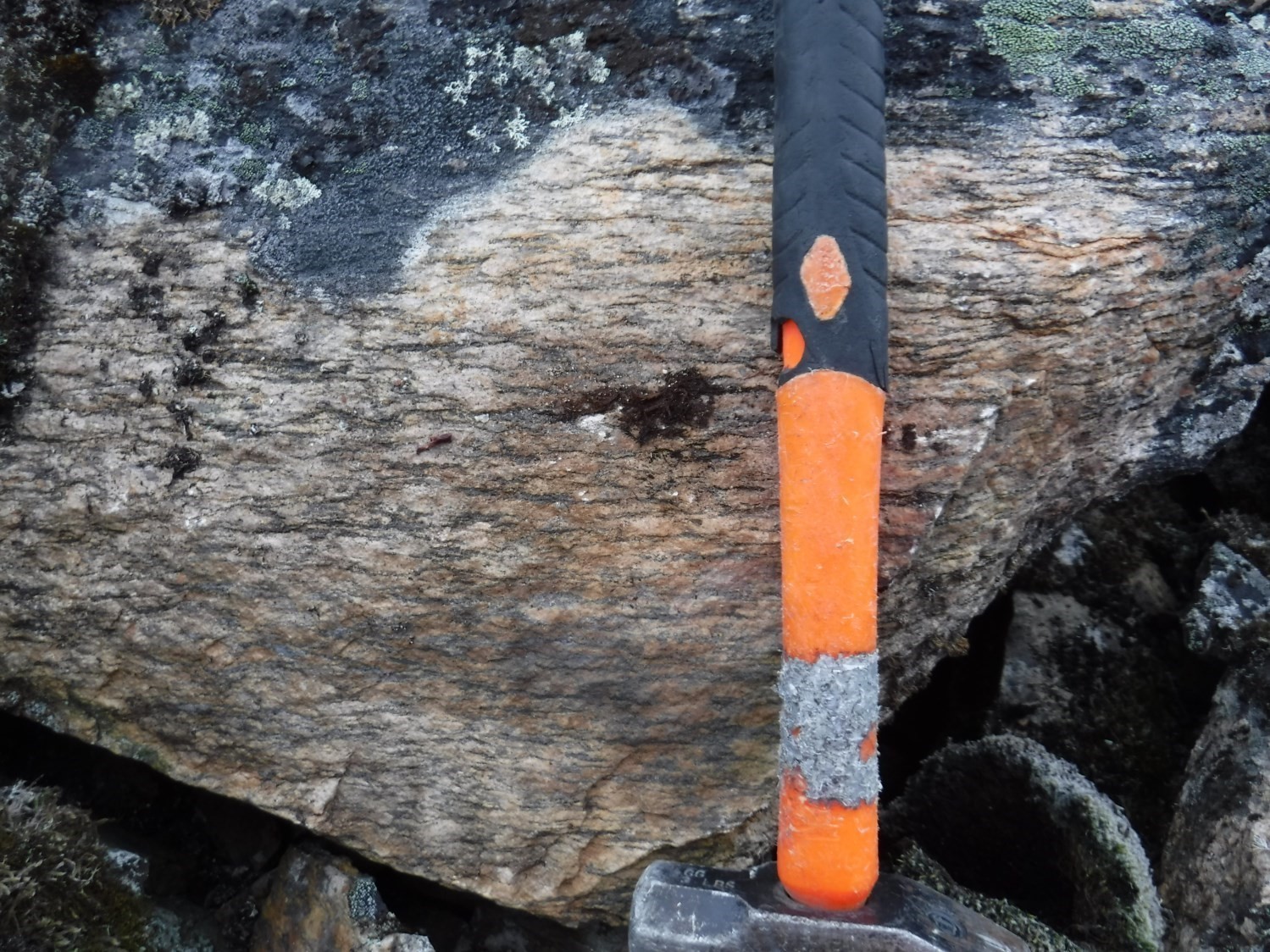 Locally, porphyroclastic monzogranite contains orthopyroxene and has been assigned to subunit nAban1a. The structural and mineralogical characteristics are similar to those of unit nAban1 with the exception of the presence of hypersthene and lower proportions of biotite. Hypersthene is variable uralitized (hornblende rim) and serpentinized. The rock also takes on a green or brown sugar colour characteristic of orthopyroxene rocks.
Thickness and Distribution
The Baudan Suite covers an area of approximately 500 km2 in the Koroc River area. It forms intrusions that are several kilometres wide, followed over several kilometres and oriented along a general NW-SE axis.
Dating
An Archean age of approximately 2623 Ma was obtained from a sample described as a gneissic porphyritic monzogranite in the Koroc River area (Verpaelst et al., 2000).
| | | | | | |
| --- | --- | --- | --- | --- | --- |
| Isotopic System | Mineral | Crystallization Age (Ma) | (+) | (-) | Reference(s) |
| U-Pb | Zircon | 2622.5 | 8.2 | 8.2 | David et al., 2009 |
Stratigraphic Relationship(s)
The Baudan Suite is part of the ancient rocks of the Core Zone. Relationships with other Archean rocks were not observed in the field. It is cut by granitic intrusions of the Qarliik Suite (pPqik).
Paleontology
Does not apply.
References
| Author(s) | Title | Year of Publication | Hyperlink (EXAMINE or Other) |
| --- | --- | --- | --- |
| CHARETTE, B. – LAFRANCE, I. – MATHIEU, G. | Géologie de la région du lac Jeannin (SNRC 24B). Ministère de l'Énergie et des Ressources naturelles, Québec. | 2016 | Rapport géologique électronique |
| DAVID, J. – MAURICE, C. – SIMARD, M. | Datations isotopiques effectuées dans le nord-est de la Province du Supérieur – Travaux de 1998, 1999 et 2000. Ministère des Ressources naturelles et de la Faune, Québec; DV 2008-05. | 2009 | DV 2008-05 |
| LAFRANCE, I. – BANDYAYERA, D. – BILODEAU, C. | Géologie de la région du lac Henrietta (SNRC 24H). Ministère des Ressources naturelles, Québec; RG 2015-01, 62 pages. | 2015 | RG 2015-01 |
| LAFRANCE, I. – BANDYAYERA, D. – CHARETTE, B. – BILODEAU, C. – DAVID. J. | Géologie de la région du lac Brisson (SNRC 24A). Ministère de l'Énergie et des Ressources naturelles, Québec; RG 2015-05, 61 pages. | 2016 | RG 2015-05 |
| LAFRANCE, I. – SIMARD, M. – BANDYAYERA, D. | Géologie de la région du lac Saffray (SNRC 24G-24F). Ministère des Ressources naturelles, Québec; RG 2014-02, 49 pages. | 2014 | RG 2014-02 |
| MATHIEU, G. – LAFRANCE, I. – VANIER, M.-A. | Géologie de la région de Pointe le Droit, sud-est de la Province de Churchill, Nunavik, Québec, Canada. Ministère de l'Énergie et des Ressources naturelles, Québec. | 2018 | Bulletin géologiQUE |
| SIMARD, M. – LAFRANCE, I. – HAMMOUCHE, H. – LEGOUIX, C. | Géologie de la région de Kuujjuaq et de la baie d'Ungava (SNRC 24J et 24K). Ministère des Ressources naturelles, Québec; RG 2013-04, 60 pages. | 2013 | RG 2013-04 |
| VERPAELST, P. – BRISEBOIS, D. – PERREAULT, S. – SHARMA, K.N.M. – DAVID, J. | Géologie de la région de la rivière Koroc et d'une partie de la région de Hébron (24I et 14L). Ministère des Ressources naturelles, Québec; RG 99-08, 62 pages, 10 plans. | 2000 | RG 99-08 |