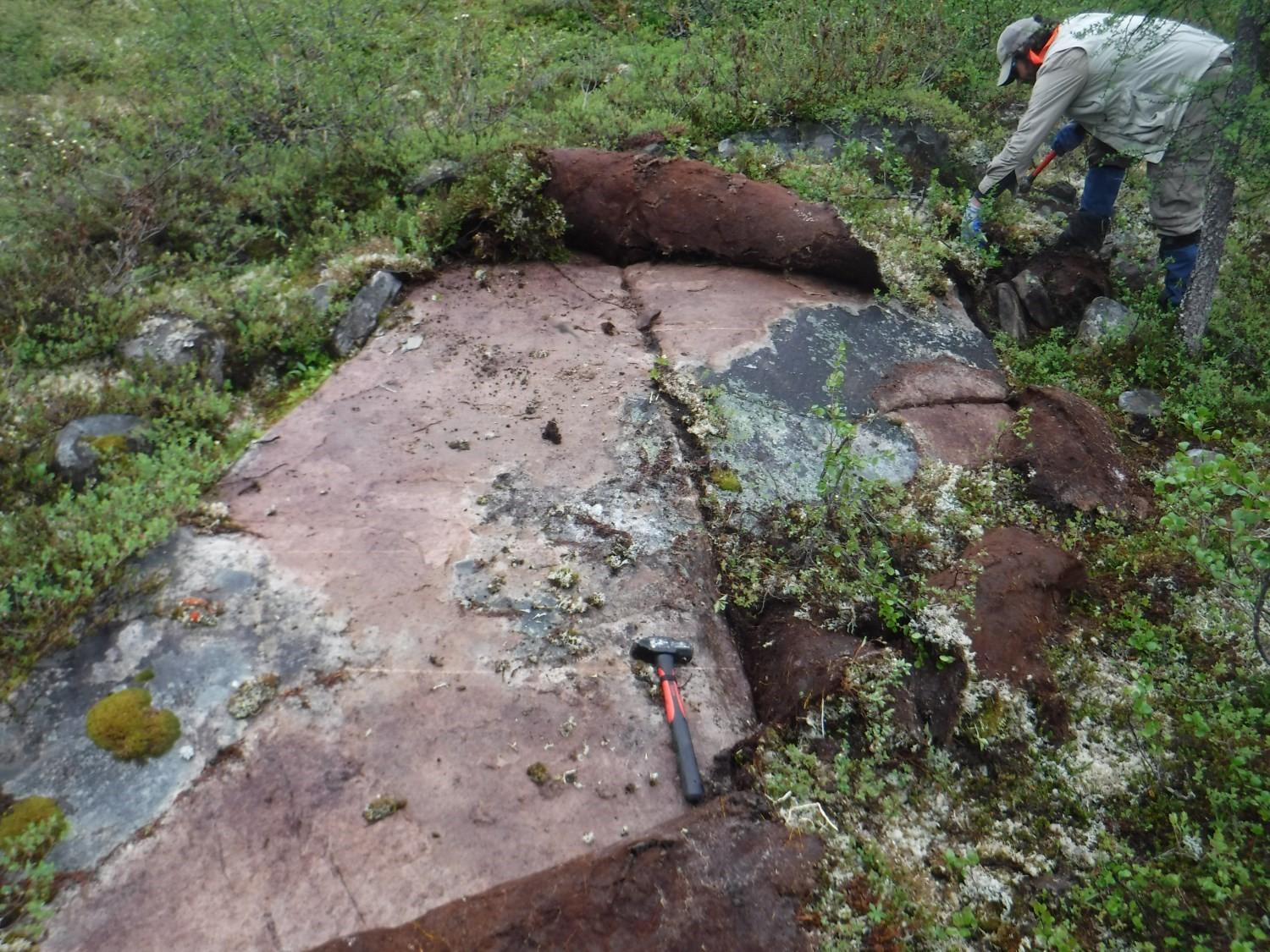 DISCLAIMER: This English version is translated from the original French. In case of any discrepancy, the French version shall prevail.
Informal subdivision(s)
Numbering does not necessarily reflect the stratigraphic position.
| | |
| --- | --- |
| Author(s): | Girard, 1995 |
| Age: | Paleoproterozoic |
| Stratotype: | None |
| Type area: | Déborah Lake area (NTS sheet 23P05) |
| Geological province: | Churchill Province |
| Geological subdivision: | Rachel-Laporte Lithotectonic Domain |
| Lithology: | Felsic intrusions |
| Category: | Lithodemic |
| Rank: | Lithodeme |
| Status: | Formal |
| Use: | Active |
Background
The Hibou Stock was introduced by Girard (1995) in the Déborah Lake area to group a series of quartz monzodiorite intrusions. As a result of fieldwork in the summer of 2017, conducted as part of the Southeastern Churchill Province regional synthesis (Lafrance et al., 2018), the former La Fouille Stock and the tonalite lithological unit (I1D) defined by Girard (1995) were included in the Hibou Stock, given their spatial grouping and small size.
Description
The Hibou Stock includes intrusions with distinct petrographic and geochemical characteristics. On the other hand, intrusions all consist of small intrusions that cut metasedimentary rocks of the Freneuse Suite. The Hibou Stock consists of three units: 1) augen quartz monzodiorite; 2) porphyritic tonalite; and 3) fine-grained grey granite.
Hibou Stock 1 (pPhib1): Augen Quartz Monzodiorite
Unit pPhib1 consists of medium to coarse-grained bluish grey quartz monzodiorite having a plagioclase augen texture (2-5 mm). It is well foliated, locally mylonitic. The composition appears to be homogeneous for all intrusions except for sparse fine-grained dioritic enclaves. Plagioclase is subhedral, zoned and clearly dominant with respect to microcline (the latter occurs as very fine interstitial grains). Quartz (<20%) is granular or stretched in bands and displays undulatory extinction. Ferromagnesian minerals consist of light brown biotite (20%) and actinolite (5%). The particular mineralogical feature of this unit is the presence of 10-15% epidote as euhedral crystals (0.1-1 mm) or at the interface between other minerals. Epidote consists of prismatic clinozoisite, concentrically zoned and exhibiting polysynthetic crystallization twins. Sphene, zircon, apatite, allanite, carbonate and pyrite are interstitial accessory phases.
Hibou Stock 2 (pPhib2): Porphyritic tonalite
Unit pPhib2 is described as a porphyritic tonalite by Girard (1995). The rock is fine grained and light grey to pinkish. It contains 5-30% rounded to angular, rarely euhedral, plagioclase phenocrystals (2-5 mm). Tonalite is foliated, locally augen, mylonitic or ultramylonitic. Plagioclase phenocrystals exhibit complex recrystallization and deformation twins, as well as K-feldspar and quartz exsolution textures. These contain local sphene and hornblende inclusions. K-feldspar was observed in small amounts, either as free crystals or myrmekite. Tonalite contains 10-20% brown, locally skeletal biotite, and muscovite (0-10%). Sphene, hornblende, zoisite, allanite, opaque minerals, apatite and zircon are accessory minerals dispersed in the quartzofeldspathic matrix or forming polymineralic aggregates. Locally, carbonate infiltrates matrix grain edges.
Hibou Stock 3 (pPhib3): Fine-Grained Grey Granite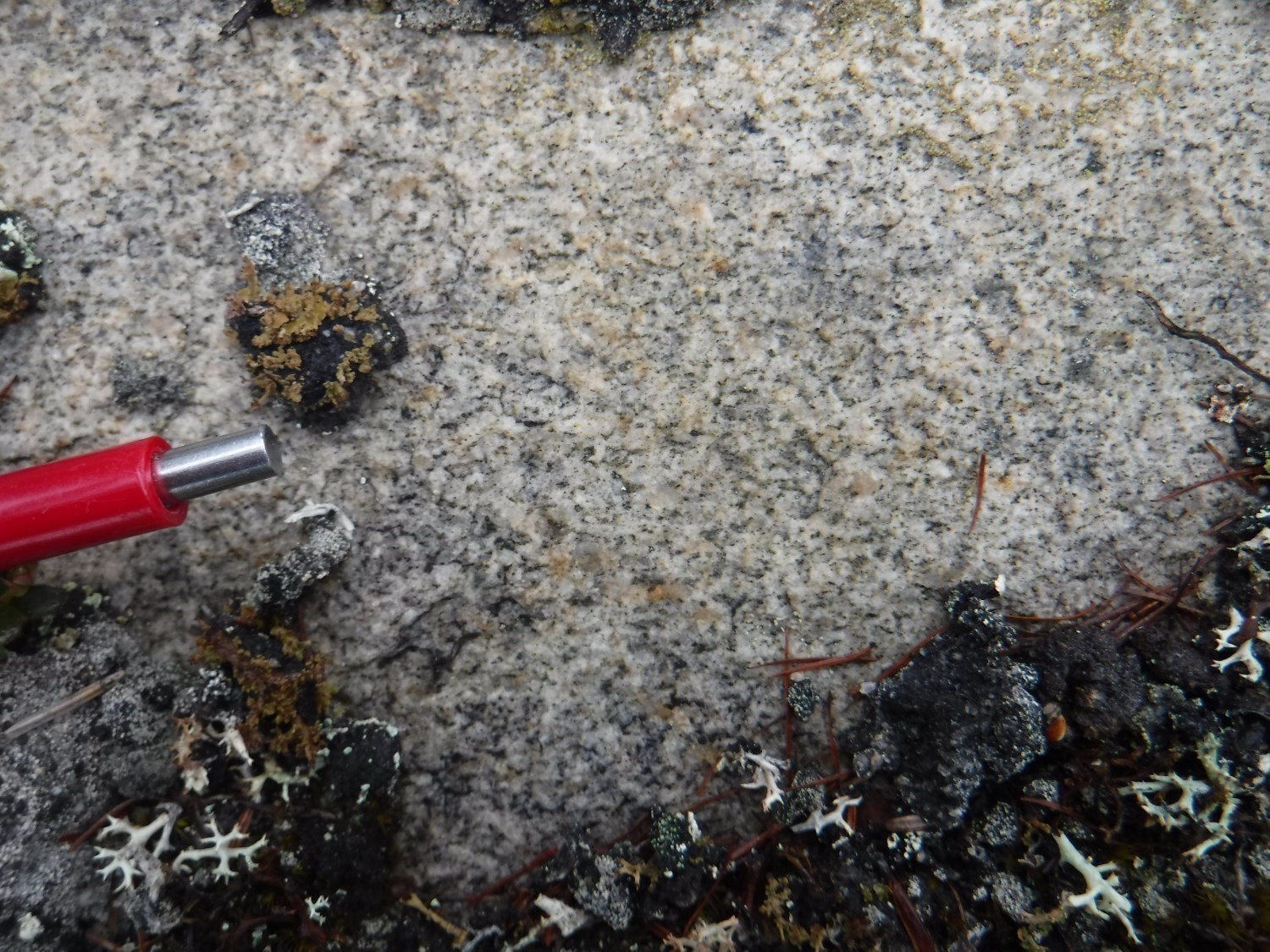 Unit pPhib3 corresponds to the former La Fouille Stock of Girard (1995). Granite is grey and has a pinkish alteration patina. The rock is fine grained and even grained with sparse feldspar porphyroclasts. Microcline and plagioclase contents are the same, whereas quartz is less abundant (20-25%). Plagioclase is subhedral, slightly damouritized and locally as droplets in microcline. Light brown biotite (locally chloritized) and muscovite account for ~10% of this granite. Epidote (<3%), opaque minerals, apatite, allanite and zircon are the main accessory minerals. Twisted twins and undulatory extinctions attest to the deformation that affected these rocks.
Thickness and distribution
The Hibou Stock includes small (metric) intrusions described only in the Déborah Lake area (Girard, 1995). Unit pPhib1 is the most common granitoid on outcrops, consisting of a series of seams 1-20 m wide, located 2 km east of Hibou Lake. Seams of unit pPhib2 are located at the north end of Déborah Lake, while unit pPhib3 is a small massif located ~3 km north of La Fouille Lake.
Dating
None.
Stratigraphic Relationship(s)
Hibou Stock intrusions cut metasedimentary rocks of the Freneuse Suite. Hibou Stock rocks are variably foliated and considered synchronous to shearing deformation by Girard (1995). Unit pPhib1 intrusions are spatially associated with small masses of amphibolized gabbro (possibly of the Klein Suite), as well as with cherty beds (possibly of the Freneuse Suite). Metric intrusions of units pPhib1 and pPhib2 were observed subconcordantly cutting mylonites from a shear zone in the Lake Deborah region, while they themselves display intense foliation in these areas.
Paleontology
Does not apply.
References
Publications available through SIGÉOM Examine
GIRARD, R., 1995. GEOLOGIE DE LA REGION DU LAC DEBORAH, TERRITOIRE-DU-NOUVEAU-QUEBEC. MRN; MB 95-20MB 95-20, 186 pages, 3 plans.
LAFRANCE, I., CHARETTE, B., VANIER, M-A., 2018. Sud-est de la Province de Churchill, Nunavik, Québec, Canada: synthèse de la géologie. MERN; BG 2018-12BG 2018-12 Disponible à https://gq.mines.gouv.qc.ca/bulletins-geologiques/churchill/.
Suggested Citation
Contributors
First publication

Isabelle Lafrance, P. Geo., M.Sc. isabelle.lafrance@mern.gouv.qc.ca (redaction)

Mehdi A. Guemache, P. Geo., Ph.D. (coordination); Pierre Lacoste, P. Geo., M.Sc. (critical review); Simon Auclair, P. Geo., M.Sc. (editing); Céline Dupuis, P. Geo., Ph.D. (English version); Nathalie Bouchard (HTML editing).
10 février 2020
1 juin 2021