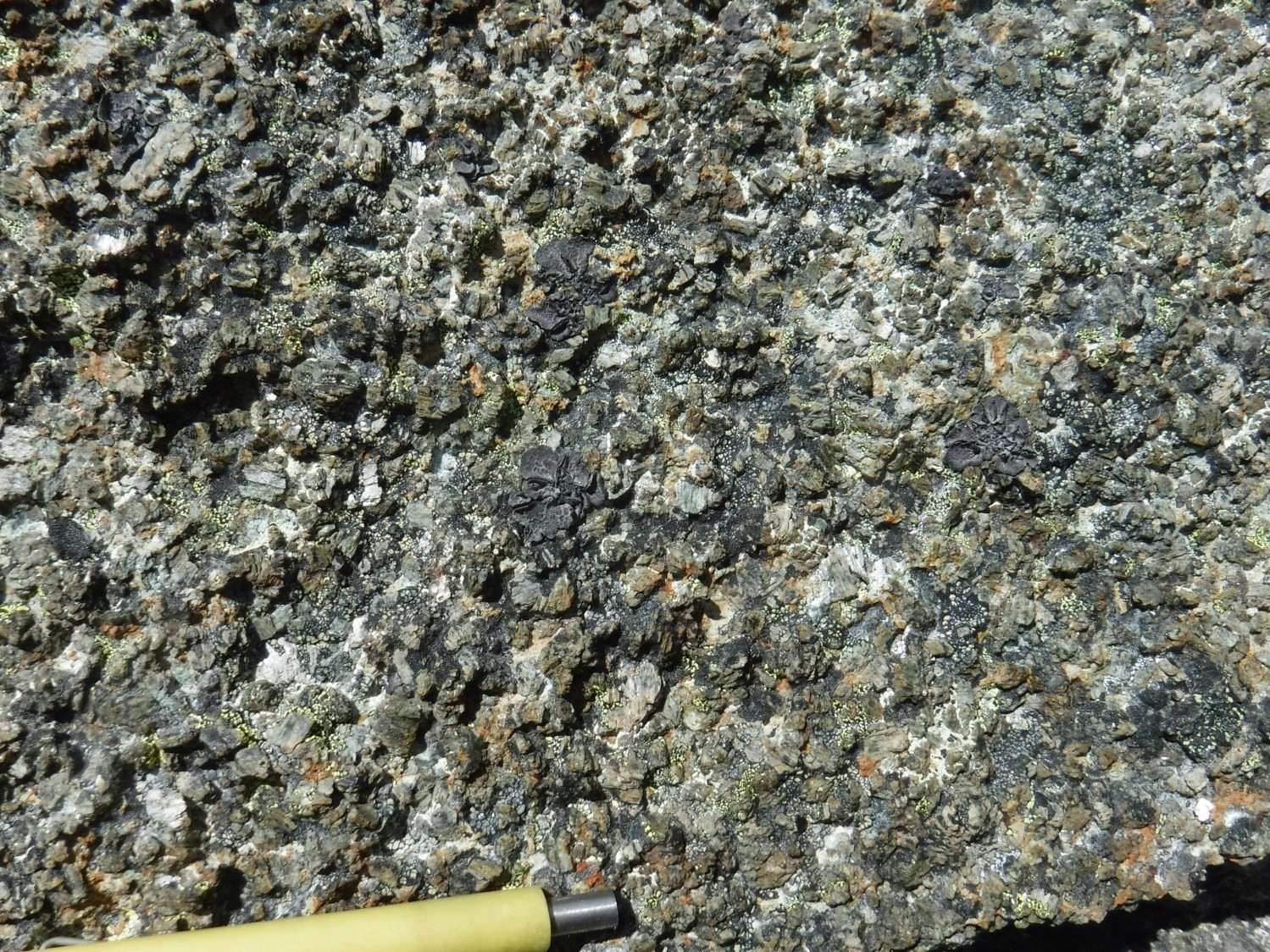 Illuinaqtuut Pluton
Stratigraphic label: [ppro]iqt
Map symbol: pPiqt

First published: 14 June 2019
Last modified:
Translation of original French
Informal subdivision(s)
Numbering does not necessarily reflect the stratigraphic position.
| | |
| --- | --- |
| Author: | Mathieu and Beaudette, 2019 |
| Age: | Paleoproterozoic |
| Reference section: | None |
| Type area: | West of Watts Lake (NTS sheet 35G16) |
| Geological province: | Churchill Province |
| Geological subdivision: | Ungava Orogen / Ungava Trough / Northern Domain |
| Lithology: | Ultramafic intrusion |
| Type: | Lithodemic |
| Rank: | Lithodeme |
| Status: | Formal |
| Use: | Active |
Background
The Illuinaqtuut Pluton was introduced by Mathieu and Beaudette (2019) to name an ultramafic intrusion dominated by a kilometre-sized homogeneous grey pyroxenite, previously assigned to the Watts Group by St-Onge and Lucas (1989). The post-cinematic character of the pluton was considered by Mathieu and Beaudette (2019) to include the latter into the Cape Smith Suite, which was introduced by Taylor (1982) to describe a late intrusion. Subsequent authors (Lamothe, 2007) used the suite to group a series of late intrusions of various natures (granitic to peridotitic) that outcrop at the scale of the Ungava Orogen, mostly in the Northern Domain. In addition, Watts Group ultramafic intrusions mapped in the study area are all deformed, unlike the Illuinaqtuut Pluton.
Description
The Illuinaqtuut Pluton is an ultramafic-dominant intrusion whose main facies is a massive and homogeneous grey pyroxenite (unit pPiqt1). It also includes lherzolite-type peridotite (unit pPiqt3), as well as a differentiated facies consisting of very coarse-grained to pegmatitic gabbro (unit pPiqt2). Unlike units in which it is hosted, the pluton is not deformed. It is also associated with a strong positive magnetic anomaly.
Illuinaqtuut Pluton 1 (pPiqt1): Massive and Homogeneous Grey Pyroxenite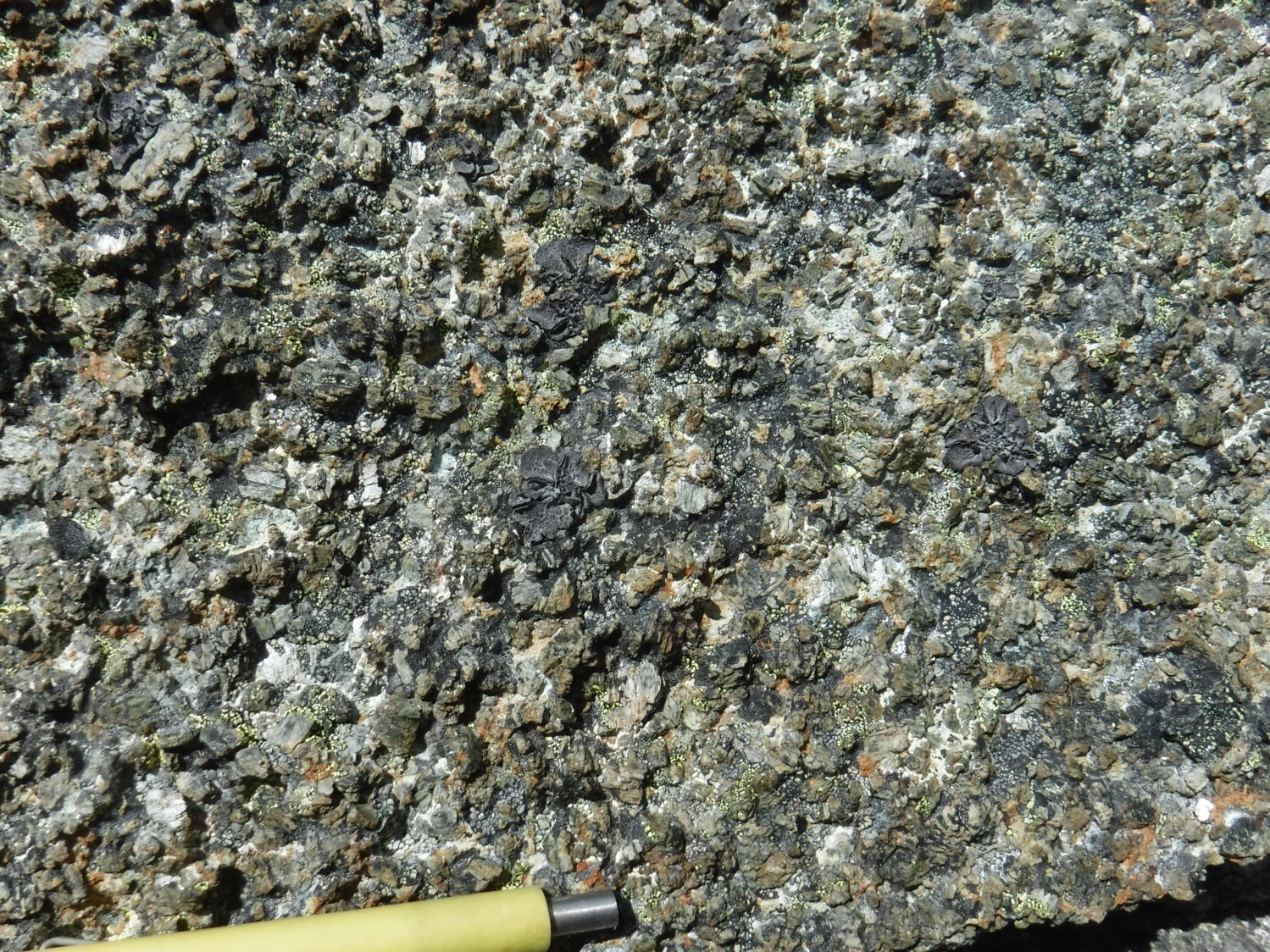 Unit pPiqt1 is the main facies of the intrusion. It consists of a very homogeneous and massive pyroxenite, displaying medium to coarse pyroxene joint crystals. The alteration patina is dark grey and the fresh surface is medium to dark grey. Very locally, pyroxenes are no longer joint. This unit is characterized by high magnetic susceptibility. St-Onge and Lucas (1992) described this unit as follows: "Pyroxenites are massive and composed chiefly of primary and coarse pyroxenes. Hornblende is observed in smaller lithological bodies. Based on crosscutting relationships, it appears that pyroxenites are intrusive within layered gabbro units located on the edges." Local dunite dykes are reported (Mathieu and Beaudette, 2019).
Illuinaqtuut Pluton 1a (pPiqt1a): Altered Pyroxenite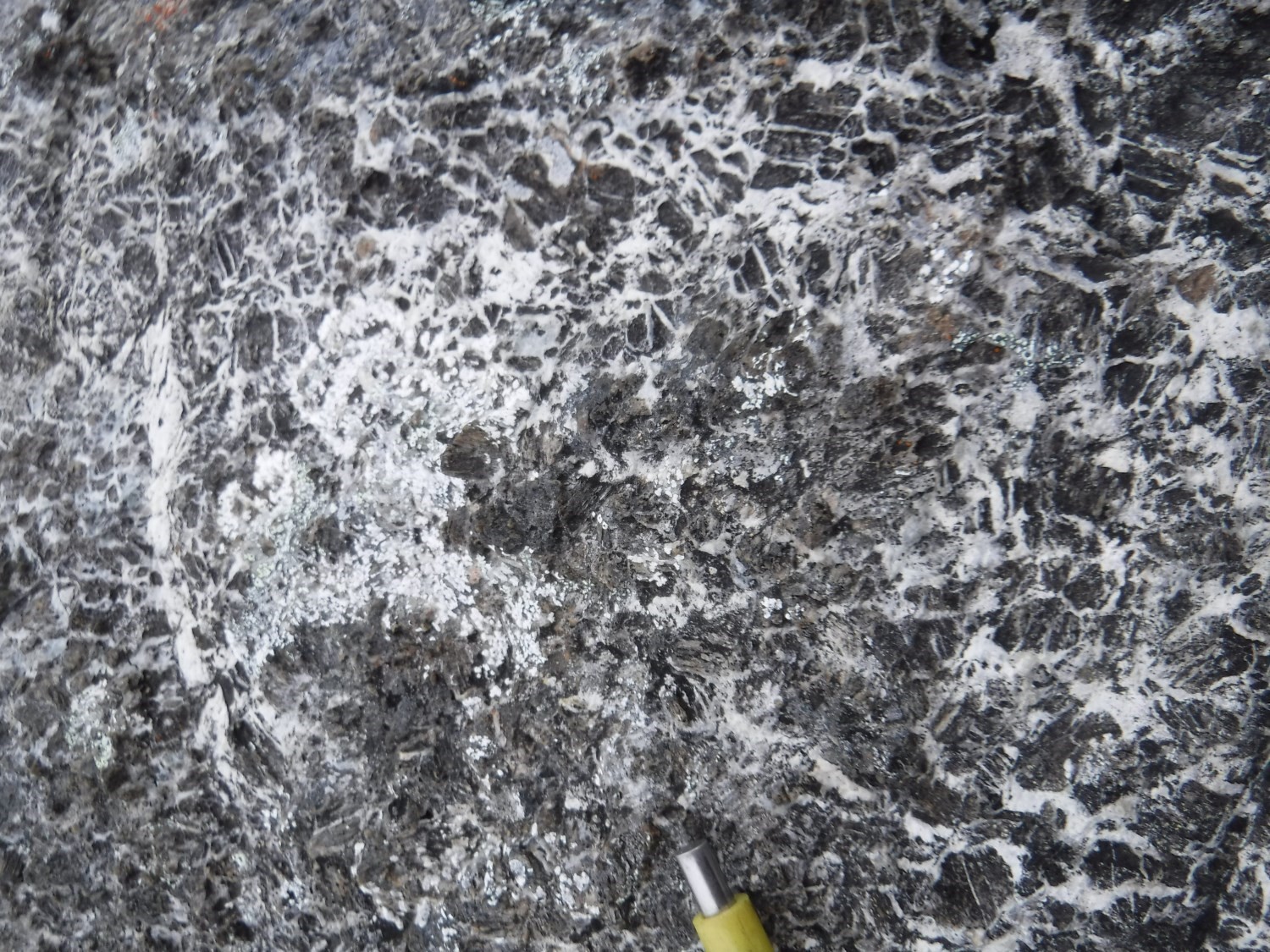 This minor subdivision outcrops in the western portion and eastern extension of the pluton. In the west, it consists of altered pyroxenite with a very friable brownish patina. In the east, pyroxenes sit in a talc-carbonate matrix.
Illuinaqtuut Pluton 2 (pPiqt2): Very Coarse-Grained to Pegmatitic Gabbro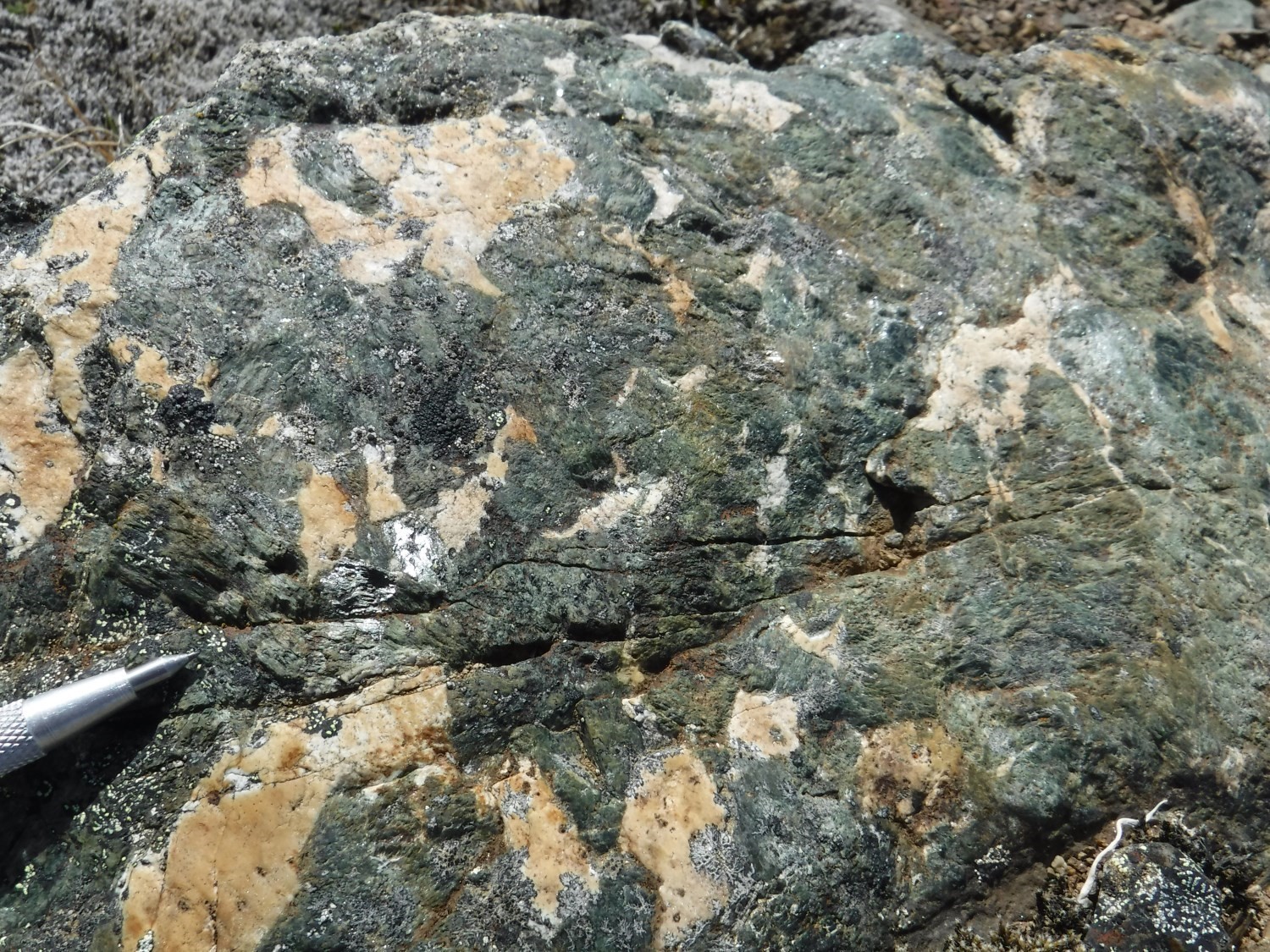 This unit outcrops on the southern and northeastern edges of the pluton. It consists of heterogranular (coarse-grained to pegmatitic) and massive mesogabbro. The alteration patina is white and green. Clinopyroxenes are poikilitic and include quartz and magnetite grains.
Illuinaqtuut Pluton 3 (pPiqt3): Massive Peridotite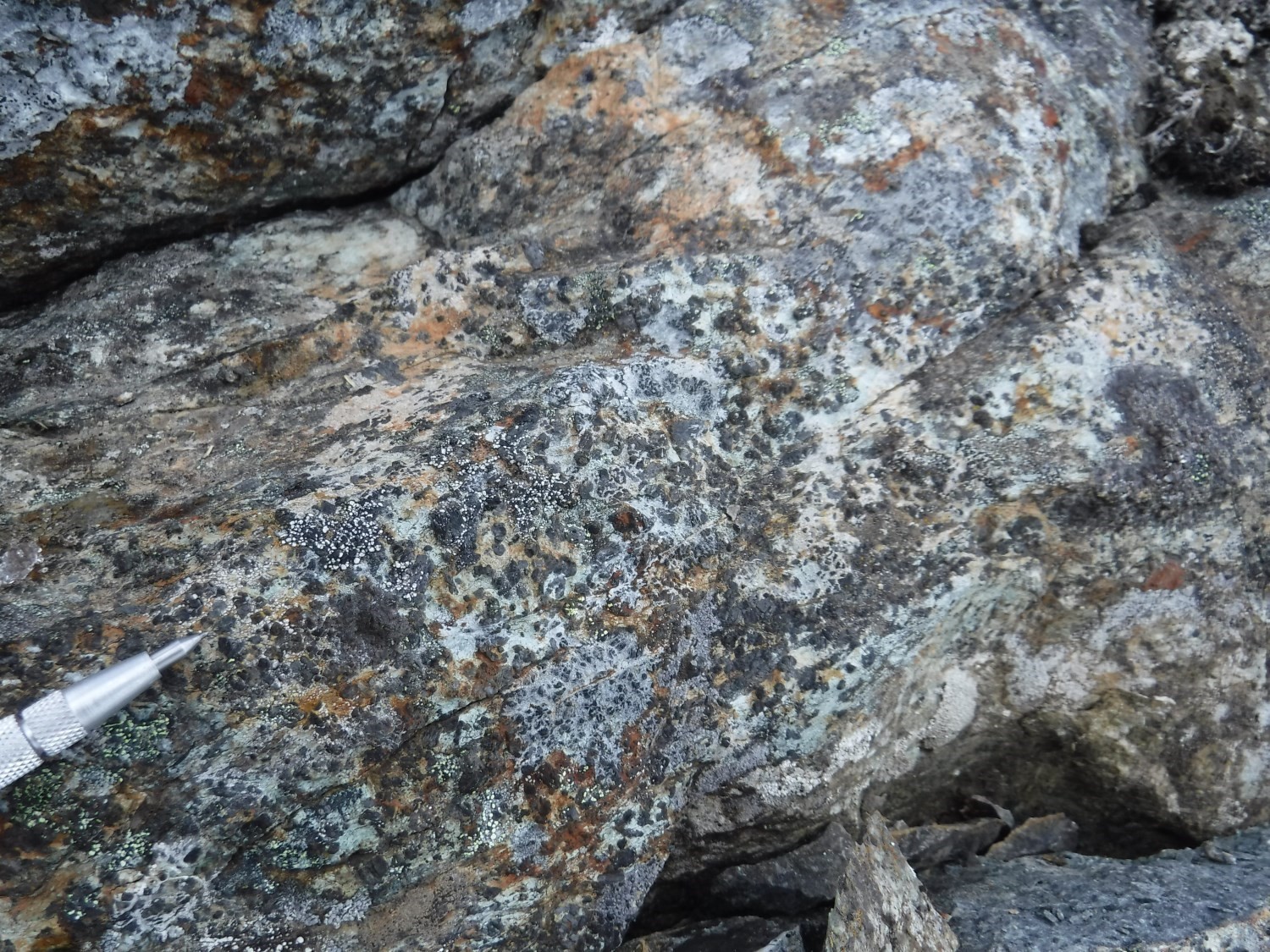 Peridotite features a brownish-grey patina and a very dark grey fresh surface. Like pyroxenite, it is characterized by a high magnetic susceptibility. It is a minor facies outcropping on the northern edge of the intrusion.
Thickness and Distribution
The Illuinaqtuut Pluton outcrops west of Watts Lake at the western limit of sheet 36G16. Its large hook-shaped mass extends over 15 km long and 600 m to 5 km wide. The pluton is easily recognized on aeromagnetic maps by its very high magnetic susceptibility, compared to gabbro and basalt of the host Watts Group (interactive map). More specifically, the pluton has high susceptibility ridges, irregular and elongated in shape, usually subparallel to contact with surrounding units. It is also roughly defined by an area of low thorium and potassium contents on radiometric surveys (interactive map).
Dating
The Illuinaqtuut Pluton was not dated, but several intrusions of the Cape Smith Suite gave ages ranging from 1898 +12/-9 Ma to 1836 ±3 Ma (Parrish, 1989; Machado et al., 1993).
Stratigraphic Relationship(s)
The Illuinaqtuut Pluton is intrusive into Watts Group gabbro. On outcrop 18-GM-5048, the pluton indeed cuts highly deformed anorthosite of subunit pPwa3i, which is also found as deformed angular enclaves on the same outcrop.
Paleontology
Does not apply.
References
Publications available through Sigéom Examine
LAMOTHE, D. 2007. Lexique stratigraphique de l'Orogène de l'Ungava. Ministère des Ressources naturelles et de la Faune, Québec; DV 2007-03, 66 pages and 1 plan.
MATHIEU, G., BEAUDETTE, M. 2019. Géologie de la région du lac Watts, Domaine Nord, Fosse de l'Ungava, Nunavik, Québec, Canada. MERN. BG 2019-04.
Autres publications
Machado, N., David, J., Scott, D.J., Lamothe, D., Philippe, S., Gariépy, C. 1993. U-Pb geochronology of the western Cape Smith Belt, Canada: new insights on the age of initial rifting and arc magmatism. In Precambrian Research; volume 63, pages 211–223. doi.org/10.1016/0301-9268(93)90034-Y.
Parrish, R.R. 1989. U-Pb geochronology of the Cape Smith Belt and Sugluk block, northern Quebec. Geoscience Canada; volume 16, pages 126–130. doi:10.1016/j.electacta.2016.11.028.
St-Onge, M.R., Lucas, S.B. 1989a. Géologie, Lac Watts, Québec. Geological Survey of Canada, « A » Series Map 1721A, 1 sheet. doi.org/10.4095/127673.
St-Onge, M.R., Lucas, S.B. 1992. New insight on the crustal structure and tectonic history of the Ungava Orogen, Kovik Bay and Cap Wolstenholme, Quebec. Geological Survey of Canada; Paper 92-1C, pages 31–41. doi.org/10.1139/e92-064.
Taylor, F.C. 1982. Reconnaissance geology of a part of the Canadian Shield, northern Quebec and Northwest Territories. Geological Survey of Canada, Memoir 399, 32 pages (7 sheets). doi.org/10.4095/109241.
11 novembre 2019
30 octobre 2019