Background
This lithodem was introduced by Goutier et al. (1996) and Goutier et al. (1998) during the Ministère's geological mapping work in the area of Yasinsky and Kowskatehkakmow lakes (sheets 33F05 and 33F06).
Description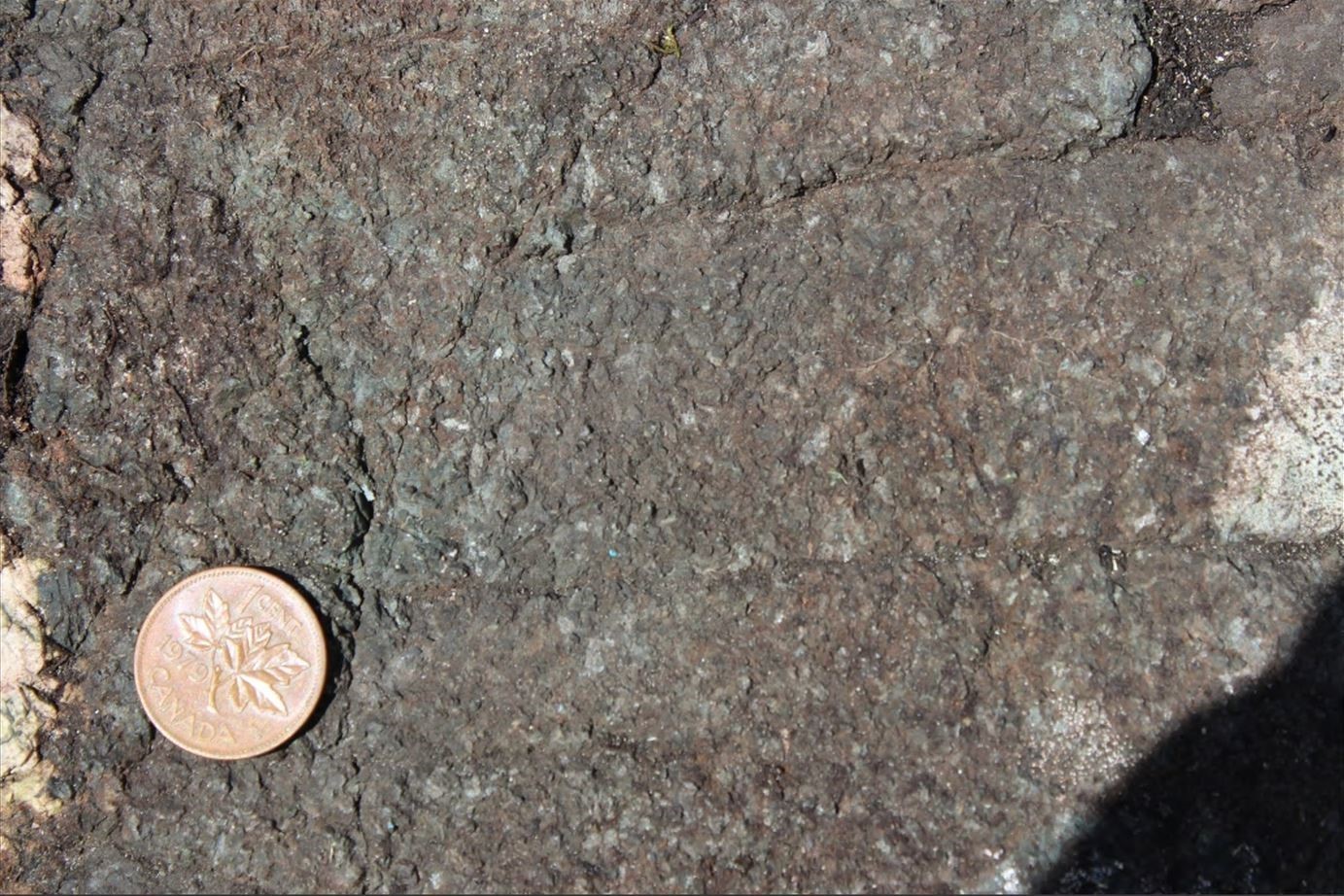 The Baie Chapus Pyroxenite consits mainly of pyroxenite, plagioclase pyroxenite and olivine pyroxenite (Sappin et al., 2015). It also contains some metric to decametric layers and clusters of peridotite, dunite and gabbro. It is cut by gabbro and pyroxenite dykes (Sappin et al., 2015).
The main pyroxenite is dark green to bluish green and medium to coarse grained. It is composed almost exclusively of clinopyroxene little altered (Goutier et al., 1996), including augite and, more sparsely, diopside (Sappin et al., 2015). Plagioclase is interstitial. In places, the rock has a pegmatitic texture with 5-70 cm clusters of plagioclase and centimetric pyroxene. Disseminated chalcopyrite (< 2%) is locally observed (e.g. outrcrop 1996-JG-1311). Goutier et al. (1996) found on outcrop 1996-JG-1331 a one-metre horizon of vanadium-bearing magnetite (see Baie Chapus mineralized zone and geochemical analysis 1996010443) of magmatic origin (Fe-Ti-V and Ni-Cu types; Cloutier, 2013). In addition, anomalous Au contents obtained in the eastern part of the intrusion (Dugas, 1997) may be consistent with gold-polymetal lode mineralization (Cloutier, 2013).
Thickness and distribution
The intrusion is oblong, with the main axis extending E-W for almost 3 km. The small axis is ~1 km long.
Dating
None.
Stratigraphic Relationship(s)
The Baie Chapus Pyroxenite intruded into tonalite of the Duncan Intrusions (nAdcn1).
Paleontology
Does not apply.
References
Publications available through SIGÉOM Examine
CLOUTIER, A., 2013. TECHNICAL REPORT ON THE RIVIERE AU CASTOR PROPERTY. ENTREPRISES MINIERES NOUVEAU-MONDE, rapport statutaire soumis au gouvernement du Québec; GM 67726GM 67726, 69 pages.
DUGAS, M., 1997. RECONNAISSANCE GEOLOGIQUE (PROSPECTION ET CARTOGRAPHIE), PROPRIETE MENARIK-NORD. RESSOURCES MINIERES PRO-OR INC, rapport statutaire soumis au gouvernement du Québec; GM 56368GM 56368, 56 pages, 3 plans. Disponible à https://gq.mines.gouv.qc.ca/documents/EXAMINE/GM56368.
GOUTIER, J., DOUCET, P., DION, C., DAVID, J. 1996. Géologie de la région du lac Yasinski (33F/05 et 33F/06), Baie-James.​ In VERS DE NOUVELLES DECOUVERTES. SEMINAIRE D'INFORMATION SUR LE RECHERCHE GEOLOGIQUE (PROGRAMME ET RESUMES 1996). MRN; DV 96-02, 48 pages.
GOUTIER, J., DOUCET, P., DION, C., BEAUSOLEIL, C., DAVID, J., PARENT, M., DION, D J., 1998. GEOLOGIE DE LA REGION DU LAC KOWSKATEHKAKMOW (33F/06). MRN; RG 98-16RG 98-16, 50 pages, 1 plan.
Other publications
SAPPIN, A.-A., HOULÉ, M. G., GOUTIER, J., MCNICOLL, V. 2015. Caractérisation pétrographique et géochimique de la Pyroxénite de Baie Chapus, Baie-James: Un exemple de minéralisation en Fe-Ti-V dans la Province du Supérieur. Commission géologique du Canada; Dossier public 7745, 1 feuille.
https://doi.org/10.4095/295612
Suggested Citation
Contributors
First publication

Jean Goutier, P. Geo., M.Sc. (redaction)

Mehdi A. Guemache, P. Geo., Ph.D. (coordination and critical review); Simon Auclair, P. Geo., M.Sc. (editing); Céline Dupuis, P. Geo., Ph.D. (English version); André Tremblay (HTML editing).