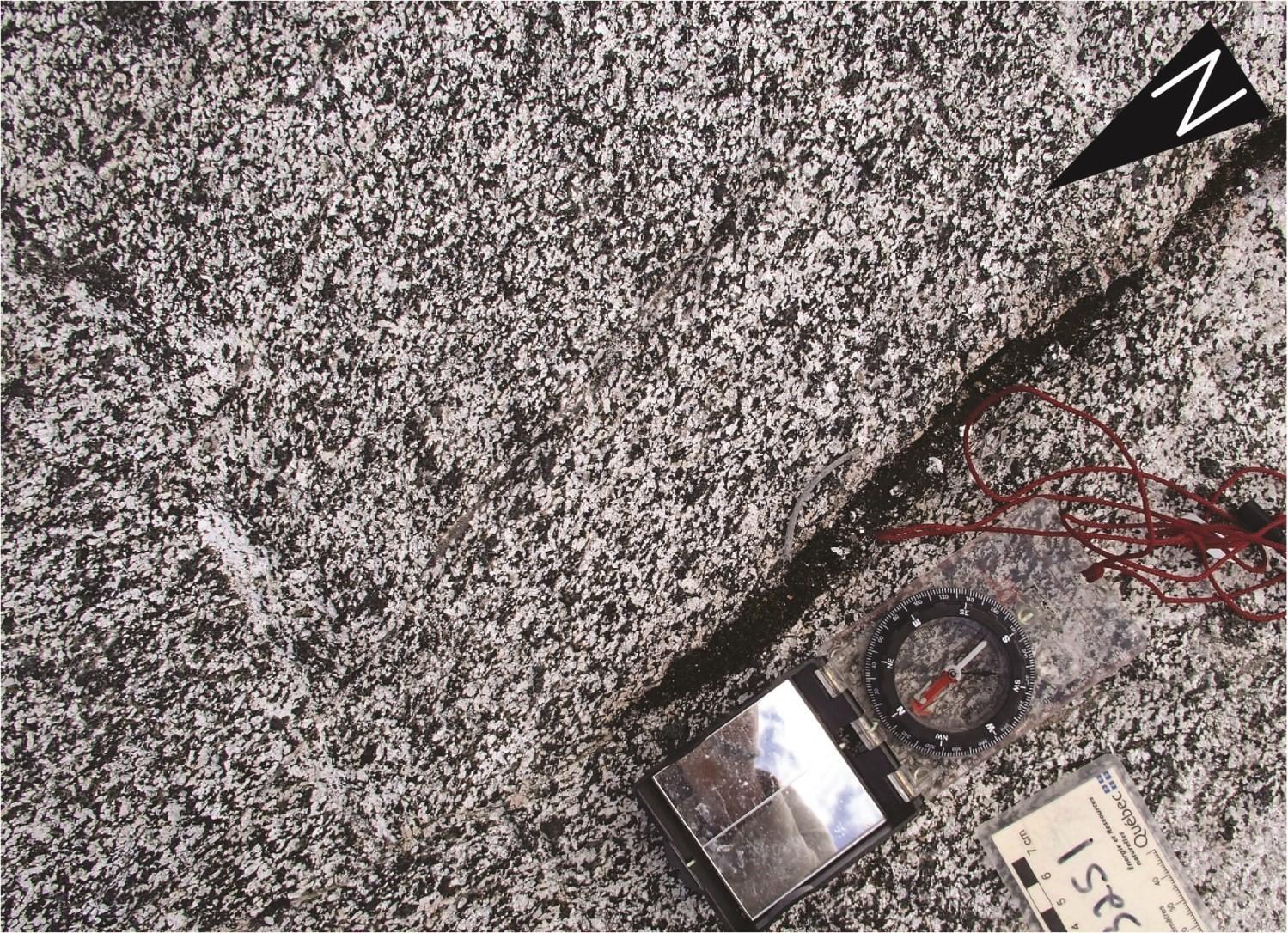 Ouescapis Pluton
Stratigraphic label: [narc]oue
Map symbol: nAoue

First published: 15 September 2017
Last modified:
Translation of original French
Informal subdivision(s)
Numbering does not necessarily reflect the stratigraphic position.
None
| | |
| --- | --- |
| Author: | Sawyer et al., 1993 |
| Age: | Precambrian / Archean / Neoarchean |
| Reference section: | |
| Type area: | The Ouescapis Pluton is located north of Matagami, between the James Bay Road and Poncheville Lake (NTS sheets 32K02, 32K03, 32K06, 32K07). It is part of a group of plutons located at the boundary between the Abitibi and Opatica subprovinces (e.g., Barlow, Canet, Ouescapis plutons). |
| Geological province: | Superior Province |
| Geological subdivision: | Opatica Subprovince |
| Lithology: | Massive, gneissic and migmatitic diorites |
| Unit type: | Lithodemic |
| Rank: | Lithodeme |
| Status: | Formal |
| Use: | Active |
Background
The Ouescapis Pluton appears for the first time on the map accompanying the report of Ahmedali and Remick (1974). It is part of a suite of monozodiorite-granodiorite-tonalite-diorite plutons that have developed at the boundary of the Abitibi and Opatica subprovinces (e.g., Barlow, Canet and Ouescapis; Sawyer et al., 1993; Davis et al., 1995).
Description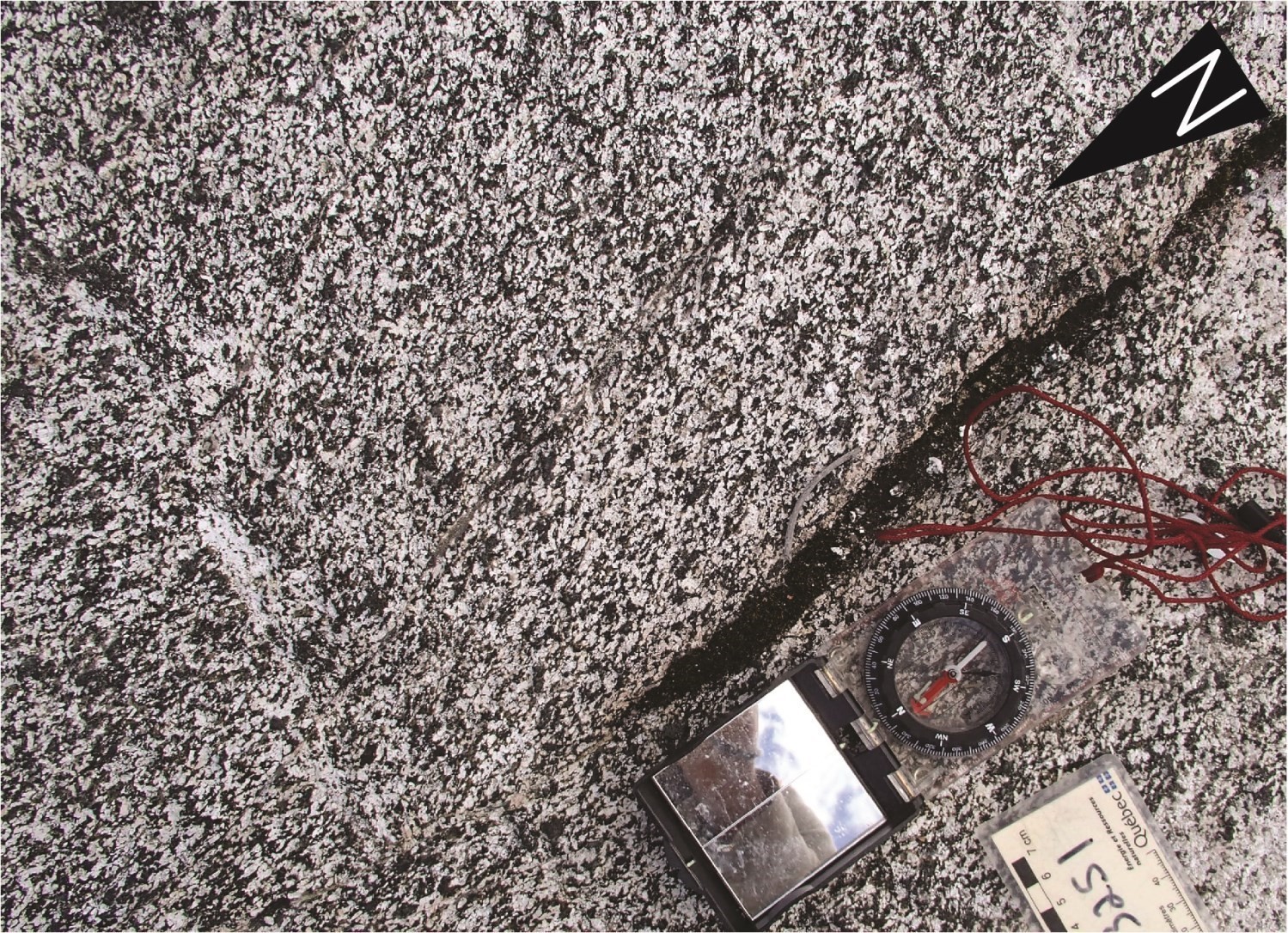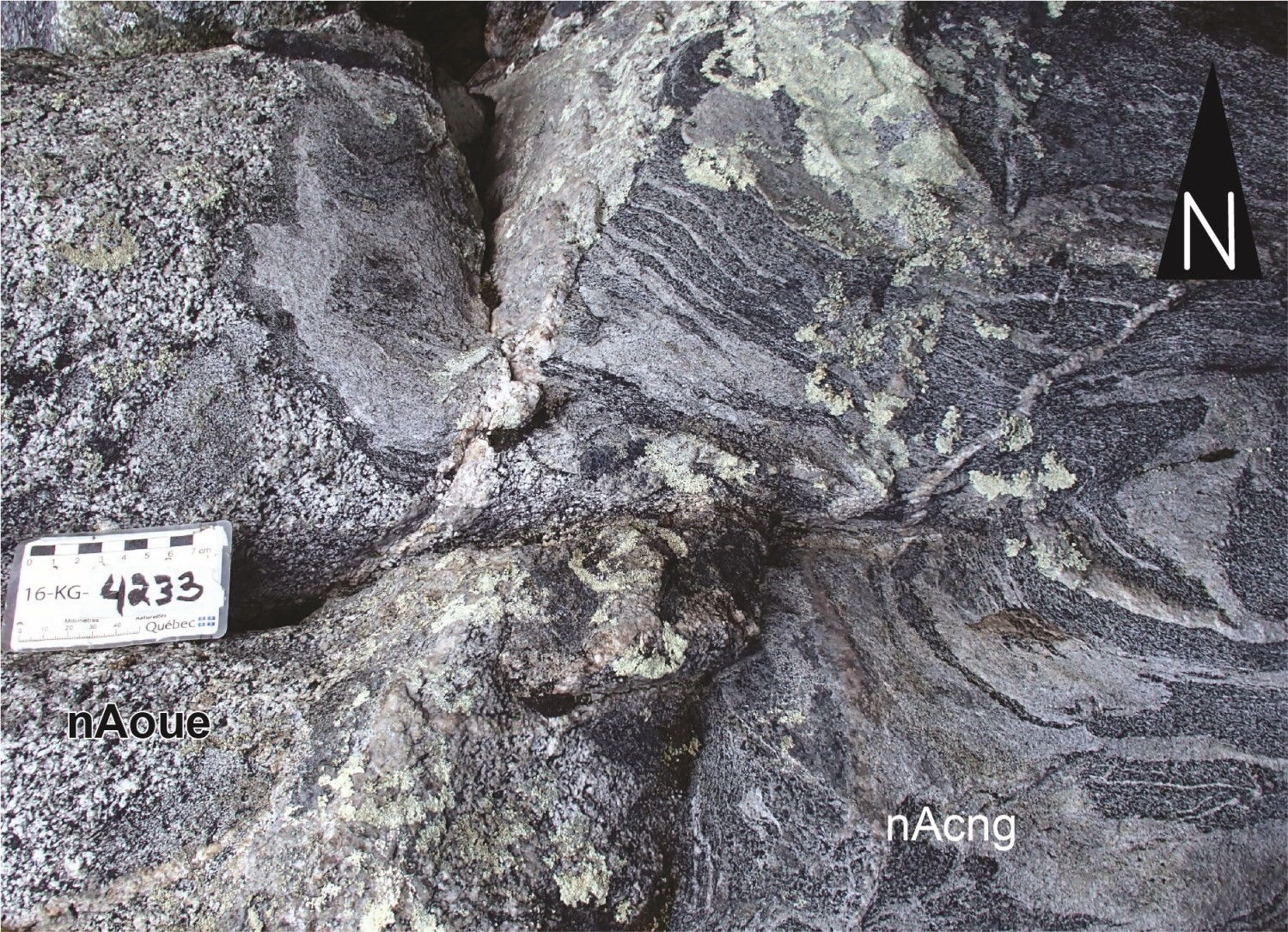 The Ouescapis Pluton is essentially composed of diorite more or less deformed. Generally massive, it develops a gneissic to migmatitic structure in the area south of Ouescapis Lake. Light gray diorite is composed of hornblende (up to 30%), plagioclase (65 to 80%) and minor amounts of biotite and quartz. Hornblende gives a bird's eye appearance to massive diorite and defines the foliation of gneissic to migmatitic diorite. In migmatitic diorite, the foliated medium-grained monzonitic to monzodioritic leucosome contains phenocrysts of potassium feldspar, hornblende and biotite. It regularly contains diorite xenoliths 15 to 20 cm in size. The melanosome forms poorly defined centimetric bands of melanocratic hornblende-rich diorite. Restite is a medium-grained, foliated diorite composed of hornblende, biotite and, locally, magnetite. This facies is particularly well developed at the eastern edge of the pluton, on outcrops located in the southern part of Poncheville Lake (NTS sheet 32K02).
Thickness and distribution
The Ouescapis Pluton is an irregularly shaped intrusion that covers an area of about 190 km2.
Dating
Analysis of a Ouescapis Pluton diorite sample gave a crystallization age of 2693 ±1 Ma (TIMS, U-Pb on zircon; Davis et al., 1995).
| | | | | | |
| --- | --- | --- | --- | --- | --- |
| Isotopic System | Mineral | Cristallization Age (Ma) | (+) | (-) | Reference(s) |
| U-Pb | Zircon | 2693 | 1 | 1 | Davis et al., 1995 |
Stratigraphic Relationship(s)
The presence of migmatitic diorites favors a syn-tectonic origin. Emplacement of the Ouescapis Pluton is late compared to rocks of the Chensagi Suite (2725 Ma; David et al., 2017), but shortly precedes intrusion of the Nottaway Pluton (2686 ±4 Ma; Davis et al., 1995). The Ouescapis Pluton is cut by the nebulitic migmatite unit outcropping west of Ouescapis Lake (NTS sheets 32K03 and 32K06).
Paleontology
Does not apply.
References
Author(s)
Title
Year of Publication
Hyperlink (EXAMINE or Other)
AHMEDALI, T. – REMICK, J.H.
Geology of the Soscumisca Lake area, Abitibi territory. Ministère des Richesses naturelles, Québec; DP 245, 18 pages.
1974
DP 245

DAVIS, W.J. – MACHADO, N. – GARIÉPY, C. – SAWYER, E.W.

– BENN, K.

U-Pb geochronology of the Opatica tonalite-gneiss belt and its relationship to the Abitibi greenstone belt, Superior Province, Quebec. Canadian Journal of Earth Sciences; volume 32, pages 113-127.
1995
Source
SAWYER, E.W. – BENN, K.
Structure of the high-grade Opatica Belt and the adjacent low-grade Abitibi Subprovince, Canada : an Archean mountain front. Journal of Structural Geology; volume 15, pages 1443-1458.
1993
Source
27 février 2018
13 août 2018