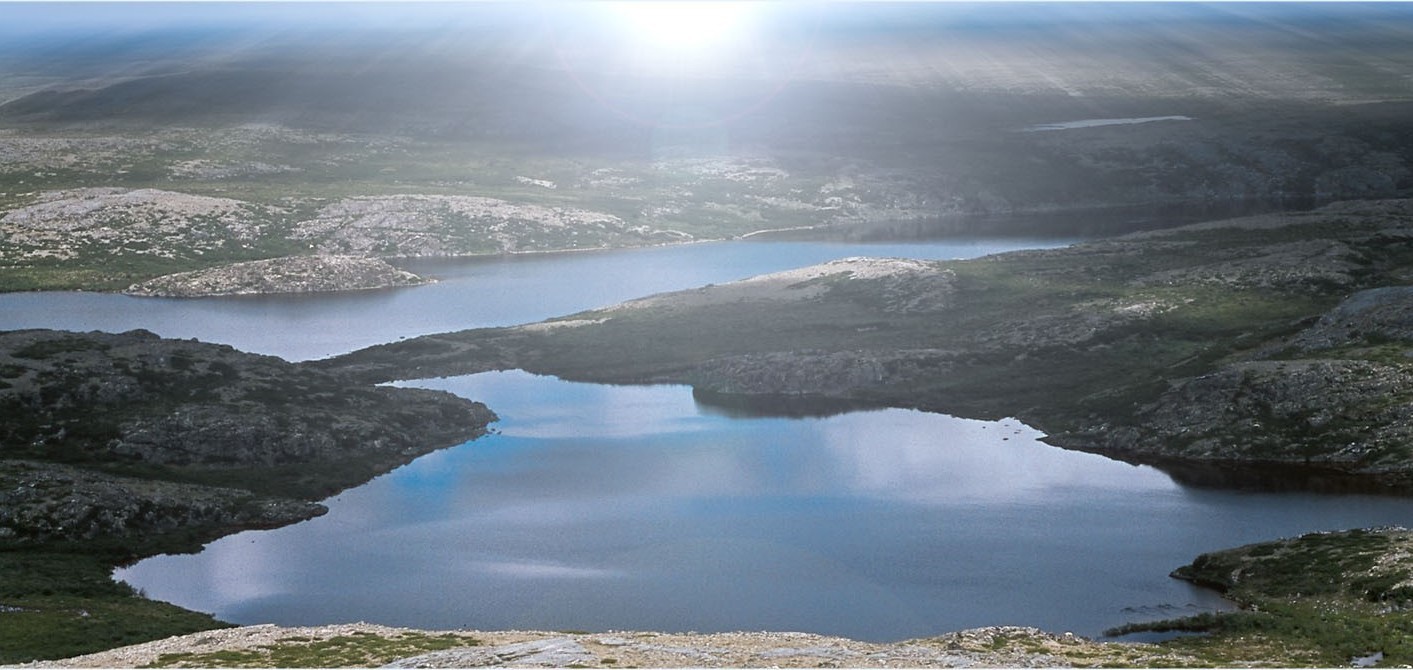 Goudalie Domain
Translation of original French
Background
Work along the Rivière aux Feuilles in Quebec (Percival and Card, 1994), and in three areas farther north (Percival et al., 1995, 1996, 1997) allowed Percival et al. (1992, 2001) to recognize a series of distinct geological and geophysical domains within the Minto Subprovince based on lithological, structural and aeromagnetic differences. Between 1997 and 2003, the work carried out by the Government of Québec under the Far North Program clarified the nature and boundaries of these areas. This work highlighted seven domains and two terranes within the Minto Subprovince.
Description
Geology
The Goudalie Domain is characterized by the predominance of tonalite-trondhjemite units (Fayard, Coursolles and Sem suites) related to a magmatic event between 2760 and 2740 Ma. These units are cut by granite, granodiorite (Desbergères, Tramont, Maurel and Morrice suites; 2.73-2.68 Ga) and enderbite (MacMahon Suite; 2735-2710 Ma) plutons which are also recognized in adjacent domains. The domain also includes a large complex of volcano-sedimentary rocks (Duvert Complex; 2724-2708 Ma) and diatexites of sedimentary origin (Rivière aux Mélèzes Suite; 2668 Ma). These rocks are concentrated in the northern portion of the domain, where sparse units of ancient tonalitic gneiss have also been identified (3.01-2.90 Ga; Percival et al., 1992, 2001). Ages of the oldest supracrustal rocks recognized in volcano-sedimentary complexes of this domain range from 2.80 to 2.78 Ga (Dupire and Garault complexes). Kilometric klippes of tonalitic gneiss from the Brésolles Suite (2833-2807 Ma) and an equivalent unit (Suluppaugalik Suite; 2808 Ma) are found in the Goudalie Domain. Brésolles Suite gneiss are typical of the La Grande Subprovince; their presence in the Goudalie Domain suggests that these ancient tonalitic gneiss extended farther north before the younger magmatic events of the Minto Subprovince. In addition, Goudalie Domain rocks have inherited zircon and model ages (3.3-2.8 Ga; Stern et al., 1994; Boily et al., 2004, 2006a, b) comparable to those obtained in the La Grande Subprovince, suggesting the existence of an old bedrock common to the two areas. It should be noted that this ancient crust is absent from domains north of the Goudalie Domain (Leclair, 2008).
References
Publications available through Sigéom Examine
BOILY, M., LECLAIR, A., MAURICE, C., BERCLAZ, A., DAVID, J. 2004. ETUDE LITHOGEOCHIMIQUE ET ISOTOPIQUE DU ND DES ASSEMBLAGES VOLCANIQUES ET PLUTONIQUES DE LA REGION SUD DU GRAND-NORD QUEBECOIS. MRNFP, GEON. RP 2004-01RP 2004-01, 28 pages.
BOILY, M., LECLAIR, A., MAURICE, C., BERCLAZ, A., DAVID, J. 2006a. ETUDE GEOCHIMIQUE ET ISOTOPIQUE DU ND DES ASSEMBLAGES VOLCANIQUES ET PLUTONIQUES DU NORD-EST DE LA PROVINCE DU SUPERIEUR (NEPS). MINISTERE DES RESSOURCES NATURELLES ET DE LA FAUNE, GEON. MB 2006-03MB 2006-03, 50 pages.
LECLAIR, A. 2008. CONTEXTE GÉOLOGIQUE RÉGIONAL DU NORD-EST DE LA PROVINCE DU SUPÉRIEUR. DANS : SYNTHESE DU NORD-EST DE LA PROVINCE DU SUPERIEUR. MRNF. MM 2008-02, 198 pages and 8 plans. Disponible à https://gq.mines.gouv.qc.ca/documents/EXAMINE/DV200404.
Other publications
Boily, M., Leclair, A., Labbé, J.Y., Lacoste, P., Simard, M., Maurice, C. 2006b. Terrane definition in the northeastern Superior Province. Geological Association of Canada; Abstracts Volume 31, page 16.
Percival, J.A., Card, K.D. 1994. Geology, Lac Minto-Rivière aux Feuilles, Québec. Geological Survey of Canada, « A » Series Map 1854A, 1994, 1 sheet. doi:10.4095/194490
Percival, J.A., Mortensen, J.K., Stern, R.A., Card, K.D., Bégin, N.J. 1992. Giant granulite terranes of northeastern Superior Province: the Ashuanipi complex and Minto block. Canadian Journal of Earth Sciences; volume 29, pages 2287-2308. doi:10.1139/e92-179
Percival, J.A., Skulski, T., Card, K.D., Lin, S. 1995. Geology, Rivière Kogaluc-Lac Qalluviartuuq region (parts of 34J and 34-O), Quebec. Geological Survey of Canada, Open File 3112, 1 sheet. doi:10.4095/205269
Percival, J.A., Skulski, T., Nadeau, L. 1996. Geology, Lac Couture, Quebec. Geological Survey of Canada, Open File 3315, 1 sheet. doi:10.4095/208195
Percival, J.A., Skulski, T., Nadeau, L. 1997. Reconnaissance geology of the Pelican-Nantais Belt, northeastern Superior Province. Geological Survey of Canada, Open File 3525, 1 sheet. doi:10.4095/209271
Percival, J.A., Stern, R.A., Skulski, T. 2001. Crustal growth through successive arc magmatism: reconnaissance U–Pb SHRIMP data from the northeastern Superior Province, Canada. Precambrian Research; volume 109, pages 203-238. doi:10.1016/S0301-9268(01)00148-6
Stem, R.A., Percival, J.A., Mortensen, J.K. 1994. Geochemical evolution of the Minto block: a 2.7 Ga continental magmatic arc built on the Superior proto-craton. Precambrian Research; Volume 65, pages 115–153. doi:10.1016/0301-9268(94)90102-3
24 juillet 2019
26 août 2021