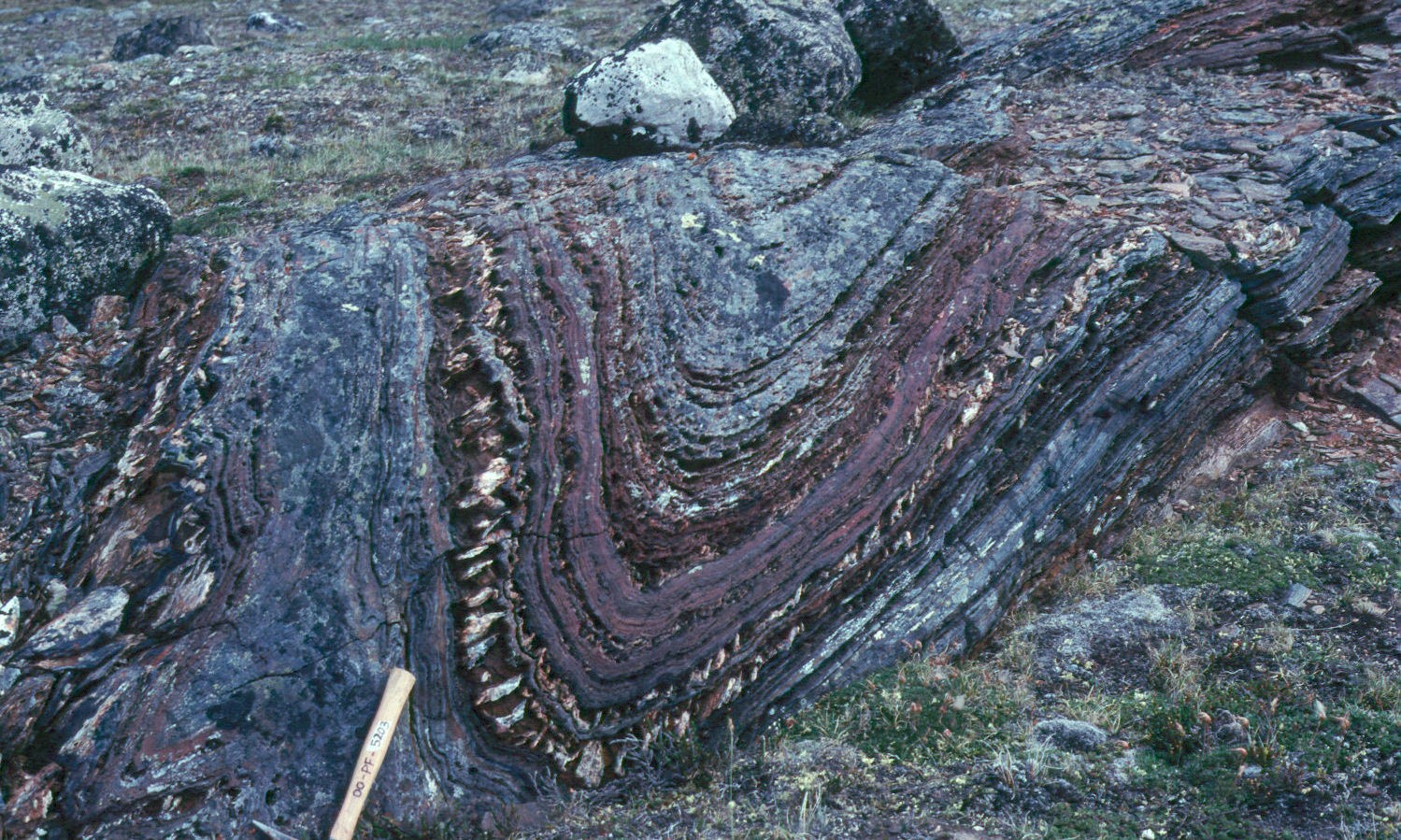 Tikkerutuk Domain
Translation of original French
Background
Work along the Rivière aux Feuilles in Quebec (Percival and Card, 1994), and in three areas farther north (Percival et al., 1995, 1996, 1997) allowed Percival et al. (1992, 2001) to recognize a series of distinct geological and geophysical domains within the Minto Subprovince based on lithological, structural and aeromagnetic differences. Between 1997 and 2003, the work carried out by the Government of Québec under the Far North Program clarified the nature and boundaries of these areas. This work highlighted seven domains and two terranes within the Minto Subprovince.
At the western end of the Tikkerutuk Domain, an area characterized by regional low magnetic was previously interpreted as a separate geological domain, the Inukjuak Domain (Percival et al., 2001; Leclair, 2005). This domain is now included in the Tikkerutuk Domain due to the lithological, geochronological and isotope similarities between these two domains, and the term "Inukjuak Domain" is abandoned. Model ages obtained in the former Inukjuak Domain area and a little further east in the Tikkerutuk Domain indicate an ancient history contemporaneous to the Nuvvuagittuq Belt (>3.1 Ga) (Leclair, 2008).
Description
The Tikkerutuk Domain is part of the Hudson Bay Terrane. It is located in the western portion of the Minto Subprovince and corresponds to contrasting N-S oriented magnetic anomalies that diverge towards the SE in the southern portion of the domain. The Tikkerutuk Domain is restricted to the east by the Goudalie and Lac Minto Domain, to the west by Hudson Bay, to the north by the Ungava Trough and to the south by the Bienville Domain.
Geology
The Tikkerutuk Domain is distinguished by the presence of a large suite of pyroxene felsic intrusive rocks (Loups Marins Suite) emplaced between 2735 and 2705 Ma. This suite includes an early orthopyroxene unit (2730-2720 Ma) and a clinopyroxene unit (2715-2705 Ma) characterized by the presence of burgundy plagioclase. The domain also includes a series of small, well-circumscribed plutons of mafic or ultramafic composition (Qullinaaraaluk Suite; 2720-2705 Ma) spread over a distance of ~450 km, as well as numerous klippes of volcano-sedimentary rocks (Innuksuac Complex, Roulier and Melvin belts; 2760-2764 Ma) scattered within large plutonic masses. One such klippe, the Nuvvuagittuq Belt, is the oldest sequence of supracrustal rocks (3825 Ma; David et al., 2003; Simard et al., 2003; O'Neil et al., 2007; Cates and Mojzsis, 2007) known in the Superior Province. The Nuvvuagittuq Belt covers an area of <30 km2 at the western end of the Tikkerutuk Domain. A tonalite unit (Fayard Suite; 2750-2740 Ma) and a granite-granodiorite unit (Desbergères Suite; 2720-2710 Ma) are also located in the Tikkerutuk Domain. These two units also cover a large area in the southern Minto Subprovince, within the Bienville and Goudalie domains, and in the northern part of the La Grande Subprovince.
References
Publications available through Sigéom Examine
DAVID, J., PARENT, M., STEVENSON, R., NADEAU, P., GODIN, L. 2002. LA SÉQUENCE SUPRACRUSTALE DE PORPOISE COVE, RÉGION D'INUKJUAK : UN EXEMPLE UNIQUE DE CROÛTE PALÉO-ARCHÉENNE (CA. 3.8 GA) DANS LA PROVINCE DU SUPÉRIEUR. L'EXPLORATION MINÉRALE AU QUÉBEC, NOTRE SAVOIR, VOS DÉCOUVERTES. 23e SÉMINAIRE D'INFORMATION SUR LA RECHERCHE GÉOLOGIQUE. DV 2002-10, 60 pages.
LECLAIR, A. 2005. GEOLOGIE DU NORD-EST DE LA PROVINCE DU SUPERIEUR, QUEBEC. MRNF. DV 2004-04, 21 pages and 1 plan.
LECLAIR, A. 2008. CONTEXTE GÉOLOGIQUE RÉGIONAL DU NORD-EST DE LA PROVINCE DU SUPÉRIEUR. DANS : SYNTHESE DU NORD-EST DE LA PROVINCE DU SUPERIEUR. MRNF. MM 2008-02, 198 pages and 8 plans. Disponible à https://gq.mines.gouv.qc.ca/documents/EXAMINE/DV200404.
SIMARD, M., PARENT, M., DAVID, J., SHARMA, K.N.M. 2003. GEOLOGIE DE LA REGION DE LA RIVIERE INNUKSUAC (34K ET 34L). MRN. RG 2002-10, 45 pages and 2 plans.
Other publications
Cates, N.L., Mojzsis, S.J. 2007. Pre-3750 Ma supracrustal rocks from the Nuvvuagittuq supracrustal belt, northern Québec. Earth and Planetary Science Letters; volume 255, pages 9-21. doi:10.1016/j.epsl.2006.11.034
O'Neil, J., Maurice, C., Stevenson, R.K., Larocque, J., Cloquet, C., David, J., Francis, D. 2007. Chapter 3.4 The Geology of the 3.8 Ga Nuvvuagittuq (Porpoise Cove) Greenstone Belt, Northeastern Superior Province, Canada. In: Van Kranendonk, M., Hugh Smithies, R., Bennett, V.C. (Editors), Earth's Oldest Rocks, Developments in Precambrian Geology; volume 15, pages 219–250. doi:10.1016/S0166-2635(07)15034-9
Percival, J.A., Card, K.D. 1994. Geology, Lac Minto-Rivière aux Feuilles, Québec. Geological Survey of Canada, « A » Series Map 1854A, 1994, 1 sheet. doi:10.4095/194490
Percival, J.A., Mortensen, J.K., Stern, R.A., Card, K.D., Bégin, N.J. 1992. Giant granulite terranes of northeastern Superior Province: the Ashuanipi complex and Minto block. Canadian Journal of Earth Sciences; volume 29, pages 2287-2308. doi:10.1139/e92-179
Percival, J.A., Skulski, T., Card, K.D., Lin, S. 1995. Geology, Rivière Kogaluc-Lac Qalluviartuuq region (parts of 34J and 34-O), Quebec. Geological Survey of Canada, Open File 3112, 1 sheet. doi:10.4095/205269
Percival, J.A., Skulski, T., Nadeau, L. 1996. Geology, Lac Couture, Quebec. Geological Survey of Canada, Open File 3315, 1 sheet. doi:10.4095/208195
Percival, J.A., Skulski, T., Nadeau, L. 1997. Reconnaissance geology of the Pelican-Nantais Belt, northeastern Superior Province. Geological Survey of Canada, Open File 3525, 1 sheet. doi:10.4095/209271
Percival, J.A., Stern, R.A., Skulski, T. 2001. Crustal growth through successive arc magmatism: reconnaissance U–Pb SHRIMP data from the northeastern Superior Province, Canada. Precambrian Research; volume 109, pages 203-238. doi:10.1016/S0301-9268(01)00148-6
24 juillet 2019
19 novembre 2021