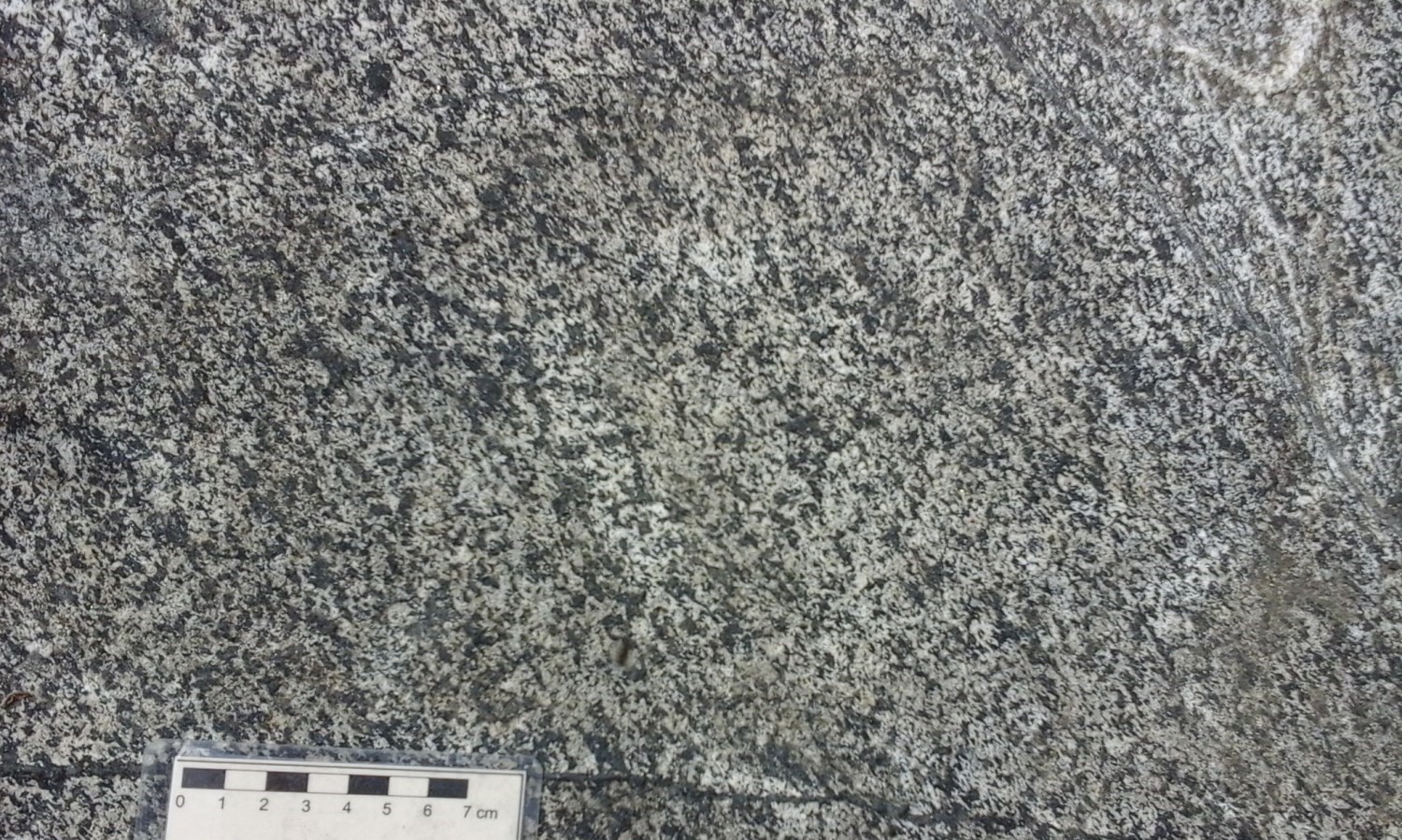 Ouiatchouan Anorthositic Suite
Stratigraphic label: [mpro]och
Map symbol: mPoch

First published: 14 June 2019
Last modified:
Translation of original French
Informal subdivision(s)
Numbering does not necessarily reflect the stratigraphic position.
mPoch1
Whitish anorthosite, leuconorite, gabbronorite, minor amount of mangerite
| | |
| --- | --- |
| Author: | Benoit and Valiquette, 1971 |
| Age: | Mesoproterozoic |
| Reference section: | Reference outcrop 18-AM-46 |
| Type area: | Lake Saint-Jean area (NTS sheet 32A08) |
| Geological province: | Grenville Province |
| Geological subdivision: | Allochton |
| Lithology: | Mafic and ultramafic intrusive rocks |
| Type: | Lithodemic |
| Rank: | Suite |
| Status: | Formal |
| Use: | Active |
Background
The Ouiatchouan Anorthositic Suite was described as the "Lac Bouchette Anorthosite" by Benoit and Valiquette (1971). Morfin et al. (2015) named it "Lac Bouchette Anorthositic Suite" during the geological survey of the Chambord, Roberval and Notre-Dame-de-la-Doré region (NTS sheets 32A08, 32A09 and 32A10). Since the term "Lac Bouchette" was already used in the stratigraphic lexicon of Québec, the name "Ouiatchouan Anorthositic Suite" appeared more appropriate (Moukhsil and Daoudene, 2019).
Description
Ouiatchouan Anorthositic Suite 1 (mPoch1): Whitish Anorthosite, Leuconorite, Gabbronorite, Minor Amount of Mangerite
This unit consists of greyish to whitish anorthosite displaying recrystallized and sericitized plagioclase. The anorthosite outcrops show different degrees of recrystallization that range between 45% and 95% for plagioclase. Relics of plagioclase phenocrystals (porphyroclasts) do not exceed 3 cm. Biotite, clinopyroxene and hornblende are the ferromagnesian minerals found in anorthosite and represent <8% of the rock. Locally, these minerals are aligned along a planar mill (foliation) that becomes mylonitic in deformation zones. Anorthosite contains <1% opaque minerals (pyrite).
Leuconorite is greyish to brownish in fresh exposure depending on the degree of plagioclase crystallization. Leuconorite is composed of 40-80% plagioclase and of 20-60% ferromagnesian minerals (biotite, orthopyroxene, clinopyroxene) whose alignment indicates a planar mill (foliation). Orthopyroxene is partially retromorphosed into hornblende and locally into biotite. The rock also contains magnetite and pyrite (<1%). Leuconorite is in some places plagioclase porphyritic, but it is generally medium to coarse grained and coronitic and displays orthopyroxene surrounded by clinopyroxene and/or amphibole. This unit contains centimetric to metric enclaves of pyroxenite and gabbronorite.
Gabbronorite, mostly mesocratic, was mainly mapped along the western edge of the suite and is generally more magnetic than anorthosite and leuconorite. It is greyish to blackish in fresh exposure and brownish in altered surface. Plagioclase forms large zones, some of which have polysynthetic twinning that pinch out as a result of rock deformation. In addition to uralitized orthopyroxene and clinopyroxene, the rock contains biotite (<1%), hornblende (15-20%) and opaque minerals (pyrite) in gabbronorite locally. The latter shows foliated melanoratic horizons locally, which are centimetric, medium to coarse grained and enriched in ferromagnesian minerals. Gabbronorite outcrops that are located in or near the shear zone west of the Ouiatchouan Anorthositic Suite are highly deformed and display a directional component stretch lineation.
Mangerite is a minor unit in this suite. It is greyish to whitish in altered surface and coarse grained. It is composed of biotite, orthopyroxene and magnetite. This mangerite is observed along the western edge of the intrusion and may be associated with the Thaddé Plutonic Suite.
Ouiatchouan Anorthositic Suite 2 (mPoch2): Gabbronorite, Gabbro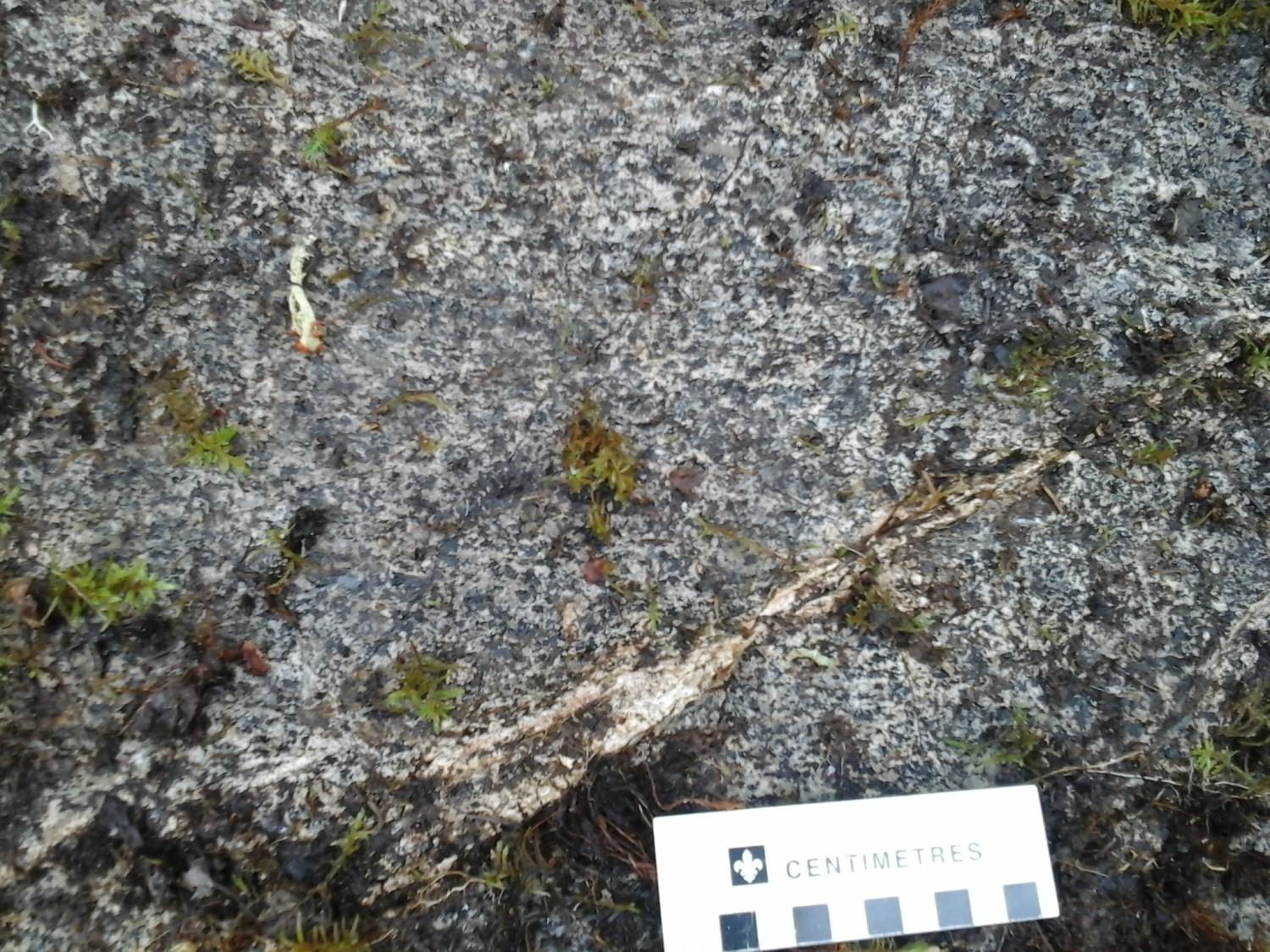 This unit consists of gabbronorite and leucocratic gabbro containing calcic plagioclase (An40), amphibole and uralitized pyroxenes. Green amphibole is the dominant mafic mineral and is locally replaced by biotite. This amphibole represents about 30% of the rock in hornblende clusters, whose core is usually composed of poikiloblastic hornblende. Plagioclase forms large grains altered into white mica and has rolling extinction. The secondary mineral phase consists mainly of apatite and opaque minerals. Gabbronorite and gabbro may also contain magnetite and biotite. Rocks in this unit are usually medium to fine grained and foliated.
Thickness and Distribution
The Ouiatchouan Anorthositic Suite (unit mPoch1) outcrops mainly as an elongated (~22 km by 4 km), N-S orientated strip located in NTS sheets 32A08 and 32A0.
Dating
None.
Stratigraphic Relationship(s)
The Ouiatchouan Anorthositic Suite is confined between the Thaddé Plutonic Suite, Travers Suite and Belley Plutonic Suite. It is bordered to the west by a sinistral shear zone and to the east by an inverse sinistral shear zone. In both cases, this suite is deformed. Moreover, plagioclase found in the anorthositic and leuconoritic facies is usually recrystallized, occurring as rare phenocrystals. Granitic pegmatite and syenite dykes (Travers Suite) cut the Ouiatchouan Anorthositic Suite facies.
Paleontology
Does not apply.
References
Publications available through Sigéom Examine
BENOIT, F W., VALIQUETTE, G. 1971. REGION DU LAC SAINT-JEAN (PARTIE SUD). MRN. RG 140, 29 pages and 5 plans.
MORFIN, S., TREMBLAY, C., SOLGADI, F., MOUKHSIL, A., DAIGNEAULT, R. 2015. GEOLOGIE DE LA REGION DE CHAMBORD, ROBERVAL ET NOTRE-DAME-DE-LA-DORE (FEUILLETS SNRC 32A08, A09 ET A10) ET RECONNAISSANCE DES FEUILLETS 32A06, A07 ET A11. MERN, CERM. MB 2015-07, 69 pages and 5 plans.
MOUKHSIL, A., DAOUDENE, Y. 2019. Géologie de la région du lac des Commissaires, Province de Grenville, région du Saguenay–Lac-Saint-Jean, Québec, Canada. MERN. BG 2019-01.
11 novembre 2019
26 août 2019