Background
The Jobber Mangerite was defined by Moukhsil and Daoudene (2019) during mapping of the Commissaires Lake area in the Saguenay–Lac-Saint-Jean region.
Description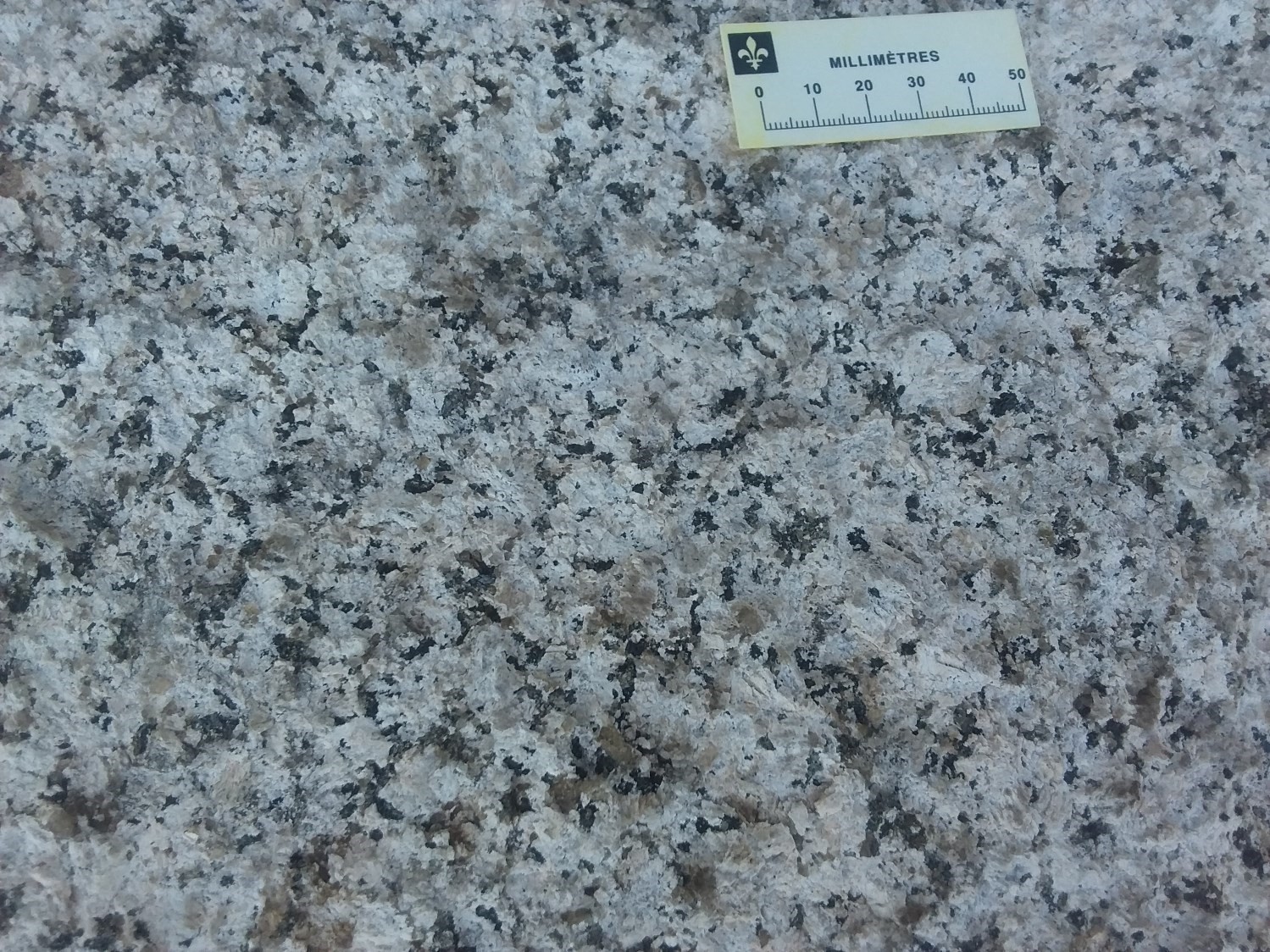 The Jobber Mangerite is a late tectonic intrusion with a rounded shape and a diameter of approximately 9.5 km. It can be delimited easily from the aeromagnetic map in sheet 32A07 (Intissar and Benahmed, 2015). The intrusion consists mainly of mangerite and charnockite and contains enclaves of the Barrois Complex metasedimentary rocks. The southern portion of the intrusion mainly consists of porphyritic mangerite with magmatic foliation and coronitic texture. Orthopyroxene is surrounded by amphibole, which is itself surrounded by garnet. The proportion of quartz varies from 4 to 25% from one outcrop to the other in the mangeritic and charnockitic facies. This percentage also varies on the scale of the same outcrop. Mangerite also contains accessory mineral phases such as opaque minerals, titanite, apatite and zircon.
Charnockite is medium to coarse grained and shows significant deformation, especially along the edge of the intrusion where it becomes granoblastic, porphyroclastic and gneissic to mylonitic. Charnockite contains 2-3% orthopyroxene, <2% biotite and accessory minerals such as apatite and zircon, with traces of opaque minerals (pyrrhotite, pyrite). K-feldspar is generally perthitic. Plagioclase is locally sericitized. Finally, quartz occurs in large, elongated zones with weak undulatory extinction when charnockite is deformed.
Thickness and Distribution
This unit outcrops only in sheet 32A07 as a rounded intrusion, approximately 80 km2 in size, and easily identifiable on aeromagnetic maps (Intissar and Benahmed, 2015).
Dating
A dating on the sample 2018-AM-0226A was recently carried out.
| | | | | | | | |
| --- | --- | --- | --- | --- | --- | --- | --- |
| Unit | Sample Number | Isotopic System | Mineral | Crystallization Age (Ma) | (+) | (-) | Reference(s) |
| mPjob | 2018-AM-0226A | U-Pb | Zircon | 1023 | 3,3 | 3,3 | Papapavlou, 2019 |
Stratigraphic Relationship(s)
The Jobber Mangerite is in intrusive contact with the Rodez Plutonic Suite and is deformed at the contact.
Paleontology
Does not apply.
References
Publications available through Sigéom Examine
INTISSAR, R., BENAHMED, S. 2015. LEVE MAGNETIQUE AEROPORTE DANS LE SECTEUR OUEST DU LAC-ST-JEAN, PROVINCE DE GRENVILLE. MERN, GOLDAK AIRBORNE SURVEYS. DP 2015-06, 7 pages et 2 plans.
MOUKHSIL, A., DAOUDENE, Y. 2019. Géologie de la région du lac des Commissaires, Province de Grenville, région du Saguenay–Lac-Saint-Jean, Québec, Canada. MERN. BG 2019-01.
PAPAPAVLOU, K. 2019. U-Pb geochronology report, Grenville 2018-2019. UQAM. MB 2019-11, 21 pages.