Background
The Catherine Granite is a kilometric intrusion located in the west-central Borgia Lake region, described by Perreault (1992) in the south of NTS sheet 31P16 and Nadeau et al. (1997) in the north of sheet 31P09. This granite was reinterpreted and redefined following observations by Moukhsil and Côté (2018).
Description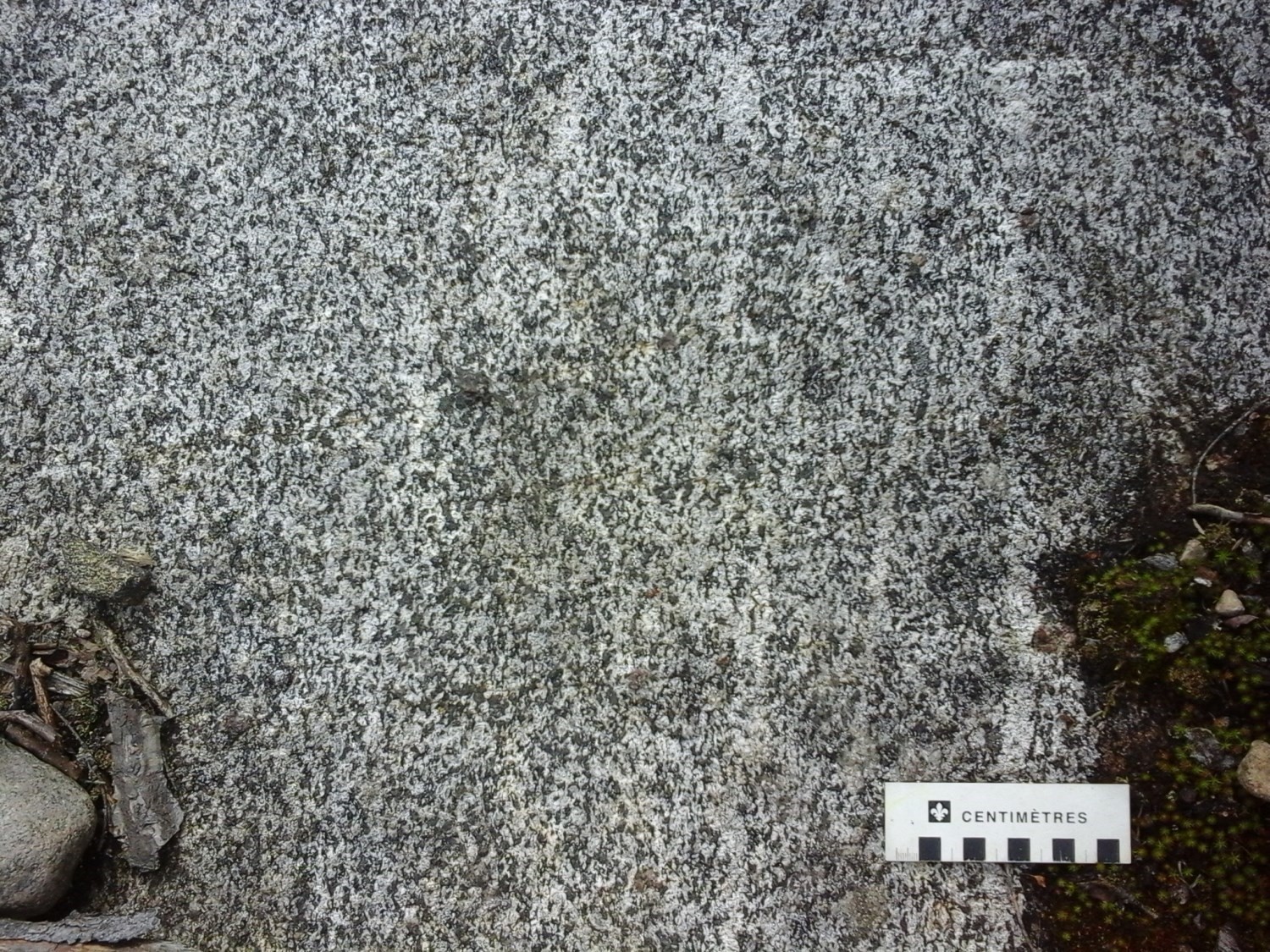 The Catherine Granite consists of syenogranite, monzonite with (mangerite) or without orthopyroxene, and quartz monzodiorite. All these lithologies are medium to coarse grained, magnetic, foliated and locally K-feldspar porphyritic. Syenogranite contains K-feldspar, plagioclase and large quartz zones. Ferromagnesian minerals are represented by hornblende, biotite and trace orthopyroxene, while zircon and apatite (small inclusions in biotite) are accesory minerals.
Quartz monzonite and mangerite have sericitized plagioclase and K-feldspar, myrmekite, all accompanied by ferromagnesian minerals (orthopyroxene, hornblende and biotite). Like syenogranite, quartz forms large zones indicating low deformation rate. Quartz monzodiorite has a submagmatic texture and is composed of sericitized plagioclase, biotite, hornblende and traces of zircon and garnet. Centimetre-thick dykes of granitic pegmatite, locally graphic, cut the Catherine Granite.
From a geochemical perspective, rocks of the Catherine Granite are intermediate to felsic with SiO2 contents ranging from 58.46 to 74.58%. This intrusion, which is calc-alkaline to K-rich calc-alkaline in affinity (Peccerillo and Taylor, 1976), overlaps the fields of volcanic arc granites and intraplate granites (Pearce et al., 1984).
Thickness and Distribution
The Catherine Granite is located in the south of NTS sheet 31P16 and extends into the northern portion of sheet 31P09.
Dating
None.
Stratigraphic Relationship(s)
The Catherine Granite is intruded by the Étoile Suite and intrudes into the La Bostonnais Complex. Centimetric pegmatite dykes cut the Catherine Granite.
Paleontology
Does not apply.
References
| Author(s) | Title | Year of Publication | Hyperlink (EXAMINE or Other) |
| --- | --- | --- | --- |
| NADEAU, L. – BROUILLETTE, P. – LÉVESQUE, S. – GAUTHIER, E. – CORRIGAN, D. | Géologie du Lac-Édouard, Ministère de l'Énergie et des Ressources naturelles, 1 1:50,000 map. | 1997 | CG SIGEOM31P |
| PERREAULT, S. | Géologie du Grand lac Bostonnais, Ministère des Ressources naturelles et de la Faune, 1 1:50,000 map. | 2015 | CG SIGEOM31P |
| MOUKHSIL, A. – CÔTÉ, G. | Géologie de la région du lac Borgia, Province de Grenville, nord de La Tuque, régions de la Mauricie et du Saguenay – Lac-Saint-Jean, Québec, Canada. | 2018 | Bulletin géologiQUE |
| PEARCE, J.A. – HARRIS, B.W. – TINDLE, A.G. | Trace element discrimination diagram for tectonic interpretation of granitic rocks. Journal of Petrology; volume 25, pages 956-983. | 1984 | Source |
| PECCERILLO, A. – TAYLOR, S.R. | Geochemistry of Eocene calc-alkaline volcanic rocks from the Kastamonu area, Northern Turkey. Contributions to Mineralogy and Petrology; volume 58, pages 63-81. | 1976 | – |