Background
The Mailles Batholith was defined by Moukhsil and El Bourki (2020) during mapping of the Normandin–Saint-Félicien–Roberval area in the Saguenay–Lac-Saint-Jean region.
Description
The Mailles Batholith is a late-tectonic intrusion, which has a NNW-SSE elongation, and is 12 km long by 3-6 km wide. It outcrops mainly to the east of the village of Saint-Thomas-Didyme and north of Mailles Lake. Its delineation is made possible through the aeromagnetic map of sheet 32A15 (Intissar and Benahmed, 2015), where the intrusion is marked by an intense magnetic susceptibility. The batholith consists of mangerite, charnockite, alkali feldspar granite, jotunite and lesser amounts of gabbronorite. Some mangerite outcrops contain centimetric dioritic enclaves.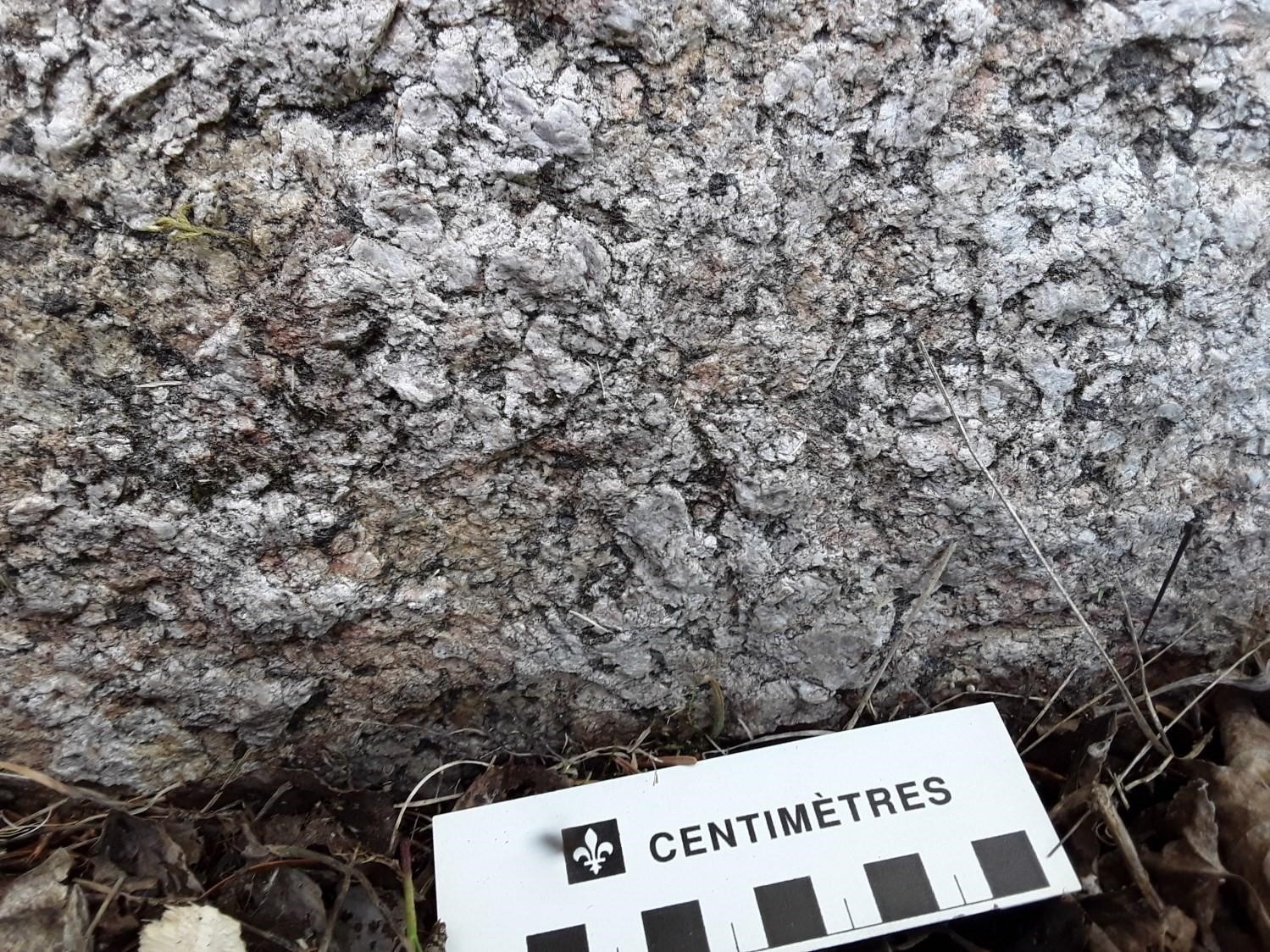 Mangerite is generally whitish to pinkish in altered surface and greyish to greenish in fresh exposure. It is characterized by a K-feldspar-plagioclase porphyritic texture. K-feldspar is perthitic and associated with myrmekite. Plagioclase is locally sericitized. The mangerite's matrix is medium grained and composed of quartz, green hornblende, biotite, orthopyroxene and magnetite. Secondary minerals are apatite, epidote and zircon. Feldspar phenocrystals account for 25-50% of the rock and are generally 1-4 cm long. Orthopyroxene occurs in ferromagnesian mineral clusters, partially replaced by biotite and amphibole. Mangerite systematically contains magnetite in varying contents. Generally, the rock has a magmatic texture, while its edge is deformed and contains fine quartz grains displaying a mortar texture.
Charnockite is medium to coarse grained, locally porphyritic. It contains 4-5% orthopyroxene, <6% biotite and accessory minerals such as apatite and zircon. These are accompanied by trace opaque minerals. K-feldspar is generally perthitic and plagioclase is locally sericitized.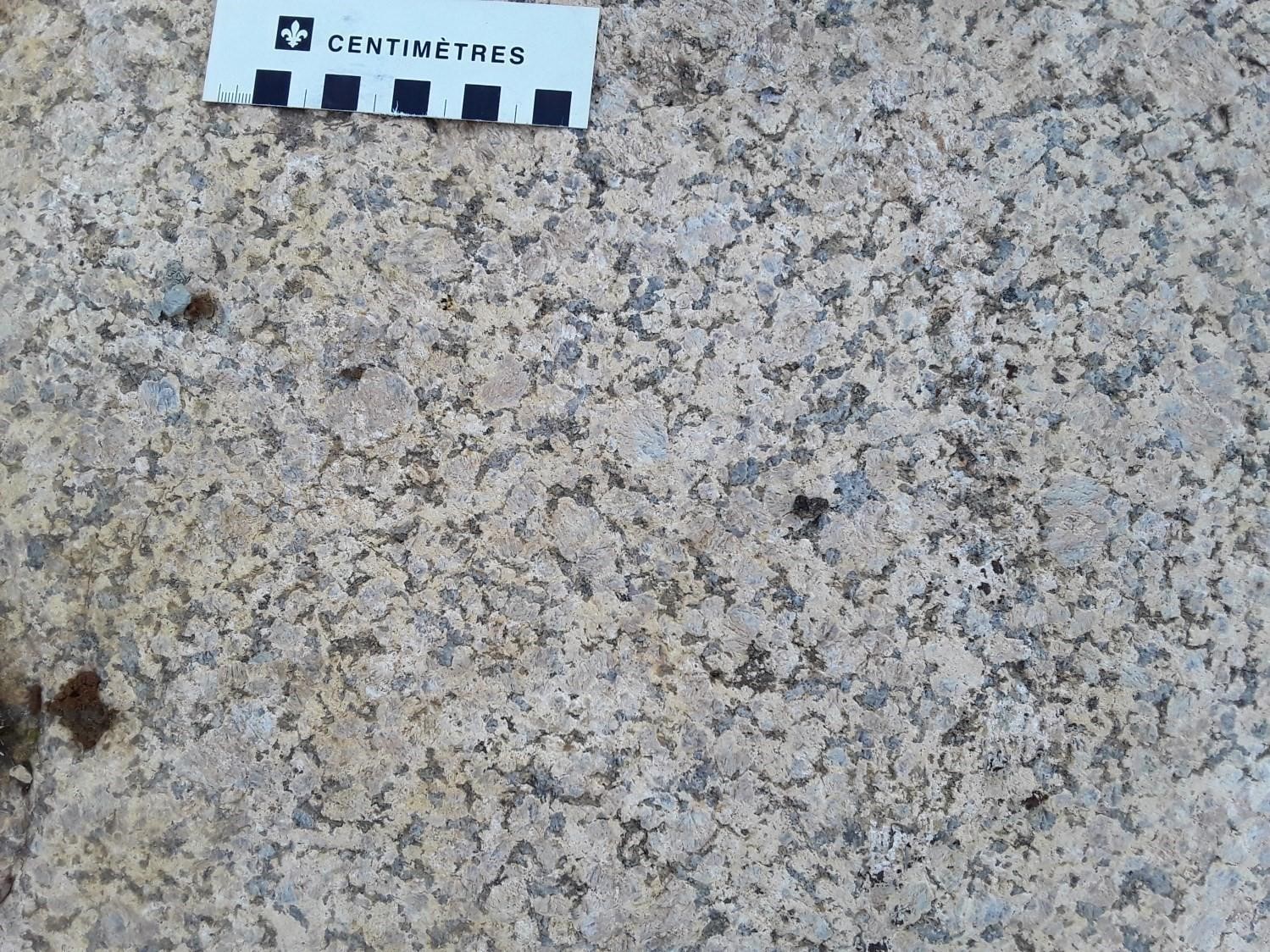 Alkali feldspar granite is medium grained, porphyritic, pink in fresh exposure, pink-brown in altered patina, and is marked by a magmatic foliation. It contains varying amounts of biotite, green hornblende, orthopyroxene (<1%) and magnetite. K-feldspar is mostly perthitic and contains myrmekite. When the rock is porphyritic, pink K-feldspar (microcline) phenocrystals make up up to 60% of the rock and are centimetric (1-4 cm). Biotite and green hornblende are mostly observed as grain clusters. Epidote, apatite and zircon are present as accessory minerals.
Jotunite (orthopyroxene monzodiorite) is greenish in fresh exposure and rust brown in altered patina. In the field, it can be confused with the gabbronoritic facies of this intrusion. It is fine to medium grained and enriched with ferromagnesian minerals such as orthopyroxene, clinopyroxene and biotite. Disseminated sulphides such as pyrite, pyrrhotite and chalcopyrite are locally observed in this facies (<1% of the rock).
Gabbronorite is blackish to greyish in fresh exposure and altered surface, and plagioclase porphyritic (1-4 cm phenocrystals). It contains Fe-Ti oxides and apatite disseminated in the rock and in centimetric layers, and can be considered OAGN (Oxides Apatite Gabbronorite; Owens and Dymick, 1992). Gabbronorite is composed of plagioclase, orthopyroxene, clinopyroxene, magnetite, slightly vanadiferous titanomagnetite, ilmenite, hemo-ilmenite as exsolution in magnetite, and fluorapatite. A prospective zone for Fe-Ti-P V mineralization has been identified in this unit.
Thickness and Distribution
The unit only outcrops in sheet 32A15 as an elongated polyphase batholith. It has a surface area of ~54 km2.
Dating
Isotopic dating was performed on a mangerite sample belonging to the Mailles Batholith (outcrop 2019-AM-0187). The age obtained coincides with the magmatic event of the Middle Grenville (1050-1018 Ma; Gower and Krogh, 2002), which corresponds to a thickening of the crust during the Grenvillian collision period (e.g. Moukhsil et al., 2017).
| | | | | | | | |
| --- | --- | --- | --- | --- | --- | --- | --- |
| Unit | Sample Number | Isotopic System | Mineral | Crystallization Age (Ma) | (+) | (-) | Reference(s) |
| mPmas | 2019-AM-0187-A | U-Pb | Zircon | 1039 | 15 | 15 | Papapavlou, 2020 |
Stratigraphic Relationship(s)
The Mailles Batholith intruded into the Barrois Complex and the Saint-Thomas-Didyme Suite.
Paleontology
Does not apply.
References
Publications Available Through SIGÉOM Examine
INTISSAR, R., BENAHMED, S. 2015. LEVE MAGNETIQUE AEROPORTE DANS LE SECTEUR OUEST DU LAC-ST-JEAN, PROVINCE DE GRENVILLE. MERN, GOLDAK AIRBORNE SURVEYS. DP 2015-06, 7 pages and 2 plans.
MOUKHSIL, A., EL BOURKI, M., 2020. Geology of the Normandin Area, Grenville Province, Saguenay–Lac-Saint-Jean Region, Quebec, Canada. BG 2020-01, 1 plan.
MOUKHSIL, A., SOLGADI, F., JANNIN, S., GERVAIS, F., CROWLEY, J L., AUGLAND, L E., INDARES, A., LETOURNEAU, M., DUNNING, G., CLARK, T., GOBEIL, A., OHNENSTETTER, D., LAMOTHE, D., INTISSAR, R., BENAHMED, S., GROULIER, P A., 2017. GEOLOGIE, POTENTIEL MINERAL ET CADRE GEODYNAMIQUE DES ROCHES DE LA REGION DU RESERVOIR DANIEL-JOHNSON (MANICOUAGAN), PARTIE CENTRALE DE LA PROVINCE DE GRENVILLE. MRN; MM 2017-01, 307 pages, 1 plan.
PAPAPAVLOU, K., 2020. U-Pb geochronology report, Grenville 2019-2020. UQAM; MB 2020-09, 25 pages.
Other Publications
GOWER, C.F., KROGH, T.E. 2002. A U-Pb geochronological review of the Proterozoic history of the eastern Grenville Province. Canadian Journal of Earth Sciences, volume 39, pages 795-829. https://doi.org/10.1139/e01-090
OWENS, P.E., DYMEK, R.F., 1992. Fe-Ti-P rich rocks and massif anorthosite: problems of interpretation illustrated from the Labrieville and St-Urban plutons, Québec. Canadian Mineralogist; volume 30, pages 163-190. rruff.info/doclib/cm/vol30/CM30_163.pdf
Suggested Citation
Contributors
First Publication

Abdelali Moukhsil, P. Geo., Ph.D. abdelali.moukhsil@mern.gouv.qc.ca; Mhamed El Bourki, GIT, M.Sc. mhamed.elbourki@mern.gouv.qc.ca (redaction)

Mehdi A. Guemache, P. Geo., Ph.D. (coordination); Fabien Solgadi, P. Geo., Ph.D. (critical review); Simon Auclair, P. Geo., M.Sc. (editing); Céline Dupuis, P. Geo., Ph.D. (English version); André Tremblay (HTML editing).