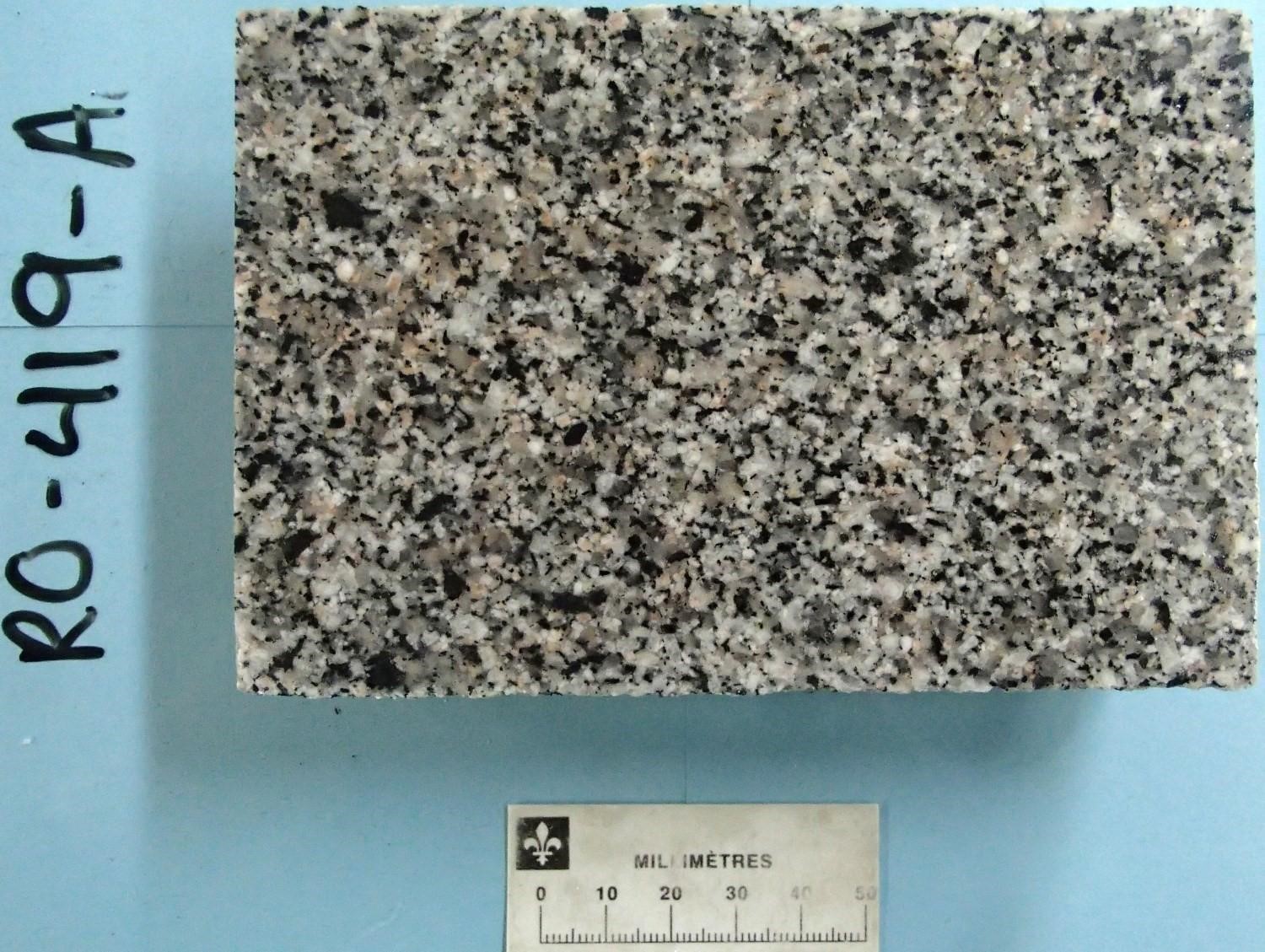 DISCLAIMER: This English version is translated from the original French. In case of any discrepancy, the French version shall prevail.
Informal subdivision(s)
Numbering does not necessarily reflect the stratigraphic position.
None
| | |
| --- | --- |
| Author(s): | Longley, 1946 |
| Age: | Neoarchean |
| Stratotype: | Strangway Rapids (type locality) |
| Type area: | NE quarter of NTS sheet 32C14 |
| Geological province: | Superior Province |
| Geological subdivision: | Abitibi Subprovince |
| Lithology: | Granite |
| Category: | Lithodemic |
| Rank: | Lithodeme |
| Status: | Formal |
| Use: | Active |
Background
Referred to as the "Strangway granite" by Longley (1946) and the Rivière Bell Pluton (Abel) in the Ministère's compilation (MNRF, 2010), Guemache (2020) formally adopted the name Strangway Pluton (based on rapids of the same name on the Bell River) to remove any ambiguity with the Rivière Bell Complex, a stratiform intrusion of mafic to ultramafic composition near the town of Matagami.
Description
Historical work (Longley, 1946), geofiche outcrops and sonic drilling RO-419 indicate that this unit consists of hornblende-biotite granite containing mafic enclaves. According to Longley (1946, page 14): "The rock is medium grained and pink to grey. It is generally massive, but the texture is slightly gneissic in places. In macroscopic specimen, hornblende and biotite are visible, each forming 15-20 [%] of the rock. The first is usually the most abundant. The other main constituents, as they appear in thin sections, are quartz (~25%) and microcline (~30). Plagioclase (oligoclase-andesine) and orthose are present in small amounts. Orthose and plagioclase are slightly altered, but microcline looks fresh and probably secondary. Ordinary accessory minerals are zircon, titanite and apatite. The rock can be classified as a medium-grained hornblendic biotite granite."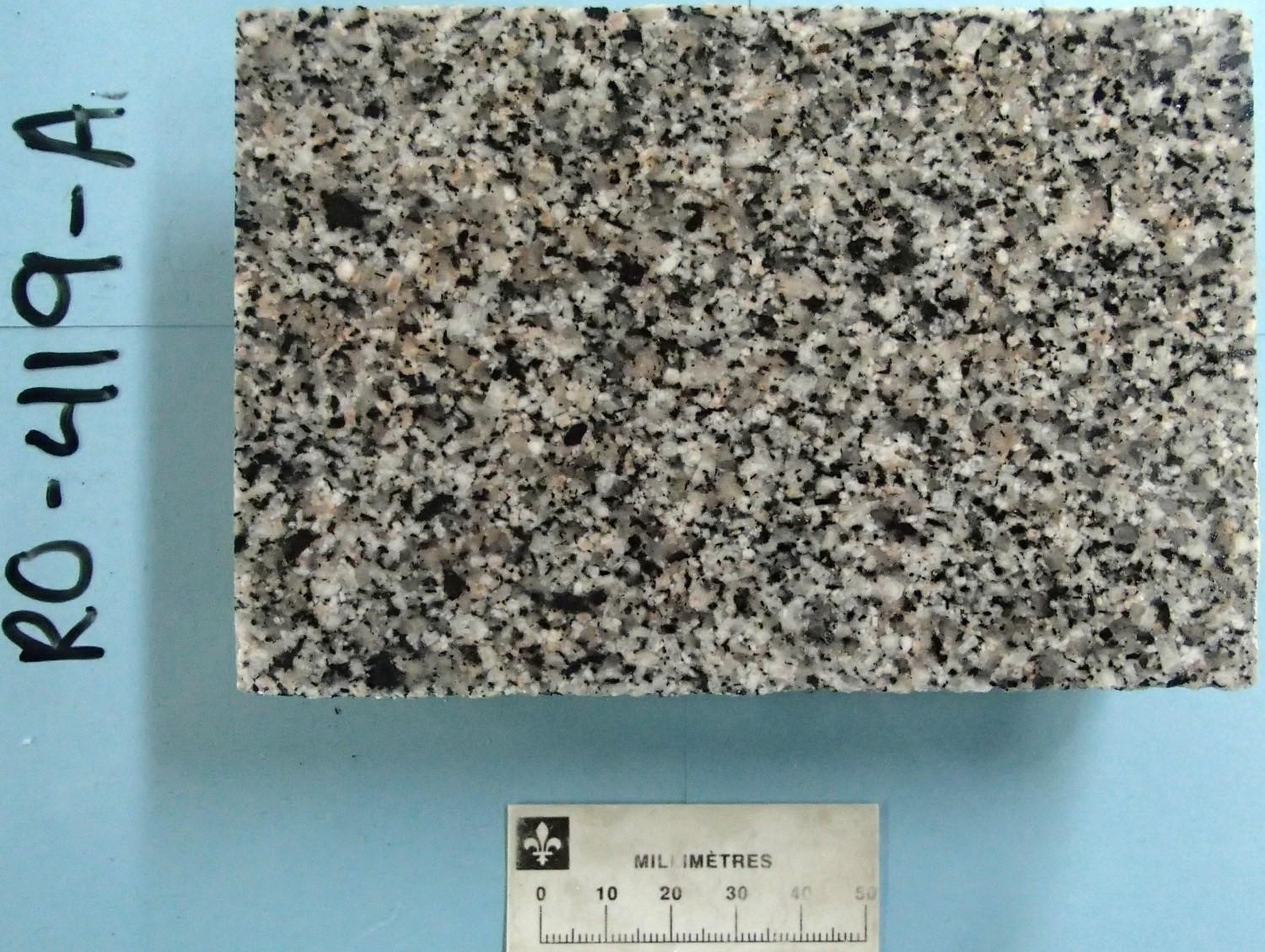 Microscopic analysis of samples collected by sonic drilling RO-419 (Guemache, 2020) reveals that quartz commonly has undulatory extinction, and plagioclase, locally zoned, is commonly sericitized. In places, microcline occurs in large anhedral zones, giving the rock a porphyraceous texture. Myrmekites and microperthites are not uncommon. Biotite (10%), more or less chloritized, hornblende (10%), epidote and titanite tend to form clusters. Apatite, which is scarce, occurs locally as inclusions in biotite, while opaque minerals are sparse. Zircon was reported by Wanless et al. (1978).
Thickness and distribution
The Strangway Pluton corresponds to a relatively small, near-circular intrusion (10 km x 14 km), well visible on aeromagnetic maps (Keating et al., 2010; Keating and d'Amours, 2010; Dion and Lefebvre, 2006).
Dating
K-Ar isotopic dating yielded cooling ages of 2538 ±53 Ma and 2605 ±3 Ma (Wanless et al., 1978).
Unit
Sample Number
Isotopic System
Mineral
Crystallization Age (Ma)
(+)
(-)
Reference(s)
nAstw
WN-23-70
K-Ar
Hornblende
2538
53
53
Wanless et al., 1978
Biotite
2605
63
63
Stratigraphic Relationship(s)
The Strangway Pluton intrudes into the Quévillon Group. Geochronological data suggest that the Strangway Pluton is late-Archean and post-tectonic.
Paleontology
Does not apply.
References
Publications Available Through SIGÉOM Examine
DION, D J., LEFEBVRE, D L. 2006. DONNEES NUMERIQUES (PROFILS) DES LEVES AEROMAGNETIQUES DU QUEBEC. MRNF. DP-2006-07, 1 plan.
GUEMACHE, M A. 2020. Synthèse géologique de la région de rivière Octave, Abitibi. MERN. RG 2018-01, 68 pages et 1 plan.
KEATING, P., D'AMOURS, I. 2010. REEDITION DES DONNEES NUMERIQUES EN FORMAT GEOSOFT (PROFILS) DES LEVES AEROPORTES DE L'ABITIBI, AU QUEBEC. MRNF, COMMISSION GEOLOGIQUE DU CAN. DP 2010-09, 6 pages.
KEATING, P., LEFEBVRE, D., RAINSFORD, D., ONESCHUCK, D. 2010. SERIE DES CARTES GEOPHYSIQUES, PARTIES DES SNRC 31, 32, 41 ET 42, CEINTURE DE ROCHES VERTES DE L'ABITIBI, QUEBEC ET ONTARIO. COMMISSION GEOLOGIQUE DU CAN. DP 2010-05, 8 pages and 2 plans.
LONGLEY, W W. 1946. REGION DE TONNANCOURT – HOLMES, COMTE D'ABITIBI. MRN. RG 024, 29 pages and 1 plan.
LONGLEY, W W. 1946. TONNANCOURT – HOLMES MAP-AREA, ABITIBI COUNTY. MRN. RG 024(A), 28 pages and 1 plan.
MRNF. 2010. CARTE(S) GÉOLOGIQUE(S) DU SIGEOM – feuillet 32C. CG SIGEOM32C, 49 plans.
Other Publications
WANLESS, R.K., STEVENS, R.D., LACHANCE, G.R., DELABIO, R.N. 1978. Age determinations and geological studies, K-Ar Isotopic ages, Report 13. Geological Survey of Canada; Paper no. 77-2, 60 pages. https://doi.org/10.4095/103387
Suggested Citation
Contributors
First publication

Mehdi A. Guemache, P. Geo., Ph.D. mehdi.guemache@mern.gouv.qc.ca (redaction and coordination)

Pierre Lacoste, P. Geo., M.Sc. (critical review); Claude Dion, Eng., M.Sc. (editing); Céline Dupuis, P. Geo., Ph.D. (English version); Ricardo Escobar Moran (HTML editing).
16 juillet 2021
16 juillet 2021