Torngat Dykes
Stratigraphic label: [npro]tor
Map symbol: nPtor

First published: 19 April 2018
Last modified:
Translation of original French
Informal subdivision(s)
Numbering does not necessarily reflect the stratigraphic position.
None
| | |
| --- | --- |
| Author: | Digonnet, 1997 |
| Age: | Neoproterozoic |
| Reference section: | |
| Type area: | Abloviak Fjord area (NTS sheet 24P06) |
| Geological province: | Nain Province |
| Geological subdivision: | Burwell Domain |
| Lithology: | Ultramafic lamprophyre dyke |
| Type: | Lithodemic |
| Rank: | Lithodeme |
| Status: | Formal |
| Use: | Active |
Background
In its reconnaissance of northern Quebec and Labrador, Taylor (1979) reported lamprophyres. Dykes were rediscovered during a regional mapping campaign in 1991 (Digonnet, 1997). The petrographic study of samples reveals the presence of diamonds. This led to exploration and mapping work in the Abloviak Fjord (NTS sheet 24P06) and Jacques Rousseau Mountain (sheet 24P07) area (Marchand, 2005). Digonnet et al. (2000) conducted a first in-depth petrological characterization that linked these lamprophyres to the families of aillikites and melnoites and dated these intrusions to 550 Ma. Another dyke was discovered in the summer of 2017 (Mathieu et al., 2018) in the Grenfeld Sound area (sheet 25A).
Description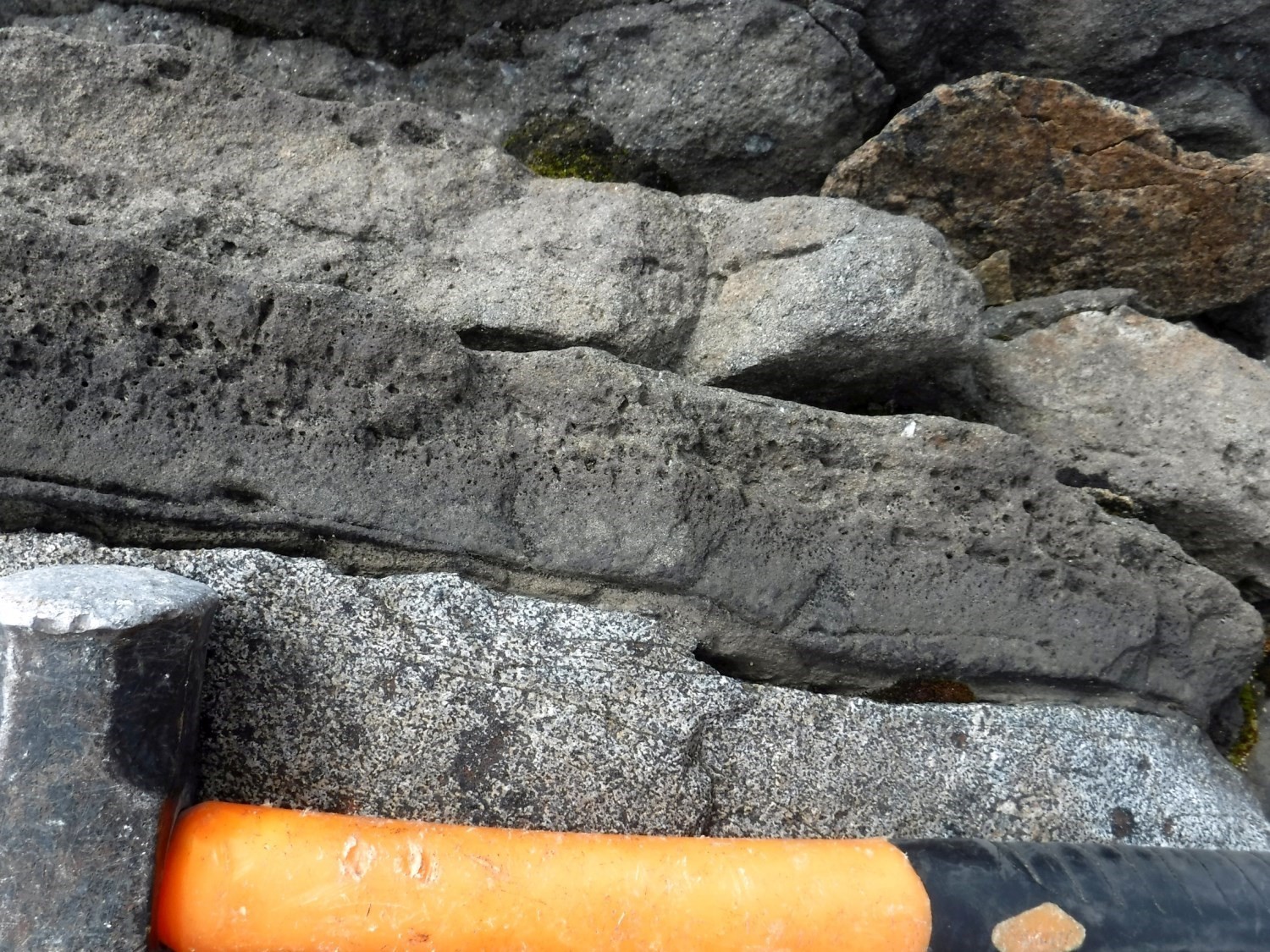 The majority of the dykes are oriented 020º to 060º, but some were emplaced in the regional foliation. They are magnetic and have a grey-green to brown-green alteration patina and a dark green colour in fresh exposure. They have little resistance to weathering and are systematically in negative relief relative to the host rock. Dykes are massive, locally stratified. The presence of crustal xenoliths (gneiss and granitoids), subangular to rounded, and mantellic xenoliths (glimmerite, dunite, websterite) is reported by Marchand (2005).
Samples have a heterogranular texture with megacrystals of rounded olivine, garnet (andradite), phlogopite, ilmenite, more rarely diopside, enstatite, rutile, apatite and exceptionally diamond in a finer-grained matrix. The matrix is composed of altered microcrystals of olivine and phlogopite, but also apatite and spinel-associated perovskite, which are themselves surrounded by an even finer-grained matrix (mesostase) of spinel, perovskite, apatite, ilmenite, chromite, serpentine, chlorite, olivine, and interstitial carbonates. Accessory phases are iron and nickel sulphides associated with spinel. The dyke walls are altered and the host rock has a bluish colour. Digonnet et al. (2000) observed a chilled margin enriched in carbonate.
Marchand (2005) conducted a chemical study of indicators mineral of samples from two dykes. Analysis of nickel content in olivine involves mantellic origin (0.38% NiO on average). Chromite is alumino-magnesian. Several generations of phlogopite are present. Mega and microcrystals are zoned, with a dark phlogopite core and a lighter rim of tetraferriphlogopite or eastonite. Micas in the matrix are also composed of tetraferriphlogopite. Analyzed spinels are mainly titanomagnetites, which rim megacrystalline chromite.
Thickness and distribution
Digonnet et al. (2000) demonstrated the existence of a vast alkaline province stretching from western Greenland to the Labrador Peninsula. In the Point le Droit area (sheet 24P), five subvertical dyke systems were mapped on Abloviak Fjord cliffs and Alluviaq Creek valley slopes. The thickness varies from 1 cm to 5 m. A decimetric dyke was discovered on the Ungava Bay coast in the Ikkudliayuk Fjord area (outcrop 17-IL-3111, sheet 25A02).
Dating
Digonnet et al. (2000) correlated the argon with 42 analytical points on three phlogopite flakes to obtain an approximate age of 550 Ma. These authors correlated the intrusion of these dykes with the beginning of the Iapetus Ocean's opening at the end of the Neoproterozoic (600 Ma) and early Cambrian.
| | | | | | |
| --- | --- | --- | --- | --- | --- |
| Isotopic System | Mineral | Crystallization Age (Ma) | (+) | (-) | Reference(s) |
| Ar-Ar | Phlogopite | 550 | – | – | Digonnet et al., 2000 |
Stratigraphic Relationship(s)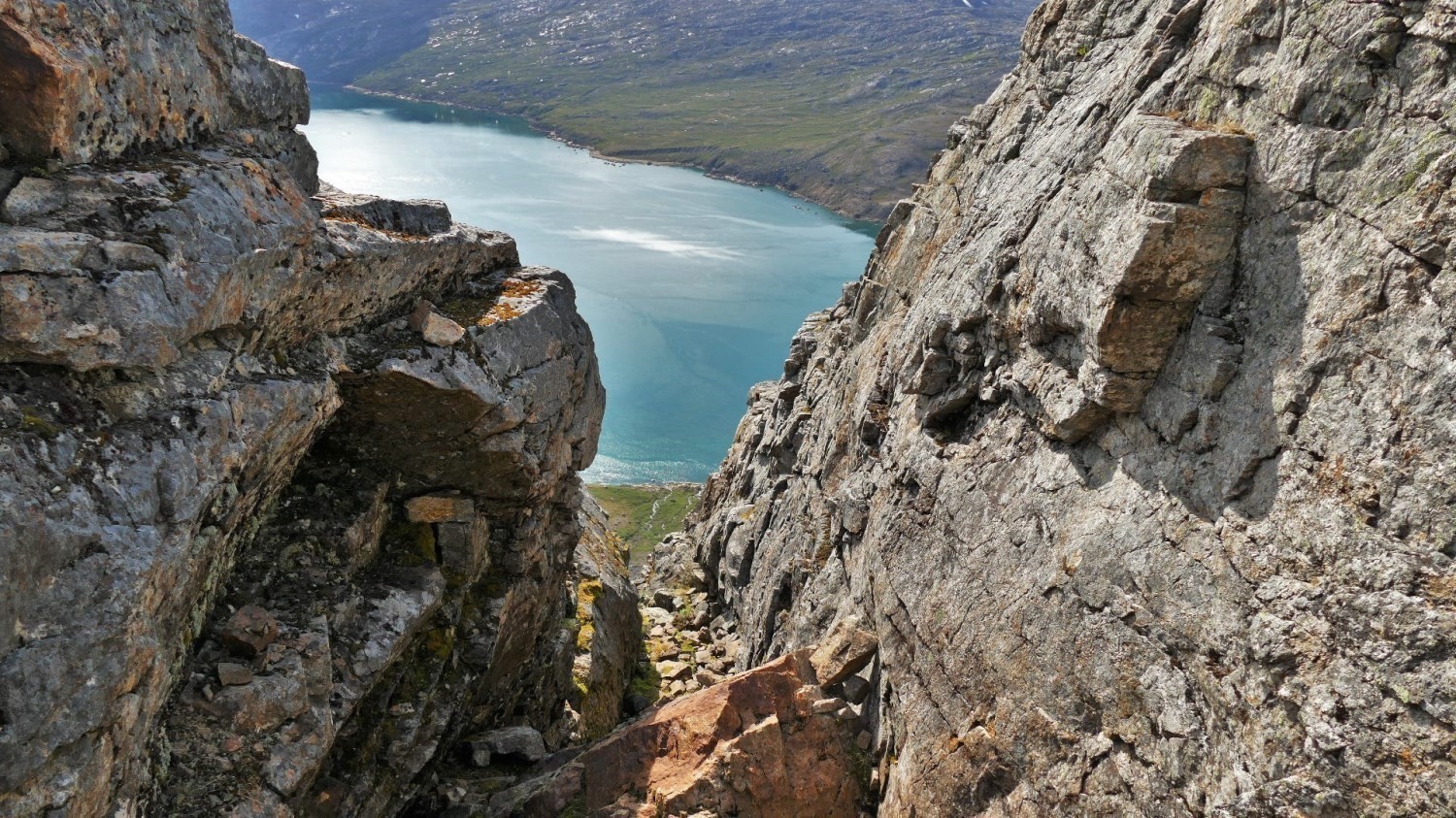 Dykes are hosted in the region's lithologies. They cut metatexites of the Tasiuyak and Sukaliuk complexes, gneiss of the Lomier and Noodleook complexes, and intrusions of the Killinek Suite by straight and frank contacts.
Paleontology
Does not apply.
References
| Author(s) | Title | Year of Publication | Hyperlink (EXAMINE or Other) |
| --- | --- | --- | --- |
| DIGONNET, S. | Étude pétrogéochimique de kimberlites dans les monts Torngat, Nouveau Québec. Mémoire de maîtrise, Université du Québec à Montréal, 82 pages. | 1997 | TH 1723 |
| DIGONNET, S. – GOULET, N. – BOURNE, J.H. – STEVENSON, R. – ARCHIBALD, D. | Petrology of the Abloviak Aillikite dyke, New Quebec: evidence for a Cambrian diamantiferous alkaline province in northeastern North America. Canadian Journal of Earth Sciences, volume 37, 2000, pages 517-533. | 2000 | Source |
| MARCHAND, P. | Caractérisation de deux intrusions kimberlitiques au Témiscamingue, Notre-Dame-du-Nord et Belleterre (BT 44) et de deux dykes ultramafiques des Monts Torngat, études pétrographique, minéralogique, géochimique et potentiel diamantifère. Mémoire de maîtrise, 323 pages. | 2005 | TH 1854 |
| MATHIEU, G. – LAFRANCE, I. – VANIER, M.A. | Géologie de la région de Pointe le Droit, sud-est de la Province de Churchill, Nunavik, Québec, Canada . Ministère de l'Énergie et des Ressources naturelles, Québec. | 2018 | Bulletin géologiQUE |
| TAYLOR, F.C. | Reconnaissance geology of a part of the Precambrian Shield, northeastern Quebec, northern Labrador and northwest Territories. Geological Survey of Canada ; Memoir 393, 99 pages and 19 maps. | 1979 | Source |
6 novembre 2018
6 novembre 2018