Hibbard Plutonic Suite
Stratigraphic label: [mpro]hid
Map symbol: mPhid

First published: 20 October 2017
Last modified:
Translation of original French
Informal subdivision(s)
Numbering does not necessarily reflect the stratigraphic position.
mPhid3
Magnetite-biotite±garnet±clinopyroxene charnockite, syenogranite and minor amounts of opdalite, enderbite and gneissic mangerite
mPhid2
Opdalite and enderbite with magnetite-hornblende±garnet mafic bands; minor amounts of siliceous pyrite gneiss
mPhid1
Monzodiorite, quartz monzonite, diorite and jotunite, minor amounts of mangerite and granite
| | |
| --- | --- |
| Author: | Moukhsil et al., 2015 |
| Age: | Mesoproterozoic |
| Reference section: | Reference outcrop 14-AM-14 along Road R25 leading to Parent |
| Type area: | NTS sheets 31O09, 31O10, 31O15, 31O16, 32B02 and 32B01 |
| Geological province: | Grenville |
| Geological subdivision: | Allochton |
| Lithology: | Monzodiorite, quartz monzonite, jotunite, opdalite, mangerite, syenogranite |
| Type: | Lithodemic |
| Rank: | Suite |
| Status: | Formal |
| Use: | Active |
Background
This unit was defined by Moukhsil et al. (2015) when mapping the Parent region, West Grenville.
Description
The Hibbard Plutonic Suite groups felsic to intermediate intrusions containing orthopyroxene (magmatic and metamorphic). Rocks of this suite are of varying composition with SiO2 content ranging from 59 to 72%. From a geochemical perspective, profiles on the spider diagram normalized to the primitive mantle (Taylor and McLennan, 1985) are characterized by strong negative Nb-Ta anomalies typical of rocks emplaced in volcanic arc domain. On the tectonic environment discrimination diagram (Pearce et al., 1984), analyses plot in the field of volcanic arc granites and intraplate granites. The Hibbard Plutonic Suite is subdivided into three units: mPhid1, mPhid2 and mPhid3.
Hibbard Plutonic Suite 1 (mPhid1): Monzodiorite, Quartz Monzonite, Diorite and Jotunite, Minor Amounts of Mangerite and Granite
This unit consists of monzodiorite, quartz monzodiorite, diorite and jotunite (monzonorite or orthopyroxene monzodiorite). Coarse-grained and granoblastic monzodiorite is composed of plagioclase, biotite, hornblende, magnetite, trace K-feldspar and a few grains of opaque minerals (pyrite). Quartz monzonite and mangerite are medium grained, leucocratic, magnetic lithologies that contain small amounts of biotite and amphibole. Diorite is black to greyish, fine grained, granoblastic with a foliated to gneissic texture. Jotunite is greenish beige in fresh exposure and greyish to beige in altered surface. This locally deformed to mylonitic rock is fine to medium grained and has a granoblastic texture. Under the microscope, it contains plagioclase, quartz, orthopyroxene, clinopyroxene, hornblende, biotite, magnetite, garnet, trace K-feldspar and opaque minerals (pyrite, pyrrhotite). Medium-grained pink granite is intimately bound to the other facies, mainly as centimetric to metric intrusions.
Hibbard Plutonic Suite 2 (mPhid2): Opdalite and Enderbite with Magnetite-Hornblende±Garnet Mafic Bands; Minor Amounts of Siliceous Pyrite Gneiss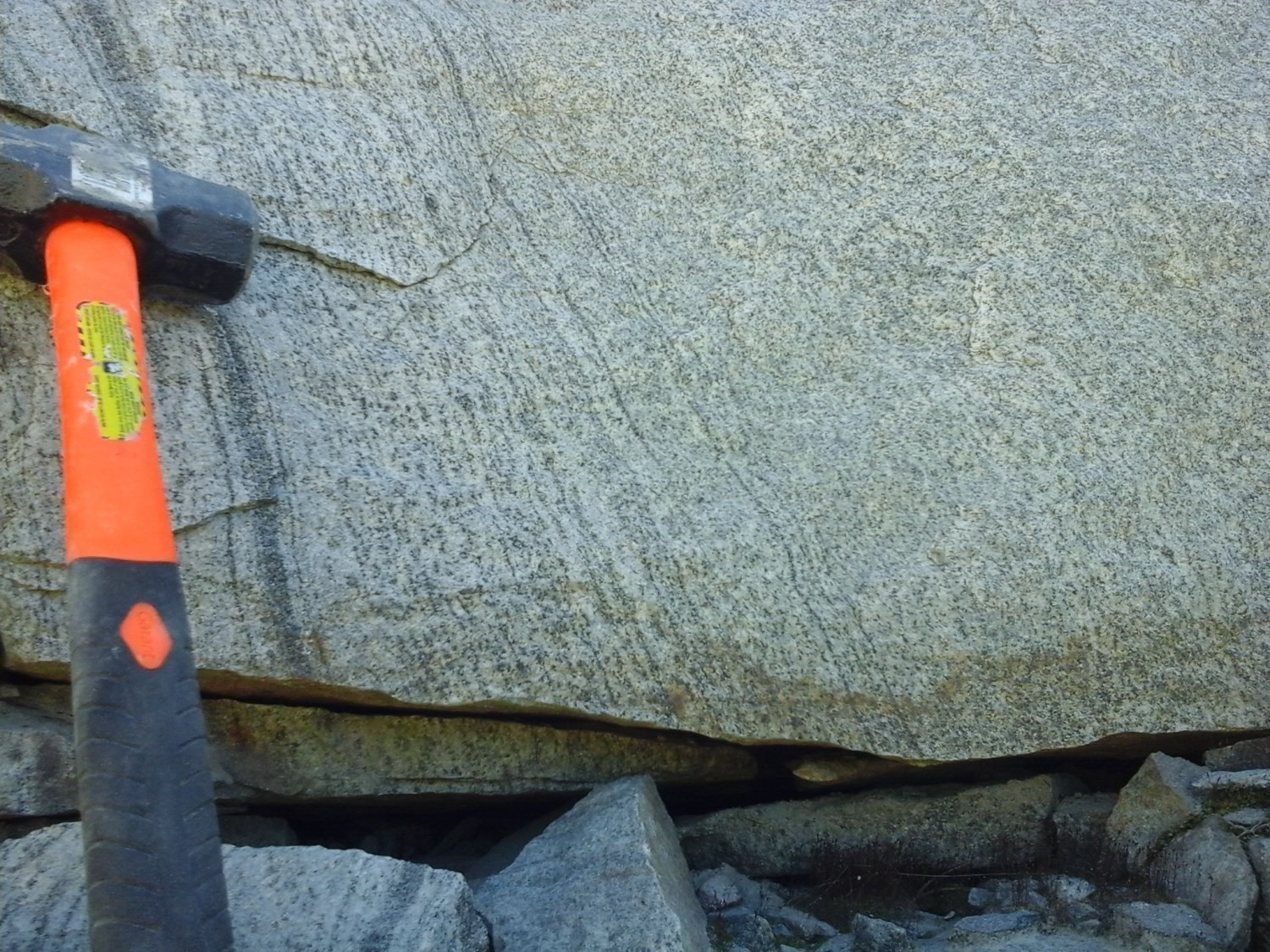 Unit mPhid2 is the main unit of the Hibbard Plutonic Suite. It consists mainly of opdalite (orthopyroxene granodiorite), enderbite (orthopyroxene tonalite) and minor amount of mangerite (orthopyroxene monzonite). These rocks are granoblastic, gneissic and banded with mafic bands composed of magnetite, hornblende and garnet. Under the microscope, opdalite contains quartz with undulatory extinction. Hornblende replaces orthopyroxene locally. Also observed are generally perthitic K-feldspar, trace biotite replacing orthopyroxene and accessory minerals such as apatite, zircon and opaque phases. Some slightly siliceous pyritic gneiss outcrops have been observed locally within unit mPhid2 and could be interpreted as alteration zones.
Hibbard Plutonic Suite 3 (mPhid3): Magnetite-Biotite±Garnet±Clinopyroxene Charnockite, Syenogranite and Minor Amounts of Opdalite, Enderbite and Gneissic Mangerite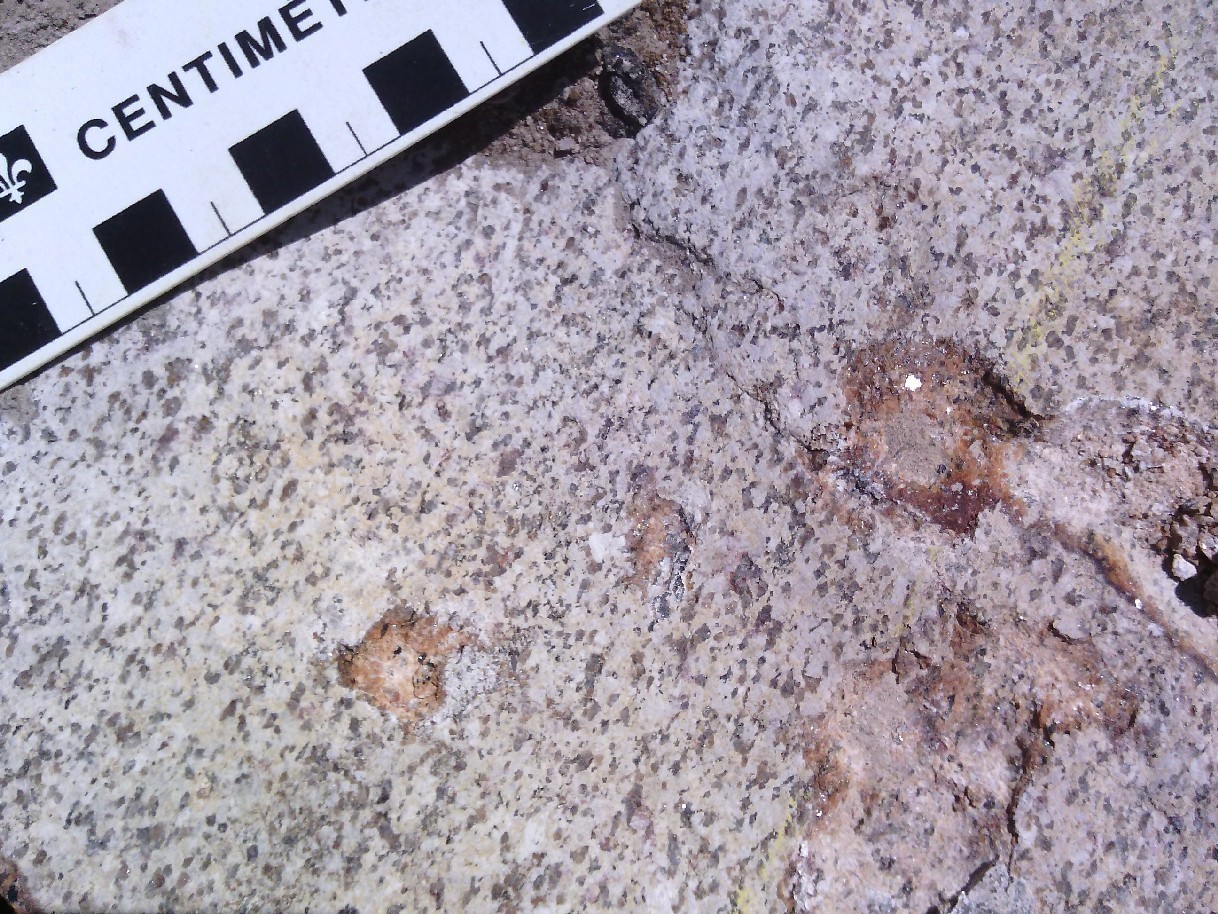 Unit mPhid3 consists of magnetite-biotite±garnet±clinopyroxene charnockite and some syenogranite outcrops. These rocks are associated with minor amounts of typical lithologies recognized in unit mPhid2, as well as pinkish granitic pegmatite dykes and pockets. Under the microscope, rocks of this unit contain large zones of quartz with undulatory extinction without subgrains (18-35%), plagioclase (10-40%) with polysynthetic twinning, orthopyroxene (< 5%), biotite (1-6%), microcline (1-20%), and traces of titanite, apatite and zircon.
Thickness and distribution
The Hibbard Plutonic Suite occupies a large part of the territory mapped in the Parent, Clova and western Wemotaci regions.
Dating
A sample of this suite was dated with the U-Pb method on zircon and gave a crystallization age of 1468 ±7 Ma. Although this age is not very precise, we can conclude that this suite was emplaced during the Pinwarian.
| | | | | | | | | |
| --- | --- | --- | --- | --- | --- | --- | --- | --- |
| Isotopic System | Mineral | Crystallization Age (Ma) | (+) | (-) | Metamorphic Age (Ma) | (+) | (-) | Reference(s) |
| U-Pb | Zircon | 1468 | 7 | 7 | 1004 | 15 | 15 | Moukhsil et al., 2015 |
Stratigraphic Relationship(s)
The Hibbard Plutonic Suite intrudes into the Dugré Plutonic Suite. It is itself intruded by the Dix Milles Syenite, Suzor Ultramafic Intrusions, Roc Suite, Wemotaci Intrusive Suite, Core Syenite and Bourguet Syenite. It also contains kilometric klippes of the Wabash Complex.
Paleontology
Does not apply.
References
| Author(s) | Title | Year of Publication | Hyperlink (EXAMINE or Other) |
| --- | --- | --- | --- |
| MOUKHSIL, A. – CÔTÉ, G. | Géologie de la région de Wemotaci, Haut-Saint-Maurice (Partie ouest du Grenville). Ministère de l'Énergie et des Ressources naturelles, Québec, 44 pages, 2 maps. | 2017 | RG 2017-03 |
| MOUKHSIL, A. – SOLGADI, F. – BELKACIM, S. | Géologie de la région de Clova, Haut-Saint-Maurice (Partie ouest du Grenville). Ministère de l'Énergie et des Ressources naturelles, Québec, 52 pages, 1 map. | 2016 | RG 2016-03 |
| MOUKHSIL, A. – SOLGADI, F.– BELKACIM, S.– AUGLAND, L.E. – DAVID, J. | Géologie de la région de Parent, Haut-Saint-Maurice (Partie ouest du Grenville). Ministère de l'Énergie et des Ressources naturelles, Québec; 62 pages, 1 map. | 2015 | RG 2015-04 |
13 février 2019
13 février 2019