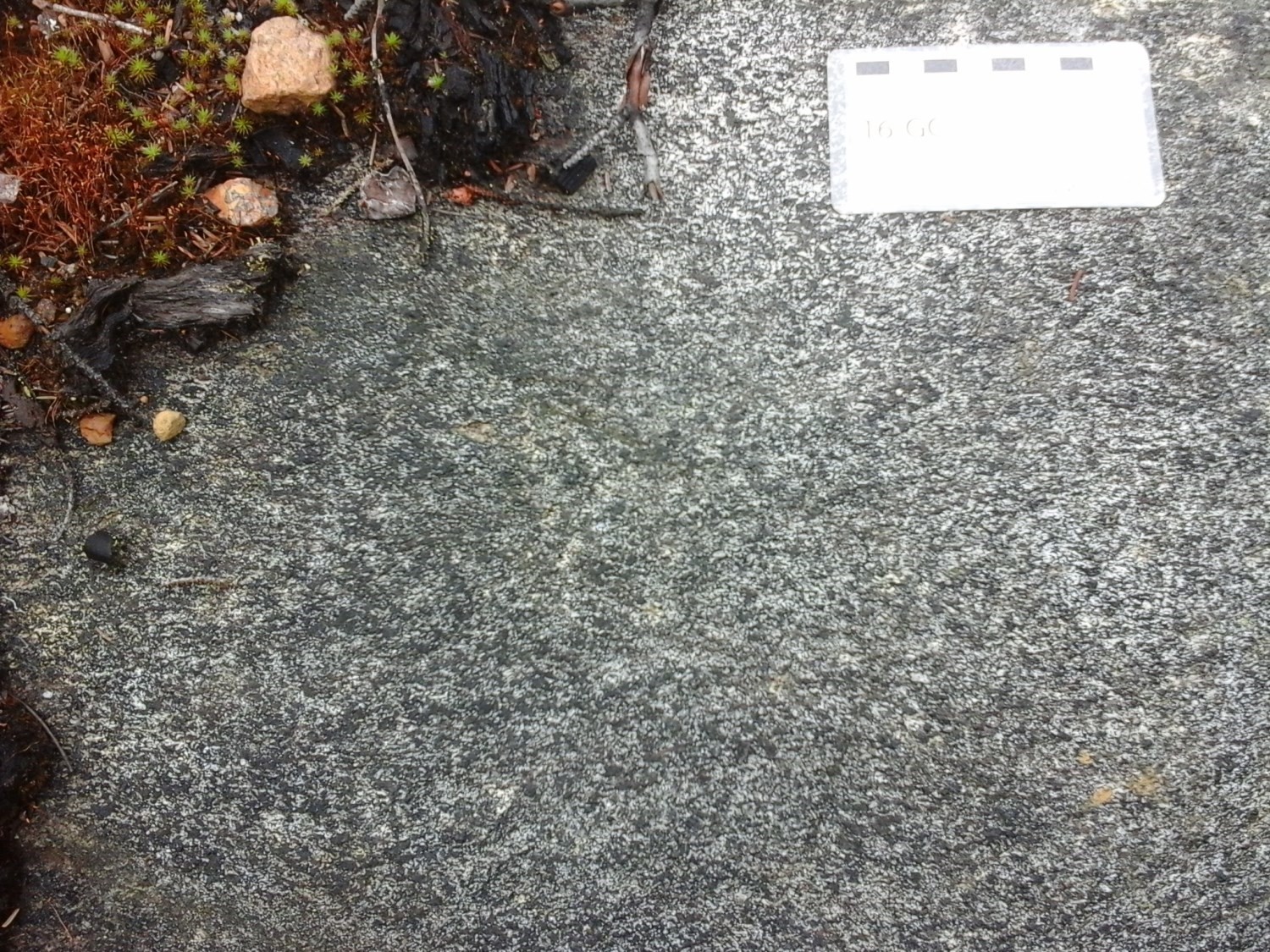 Roc Suite
Stratigraphic label: [mpro]sro
Map symbol: mPsro

First published: 20 October 2017
Last modified: 2 February 2018
Translation of original French
Informal subdivision(s)
Numbering does not necessarily reflect the stratigraphic position.
mPsro3
Fe-Ti-P-oxide-sulphide gabbronorite, minor amounts of gabbro and leuconorite
mPsro2
Foliated gabbronorite and gabbro, minor amounts of Fe-Ti-P-oxide mafic rocks
mPsro1
Olivine websterite, pyroxenite, gabbronorite, gabbro
| | |
| --- | --- |
| Author: | Moukhsil et al., 2015 |
| Age: | Mesoproterozoic |
| Reference section: | Outcrops 14-FS-1288 (mPsro1), 14-AM-163A (mPsro2) and 15-TC-5055 (mPsro3) |
| Type area: | Haut-Saint-Maurice (NTS sheets 31P16 and 31P15) |
| Geological province: | Grenville Province |
| Geological subdivision: | Allochton |
| Lithology: | Gabbronorite, gabbro, ultramafic rocks |
| Type: | Lithodemic |
| Rank: | Suite |
| Status: | Formal |
| Use: | Active |
Background
This unit was introduced by Moukhsil et al. (2015) when mapping the Parent region (NTS sheets 31O09, 31O10, 31O15, 31O16, 32B02 and 32B01).
Description
The Roc Suite is a package of mafic to ultramafic intrusions, dykes and klippes. This unit cuts all the rocks in the Parent region, except syenite and pegmatite. Rocks of this suite are mainly of tholeiitic affinity (Irvine and Baragar, 1971), with the exception of a few calc-alkaline samples. On the Zr vs Zr/Y discriminant diagram of tectonic environments (Pearce and Norry, 1979), analyses mostly indicate an intraplate environment setting. The Roc Suite is subdivided into three mappable units (mPsro1, mPsro2 and mPsro3).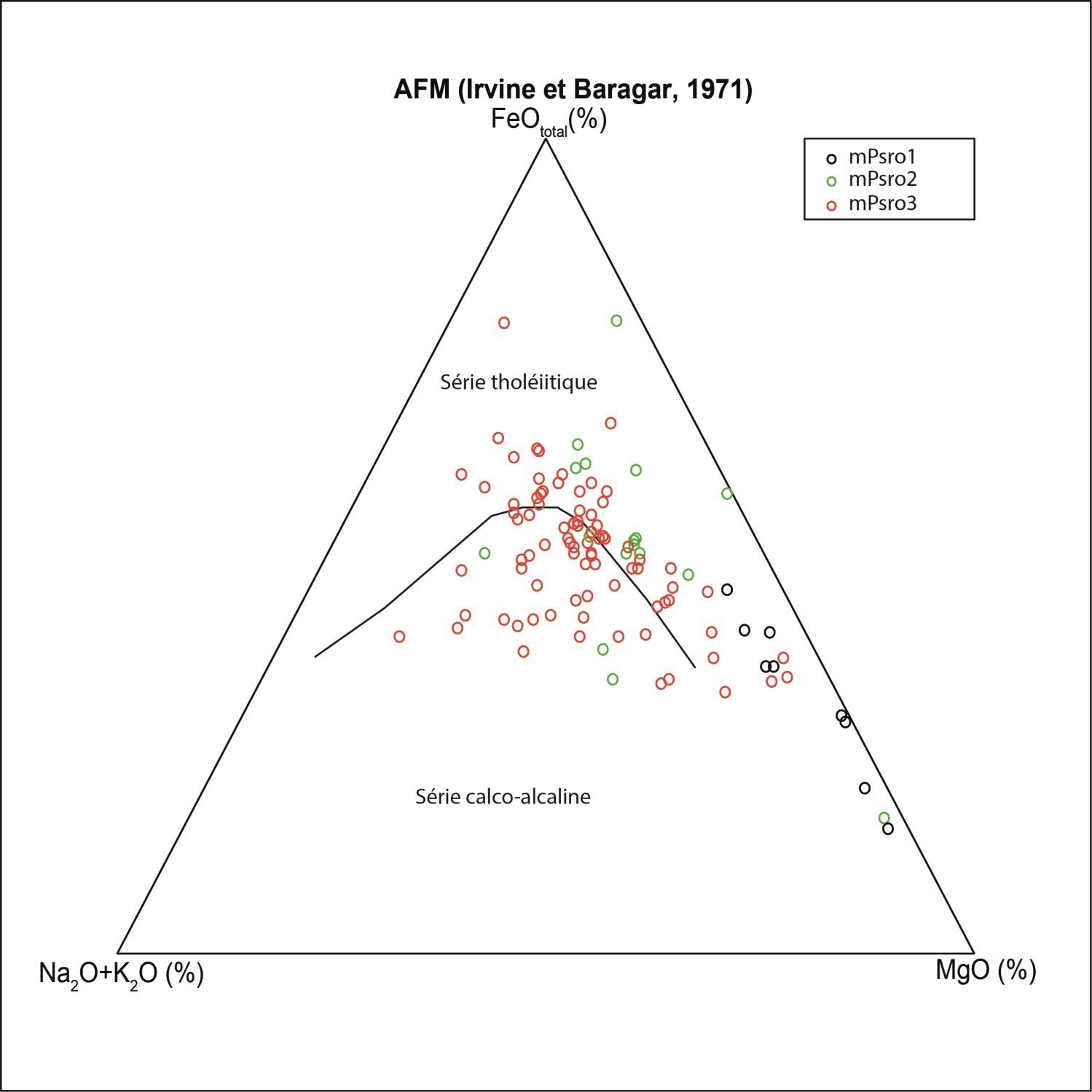 Roc Suite 1 (mProc1): Olivine Websterite, Pyroxenite, Gabbronorite, Gabbro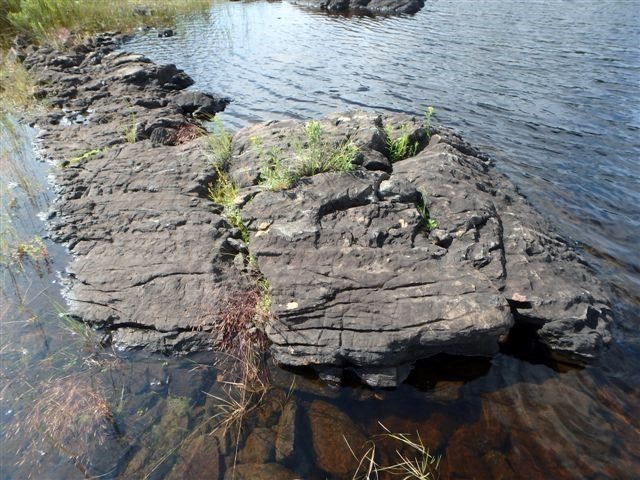 Unit mPsro1, the smallest unit, consists mainly of ultramafic rocks, including olivine websterite, with minor amounts of pyroxenite, gabbronorite and gabbro. These rocks are composed of plagioclase, orthopyroxene, clinopyroxene, amphibole, garnet and opaque minerals (pyrite). Olivine websterite may contain enclaves or clusters greenish to pinkish in fresh exposure and whitish in altered surface that may result from pyroxenite metasomatic alteration.
Roc Suite 2 (mProc2): Foliated Gabbronorite and Gabbro, Minor Amounts of Fe-Ti-P-Oxide Mafic Rocks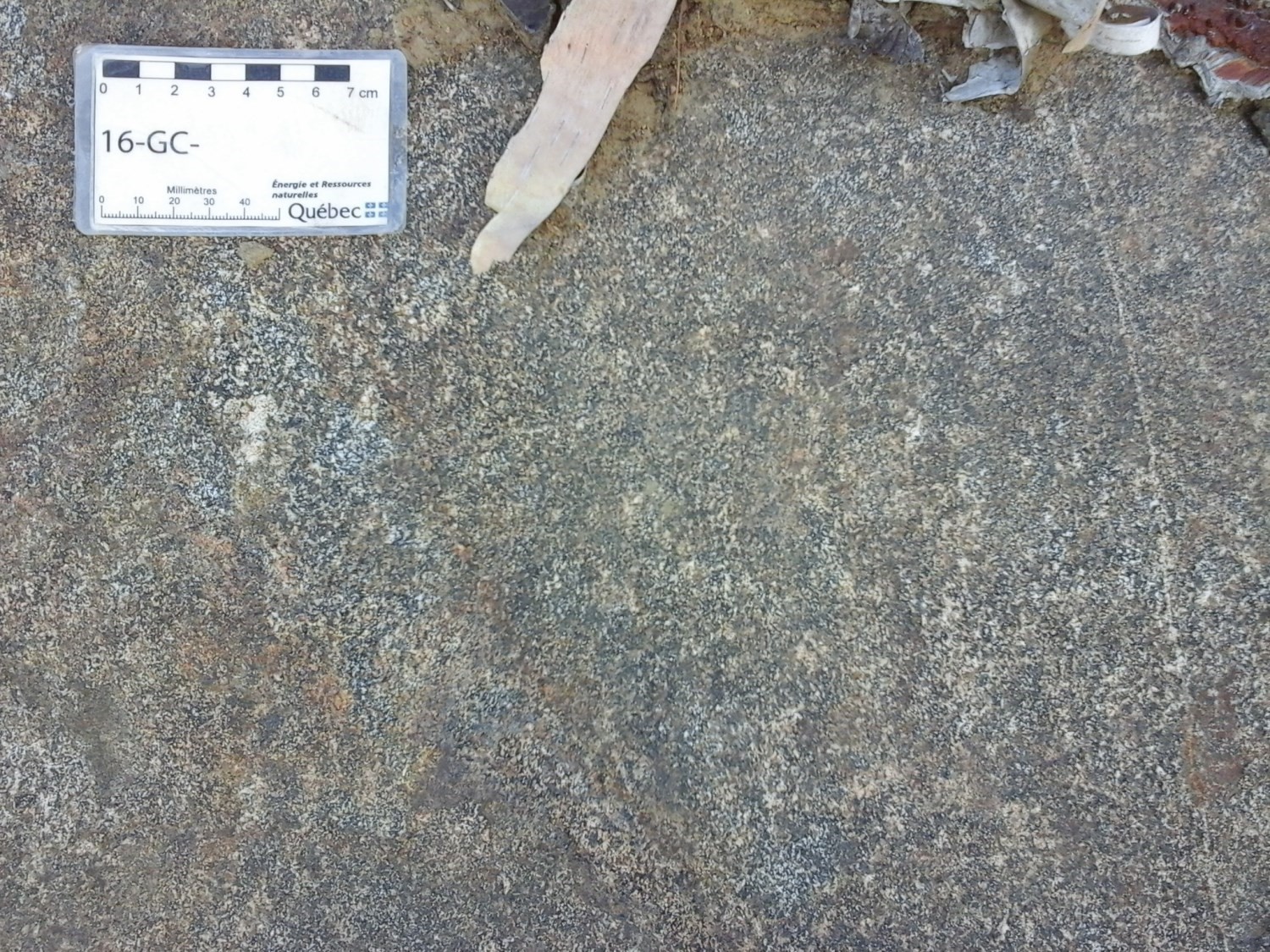 This unit consists mainly of foliated gabbronorite and gabbro, coarse-grained and subophitic (rarely ophitic) or granoblastic. Small horizons, dykes or irregular millimetric to centimetric clusters rich in Fe-Ti oxides and apatite are observed locally (OAGN = Oxide-Apatite-Gabbronorite, acronym proposed by Dymeck and Owens, 2001). These are banded or spotted (leopard appearance). Unit mPsro2 also contains minor amounts of ultramafic rocks (identical to those of unit mPsro1). Typical gabbronorite (outcrop 14-AM-163A) is foliated with local millimetric to centimetric clusters of coarse-grained to pegmatic gabbronorite or norite. Rock is composed of plagioclase, orthopyroxene, clinopyroxene, garnet and magnetite. OAGN zones also contain biotite, some apatite and ilmenite. Decametric horizons of mylonitic gabbronorite represent deformation zones. Unit mPsro2 is cut by granitic pegmatite pockets or dykes.
Roc Suite 3 (mProc3): Fe-Ti-P-Oxide-Sulphide Gabbronorite, Minor Amounts of Gabbro and Leuconorite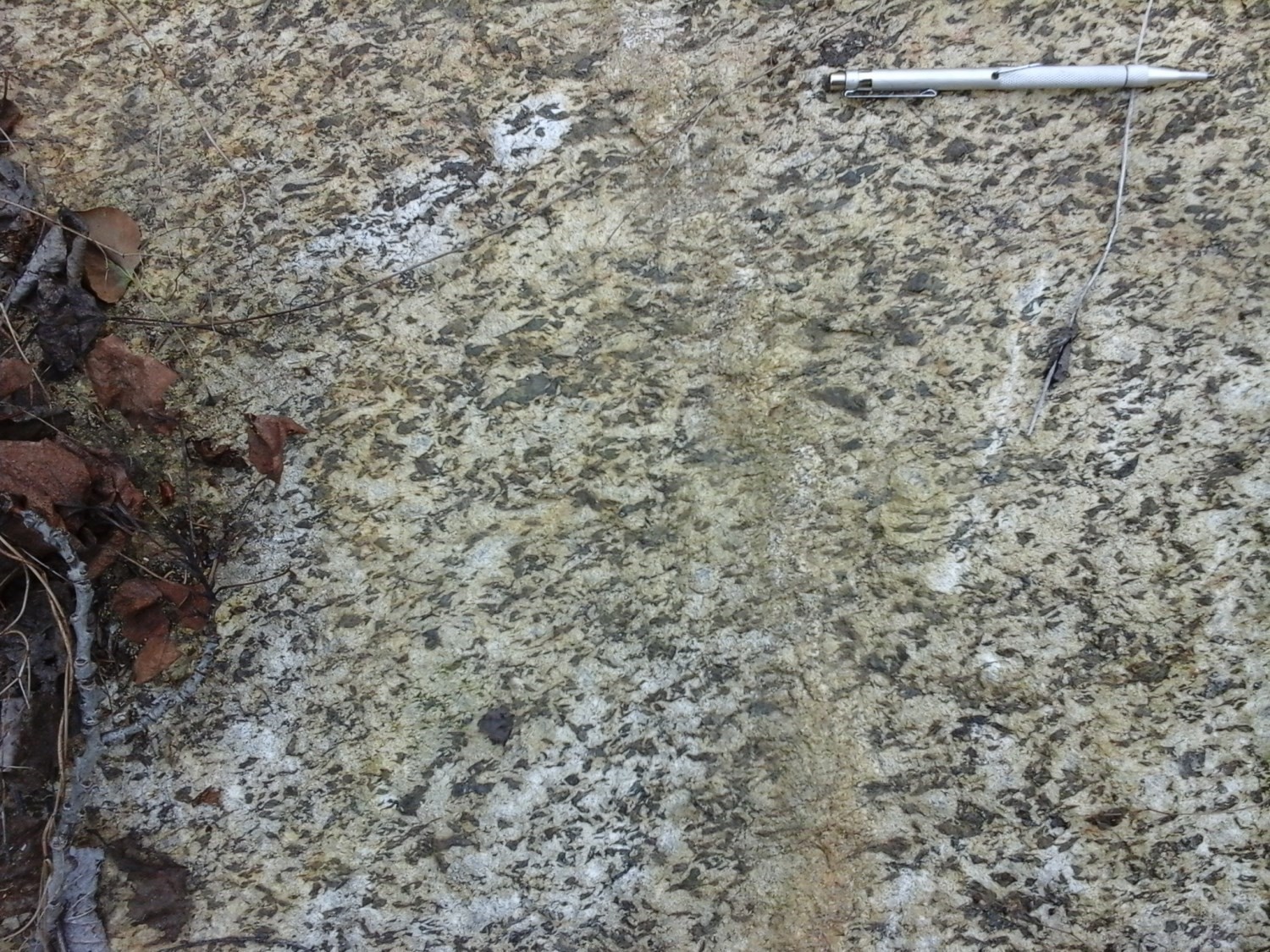 Unit mPsro3 consists mainly of gabbronorite and foliated gabbro with minor amounts of leuconorite and Fe-Ti-oxide-apatite mafic rocks (OAGN). The rock also contains trace sulphides. This unit has strong positive magnetic anomaly on aeromagnetic maps. Typical unit outcrop (15-TC-5055) consists of locally porphyroblastic coarse-grained gabbronorite, brownish in fresh exposure and showing magmatic foliation. It is composed of plagioclase, orthopyroxene, hornblende, magnetite and garnet. Gabbronorite also contains Fe-Ti oxides and apatite in places. Unit mPsro3 also contains coronitic leuconorite, recrystallized and coarse-grained, composed of plagioclase and orthopyroxene. The coronic texture has a beige to pink reddish core consisting mainly of orthopyroxene or small plagioclase crystals. The core is surrounded by a greenish millimetre-thick rim of green hornblende symplectite, rimmed in turn by red garnet.
Thickness and Distribution
The Roc Suite was identified in the Parent region (sheets 32B01, 32B02, 31O15, 31O16, 31O10 and 31O09; Moukhsil et al., 2015), as well as in the Clova region further west (sheets 32B03, 31O11, 31O12, 31O13 and 31O14; Moukhsil et al., 2016) and Wemotaci region further east (sheets 31P11, 31P12, 31P13 and 31P14; Moukhsil and Côté, 2017).
Dating
A sample from outcrop 14-AM-163A (mPsro2) yielded only a metamorphic age.
| | | | | | |
| --- | --- | --- | --- | --- | --- |
| Isotopic System | Mineral | Metamorphic Age (Ma) | (+) | (-) | Reference(s) |
| U-Pb | Zircon | 1012 | 1 | 1 | Moukhsil et al., 2015 |
Stratigraphic Relationship(s)
The Roc Suite occurs as kilometric dykes and intrusions that cut the Wabash complex, Lacoste Magmatic Suite, and Hibbard, Pope, Tower, Vermillon and Seal plutonic suites.
Paleontology
Does not apply.
References
| Author(s) | Title | Year of Publication | Hyperlink (EXAMINE or Other) |
| --- | --- | --- | --- |
| DYMEK, R.F. – OWENS, B.E. | Petrogenesis of apatite-rich rocks (nelsonite and oxide-apatite gabbronorite) associated with massif anorthosites. Economic Geology; volume 96, pages 787-815. | 2001 | Source |
| MOUKHSIL, A. – SOLGADI, F. – BELKACIM, S. – AUGLAND, L.E. – DAVID, J. | Géologie de la région de Parent, Haut-Saint-Maurice (Partie ouest du Grenville). Ministère de l'Énergie et des Ressources naturelles, Québec, 62 pages, 1 map. | 2015 | RG 2015-04 |
| MOUKHSIL, A. – SOLGADI, F. – BELKACIM, S. | Géologie de la région de Clove, Haut-Saint-Maurice (Partie ouest du Grenville). Ministère de l'Énergie et des Ressouces naturelles, Québec, 62 pages, 1 map. | 2016 | RG 2016-03 |
| MOUKHSIL, A. – CÔTÉ, G. | Géologie de région de Wemotaci, Haut-Saint-Maurice (Partie ouest du Grenville). Ministère de l'Énergie et des Ressouces naturelles, Québec. | 2017 | RG 2017-03 |
5 novembre 2018
26 juillet 2019