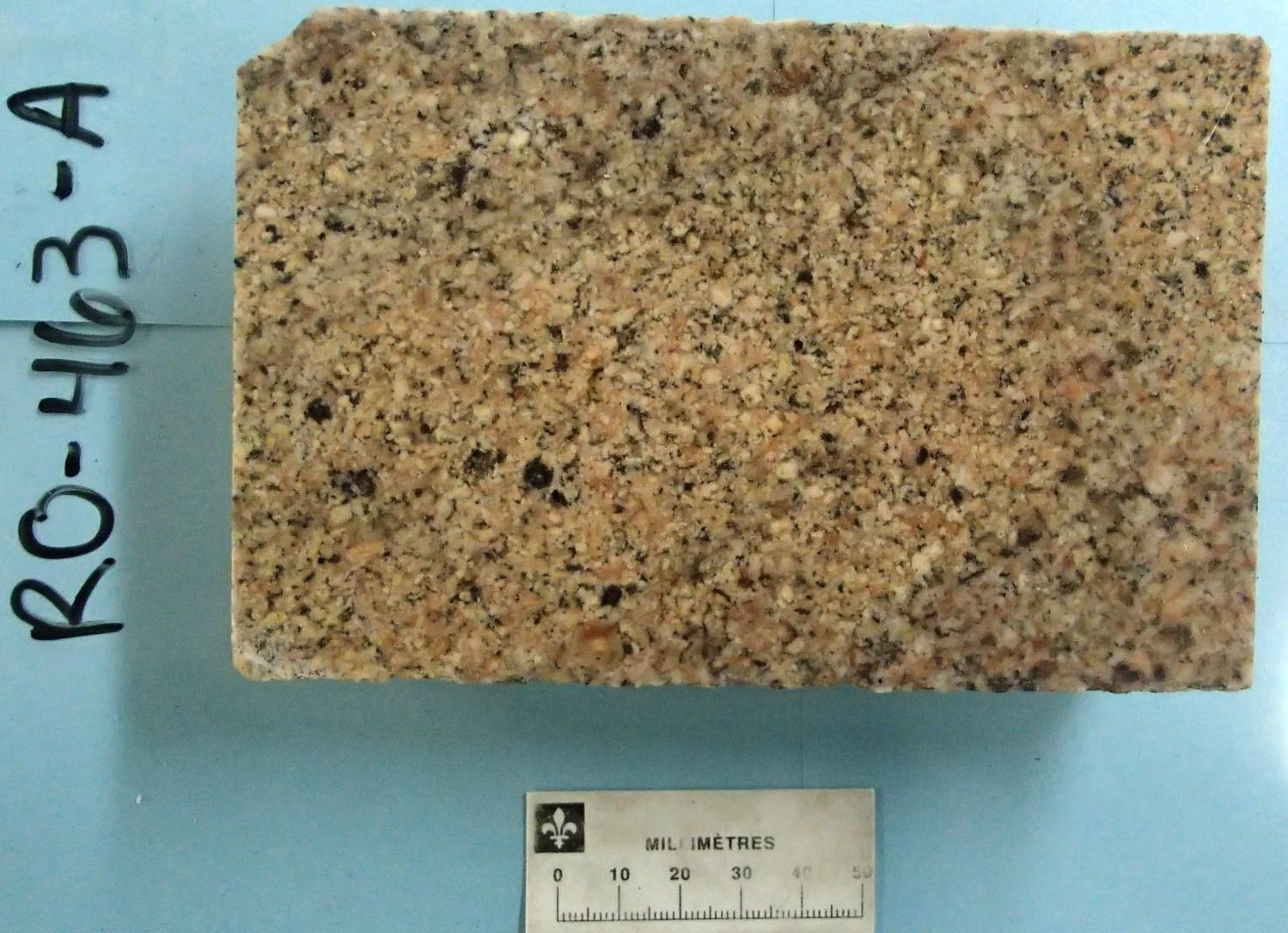 DISCLAIMER: This English version is translated from the original French. In case of any discrepancy, the French version shall prevail.
Informal subdivision(s)
Numbering does not necessarily reflect the stratigraphic position.
| | |
| --- | --- |
| Author: | Guemache, 2020 |
| Age: | Neoarchean |
| Stratotype: | None |
| Type area: | NW corner of NTS sheet 32F04 |
| Geological province: | Superior Province |
| Geological subdivision: | Abitibi Subprovince |
| Lithology: | Felsic to intermediate plutonic rocks |
| Category: | Lithodemic |
| Rank: | Lithodeme |
| Status: | Formal |
| Use: | Active |
Background
Previously referred to as lithological unit I1B in the Ministère's compilation maps (MNRF, 2010a, b), this small intrusion was recently formally named the Kamadjideweckode Stock after nearby stream and lake (Guemache, 2020). Rocks that make up this stock do not outcrop, because they are hidden by a thick quaternary sequence, but diamond and sonic drilling revealed its nature, whereas aeromagnetic data (Keating et al., 2010; Keating and d'Amours, 2010) revealed its geometry.
Description
The Kamadjideweckode Stock contains a granitic central area marked by low residual magnetic field intensity (nAkad1) and a higher intensity edge area of biotite quartz monzodiorite in the eastern part of the intrusion (nAkad2). The northern and southern edges of the intrusion are affected by an overall E-W tectonic foliation; it is dipping northward to the north and southward to the south. Some magnetic lineaments cut the stock and surrounding rocks along N-S, NE-SW and NW-SE directions (Beaudry, 1988). A NW-SE lineament in the extension of a shear crossed by drilling IM88-05 (Beaudry, 1988) could be a segment of the Harricana Shear Zone.
Kamadjideweckode Stock 1 (nAkad1): Granite
The two diamond drillings IM88-06 and IM88-07 (Beaudry, 1988) performed in the central area (nAkad1) indicate that the dominant lithology is a massive medium-grained granite.
Kamadjideweckode Stock 2 (nAkad2): Biotite Quartz Monzodiorite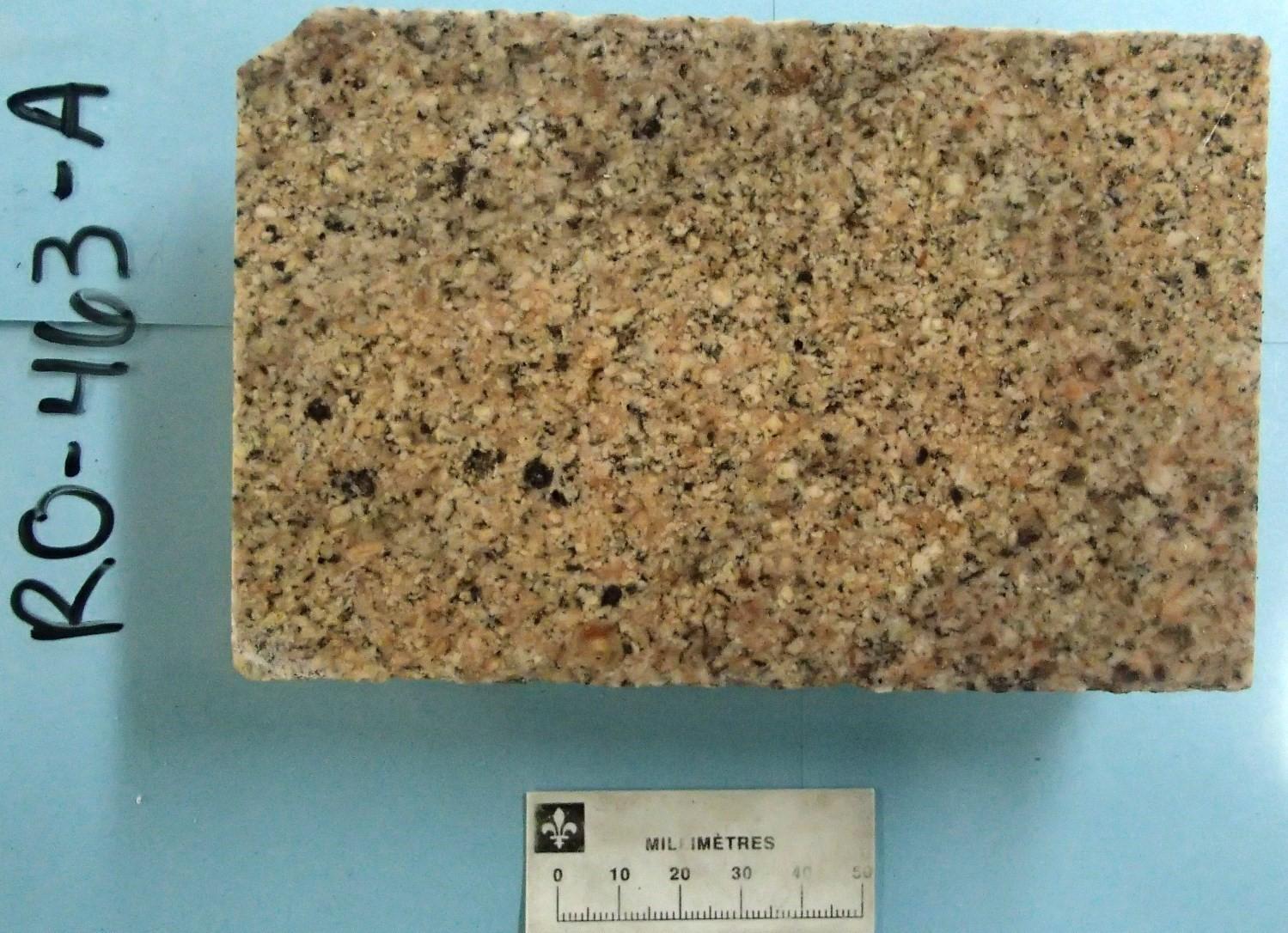 Sonic drilling RO-463 provided insight into the lithology of the edge area (nAkad2), previously considered a contact metamorphism aureole affecting intermediate to mafic volcanic rocks of the Vanier-Dalet-Poirier Group (Beaudry, 1988). It consists of biotite quartz monzodiorite, leucocratic beige, massive, homogeneous and medium grained (Guemache, 2020). Black minerals are scarce (<10%). In thin sections, it contains quartz having undulatory extinction in places, slightly sericitized plagioclase, microperthitic microcline, commonly chloritized biotite, muscovite and, as accessory phases, titanite, epidote and opaque minerals such as magnetite. Calcite can account for up to 2% of the total volume of the rock.
Thickness and distribution
The Kamadjideweckode Stock is a small, almost circular intrusion (4 km x 3 km) located in the NW corner of sheet 32F04.
Dating
None.
Stratigraphic Relationship(s)
The Kamadjideweckode Stock intrudes into the Vanier-Dalet-Poirier Group, dated 2722 ±1 Ma (Gaboury and Daigneault, 1999) and 2722 ±2 Ma (Rhéaume et al., 2010). It is likely late-tectonic.
Paleontology
Does not apply.
References
Publications available through SIGÉOM Examine
BEAUDRY, C. 1988. EXPLORATION REPORT, MAIZERETS PROPERTY. RESSOURCES IMCO LTEE. Assessment report submitted to the Government of Québec. GM 46604, 179 pages and 10 plans.
GUEMACHE, M A. 2020. Synthèse géologique de la région de rivière Octave, Abitibi. MERN. RG 2018-01, 68 pages et 1 plan.
KEATING, P., D'AMOURS, I. 2010. REEDITION DES DONNEES NUMERIQUES EN FORMAT GEOSOFT (PROFILS) DES LEVES AEROPORTES DE L'ABITIBI, AU QUEBEC. MRNF, COMMISSION GEOLOGIQUE DU CAN. DP 2010-09, 6 pages.
KEATING, P., LEFEBVRE, D., RAINSFORD, D., ONESCHUCK, D. 2010. SERIE DES CARTES GEOPHYSIQUES, PARTIES DES SNRC 31, 32, 41 ET 42, CEINTURE DE ROCHES VERTES DE L'ABITIBI, QUEBEC ET ONTARIO. COMMISSION GEOLOGIQUE DU CAN. DP 2010-05, 8 pages and 2 plans.
MRNF, 2010a. CARTE(S) GÉOLOGIQUE(S) DU SIGEOM – feuillet 32E. CG SIGEOM32E, 57 plans.
MRNF, 2010b. CARTE(S) GÉOLOGIQUE(S) DU SIGEOM – feuillet 32F. CG SIGEOM32F, 64 plans.
Suggested Citation
Contributors
First publication

Mehdi A. Guemache, P. Geo., Ph.D. mehdi.guemache@mern.gouv.qc.ca (redaction and coordination)

Pierre Lacoste, P. Geo., M.Sc. (critical review); Claude Dion, Eng., M.Sc. (editing); Céline Dupuis, P. Geo., Ph.D. (English version); Ricardo Escobar Moran (HTML editing).
7 juillet 2021
7 juillet 2021