Background
Johannes (1918) recognized the existence of acid plutonic rocks at the Nissing-Oditan Pluton location without its name or precise delineation; it was then included in an enormous mass of "acid batholitic intrusive rocks", including granite, granitic gneiss, granodiorite, diorite, aplite and pegmatite. The granitic intrusion as such was first defined by Backman (1934), but not named. Gilbert (1980, in MER, 1984) drew the SE part of the intrusion and described it as a package of tonalite and quartz diorite. Hocq (1981) called it « Nissing Hill massif » and described it as granitoid. The name « Nissing-Oditan Pluton » first appeared in the report of Rive (1994), referring to the Nissing and Oditan Hills located in the area of intrusion. Beausoleil and Doucet (1998, in MRNF, 2010) and Deschênes (2012) defined the intrusion as an assemblage of monzonite and quartz monzonite. Deschênes et al. (2014) later clarified the description of monzonite in the far northern part of the Nissing-Oditan Pluton, noting that it is a hornblende leucocratic rock, locally quartz monzonitic, in places K-feldspar porphyritic and medium grained. The recent revision of Guemache (2020) has reduced the stratigraphic division of the Nissing-Oditan Pluton to two informal units, nAnis1 and nAnis2, which are described below.
Description
Nissing-Oditan Pluton1 (nAnis1): Hornblende-Biotite Quartz Monzonite and Granite, Locally K-feldspar (Plagioclase) Porphyraceous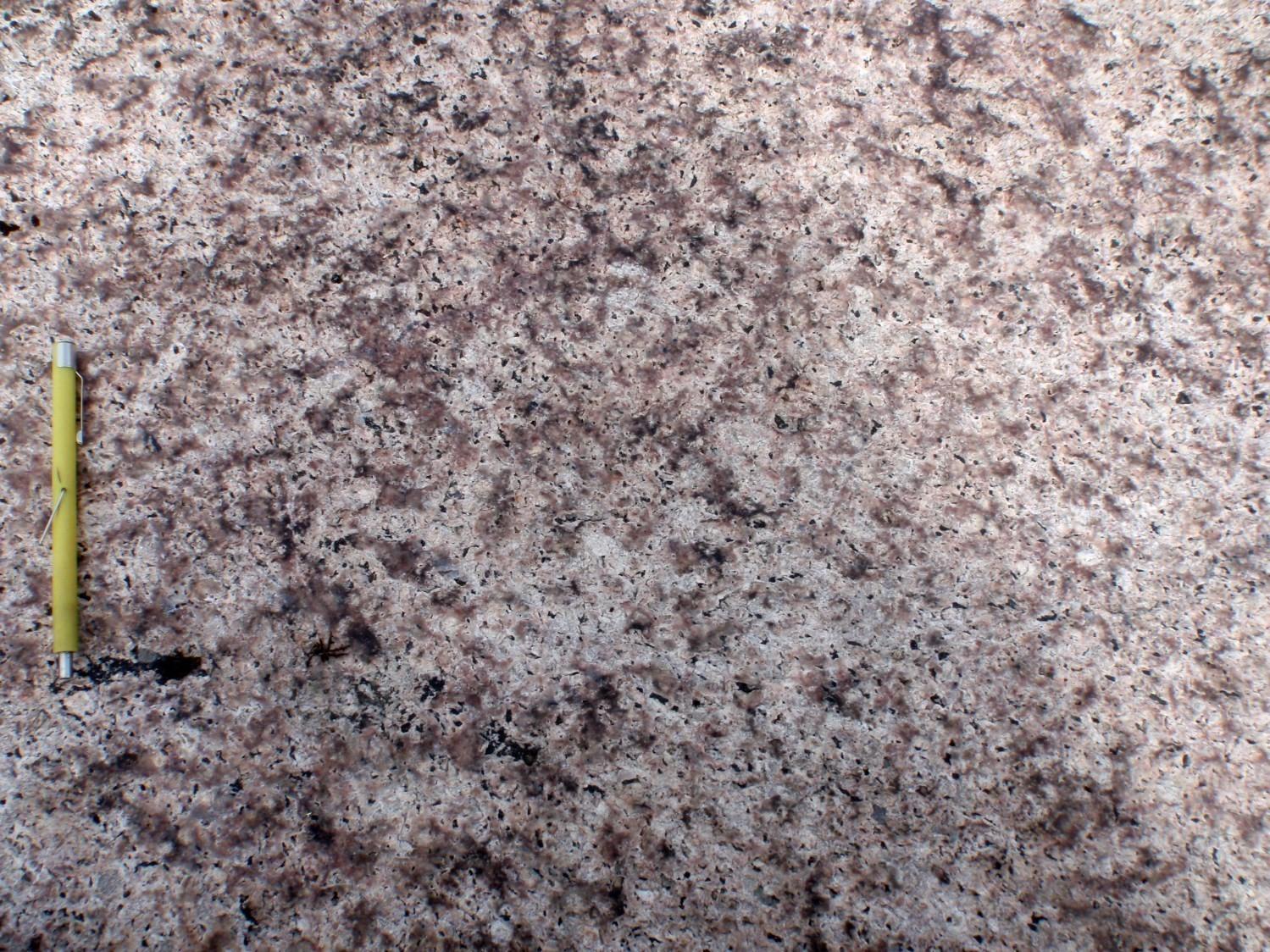 Unit nAnis1 occupies the core of the intrusion and is characterized by low residual magnetic field intensity (Keating et al., 2010; Keating and d'Amours, 2010). It consists of hornblende-biotite quartz monzonite and granite. The rock is medium to coarse grained, locally K-feldspar porphyraceous and, more sparsely, plagioclase porphyraceous. The amount of ferromagnesian minerals is relatively small (<2%). In thin sections, the rock is composed of quartz, microcline, orthose, plagioclase in lesser amounts than K-feldspar, chloritized biotite, hornblende, in places blue, epidote, allanite, apatite and opaque minerals (magnetite). Microperthites are recognized everywhere.
Nissing-Oditan Pluton2 (nAnis2): Hornblende-Biotite-Clinopyroxene Monzonite and Monzodiorite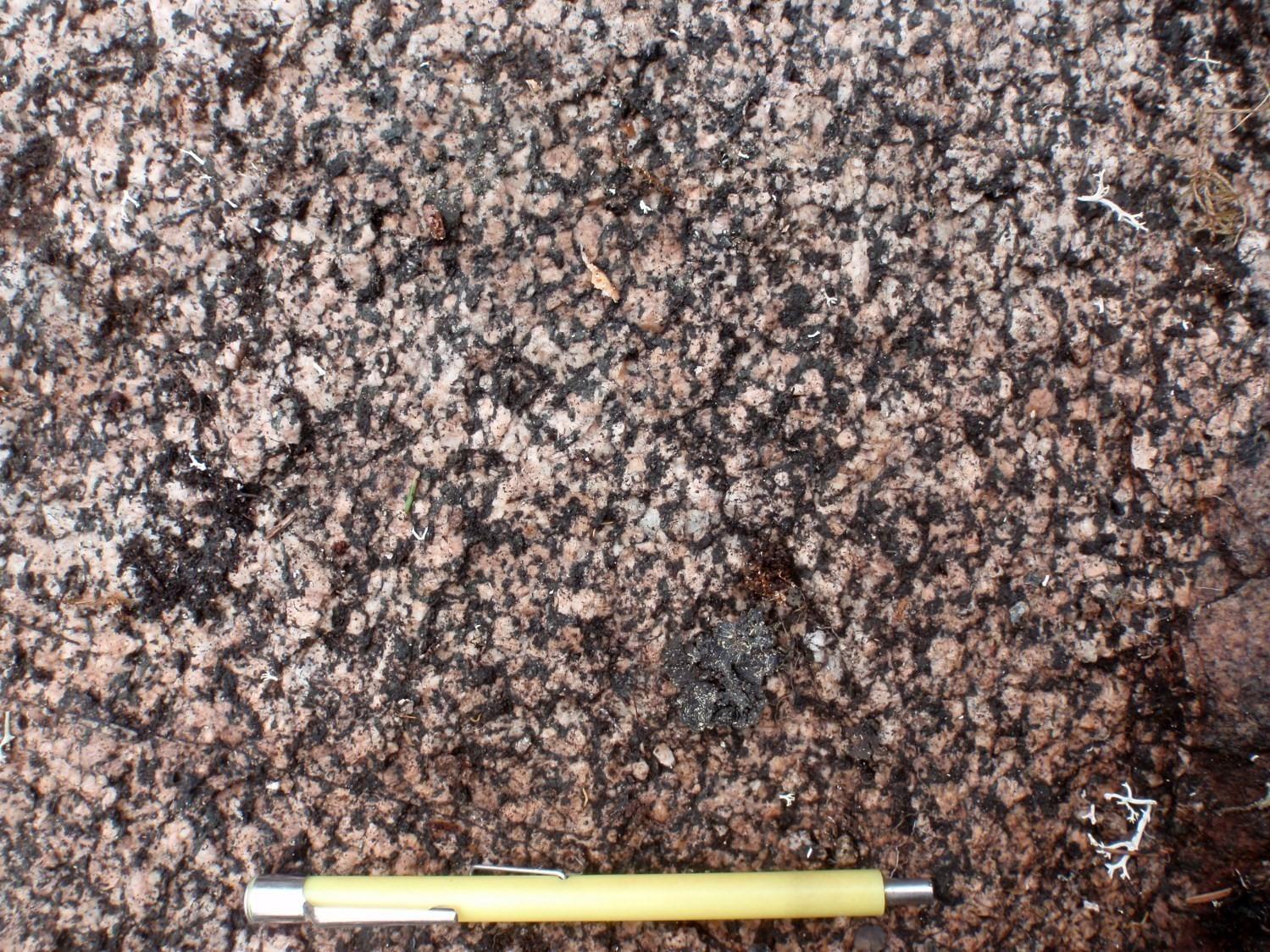 Unit nAnis2 occupies the peripheral part of the intrusion and is characterized by a higher magnetic field intensity (Keating et al., 2010; Keating and d'Amours, 2010) than unit nAnis1. It consists of hornblende-biotite-clinopyroxene monzonite and monzodiorite. Ferromagnesian minerals account for up to 20% of the rock volume. The rock is pink and medium to coarse grained. In thin sections, the mineralogical assemblage consists of quartz (<5%), K-feldspar (microcline and orthose), plagioclase less abundant than K-feldspar, biotite more or less chloritized, amphibole, clinopyroxene and chlorite. Magnetite is significantly more abundant than in unit nAnis1. Accessory minerals are epidote, allanite, titanite, which occurs locally as large grains visible to the naked eye, and apatite.
According to Hocq (1981), the Nissing-Oditan Pluton is distinguished from the Lac de la Perdrix Pluton by a more leucocratic composition, lack of enclaves and lower quartz content. These observations are specified later by the same author (in MER, 1983), in these terms: "The eastern part of the Nissing Hill massif consists of a massive hololeucocratic to leucocratic rock with a composition ranging from syenite to leucotonalite. A banded porphyraceous layer of tonalitic composition develops along a width of almost 200 m from the eastern contact. It is mainly composed of euhedral plagioclase crystals 2 to 6 cm long. This intrusion, which is characterized by the episodic presence of fresh clinopyroxene, locally slightly urallitized, does not contain volcanic enclaves, unlike its neighbours, the Lac de la Perdrix (to the east) and Lac Cornier (to the southeast) massifs." However, these criteria are not really discriminant, since the quartz amount in the two plutons is comparable and mafic enclaves have also been observed in outcrops of the Nissing-Oditan Pluton.
Thickness and distribution
The Nissing-Oditan Pluton extends in a WNW direction over a length of ~13 km and a maximum width of 5 km. On aeromagnetic maps (Keating et al., 2010; Keating and d'Amours, 2010) It is characterized by a strong anomaly of the residual magnetic field, particularly in its peripheral area (unit nAnis2).
Dating
None.
Stratigraphic Relationship(s)
The Nissing-Oditan Pluton intrudes into the Clermont-Disson Formation to the north and the Chicobi Group to the south, probably through the Chicobi-Nord Fault that separates these two units. Intrusion of the Nissing-Oditan Pluton would be after 2698 ±2.4 Ma, th age of the youngest zircon sampled in the Chicobi Group (Ayer et al., 2002).
Paleontology
Does not apply.
References
Publications Available Through SIGÉOM Examine
DESCHENES, P L. 2012. GEOLOGIE – SAINT-EUGENE-DE-CHAZEL. MRN. CG-32D15C-2012-01, 1 plan.
DESCHENES, P L., ALLARD, G., GUEMACHE, M A. 2015. REVISION DE LA GEOLOGIE DE LA REGION DE LA RIVIERE WAWAGOSIC (PARTIES DES SNRC 32D15 ET 32E02). MERN. RP 2014-04, 22 pages.
GUEMACHE, M A. 2020. Synthèse géologique de la région de rivière Octave, Abitibi. MERN. RG 2018-01, 68 pages et 1 plan.
HOCQ, M. 1981. CARTE GEOLOGIQUE PRELIMINAIRE DE LA REGION DE JOUTEL – GUYENNE (COMTES D'ABITIBI-EST ET D'ABITIBI-OUEST). MRN. DP 851, 1 plan.
KEATING, P., D'AMOURS, I. 2010. REEDITION DES DONNEES NUMERIQUES EN FORMAT GEOSOFT (PROFILS) DES LEVES AEROPORTES DE L'ABITIBI, AU QUEBEC. MRNF, COMMISSION GEOLOGIQUE DU CAN. DP 2010-09, 6 pages.
KEATING, P., LEFEBVRE, D., RAINSFORD, D., ONESCHUCK, D. 2010. SERIE DES CARTES GEOPHYSIQUES, PARTIES DES SNRC 31, 32, 41 ET 42, CEINTURE DE ROCHES VERTES DE L'ABITIBI, QUEBEC ET ONTARIO. COMMISSION GEOLOGIQUE DU CAN. DP 2010-05, 8 pages and 2 plans.
MER. 1983. RAPPORT D'ETAPE DES TRAVAUX EN COURS A LA DIVISION DU PRECAMBRIEN. ET 82-01, 269 pages and 2 plans.
MER. 1984. CARTE DE COMPILATION GEOSCIENTIFIQUE – 032D/15. CG 032D/15, 16 plans.
MRNF. 2010. CARTE(S) GÉOLOGIQUE(S) DU SIGEOM – feuillet 32d.
CG SIGEOM32D
, 56 plans.
RIVE, M. 1994. INVENTAIRE DES ROCHES GRANITOIDES DES SOUS-PROVINCES DE L'ABITIBI ET DU PONTIAC. MRN. MB 92-14, 184 pages and 1 plan.
Other Publications
AYER, J., AMELIN, Y., CORFU, F., KAMO, S., KETCHUM, J., KWOK, K., TROWELL, N. 2002. Evolution of the Southern Abitibi greenstone belt based on U-Pb geochronology: autochtonous volcanic construction followed by plutonism, regional deformation and sedimentation. Precambrian Research 115, Elsevier, pages 63-95. https://doi.org/10.1016/S0301-9268(02)00006-2
BACKMAN, O.L., 1934. Macamic Sheet. Geological survey of Canada, Quebec; map 298A. https://doi.org/10.4095/107571
JOANNES, A., 1918. Harricanaw-Turgeon Basin, Abitibi, Timiskaming and Pontiac, Quebec. Geological Survey of Canada, « A » Series Map 183A, 1918, 1 sheet. https://doi.org/10.4095/107525
Suggested Citation
Contributors
First publication

Mehdi A. Guemache, P. Geo., Ph.D. mehdi.guemache@mern.gouv.qc.ca (redaction and coordination)

Pierre Lacoste, P. Geo., M.Sc. (critical review); Claude Dion, Eng., M.Sc. (editing); Céline Dupuis, P. Geo., Ph.D. (English version); Yan Carette (HTML editing).