Informal subdivision(s)
Numbering does not necessarily reflect the stratigraphic position.
None
| | |
| --- | --- |
| Author: | Gigon and Goutier, 2017 |
| Age: | Mesoarchean |
| Reference section: | Representative outcrops: 2013-SS-2267 to 2013-SS-2270. U-Pb isotopic dating was performed on sample 2013-SS-2268A2. |
| Type area: | NE corner of NTS sheet 33H02 |
| Geological province: | Superior Province |
| Geological subdivision: | La Grande Subprovince |
| Lithology: | Ambhibolite derived from gabbro |
| Type: | Lithodemic |
| Rank: | Lithodeme |
| Status: | Formal |
| Use: | Active |
Background
The Sarane Metagabbro was defined by Gigon and Goutier (2017) following the 2013 fieldwork. The unit's name corresponds to the first name of the geologist involved in the discovery of this unit, given the scarcity of toponymic elements in this area.
Description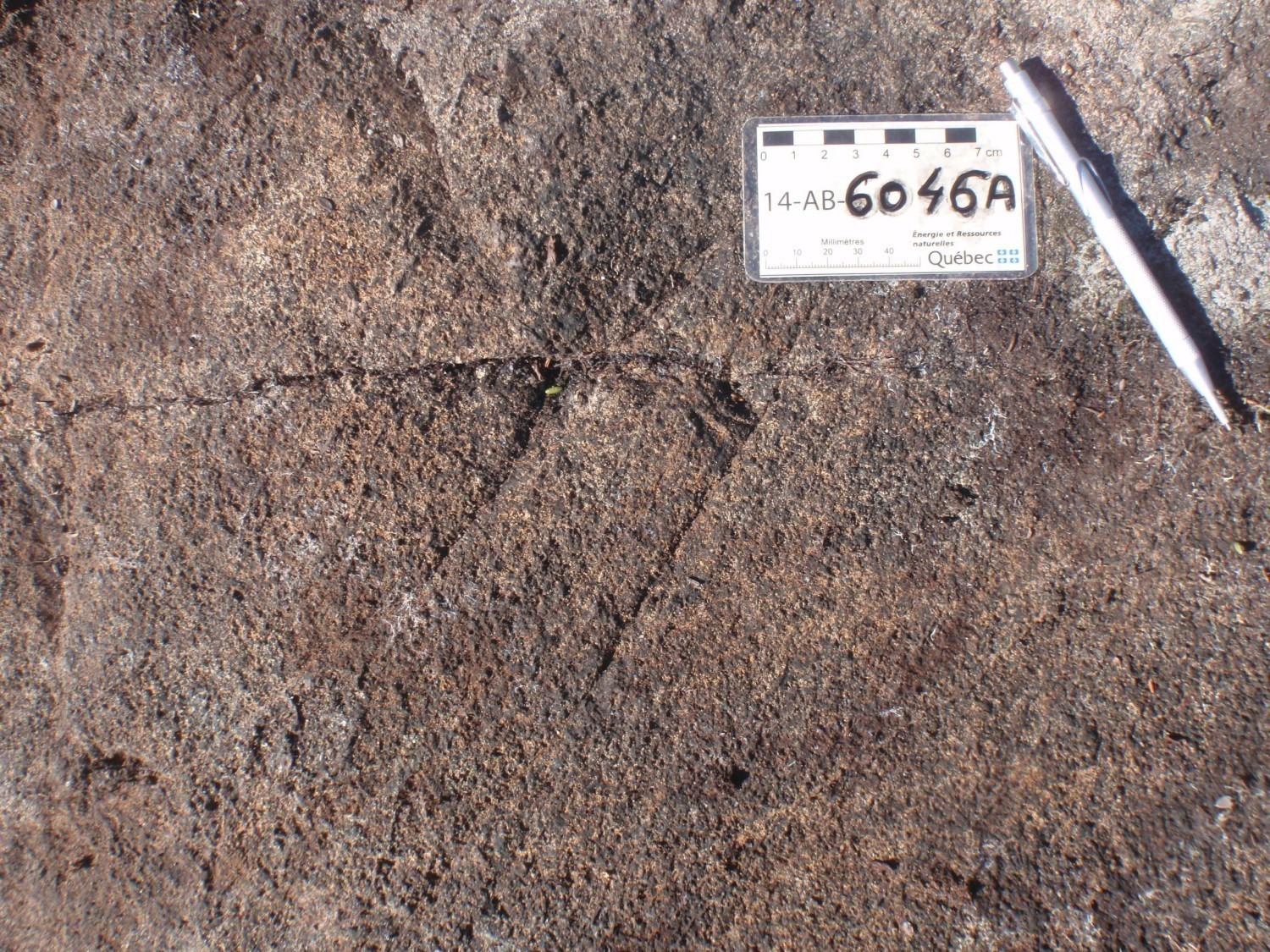 The Sarane Metagabbro is a mafic unit consisting mainly of amphibolite derived from gabbro (Gigon and Goutier, 2017). The rock is fine to medium grained and has a white and green alteration patina and fresh surface. It is sparsely foliated. In thin section, the magmatic texture is generally recognizable, but metamorphism and deformation have resulted in partial recrystallization of the rock with the formation of a heterogranular polygonal texture. Primary pyroxenes are thus transformed into amphibole aggregates. Some horizons are much more deformed and show mylonitic or banding textures.
Amphibolite contains hornblende (30–40%) and plagioclase (60–70%), local pyrite (<3%) and minor amounts of magnetite, biotite, epidote and tremolite. The unit also locally contains horizons of various compositions:
anorthositic horizons containing amphibole (<10%), altered to calcite and muscovite, mineralized in chalcopyrite, pyrite and malachite;
centimetric horizons of muscovite-biotite-pyrite gabbro;
a metric dark green horizon consisting of magnetite-pyrite-chalcopyrite-malachite amphibolite;
a decimetric horizon of amphibolite derived from leucoxene-pyrrhotite-pyrite gabbro;
amphibolite derived from diorite and quartz diorite.
In addition, several centimetric enclaves of hornblendite or metapyroxenite were observed locally in dioritic amphibolite (outcrop 2013-JJ-6523).
Thickness and Distribution
The Sarane Metagabbro is a mafic intrusion nearly 1 km wide by 20 km long (sheets 33H01, 33H02 and 33H08). It covers an area of ~14 km². The form and extension of the intrusion are based on the signature of the total residual magnetic field vertical gradient.
Dating
U-Pb isotopic dating was performed on a sample collected on outcrop 2013-SS-2268 and an age of 2820 ±9 Ma was obtained (Davis et al., 2018).
| | | | | | |
| --- | --- | --- | --- | --- | --- |
| Isotopic System | Mineral | Crystallization Age (Ma) | (+) | (-) | Reference(s) |
| U-Pb | Zircon | 2820 | 9 | 9 | Davis et al., 2018 |
Stratigraphic Relationship(s)
It appears that the Sarane Metagabbro cuts the Trieste Formation, although there is no outcrop to support this interpretation. An isotopic dating of 2839.2 ±5.6 Ma from the Trieste Formation (David, personal communication) indicates that the Trieste Formation is older than the Sarane Metagabbro (2820 ±9 Ma, Davis et al., 2018). The Sarane Metagabbro is also partially in structural contact with the latter in sheet 33H02, where mylonite zones are observed on both sides of the contact. The contact with the Rivière Galinée Pluton was not observed. Finally, a Lac Esprit dyke cut the Sarane Metagabbro.
Paleontology
Does not apply.
References
| Author(s) | Title | Year of Publication | Hyperlink (EXAMINE or Other) |
| --- | --- | --- | --- |
| GIGON, J. – GOUTIER, J. | Géologie de la région du lac Richardie, Municipalité d'Eeeyou Istchee Baie-James. Ministère de l'Énergie et des Ressources naturelles, Québec; RG 2016-04, 45 pages. | 2017 | RG 2016-04 |
| DAVIS, D. – LAFRANCE, I. – GOUTIER, J. – BANDYAYERA, D. – TALLA TAKAM, F. – GIGON, J. | Datations U-Pb effectuées dans les provinces de Churchill et du Supérieur au JSGL en 2013-2014. Ministère de l'Énergie et des Ressources naturelles, Québec; RP 2017-01, 63 pages. | 2018 | RP 2017-01 |
12 septembre 2019
12 septembre 2019